If you are a true pet lover, you know what your dog or your cat means to you. They are as dear to you as a child might be to their parent. You never want to see them in pain. In addition, you want to make their lives as easy as you can. If you live in a not-so-affluent place, you might not be able to find such products in the market. However, you can always find them online. Products like Amigo dog wheelchair and other products in the article can infuse a brand new life into your canine friend.
Amigo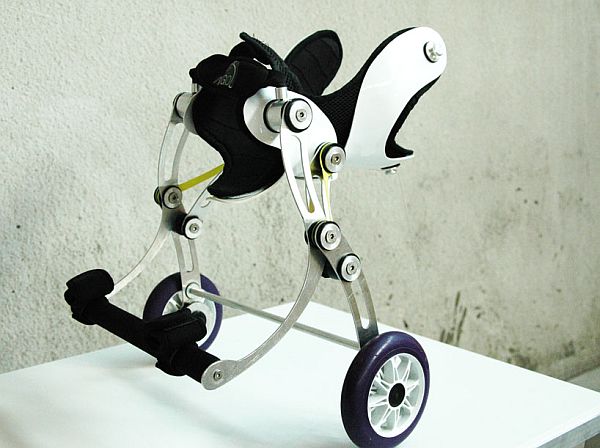 Are you wondering how you can actually take care of your canine friends who have issues with their rear legs? The Amigo Dog Wheelchair is a perfect, highly innovative model that supports dogs on a wheelchair. The brainchild of Israeli industrial designer Nir Shalom, this design is part of 'thinking hands', an exhibition in Ventura Lambrate at Milan Design week 2011.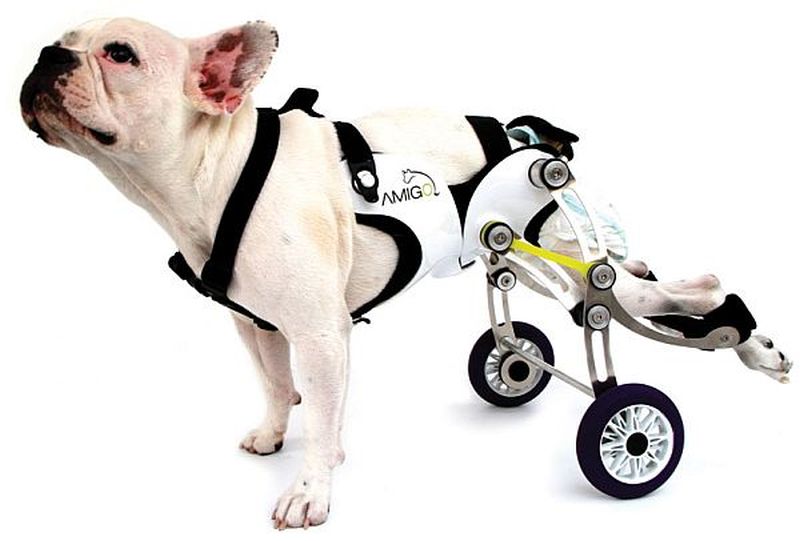 This custom-made device is attached to the hips and enables small dogs with disabled rear legs to move with absolute ease. Compared to other dog wheelchairs, this one is way better because of dynamic design and more independent moving supports. The elastic knee joints are set backwards, allowing the dogs to use the staircase, sit up and lay down all by themselves.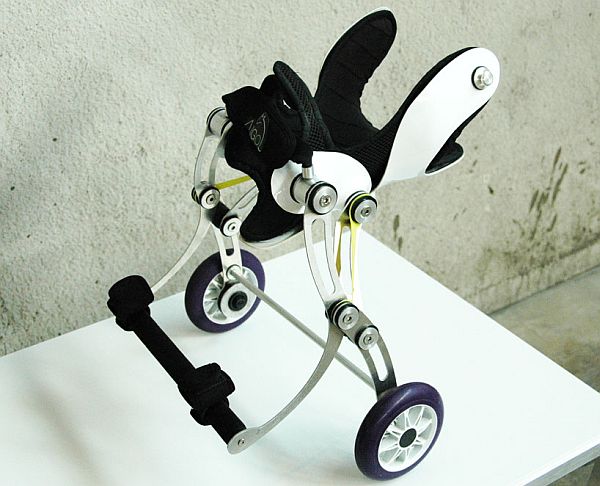 Still in the prototype stages, Amigo is being made with aluminum, molded plastic, padding and highly durable wheels which are all absolutely customized to ensure a proper fit that further ensures ease of movement for the dogs.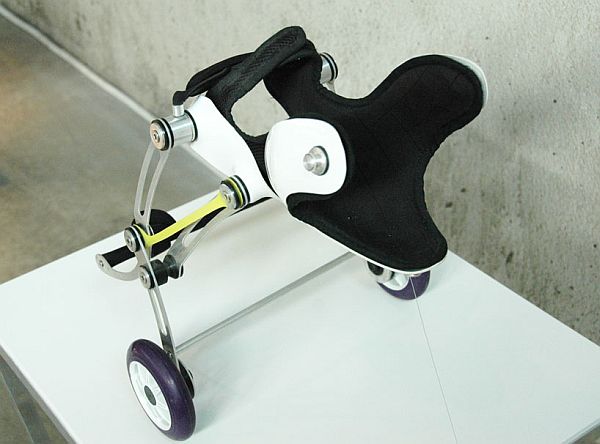 A perfect design that can give your dog freedom and ease to move around. The Amigo is sure to change the way your dog feels and you can notice him enjoying life with the help of this amazing prosthetic support.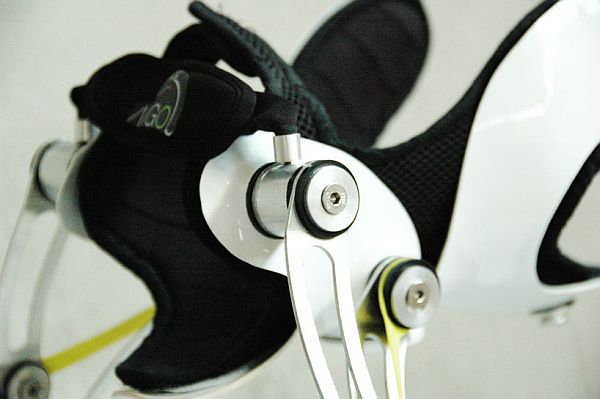 Some more pet-friendly gadgets and products like Amigo
1. "No More Woof" – by Scandinavian Research Lab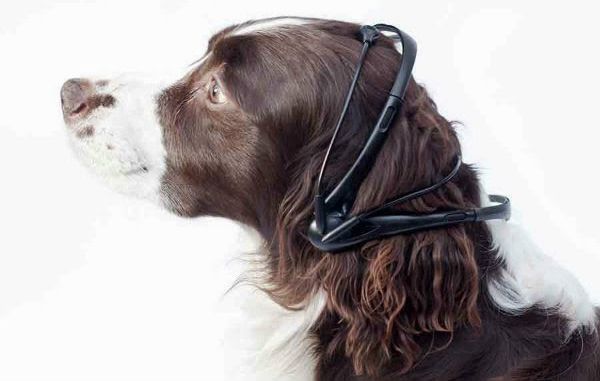 This wacky headset "No More Woof" is designed by The Nordic Society for Invention and Discovery, which is a research lab based in Scandinavia. This gadget uses micro computing and EEG technology to evaluate the brain waves of the pet and then translates them into English words with the help of an attached speaker. These brain wave patterns resemble fatigue, hunger, anger, and curiosity.
2. Takara Bowling/ Meowlingual Pet Translation Device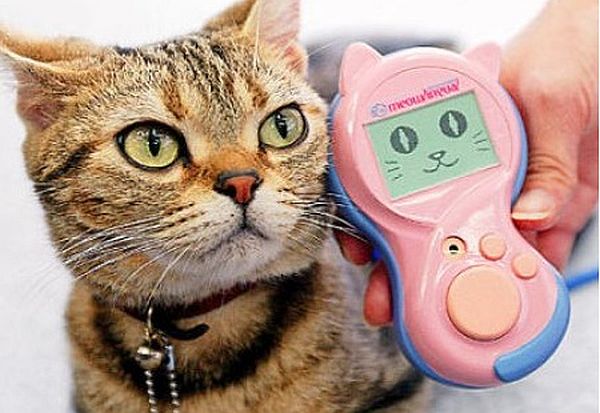 Want to hear what your pets feel about you? Well here is an all-new gadget which is available for cats and dogs, and is designed to fill the communication gap between you and your beloved pet. These gadgets first record the sounds made by these pets and then translate them to words used by humans.
3. Pet's Eye View Camera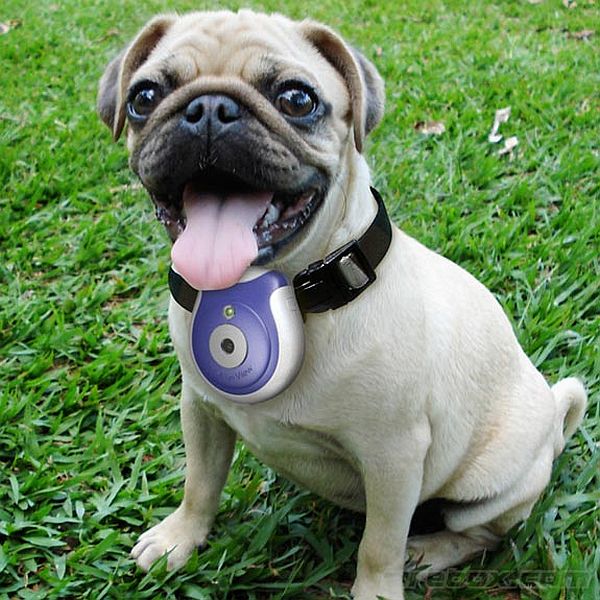 The Pet's Eye View Camera will let you see the world through your pet's eyes. The camera needs to be hooked on to the pet's collar and can keep track of at least 40 photographs.
4. GoDogGo Fetch Machine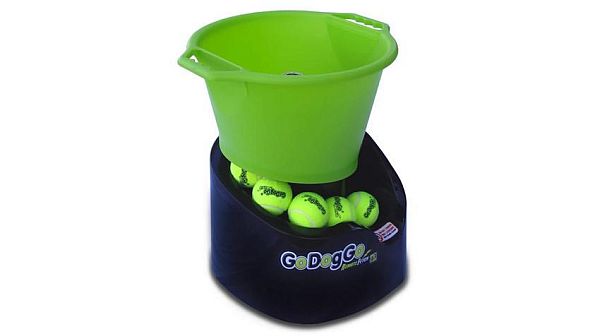 In this busy world, we often find ourselves too tired to spend some time playing with the pet or sometimes even if we want to do so, we run short of time due to other priorities. GoDogGo exists to deal with problems like this. This automatic ball launcher can throw a ball up to a height of 45 feet with a time interval of 7-15 seconds. Entertaining and fun play times for your dog, because dogs love to play fetch.
5. Puppy Tweets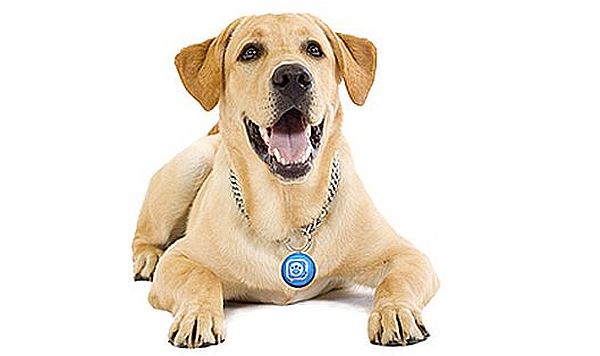 You can now share your pet's thoughts with your friends with the help of this weird gadget called puppy tweets. This gadget is a medallion that can be attached to the collar of your pet dog and then tweets its thoughts to the twitter account.
6. Woofer – Dog Vest with 30 watt Speakers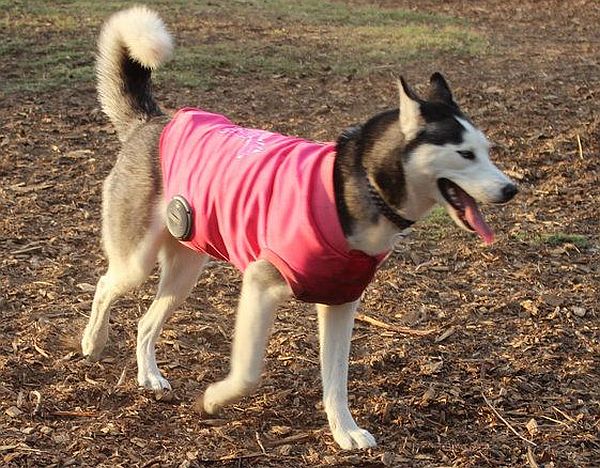 The woofer is a water-resistant dog vest which has a pocket and a USB connector for iPhone, iPod, and other music players and is also inclusive of two speakers. Have a time filled with fun and music with your best pal.
7. Car accessories for pets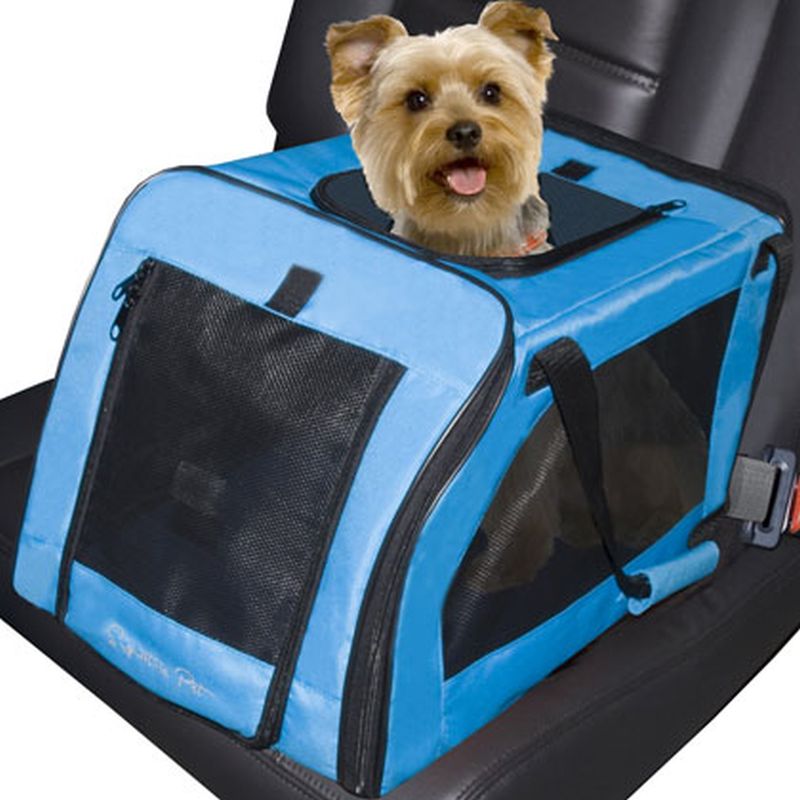 Image Source : 1800petmeds.com
Safety gear for your pet should include car seats. This is because pets tend to get very excited when they go for a drive. Many a times they even jump around between the front and back seat. This can be dangerous and disturbing while you are driving. The car seat is designed to ensure that your pooch stays in one place and also helps to prevent potential accidents. You do not have to concentrate on keeping your dog seated on the back seat. You can gradually make your dog used to the car seat at home and then use it in the car. A doggie car seat should fit in the front and back seat.
 8. Kurgo Skybox  for small dogs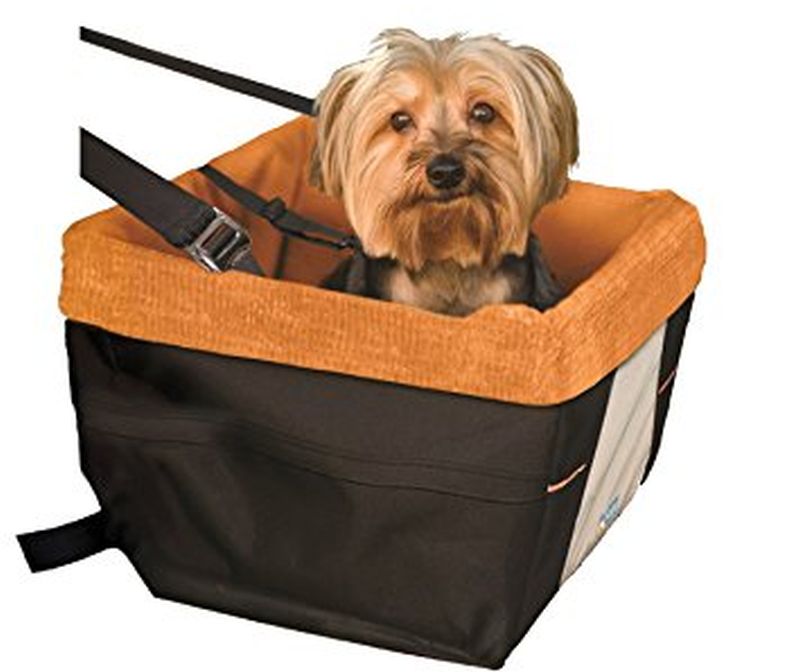 This car seat is for dogs of weight up to 30 pounds. It is collapsible and works both on back and front seats.
9. K&H car seat for large dogs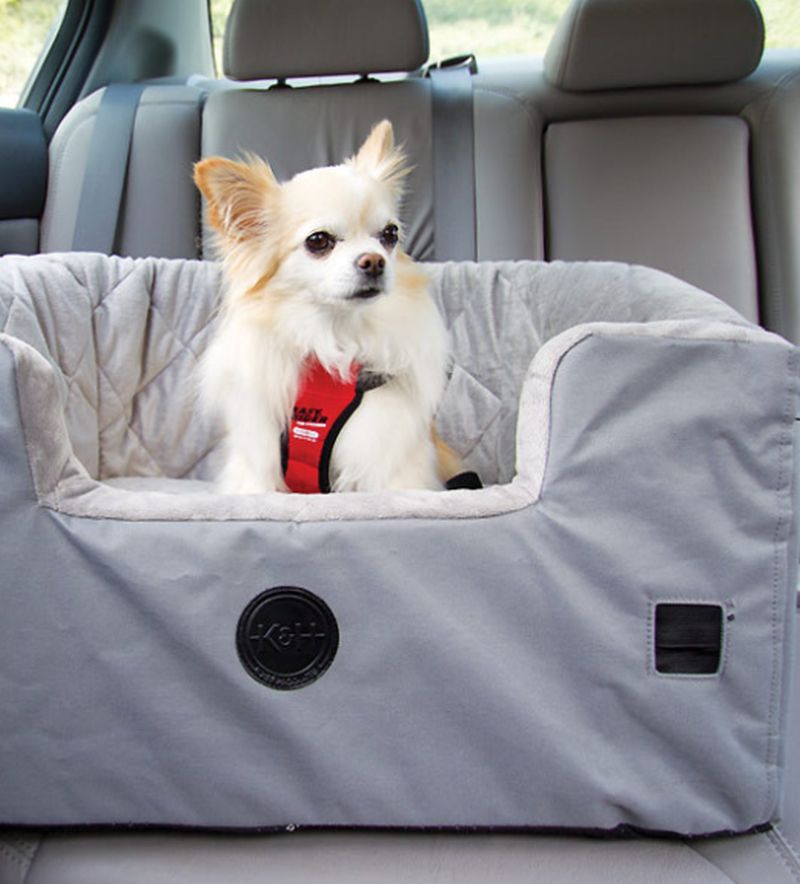 Image Source : cdn.shopify.com
Safety gear for your pet such as your large dogs needs to be extra secure. This product has double security lashes, fits into both back and front seats, washable covers and is elevated as dogs love to look out the window.
As a pet mom or dad, you make every effort to keeping pets safe on a road trip, with the best possible accessories. Check out a few of them:
10. Sleepypod Clickit Sport Restraints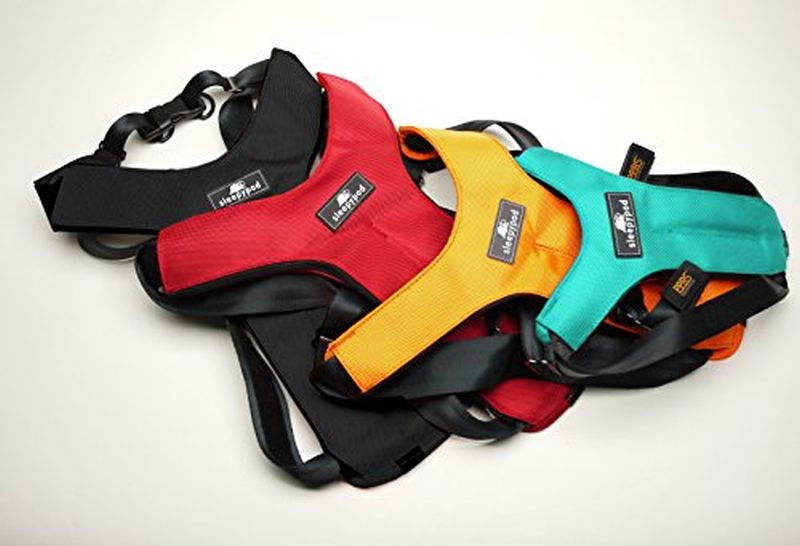 Restraints, like car seats, can keep your dog from flying forward and hurting itself and other passengers.  This restraint was certified as the safest dog harness for the car, by the Center for Pet Safety (CPS). It has a padded vest and can be secured to the car in three points, so that the force is distributed evenly in case of sudden stops.
11. 4Knines seat cover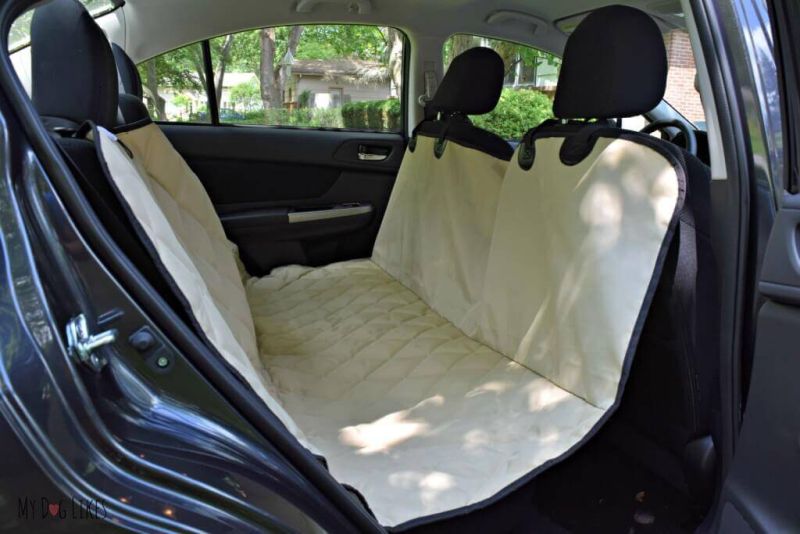 Image Source : mydoglikes.com
Car accessories for pets are there to keep your pets safe as well as your car clean. To keep your car seats from being torn or covered with dirt and stains, you can use this quilted, waterproof, mud proof seat cover. The safe dyes used doesn't give off the horrible smell.
12. Sleepypod mobile bed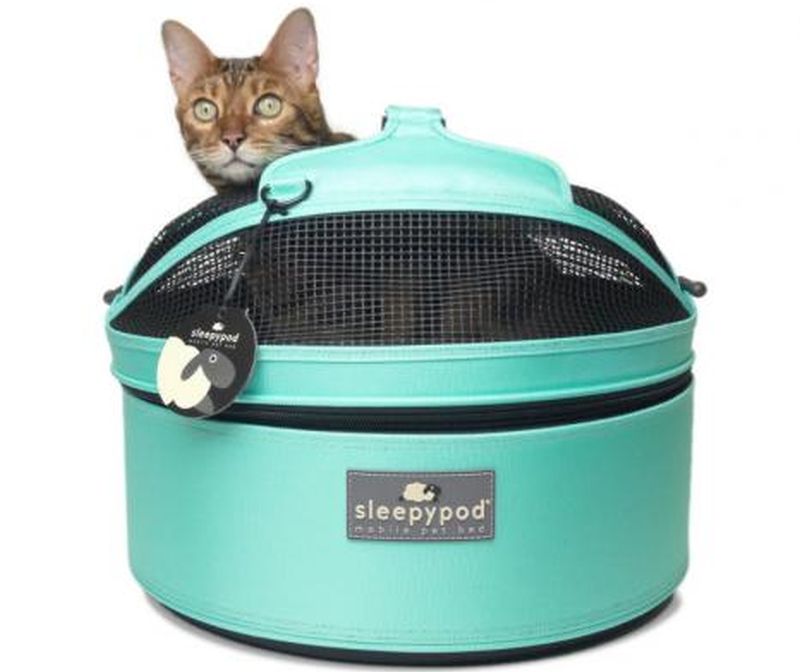 This cool mobile bed is great for your small pet, feline or canine. This product has a safety certificate from CPS with the PPRS Handilock. It's a sturdy carrier with a padded, soft interior, and a dome shaped top which can be zippered up.
13. Calming aids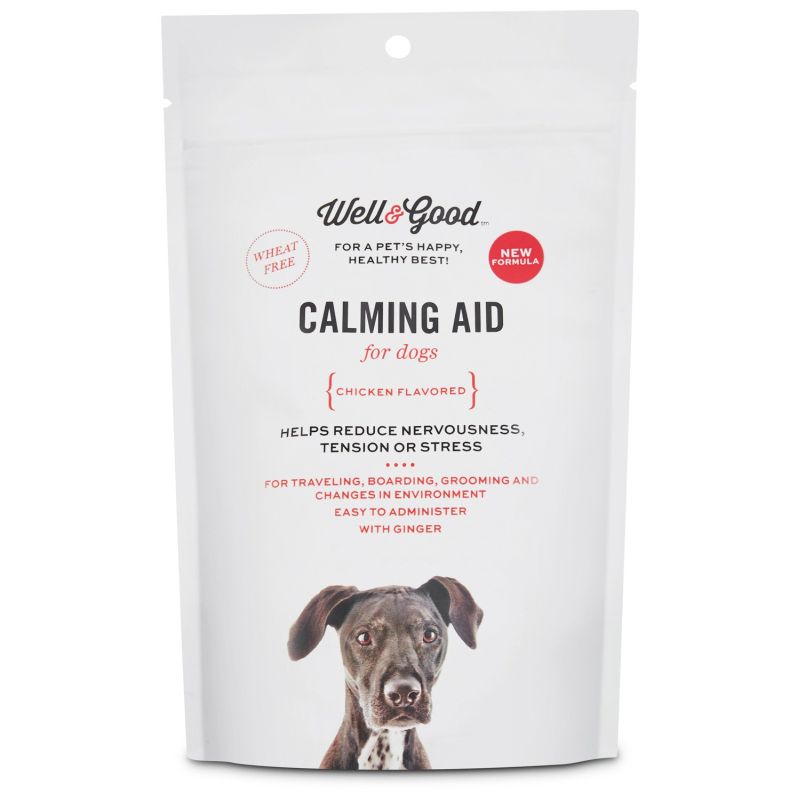 The Comfort Zone Feliway has a calming effect on cats, and all you have to do is spray it on the bed in the carrier, whether you're just visiting the vet or going on a road trip.
Adaptil is the calming aid for dogs, if your dog gets stressed on trips and pants, barks, vomits or salivates extremely. Calming aids can help your dog go through the journey happily. You could try another aid, Bach Rescue Remedy.
14. Travel Litter Boxes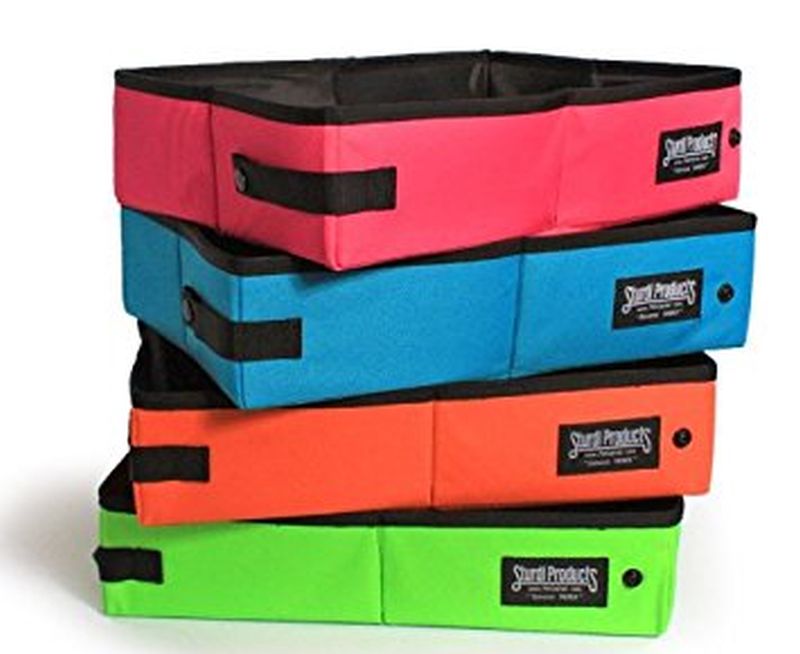 You can buy disposable litter boxes which really makes sense when you're travelling with your cats. These boxes can be used many times before you throw them, and these litter boxes are good value for money.
Pet-friendly cars to keep your pet comfortable and safe
15. Nissan's Titan Crew Cab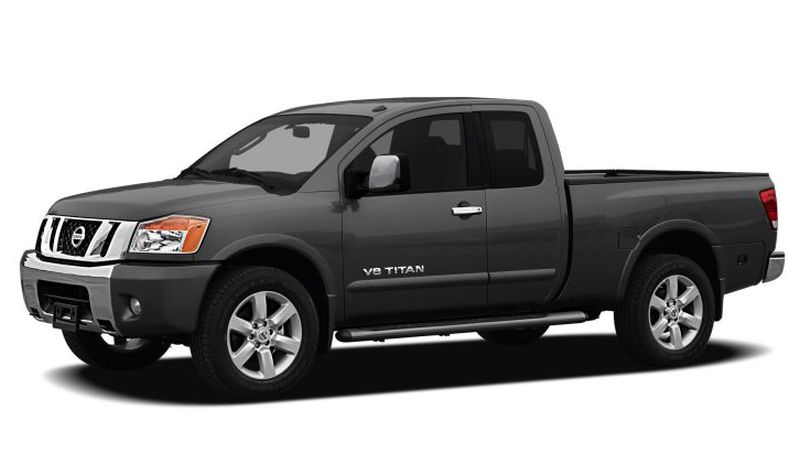 Image Source: o.aolcdn.com
Nissan's truck is puppy friendly as the interior can be adjusted according to the requirement of your active puppies and your picnic hamper. Your canine friends can sleep in the car comfortably when you're on hunting or sailing trips.
16. Mercedes Benz E400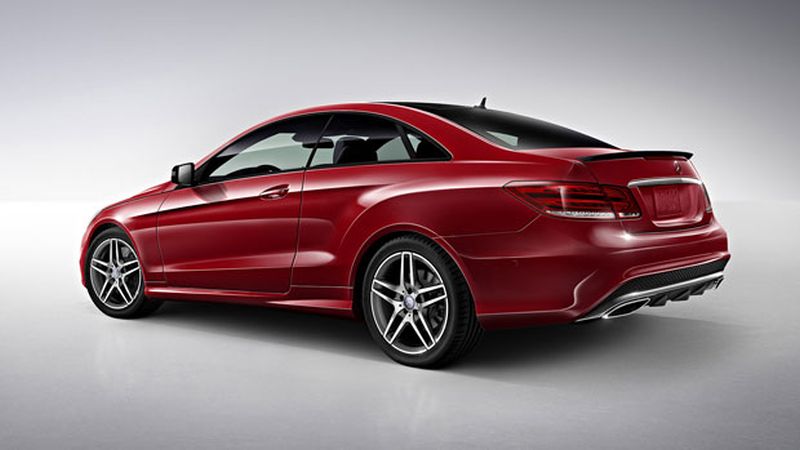 Image Source : assets.mbusa.com
The cargo hold of this is spacious and rubberized with soft corners, which means you can transport your pets to the beach or the vet in comfort and without the fear of the car being soiled.
Pet moms and dads are as concerned about their pet kids and humans and try their hardest to keep them safe, comfy and happy, and products like Amigo, they can take safe trips with them too.