If you are an avid reader, you know that there's no activity that gives more leisure that reading. Many among us who love reading tend to have an immense collection of books. These not just include free ebooks from the Kindle store. In addition, you have a lot of hardcover books too. Nevertheless, at one point of time or the other, you might realize that you have collected way too many books. To sell them to someone who needs them is a great option. To recycle them is another good option. However, there's one more way you make use of them. You can utilize them and integrate into your furniture. Popular concepts like book themed furniture did the same. These not only help you saving space with the furniture, but they also leave your books where you want them to be, that is always in front of you. Let us check out these concepts:
Book themed furniture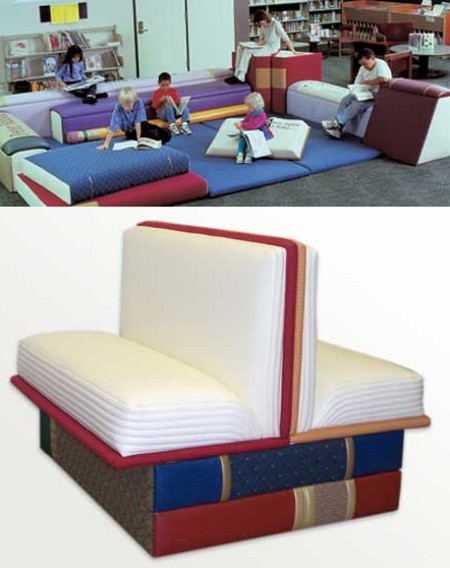 The concept seems to be coming out straight from the pages of a fairy tale book. The book themed furniture from Big Cozy Books is here to transport you into an amazing world of its own where each design pays tribute to your passion for reading and books.
Designer Erik Olofson's concept is definitely going to enter your good books. The range includes chairs, stools, doorway entrances, wall art and accessories resembling a giant book. Each book piece is a cozy compilation of design and elegance. In addition, these do their best to instill a love of reading in the minds of non-readers and to enthrall those who are already under the magic spell of books.
The creative furniture is a great option for libraries, child care centers, nurseries, offices or reception areas. You can use these giant books to create a stunning atmosphere right inside your home. Available as complete sets or individual pieces.
Some more furniture ideas like the book themed furniture
1. A book bath
Wow! A bath made of books, doesn't this sound too far from reality? However, it is true. There is actually a bathtub that consists almost entirely of some old collection of books. It is designer and artist Vanessa Mancini's creation and she calls it – "Bath of Knowledge." It is possible only because of artist's great effort. In fact, this book is the result of careful cutting and fitting of each and every book on her own to create this wonderful project. She has used four antique shaped bathtub legs on which she rested a metal frame. On the metal frame rests all the books.
2. Nettlestone library ensemble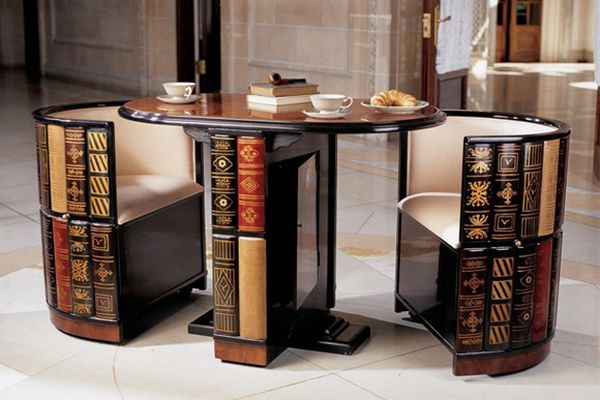 This is a classic furniture piece that can beautify any modern home. It goes well with the traditional undertone as well. From a distance the piece looks like a bookshelf, and it is only you get near it and touch it that you realize it slides apart. When slid apart, the Nettlestone Library Ensemble becomes a library table with two cushioned barrel chairs. The centre table also has hidden compartments that you can use to put in whatever you want to store. What adds more value to this extraordinary piece of furniture is the fact that it is hand painted. Furthermore, it has a stunning lacquer finish burled wood with an ebony trim. Be it your home or office wherever you decide to place this elegant wooden book inspired furniture, which is a smart space saver as well, there would be no dearth of compliments you will get.
3. The Library Chair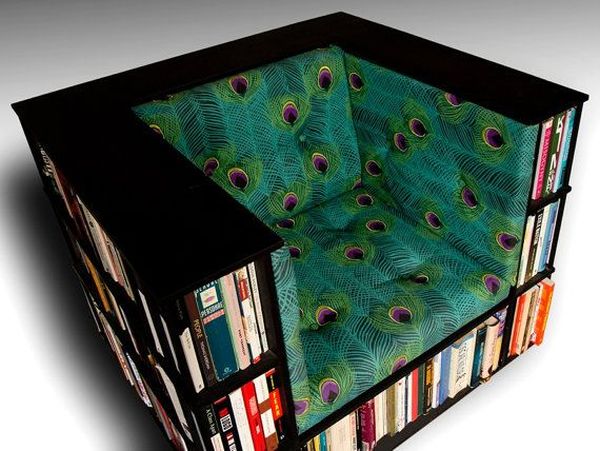 Button cushion club chair that is fully upholstered has armrests, and the most exciting feature – built-in shelf storage of 27 feet that you can use to store anything from books to CD's. The seat is very comfortable, it is a deep seat ideal for sitting long hours, and being surrounded by your own small library. It could be a perfect gift you can give someone who loves to be immersed in the world of books and reading.
4. LIEUL Bookshelf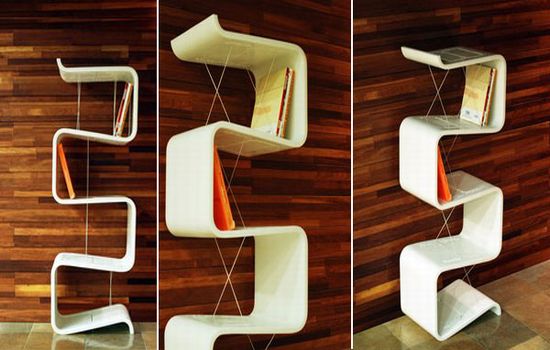 Industrial designer, Ahn DaeKyung comes up with LIEUL, a simple bookshelf that caters to a regular book-lover's needs. This bookshelf design takes inspiration from the Korean consonant LIEUL, that's indicative of infinity. Discontent over an IKEA-made shelf led Ahn to fabricate one himself. This bookshelf can hold several books, owing to pliable bands that make it wholly customizable. So, it ensures your books get a perfect niche and they never tumble down. The square-shaped bookshelf also offers a neat design with panels crafted in LG Hi-MAX. Hence, the designer goes on to claim this piece of furniture to be his magnum opus.
5. Chair and bookshelf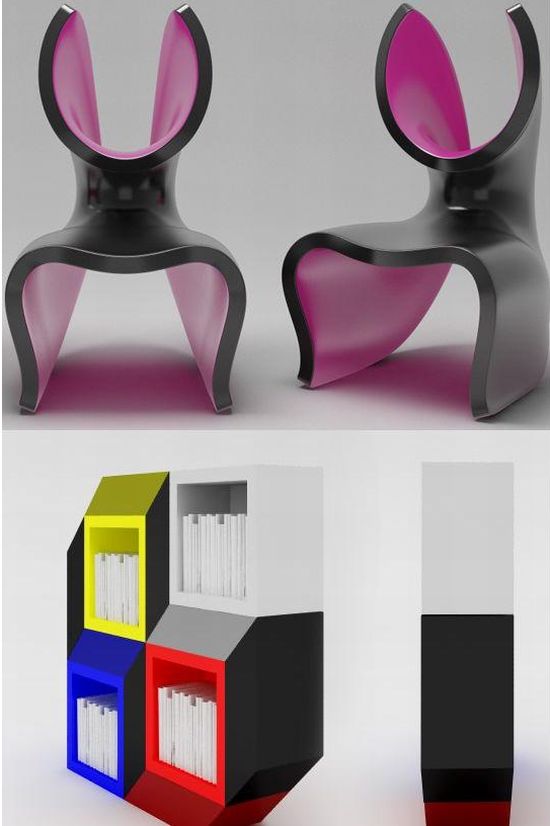 If you are the one with passion for reading, but also a bit fed up with the traditional look of your reading room so here is a way out to perk it up with a new range of chairs and bookshelves from Stanislav Katz. Chair resembling a rabbit with its ears perked up is quite fascinating, and at the same time, dice-shaped bookshelves are eye-catching. Moreover, if kids are there in house, I bet they would like spending more and more time studying.
6. Circular Walking Bookshelf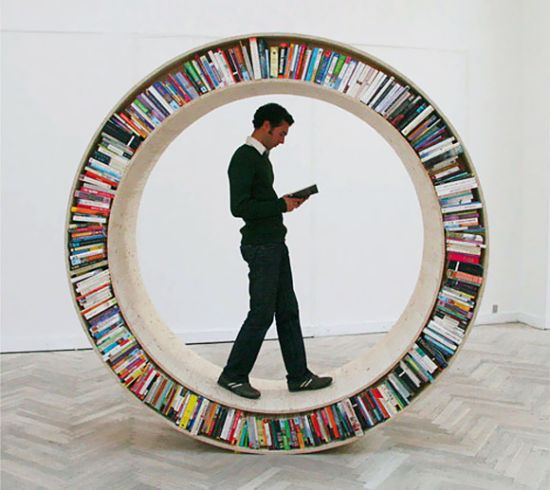 Developed as a part of the Archive series that is an investigation on space and books, the "Circular Walking Bookshelf" by architect David Garcia is a cool looking bookshelf for your place, only if you don't have young kids in your home to roll it over one another and end up with either broken bookshelf or bones. To pick a book from the top tier, all you need to do is step inside and walk to bring it down with minimum fuss.
7. Lenin Bookshelf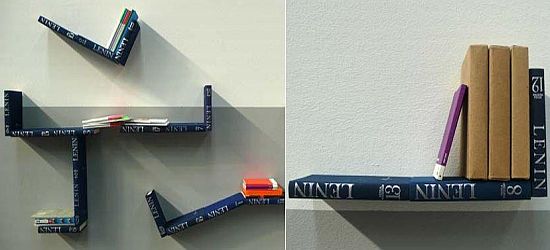 The idea for this design had to have been born in a eureka moment of pure improvisational genius. Designing a fragmented bookshelf concept where the individual shelves are arranged in free form is clever enough, but then they added the icing with the bookshelves being 'books'. How nice is that? How awe filled is that creative genius? They say genius in retrospect is common sense, but how many people can honestly claim that they would've thought of that?
Praises aside, the construction of the bookshelves is done with metal, to give sturdy support, and then covered with the volumes of Lenin's books to give its appearance. Also, the shelving books can be removed and read, so one doesn't have to sacrifice precious books in making the shelves. I assume others will follow suit and make similar shelves out their favorite volumes and books. One thing is for sure, those who see any of these book bookshelves will certainly admire the ingenuity behind them.
8. WisdomTree bookshelf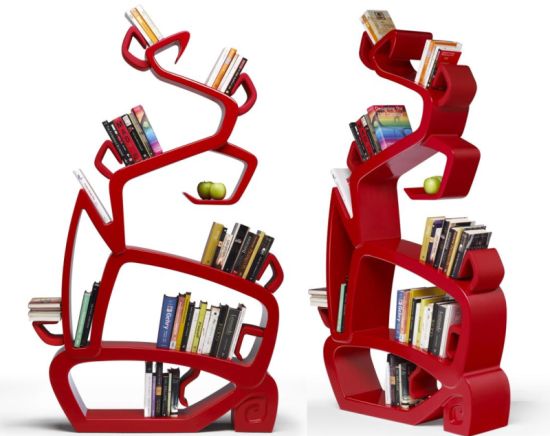 Aimed straight at people who see books as a source of knowledge and emotions and not simply as decorative objects, the WisdomTree bookshelf by Spanish designer Jordi Milà resembles the growth of a plant. The bookshelf has branches and the books placed on them correspond to the fruit of knowledge, supported by pieces covered in leather. The WisdomTree bookshelf enjoys a fluid and organic shape, and offers enough space for your books and magazines. On the other hand, it makes for an eye-cathcing, artistic piece inside your reading room. Anyone who sees this bookshelf will certainly admire the ingenuity behind it.
9. Graffititek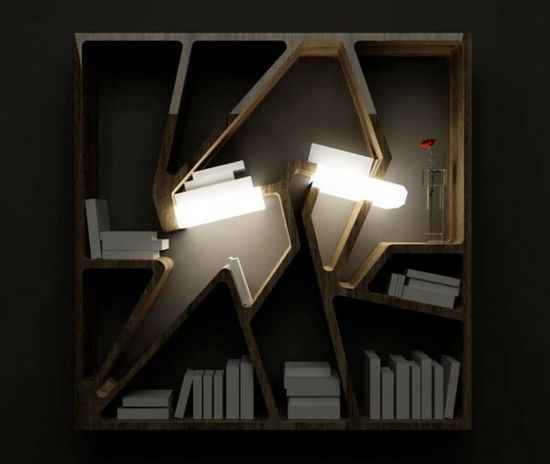 Inspired by Parisian Graffiti art, French designer Charles Kalpakian has come up with an innovative shelf for your books and other objects that will redefine the concept of storage. Hailed as 'Graffititek,' the bookshelf will store books in distort order, unlike the straight lines of the regular bookshelves. The new bookshelf also features light lamps, resembling the books, that not just helps you to find the books in the dark but gives a tender setting to your place as well. Rendering a three-dimensional design, the designer has given an entirely new perspective to storage space.