Modern product designs are certainly moving in the direction of minimalism. 'Compact' and 'Foldable' are the new buzzwords. It doesn't matter whether it is your bike, your house, or your furniture, there's a foldable version of pretty much everything. However, when it comes to something as common as a stool, foldability is necessary, as the same stool might become hinderance when not in use. Therefore, keeping this very fact in mind here is cardboard stool and other similar portable stool designs that take minimalism and functionality to another level. Let us take a look at them.
Cardboard Stool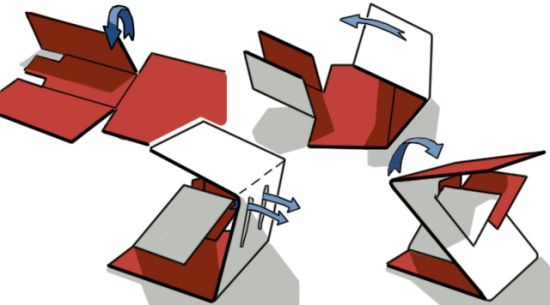 Always searching for a perfect place to place stuff on the go? A stool made of cardboard will fulfill all that's required. It is light, easy to lug and (in all probability) cheap. Carry it around and you'll never be bothered about where to sit. Cardboard Stool by Erdem Selek is perfect for concerts, camps and parks. It is very easy to setup and looks very neat indeed. User can even change the color of the stool by reversing it inside out. The portable Cardboard Stool provides a very interesting spin to a material that is usually discarded and viewed as having little use. Only for people up to 90 kg. Hit more for another picture.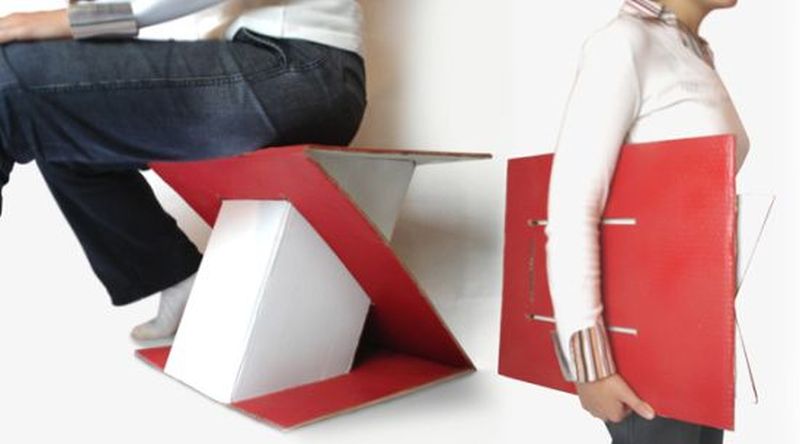 Via: Designzen
More creative stool designs like The Cardboard Stool
1. Cardboard Stool

Multi-functional pieces of furniture rule the day as people become more and more pressed for space. La linea, designed by Merel Karhof would probably be found useful by people who feel the need to have a number of seating arrangements but are short of space. The La linea basically works as building block which can be used to put together a simple chair, a stool, a sofa or a pouffe according to the need. The blocks, with arms, fit snugly against each other to make a sofa, which is perfect to lounge in or for reading a book on.
The blocks, when separated make six small stools. You can use them to entertain guests or put them around your dining table. That way, you have all the different kinds of seating arrangements, without compromising on space. The set is made of white leather and designed to give the impression of cracks on the exterior. Quite a cool design and a useful idea.
2. Ceramic Garden Stool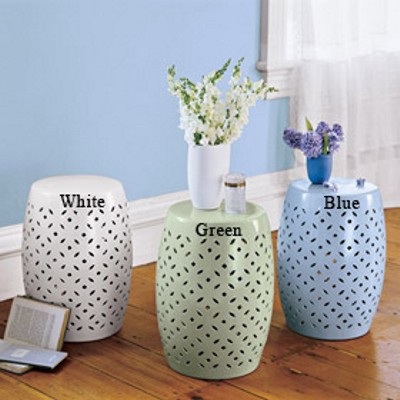 Who doesn't love ceramic wares because of their simple nature and pure beauty. While other materials need too many add-ons to beautify themselves, ceramic is a beauty in itself. Thats the reason why this ceramic garden stool appealed to me instantly.
This barrel-shaped glazed ceramic stool is adorned with floral cutout all around. This beautiful stool is dual-purpose. You can use it indoors as a platform to keep your petty things, or you can even take it outdoors and use it as an extra seating or a table. Whichever way you use it, the cute ceramic stool will give your home a fresh look.
The stool measures 12x12x18″H, and you can choose between a white, green or blue. The stool is available at Company Store for $44.99 per piece.
3. Emergency Stool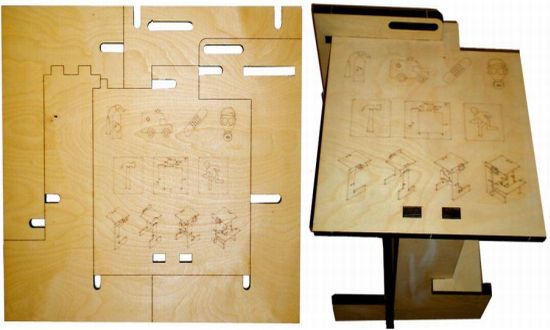 Weird furniture seems to be aplenty these days. However, if you are content with casting a superficial glance and taking in the obvious, you are bound to miss out on the the functionality hidden behind the often funky form. One look at the 'Emergency Stool' and you'll get my drift. A stool that is ostensibly a wall covering but has its meaning clearly etched on its surface. Break the Emergency Stool with a mallet, assemble it, and you may still be able to see its true colors. Just follow the laser etched graphic on its surface, which detail the instructions required, to turn a piece of wood into something beyond the obvious.
The 'Emergency Stool' is a modern piece of furniture that can be used in different ways. Apart from the regular function of a stool or a table, the innovative Baltic Birch plywood furniture can also be mounted on the wall to be displayed as a wall covering.
4. A 'transformer' stool


We have seen lots of rugs and a number of stools but nothing of this sort. This one looks like a simple rug lying low innocently. Just pull a string and it jumps up to become a stool in a moment. This is the stylish Gregory Pouf Stool. Designed by Gregory Lacoua, it is upholstered in hardwearing wool. This makes it soft as well as quite durable.
The designer suggests that it's for a child's room. But from the look of it, it neither looks childish nor lacking in seriousness. Therefore, it could very well be a part of any room if the rest of the setting in the room supports it.
So, get ready for a rug-cum-stool, which is quite a rare combination otherwise.
5. Jolly playful furniture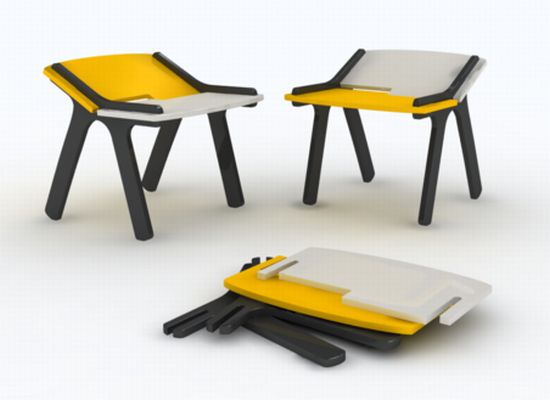 Coming from the house of Baíta Design, the "Jolly," as suggested by its name is playful/modular furniture that effortlessly switches between a stool and magazine/newspaper rack within no time. Made in MDF with mat polyurethane color coating, the multifunctional furniture unit is easy to assemble that when not in use can be dismantled for easy storage as well as transportation. Featuring a sleek and minimal design, the stool cum rack is just ideal for modern compact spaces.
6. One Hundred Triangles Stool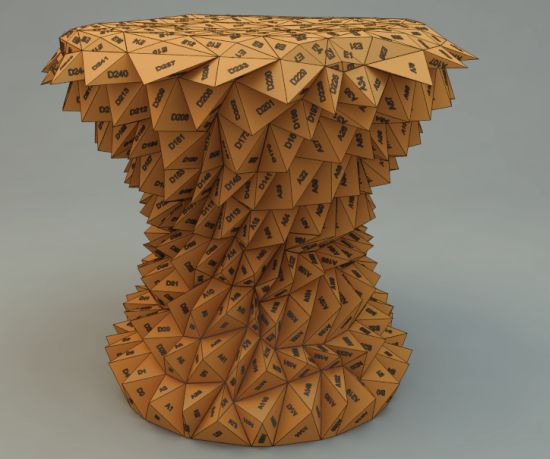 Conceived by British designer Riccardo Bovo, the "One Hundred Triangles Stool" is an innovative furniture series, which is made in a unique string of random triangles produced by an algorithm. Featuring a number of laser-cut wooden triangles, the stool uses cable ties to join all the triangles together into a single furniture unit. Presenting a unique soft structure, the Triangles Stool is not only light in weight but also the user you in comfort. Apart from its functional use, the compact furniture units hold aesthetic values as well and looks more like a piece of art than a seating.
7. Teo stool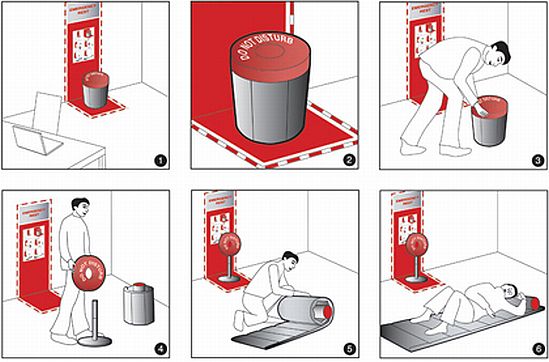 Is it just us or is the market really flooded with stuff to help people sleep better in the office? Gosh, whatever happened to work ethics! If you are one of those people who are able to sleep much better when there is a load of life-and-death urgent pile of paperwork sitting on your office desk, this handy little Teo office nap companion is just the thing for you. created by Matali Crasset for Domeau & Peres, the Teo stool easily transforms into a handy little roll-out bed letting you make the most of your lunch hour.
A stick glued to the middle of the stool's steel base also lets you set up a neat little 'Do Not disturb' sign just in case you boss might want to drop in and check on how far along that extremely important presentation you are. Pretty cool, but I wouldn't recommend it to someone who got his personal cabin surrounded by glass walls.