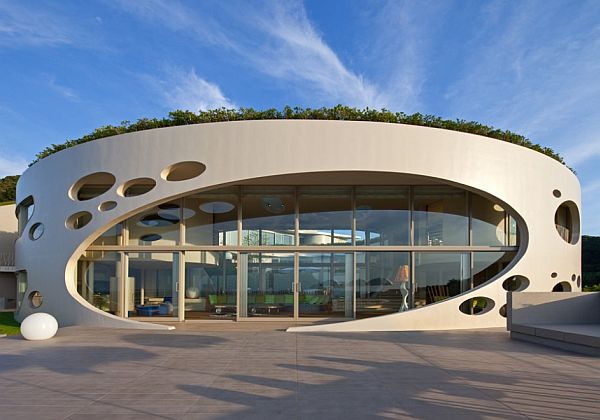 Villa Ronde can be described as a sublimely designed naturalistic structure that fuses the spatial characteristics of a private museum, a beautiful guest house, and a resort. Designed by Ciel Rouge Creation, and situated on the Japanese coast, the building incorporates a unique circular plan with a lush green roof garden, which in effect manages to exude that paradisaical ambiance.
The exclusive circular form does manage to impart a gratifying sense of aesthetics; but it's not only about the visual side of affairs, actually the shape also helps in sheltering the whole complex by deflecting the strong typhoon winds that are common in the area. The cool sea-breezes can be inducted by the structure's orientation for accentuating upon the natural ventilation and micro-climate control. Even the paint has been chosen to match with the surrounding landscape, thus truly making the complex a 'naturalistic' extension of nature.
Coming to the conspicuous design element of the roof garden, it integrates a layer of 30 cm earth with a myriad of plants and grass, and is accessible from the lower levels by a staircase. Other than just enhancing the beauty, the roof garden also acts as an insulating agent for heat mitigation.
And at last coming to the plan, the circular pattern does enclose an open courtyard with a zoning attribute of spaces like arched interior pool, common areas, and collective meeting spaces. The interior features a flexible, uninterrupted space demarcated by adjoining rooms. Even the windows and the exquisite furniture are rounded and elliptical, alluding to the nigh circular shape of the plan. The ingenious design considerations have been taken in this case, so as to allow the maximum amount of natural light for energy efficiency.
Source: Inhabitat