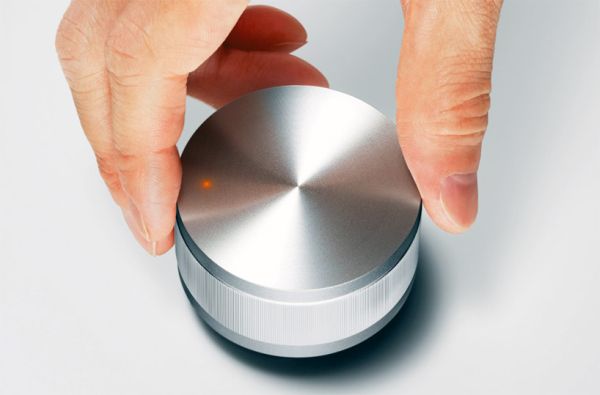 Science fiction writers a few decades ago imagined a future where human life would be simplified and mechanized to the extent that everything – from cooking and cleaning to driving and getting paperwork done – would be possible at the mere touch of a button. The fantasy did come true, although the single miracle working button came with a whole lot of other buttons loaded with tempting choices came with it as well. The paradox is same for our music players as well – the more evolved they are, the more complex they become to operate. But this minimalistic Vol Speaker takes you back to the good old days when music could only needed a single tweak of the dial.
Designed by Japanese artist Hironao Tsuboi for British American Tobacco, the "Vol" Portable Speaker reduces the otherwise complicated construction of sound systems to a single all-encompassing unit that provides all the functions that are designed in such a gadget. Composed of aluminum, the speaker measures 2.2 inches (55 mm) in diameter and 1.4 inches (37 mm) in height. To be used, the speaker can be switched on/off by turning the dial and the volume can be adjusted by rotating the dial further.
Powered by lithium battery, the lightweight speaker features no buttons but does have an audio jack, USB support and 5V DC input jack. The portable speaker is available in black, silver and blue shades.
Via: Designboom