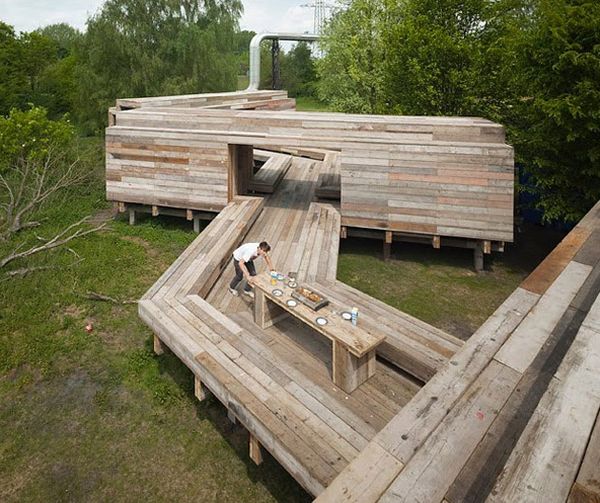 Ever imagine spending a night on a bridge, with water flowing underneath to steal your nerves? After spending thousands of dollars to re-naturalize the river Emscher that is a canal now will be full of water and a natural river in the next ten years. The project "Waiting for a River" is a design by a group of architects at Observatorium that represents waiting for better times and better surroundings. They have built an amazing covered bridge on a sewer canal that will become a river to attract the visitors.

This lovely covered bridge is just one of its kinds in the world. The amazing master piece is a 125 foot-long covered bridge over the future river. The bridge in itself is a small village, as it features a chain of rooms. This project magnifies a direct and an uninterrupted act of "waiting for a river." This amazing structure is built in such a way that it includes a hostel, bathroom and outdoor eating areas. Made up of recline timber, the bridge is up and running and was open for visitors last summer. The visitor can come to this place and stay there for 24 hours and enjoy this amazing waiting for a river act.
The bridge looks more like a place to relax and a beautiful picnic spot to chill and spend some good time with your family and friends. You can actually book a bed in that bridge to relax, away from your hectic schedule and pollution of the city. The bridge is built in a zigzag structure, hence believing that it is a bridge would get difficult at first site.
Building a bridge on an imaginary river would have been really very complex for the team of the architects working with Observatorium. However, they have turned the imaginary project into a reality, though the river is yet to be flooded with water.