Can every copywriter become a UX/UI writer? Sorry to disappoint, but it's not the same thing. Professional UX/UI writers are in demand right now by leading UX/UI design agencies. Therefore, it is a very well-paid position. Even if you have been working as an academic writer for DoMyEssay or as a copywriter for different clients for some time now, it doesn't automatically mean that you're capable of writing microcopy.

Today let's talk about the differences between UX writing and copywriting and what the core skills of a good UX/UI writer are.
Who Are UX writers and why companies need them
A UX writer is a unique specialist who has proficient knowledge in writing, behavioral psychology, and interface design. It is the person responsible for all the texts that appear in the application and operating system interfaces, websites, and games. You can call this writing microcopy since it's usually just a couple of words or sentences that convey the main idea. The goal of the microcopy is to help the user solve their problems using a digital product developed by professionals easily and intuitively.
What UX writers do
If you have a closer look at what UX writers do, you will see that their work consists principally of writing
menu buttons in games and application,
operating systems and mobile app notifications,
CTA for websites,
navigation elements,
404 screen messages.
Unlike in copywriting, a UX writer doesn't have to apply marketing techniques to attract new users to download an app or program. Marketing texts are very diverse: long reads, blog posts, press releases, or email. Whatever it be, the main goal is to promote and, after all, sell the product.
In UX writing, on the contrary, you can already stabilize a relationship with the user. The microcopy doesn't have to call emotions or logic but helps people who downloaded the solution. It's essential to aid them to navigate in the most natural and intuitive way. So the best microcopy is the one that doesn't make your user think. It is how maximum efficiency and satisfaction with the user experience are achieved. Thus the principles of copywriting and UX writing are different. Let us have a closer look.
Principles of UX writing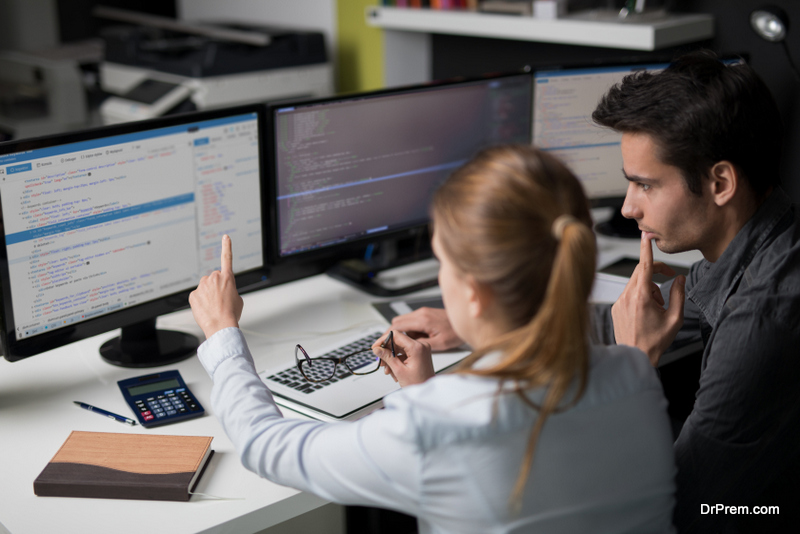 Here are some of the basic principles of writing that every UX writer has to follow.
1. Concise
Copywriting is all about selling. Probably, one of the most potent instruments of a copywriter is storytelling. By giving the reader an exciting story that solves their problems, buyers are attracted to the company. For example, think of the SPLAT toothpaste. In every box, there is a letter from the founder of the company who shares his thoughts, insights, and life lessons. It creates an emotional connection with the buyer and makes them likely to choose this brand again.
A UX writer, however, is not there to attract people, engage, or entertain them. He gives instructions on how to use the piece of technology the user is already holding in their hands.
2. Useful
Logically enough, the instructions a UX/UI writer gives should be helpful. To achieve that, a person should speak the same language as the audience. You should avoid academic vocabulary, tech-savvy terms, and complicated grammar structures. A UX/UI writer understands as well that not all the users of the mobile application or program are going to be native speakers of English. Everyone should find the text comprehensible.
3. Laconic
It is a particular skill to put complicated instructions in one or two words. Nobody wants to read long explanations when downloading a mobile game or a dating app. So, crafting short phrases for interface UX/UI is something useful to learn.
4. Leads to action
UX writing motivates the user to complete target actions and guides them on their way. It often contains CTA (or Call to Action) like "make an order," "subscribe," and "download" buttons. The motivation should be clear and appealing to the user; in other words, the words should directly reflect the result the user is going to get after pressing the button. For example, pushing "Free trial," they know they can explore some of the contents for free for a limited period.
Necessary skills for a UX writer
To become a UX/UI writer at a leading design agency firm, you need to be proficient at doing the following.
Delivering different forms of writing, whether it be instructions, buttons, or home screens, you know the principles of structure and can provide solutions.
You are one part designer and one part product manager. A writer works in a team with designers, developers, and product managers and interchanges their knowledge. However, you must understand the basic principles of screen-based text organization or your user's behavior patterns, in order to not make the life of your colleagues too complicated.
You are switching between industries. Outsource software development companies, and UX/UI agencies hire writers to work on different projects. So, this month, you might be working on microcopy for a shooter, and next month for a remote medicine app. You need to adapt your writing to your working field.
You work as a team. A UX/UI writer doesn't exist outside of a team. So this professional has to be able to express their ideas clearly and convincingly, have excellent interpersonal skills, be able to give and receive feedback and invest in reaching the common goal.
Real examples of UX copy
To help you better understand the difference between good and bad microcopy, let's study the following examples.
#1. Pixar 404 page
Just look at it. It's cute, pretty and reflects the brand perfectly. While facing a 404 error is one of the most unpleasant user experiences, Pixar indeed manages to turn it into an advantage rather than a pitfall.
#2. Tinder message prompt
The creators of Tinder know that starting a conversation with a stranger can be pretty awkward. They provide for the users like "Give them a compliment" or "Ask them about their favorite foods." And, considering Tinder is an international dating legend, it works!
#3. Grammarly homepage
Grammarly is all about writing quality copy, so no wonder that their home screen is flawless. It's concise, brief, and inspiring – you can't resist typing at least a few words.
As you can see, a UX writer is an indispensable person to any app design team. The microcopy they create influences user experience, so such professionals will always be in demand. Now you know what skills a UX/UI writer needs and you can surely become one any time.
Article Submitted By Community Writer