The hygiene of the living and working space is of utmost importance. Whether it's a property you own or rent, you have to keep it clean, fresh, and airy. However, it seems that a little more attention should be paid when it comes to rented properties.
When you entered the rented property, you found it clean and ready to move in. So the landlords expect you to leave it clean and tidy once you move out. And since end-of-tenancy cleaning can be too demanding and time-consuming, it's always a good idea to hire professionals. Feel free to check Anyclean Twitter for the best service out there, and thus save your time and money.
End-of-tenancy cleaning is mostly undertaken by the tenants, as it's a condition to get your security deposit back. However, depending on the lease agreement, landlords can decide to clean their rental properties alone or with professionals from cleaning agencies.
The tasks included in end-of-tenancy cleaning don't differ much from general cleaning. So, it's not a matter of superficial dust and dirt removal after moving out, but a thorough washing and disinfection of surfaces in each room. These premises require special attention, and there's a list of cleaning tasks for each.
1.     Living Room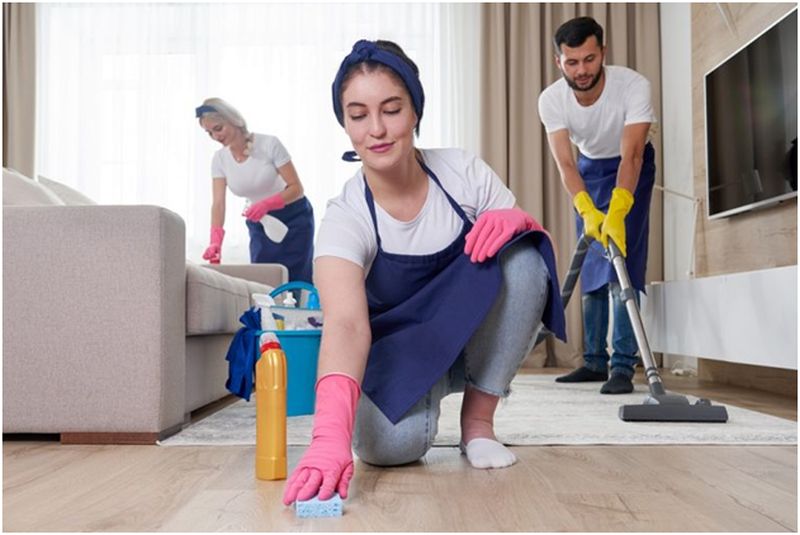 The living room is where tenants spend the most time, so it needs the highest level of hygiene. For starters, sweep the floors and remove dust from all visible surfaces. Hard floors like concrete or wood must be wiped with specialized products intended for those surfaces.
Then, vacuum the carpets and wash all the stains you've made. The same goes for rugs and upholstery, which are sometimes very demanding to wash manually. That's when professionals can come to the rescue, provided you haven't already hired them for end-of-tenancy cleaning.
As for the walls, they should be spotless, like when you moved in. So if there are stains, you have to wash them off, but if they're persistent, you can repaint them. If these stains are too large, it's desirable to level and repaint the entire wall. If you can't do it yourself, your landlord can carry this task out. You'll pay the costs, or the landlord will deduct them from your deposit.
After finishing these big jobs, you should start cleaning places that are not exposed, such as shelves, TV, and cabinets. The latter requires thorough internal cleaning. Also, give some extra love to glass surfaces such as windows and doors. Give these surfaces a good polish, which is possible with products and clothes intended for this purpose.
All the electronics in your house need cleaning, too. And if you've already started with the living room, you can dust off the TV and sound system there. Be sure to disconnect them from the power supply. Don't forget the switches, but be especially careful with them, because they're directly connected to the electrical wirings. So maybe turning off the main power switch is a good idea.
2.     Bedroom
The hygiene of the room where you sleep is of great importance. You have to think about this when you move out, too, because whoever moves in after you will also want to sleep in a clean and tidy room.
To begin with, after you have taken out all your things, you should open and ventilate the closets. Next, you have to clean them inside and out. Do the same with the desk (if any) and bedside tables.
Vacuum and mop the floors, and don't skip the parts under or behind the furniture. The bed should also be vacuumed or deep cleaned if stated in the lease arrangement. Finally, your job is to clean and dust the curtains and blinders, as a lot of dust accumulates there. You can reach out to insured post tenancy cleaning company to do this with their professional equipment.
3.     Bathroom
Considering its purpose, the bathroom is the room most exposed to filth. Even if you've maintained it regularly, you'll be surprised how much dirt is out there when you put away all your stuff.
First, remove cobwebs from corners and wipe the dust with a microfiber cloth. Don't forget about the floor, as there can be dust, crumbs, and hair. And while the bathroom is still dry, vacuum and mop the floor.
Move on to the sanitary facilities, which you'll spray with the cleaning agent, and leave it to work for a while. And while the scale remover sits, use the time to wipe bathroom furniture and other elements. Finally, rub the tub, toilet seat, and sink. Wash them out and let everything air dry.
4.     Kitchen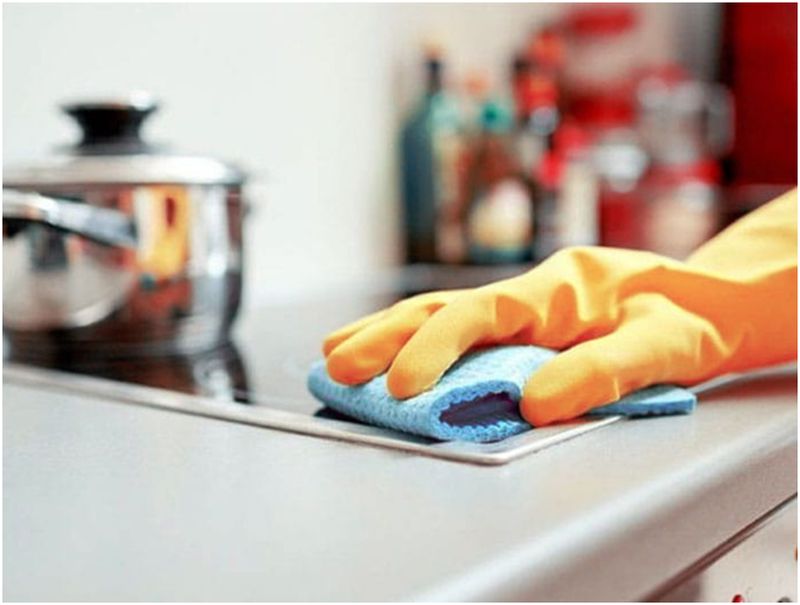 A kitchen is a place where grease accumulates as a result of cooking. That's why it's important to clean all visible surfaces and also pay attention to areas where these deposits can be a breeding ground for bacteria and germs.
As in all rooms, you have to vacuum the floors, wash the windows, and remove the dust. Next, degrease the oven and clean burnt-on food residues. Then proceed to remove limescale and grime from the dishwasher.
The refrigerator requires special attention, as it can take on a specific smell from food, so simple washing isn't enough. You must disinfect the inside and let it dry in the air. Do the same with racks, trays, and shelves.
When it comes to end-of-tenancy cleaning, you must tackle even the most hidden corners of your former home. That's expected of you because otherwise, the landlord can cut your deposit. So dedicate a few days to this task or rely on professionals to do the job quickly and efficiently.
Article Submitted By Community Writer