Bus shelters not only make it convenient for us to wait for our buses. Moreover, they also promote public transportation, which is definitely one step forward towards curbing our greenhouse emissions. Here, Let's take a look at these 12 highly innovative bus shelter designs. Some of them are even made from recycled material. Therefore, you can be sure of their positive contribution to the environment.
12 Highly innovative bus shelter designs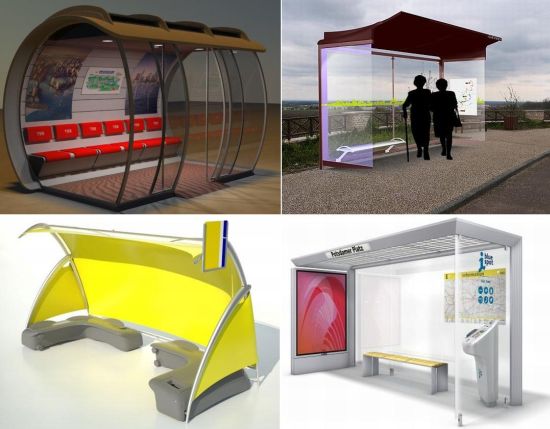 It was almost the same time last year when we introduced you to a list of 10 inspiring bus shelter designs that could help passengers wait for the buses in the best conditions and with utmost ease. It's almost a year now and in the meantime, we have seen so many designers coming up with interesting and high-tech bus shelter concepts. With these innovatively designed bus shelters, waiting for buses won't be anymore a pain in the ass. Here we have seven more incredible bus shelter designs.
1. Traffic Shelter System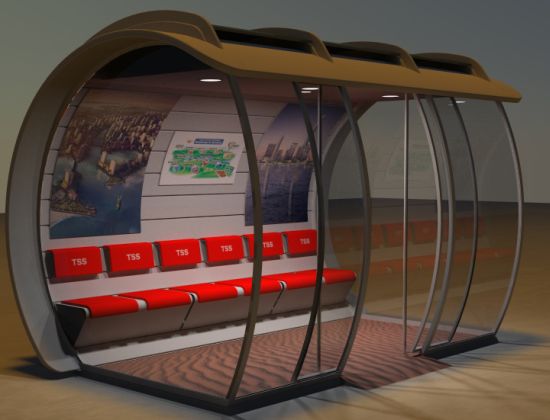 Refurbishing public transportation, the "Traffic Shelter System" (TSS) offers an innovative shelter that gives access to different public modes of transportation to commuters, and that too without striving in the open. Featuring an integrated air conditioner, together with automated sliding doors and complete wheelchair accessibility, the TSS helps passengers to move across and reach their destination with minimum fuss. Read more
2. Drop Spot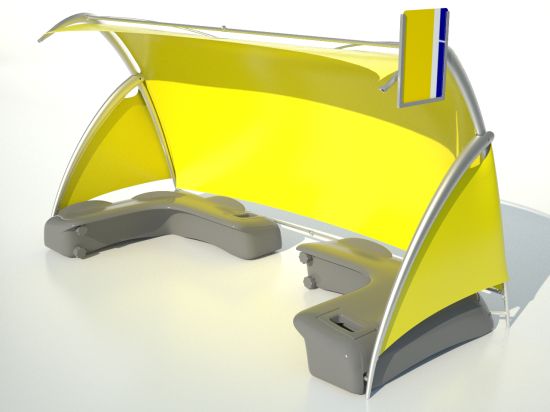 The Drop Spot by Jonas Elslander and Jeroen Robberechts is an inflatable shelter that offers an instant and cost-effective alternative to the bus stops and rain shelters. Amongst other things, this collapsible bus-stop is inexpensive to produce and easy to install, providing an instant seating and shelter for avid travelers in far off places. Read more
3. Solar-powered bus stop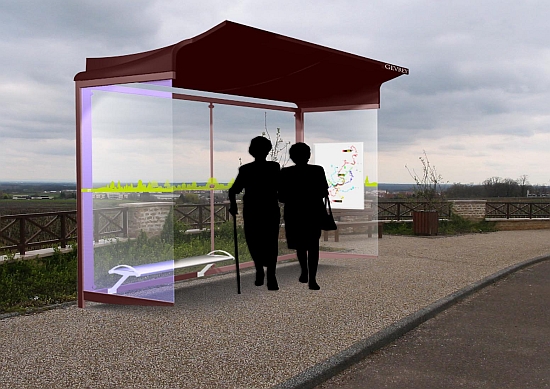 Developed by designer Johann Paquelier, the cost-efficient bus shelter range for small urban and suburban areas is basically a shelter with different options for comfort, which helps passengers wait for the bus in the best conditions. The shelters are designed in three different variants where the first two designs consist of a common roof in composite materials, which make it lighter than a metal one. Read more
4. Intelligent Bus Shelter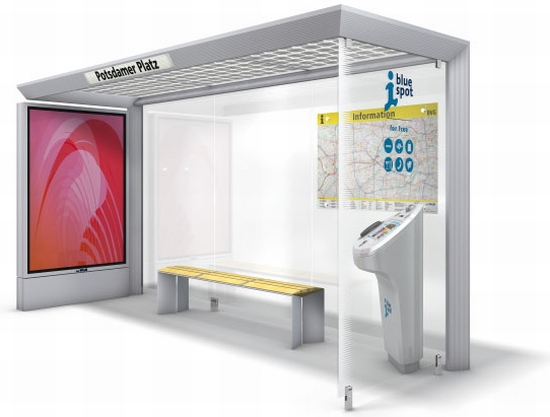 Japanese designers GK Sekkei have proposed intelligent bus stop shelters that harmonize seamlessly with the modern urban landscape. The bus stop shelters are constructed from a wide range of sustainable materials and offer modern amenities such as telephone, Wi-Fi, dynamic display for schedule and updates, advertising display case and a waste bin. Read more
5. Mass Transit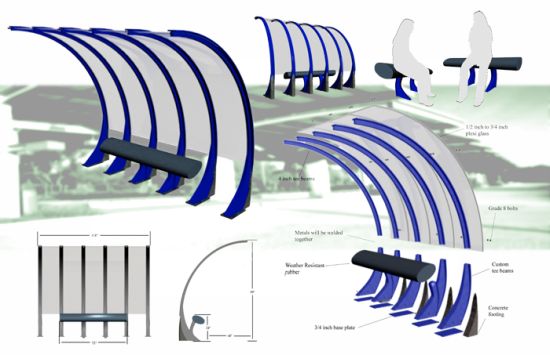 Nathan M. Schneider designed a special type of bus stop, keeping the comfort level of riders, interaction time and its environmental impact in mind. The design comprises of two parts, canopy and bench, creating the most usable and desired shape. The canopy is made of rolled T-beams, acrylic glass, steel and concrete with each section constituting two beams and one piece of glass, measuring between 8′ and 10' (tall) depending on the need. Read more
6. Sustainable bus stop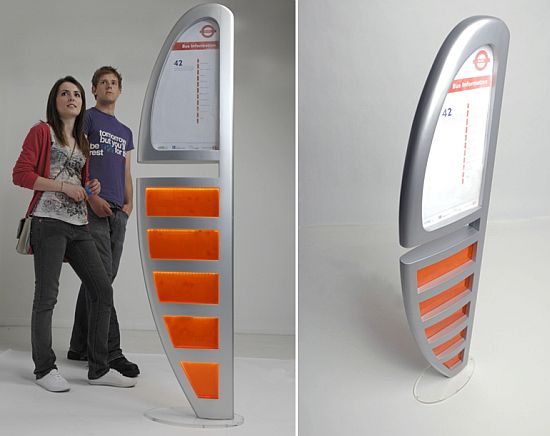 Industrial designer Laurence Kemball-Cook is envisioning a different type of renewable energy generating bus stop that will definitely function be it a clear day or an overcast one. Read more
7. Abrigo do onibus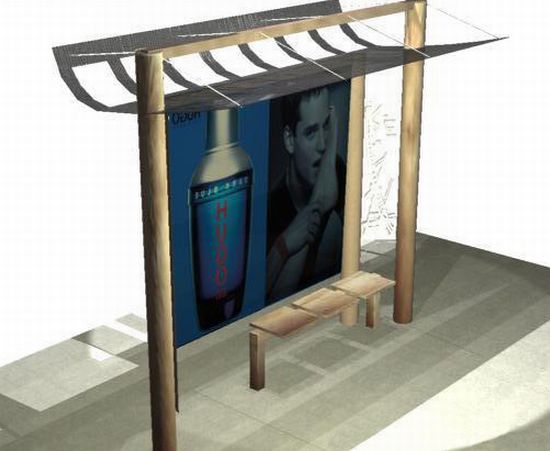 A team of industrial designers that includes Sergio Souza Pereira and Rafael Eller have designed a bus stop that could make your stay pleasant and comforting. "Abrigo do onibus," as the conceptual bus stop has been christened, is made from recycled wood and plastic composite lumber and is sheltered with a plexiglass roof which apart from keeping the interior cool is durable at the same time. Read more
8. Rural Bus Shelter Concept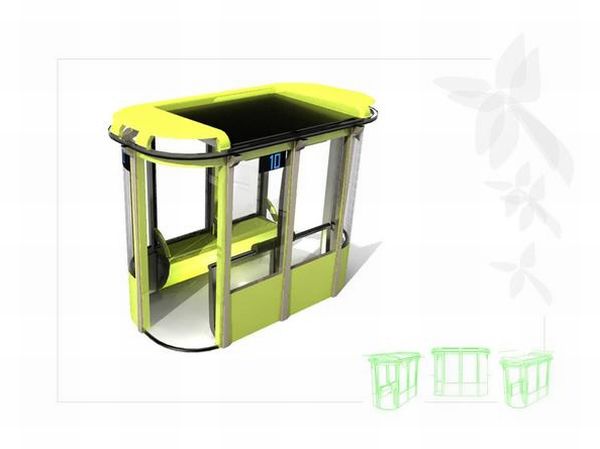 Rural areas remain devoid of basic facilities even in terms of transportation. Although bus facilities have been made available, it is the lack of proper timetables that create confusion in people. Pritpal Sahota assessed the whole situation and came up with the idea of Rural Bus Shelter, which will make waiting time at a bus stop more worthwhile.
The concept has been crafted solely keeping the set-up of a rural area in mind. The bus shelter will have a seating arrangement where people can relax while waiting. It will have a roof above, which will protect passengers from harsh weather conditions. Not only this, the roof will be wedged with solar panels that will produce power to facilitate the shelter's functioning.
Timetables will be displayed, which will inform passengers about all the arrivals and departures. All this will be prompted with the help of light signals in an interesting manner. Proper routes and bus locations will be shown on an overhead screen. The Rural Bus Shelter is a step ahead in providing basic facilities in rural areas. It will save precious time and end the worthless waits.
9. Eco Bus Shelter with harvesting system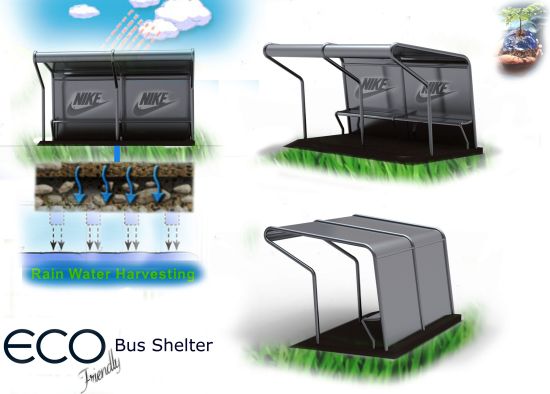 Individually, neither a bus shelter nor rainwater harvesting system may attract the attention of many a reader. However, if combined together they spontaneously become a significant matter for the masses. Conceived by Indian designer Ramesh Kanth, the "Eco Bus Shelter" is a common bus stop that integrates a harvesting system to harness the rainwater that can be used during the dry spell of the year. Moreover, considering the fact that a huge amount of rainwater drains into gutters, this eco-friendly bus shelter that recycles rainwater could turn out to be a boon for places receiving scanty rainfall.
10. Easy Entry Bus Shelter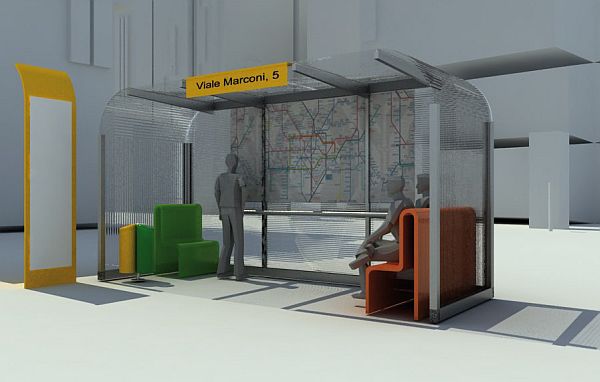 Waiting for the bus to arrive can be quite irritating at times. While designing a bus shelter, one hardly keeps a userin mind. Mostly a few seats are there with a top cover and then no one bothers after that. Making a note of all the flaws that bus shelters have, Pietro Posacki has designed the Easy Entry.

Pietro has tried to work around things like effortless usage and ease of access. If someone travels a lot by buses, they must have noticed that bus shelters lack things like sufficient coverage, trash bins, and good quality seats. Furthermore, the designer has tried to work on all these problems and provide a much better experience with Easy Entry.
A user will feel the security and comfort of a home while waiting for the bus to arrive. A dark polycarbonate makes the cover, which ensures that sunrays don't burn people sitting under the shelter.
With an ergonomic shape and modular qualities, Easy Entry will act as a perfect shelter with all the usable qualities intact.
11. Solar-powered bus shelters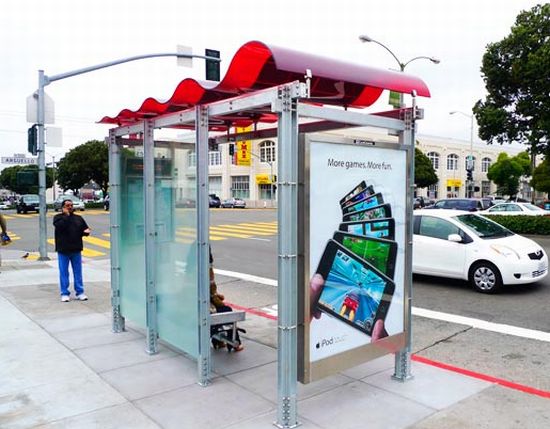 Going green is the popular thing to do nowadays. Now, San Francisco Mayor Gavin Newsom is hoping to make commuters' wait at the bus stops high-tech and sustainable. Pictured above is the first of the 1,100 solar powered bus shelters. They want to install these in the city by 2013. Featuring a red color roof of photovoltaic panels, these bus stops will exploit the sun's rays. Using them, the will power the integrated intercom, LED lighting, and even wireless routers that offer c blanket of WiFi throughout the city.
Designed by Lundberg Design and contracted through Clear Channel, the new shelters will have a roof made from an innovative 40% post-industrial recycled polycarbonate material fitted with thin-film photovoltaic cells.
The steel structure is made from 75 percent recycled material. Moreover, to top all these features, the bus stop also has a pushbutton update system and more space for transit information. The excess electricity generated will be sent back into the city's grid.
Mayor Newsom said, "Transit shelters that use photovoltaics, LEDS, and WiFi are going to be standard in the future and I'm proud that San Francisco is once again acting like the pace car for other cities by trying and implementing these technologies.".
12. Bus Shelter Made of Decomposed school buses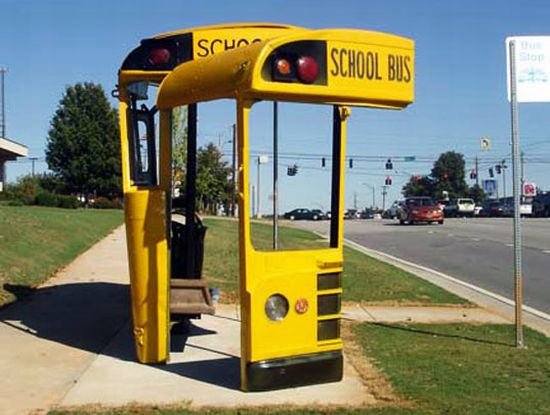 Dumping auto waste or old auto parts is one of the major problems for most nations across the world. Resurrecting old school buses, sculptor and designer Christopher Fennell has devised a bus shelter that not only looks unique but also helps in reducing the huge piles of auto waste. Made of selective parts and pieces from three iconic school buses, from the years '62, '72 and '77, and old city line seats, the yellow bus shelter is a unique way to attract people toward recycling and adopting a green lifestyle. Check out the video after the jump.
Read More: