Anyone who aspires for an eco-friendly lifestyle would always prefer racks over cupboards and garages. Cupboards and garages hide your belongings. They make you overestimate your needs, hence they promote hoarding. With racks, on the other hand, everything is on the display. Therefore, opting for them is a sustainable choice. Using this baker's rack, and other innovative racks mentioned in this article would definitely be a step towards an eco-friendly lifestyle.
Baker's Rack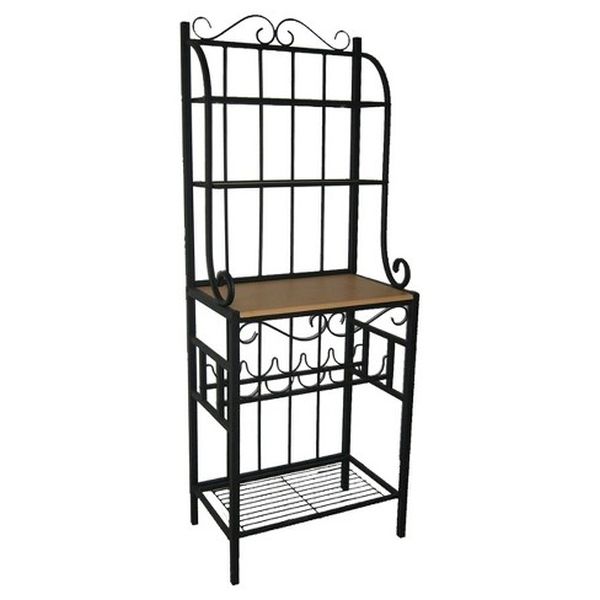 Concords may have stopped taking flights but they are making news in a different genre now – Home decor. A wrought iron chassis, this bakers rack is painstakingly put together by hand-paintings. The wood-veneered work surface expands counter space hence adding more functionality. The epicures would love this one with its space for 12 wine bottles that can be used to stash oil & vinegar bottles as well. The two wicker baskets add a classic touch and provide copious storage space!
Priced at $169, this classy combination of wood and wrought iron is sure to liven up the surroundings of your abode. This rack, with its muted design, will camouflage with any kind of interiors. A great combination of appearance and convenience, this one tops the list of every renovation plan.
Innovative Bike Rack Designs for an Eco-friendly parking
With the increasing gas prices, more and more people are shifting their mode of transportation from cars to bicycle. You can easily take bicycle to anywhere without spending a penny on the transportation. But as they say every coin has two sides, if bicycles can answer all your obstacles they also have their own set of problems. The main problem is where to store your bicycle? In this article, we will show you how.
1. City Bike Rack Design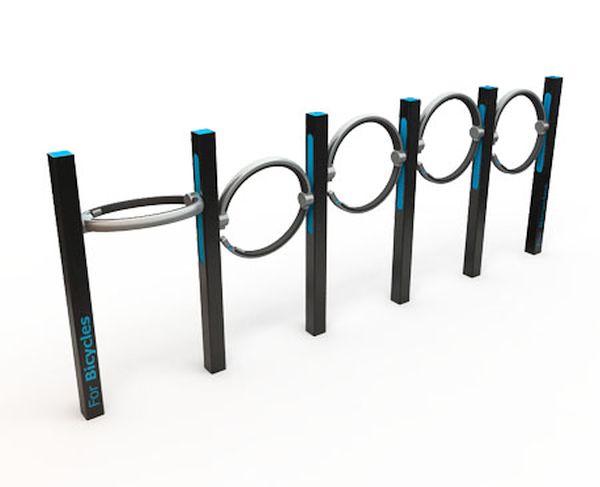 Ilya Tkach and Nikita Gutsalenko have designed the City Rack for the secure parking of bicycles. City Rack assures full security of your bicycle. You can lock your bicycle inside the rounded lock that is connected to the pillar. Your bicycle is safe and no one can steal it, and you can even lock your bicycle in any manner you want to.
2. Clever Rack Concept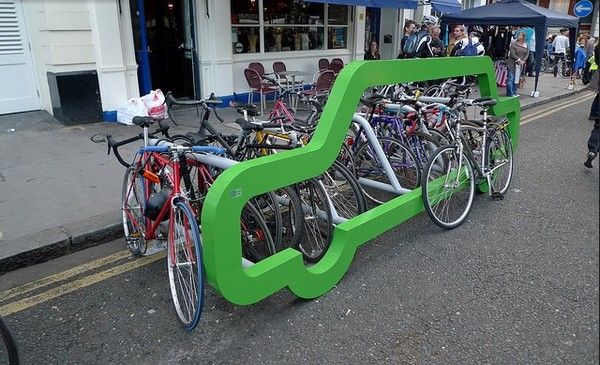 Behind this intelligent design is a London firm Cyclehoop, which has created car shaped bicycle racks. Different racks are painted with vivid colors and each rack has the capacity to park ten bicycles. These racks are portable and each rack comes with a bicycle pump. The idea behind this concept was to promote the use of bicycles over cars.
3. Wall-Hanger Bike Rack Concept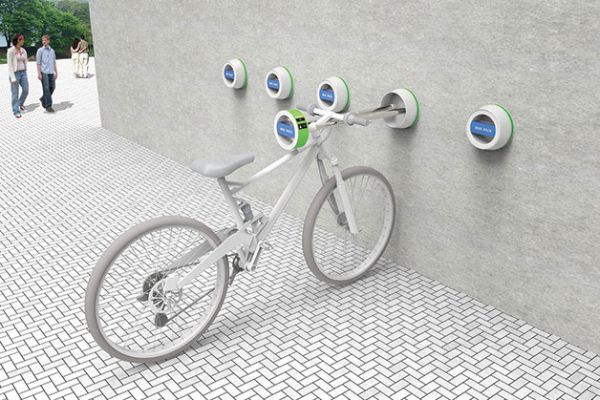 Wall Hanger Bike concept has won the Red Dot Award 2014. You can actually mount your bicycle on the wall and it requires no space at all. Furthermore, you can easily lock your bicycle in it and the wall-mounted rack gives full protection to your bike. Wall Hanger Bike rack gives you an easy way to park your bicycles.
4. Hoop Shaped Bike Rack Concept
This bike rack has a hoop shape that supports different bicycles and ensures full safety. The hoop design has number of attachment points inside it that gives the rack more functionality. The Hoop bike rack was designed for Greenwood, MS competition.
5. P1 Bike Rack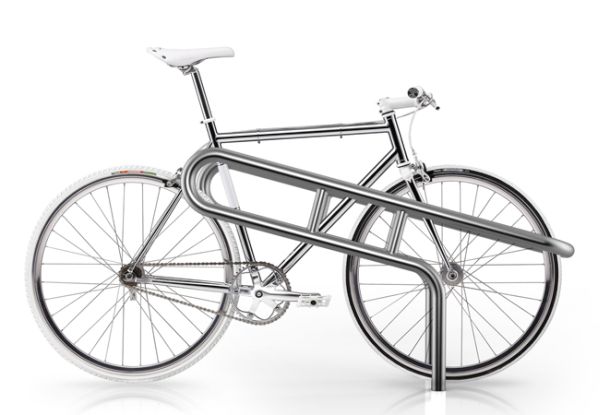 Vim and Vigor came with an elegant solution for the problem of parking bikes. P1 bike rack offers a capacity to park three bicycles at one time. The bike rack comes with the multiple locking points that promote full security of your bicycles. Furthermore, the bike rack consists of two-side railing that gives your bicycle more stability and prevents it from falling.
6. Geometric bicycle brackets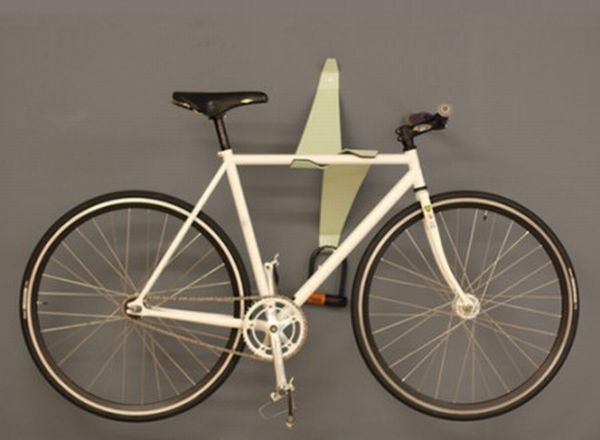 It is designed by Reclamation Art & furniture. It offers you amazing wall mounted bike racks that not only provide you enough space, but also are aesthetically pleasing. Moreover, these geometric shaped laser cut racks are available in six colors with two different types of padding for custom decoration.
7. The brilliant Very Nice Bike Rack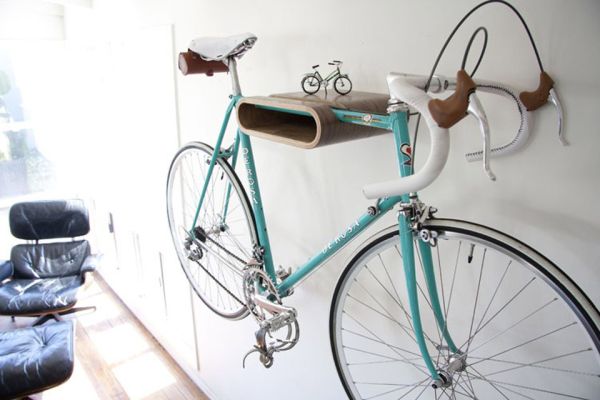 This bike rack truly suits for people who ride bicycle but do not have place to keep them when not in use. Designed by Daniel Ballou the rack comes in two versions and both are made from wood. One keeps the bike like a hanging painting and other keeps it fixed to the bottom of the wall.
8. MAMA bike rack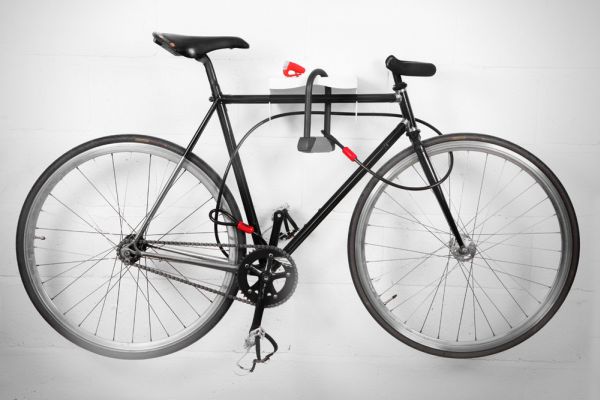 Those who just love their beloved bicycle but couldn't keep it in confined space should check out this bike rack. It allows you to hang your bike above pavement, inside or outside wall of a building. Designed by Matteo Baldarelli the rack allows you to lock your bike looped through and sometimes like a shelf as well.
9. DIY wall bike hanger rack
Made from recycled bike parts, this rack is quite a creation. Kyle Wilson used old pairs of handlebars and other recycled parts to create a strong bike hanger. The strong bike rack is then mounted onto a metal stem area and wall flange to allow it to be used against wall giving you enough space that you can hang another bike.
10. Commuter Bike rack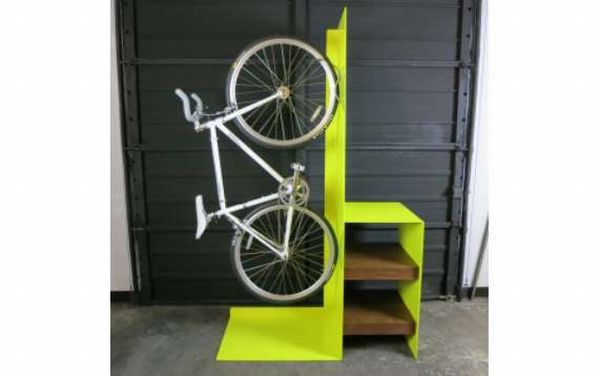 This bicycle rack is a big solution for all those who cannot keep their bicycle in hallways and balconies. The uniquely designed rack is quite a brilliant piece of furniture that supports your convenience. Moreover, it gives you a clever storage idea with a sturdy lock system in a vertical position. Crafted by Nihir shah and Payam Sarabi, the Commuter Bike Rack comes with a yellow steel tall flat plane with a tire clutch to hold the bike tightly.
11. Trophy bicycle holders.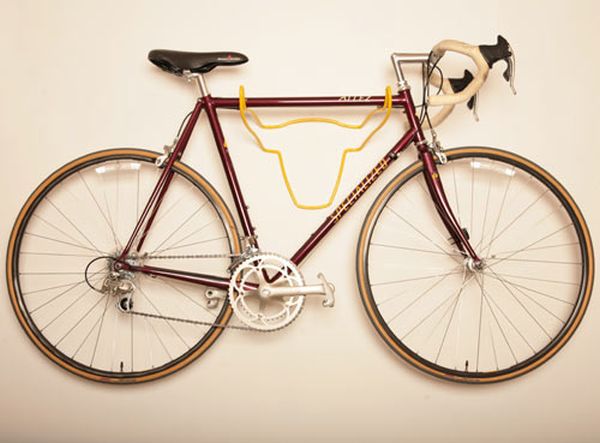 The perfect blend of style and functionality comes with this bicycle holder. It takes your mountain bike and turns it into a piece of décor. Furthermore, the bike rack is coated with soft touch plastic to make sure that the bikes are not scratched up and these racks are quite easy to install and use.
12. Bike rack inspired by tractor wheels
In a recent local design competition to design a bike rack for the city of Greenwood, Mississippi, Jon Rayeski grabbed the first position. As part of the prize, his bike rack will be prototyped and installed in the decided location. The rack is inspired by tractor wheels and cotton field rows disappearing into the horizon. The hoop shape was selected because of the simplicity and functionality of the design. In addition, the hoop allows many different bikes to be supported and safely secured to the rack.
One added benefit of this design is the flat shape that would prevent thieves from using a pipe cutter. From a functional standpoint, the center piece improves the rack's integrity while providing additional points to secure a bicycle with plenty of openings. While designing the rack, Rayeski's main goal was to create an iconic bike rack that reflects certain characteristics of the area while creating a secure easy location to lock a bicycle while in downtown Greenwood.
Summary
Bicycle rides are one of the most efficient ways to travel and stay fit and healthy while living in overcrowded and polluted cities or say large metropolises, but living and parking spaces are scarce.
These bike rack concepts are versatile and utilize very less space. Moreover, with them, you don't have to worry about the safety of your bikes anymore, these racks are unique, flexible and protects against theft.
Read More: