Taking care of your home is a big deal. The amount of time and money you put into your home is astronomical over time, and for most of us, it's the biggest investment of our lives. From upgrading your water system to the decorations in your home, the more you invest the more you receive!
For example, many homes with water treatment issues delay fixing the problem as it can be easier to just buy drinking water. Instead of just installing a countertop water filter system, it's easier or more 'convenient' to buy bottled. While the upfront purchase may be more expensive, the long term choice is financially better and you end up with a higher quality product! This sentiment is especially true for furniture.
With an enormous variety of materials ranging from cold concrete or stainless steel, endless types of synthetic plastics, to long-lasting wood furniture and more, choosing high-quality furniture can be both exciting and complex. Where to start? New, reclaimed, manufactured, eco-friendly, handcrafted? Not to mention countless styles and finishes one could choose…
While each material over the years has certainly had its place and moment in time, none are nearly as timeless or stunning as solid wood furniture. With beautiful walnut trees, strong oaks and maple trees from Canada, as well as other knotty hardwoods, there is a perfect fit for every modern house. The beauty and superior quality of handcrafted signature pieces will draw the eye of all who enter your home, and a well-cared-for piece of wood furniture can last for generations.
Among the many options available for wood furniture, reclaimed wood is a material these days that gets a respectable amount of attention, and this attention is for a good reason. Reclaimed wood offers many exceptional reasons to be chosen when furnishing a beautiful modern home, and below are the three main reasons to choose reclaimed wood over other options.
Character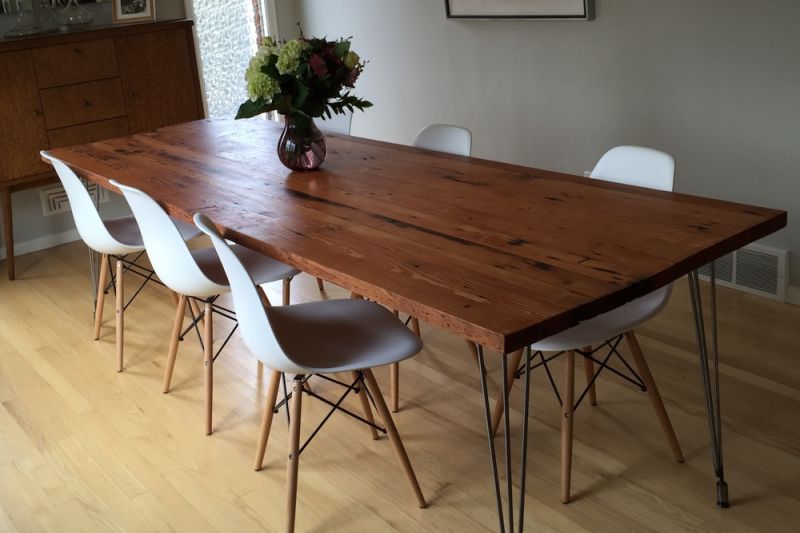 Image Source : blogbeen.com
Reclaimed wood tables add character to any room you display them in. Certain to make an absolute statement of beauty and elegance no matter which style you decide on, just picture walking into a tidy dining room with clean lines, modern lighting and freshly waxed hardwood floors to find at its centre a beautiful reclaimed wood table. Picture a large dining room table built of a sturdy reclaimed maple tree from here in Canada, with its stunning curved angles and years of history deep within its grain – you can almost feel the warmth and life it brings to this room. A table like this is sure to make guests feel welcome.
Eco-Friendly
When you get a reclaimed wood coffee table for your living room, you're sparing a new tree from being felled. Today many are paying more attention to what they're getting, where it came from and what effects the purchase has had on the planet. Choosing products and materials like reclaimed wood are great ways to make thoughtful decisions and feel confident about the purchases you make. Recycle, reuse, and reclaim. Everyone benefits from the process.
Durable
Reclaimed wood is long-lasting. These beloved hardwoods have stood the test of time and when repurposed, the stunning new furniture will continue to do just that. In fact, some refer to reclaimed wood as old growth, meaning the trees used in these timeless treasures were large, fully matured trees, some having lived more than a hundred years or more. Those years of accumulated strength reside in each layer, making reclaimed wood furniture perfect for family heirlooms.
You really can't go wrong with any type of solid wood furniture, but for a bit of character, eco-friendliness and durability in your home, reclaimed wood table is the way to go. The only problem is, any guest who comes over is going to want the exact same table.
Article Submitted By Community Writer