If you are what you eat, then the kitchen must be the symbol of your health, wealth and prosperity. However, in cities, where you can't afford to buy big houses, and so there's very little space left to have a decent kitchen. That space is even too big for the mini kitchens. Therefore, you have to go even smaller. You have to go micro. Micro kitchens, with their compact and attractive styles, are beautiful to look at and fulfill all the requirements of the health-conscious and green living folks. However, even with micro kitchens, you have to be specific or they look cluttered. Here are some beautiful micro kitchen designs that would help you with this.
7 – Extremely Beautiful Micro Kitchen Designs
1. Carnegie Mellon's BEAM system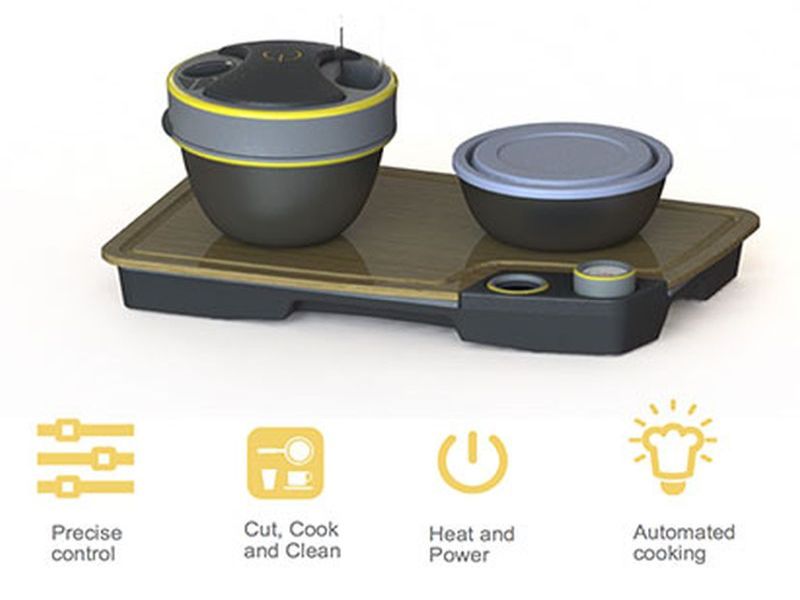 The BEAM micro kitchen includes a BEAMpro, BEAMbase, BEAMbowls, Sous Chef and BEAMlids which increases cooking efficiency and reducing clean-up. This system features electromagnetic coils which power the induction cooktop and blender, without requiring an extra power cord.
The induction cooktop that never gets hot is a good food prep surface too. BEAMlids contract and expand allowing for the most convenient storage of leftovers. The BEAMpro can mix, stir and dice, sense temperature, and is fully automated via the mobile app named SousChef. As the system is cordless, it can be moved to any room or location of choice. This makes it a good option for dorms and small apartments.
2. Gali system by Ana Arana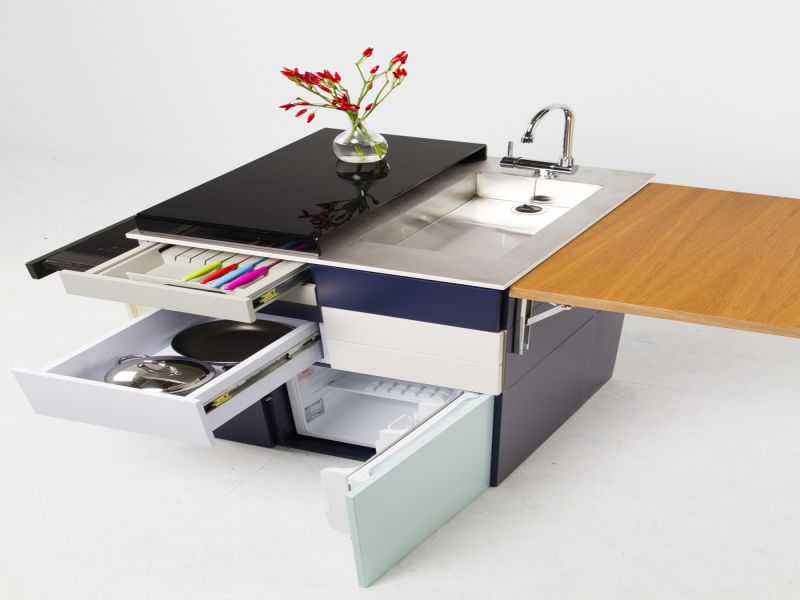 We'd save a lot of space if we could tuck away the kitchen when it wasn't being used. Designer Ana Arana had this in mind when she designed the Gali micro kitchen. It folds up when not in use and unfolds when you need to cook. The designer who is based in Madrid designed the beautiful micro kitchen. It is portable and extremely compact. Furthermore, it takes inspiration by her own experience of constrained and restricted living space, as well as researching the consumption and preparation methods and habits.
She realized that kitchens, even in very small apartments are sometimes quite huge though it's hardly ever used, and that their design had not changed since the time they were first designed after the first World War. Arana wants to introduce people to micro kitchens through her design which consists of various modules like the stove, sink, refrigerator, toaster, microwave, countertop, trash can and storage which are collapsed to occupy space less than 9 sq ft.
3. Mini Kitchen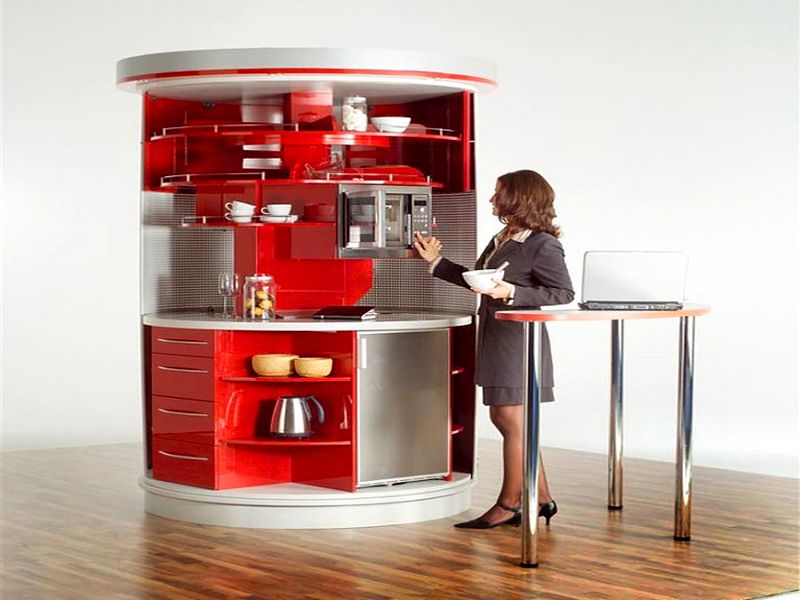 Compact Concepts, a company from New Zealand created the mini kitchen. It's sleek and beautiful and requires only 1.8 sq meters in area. It includes everything you need neatly packed into one compact system – microwave, dishwasher, refrigerator, coffee maker, sink and electric stove are fitted in this mini kitchen.
Furthermore, it also comes in many colors and additional accessories can be fitted as per requirement and looks very attractive and can transform your kitchen into a functional and beautiful one. This micro kitchen can fit in the smallest of spaces and would look great in bigger kitchens as well.
4. Micro kitchen from GE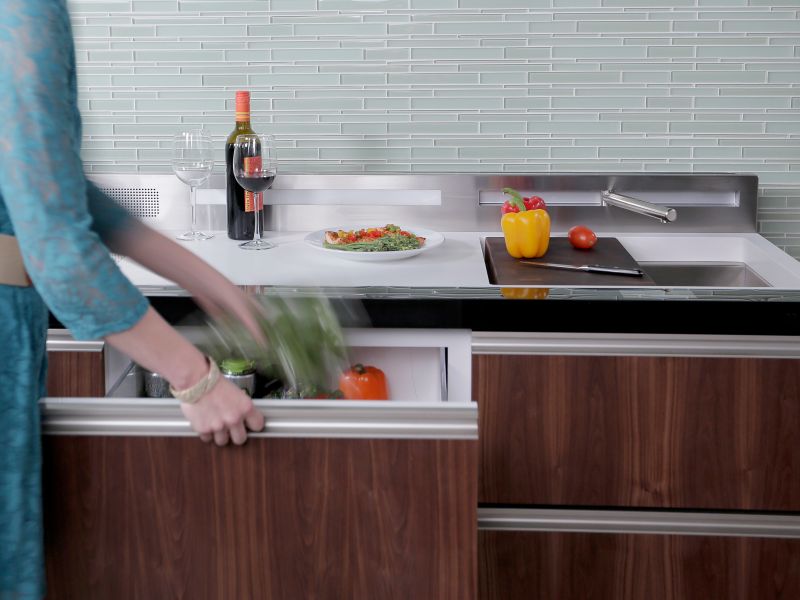 Most people prefer to live in urban areas to be closer to their jobs and the many myriad things to do. But living in urban areas means living in smaller spaces but they do not want to compromise on anything, especially the kitchen. GE developed the micro kitchen which is the size of a refrigerator, which includes a freezer, fridge, dishwasher, microwave, oven, stovetop, and all of this is in a 6 ft table.
The stovetop is manufactured from unbreakable glass and it can be either radiant or induction, depending on price. The sink has a garbage disposal and a pull-out faucet has a touch sensor for temperature control. The oven, stovetop, and microwave have touch controls, and the timers, heaters and preheat can be set with touch controls too.
The micro kitchen was designed to fit inside the elevator in New York. Customers have the choice to decide on their appliances and cabinetry, depending on their budget.
5. Tube, Micro Kitchen
Besides a packed schedule, unavailability of a compact or a smart kitchen is another reason that defers the working generation from cooking their meals at home, giving way to obesity and food related predicament. Addressing the issue for the working single or a couple, or even a small family for that matter, designer Faith Can Sarioz has come up with a compact, but at the same time unique, kitchen concept that easily fits in the small city apartments, allowing fresh and hygienic home made food for the working people.
Hailed as "Tube," the mini kitchen module takes its shape from 2 tubes that are united by a stem. Presenting a double decked glass case, the modular kitchen also features a round cooker (with induction technology) for a burn-free cooking. You may store small dishes in the oval drawers; while on the other hand, a big hatch provides amble space for saucepans. Moreover, the mini kitchen includes a table that comes out the module to dine the food for a small family. Simply smart and space saving, a boon for compact urban apartments!
6. C=1m2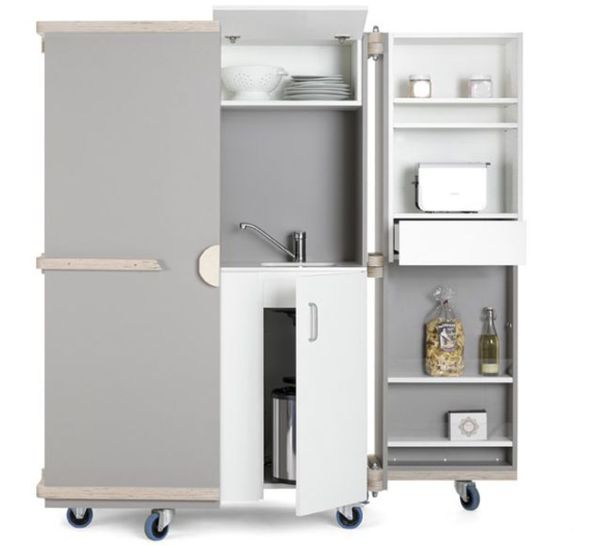 The C=1m2 is an amazing kitchen that does not require an electrical outlet and a water source. This 550-pound kitchen on wheels designed by Jean-Luc Sifferlin from France is a dream come true for someone who is always on the move. The kitchen is assembled neatly and you can fold it up, once meals are served. This is the ideal kitchen design for loft homes or studio apartments as well as pop-up spaces and offices. Priced at $8, 820, the C=1m2 comes in two different variations, indoor and outdoor. It is portable and can be shifted entirely to another location without the need of setting up a regular kitchen. The portable kitchen comes in a variety of color choices.
7. Micro Kitchen by Clei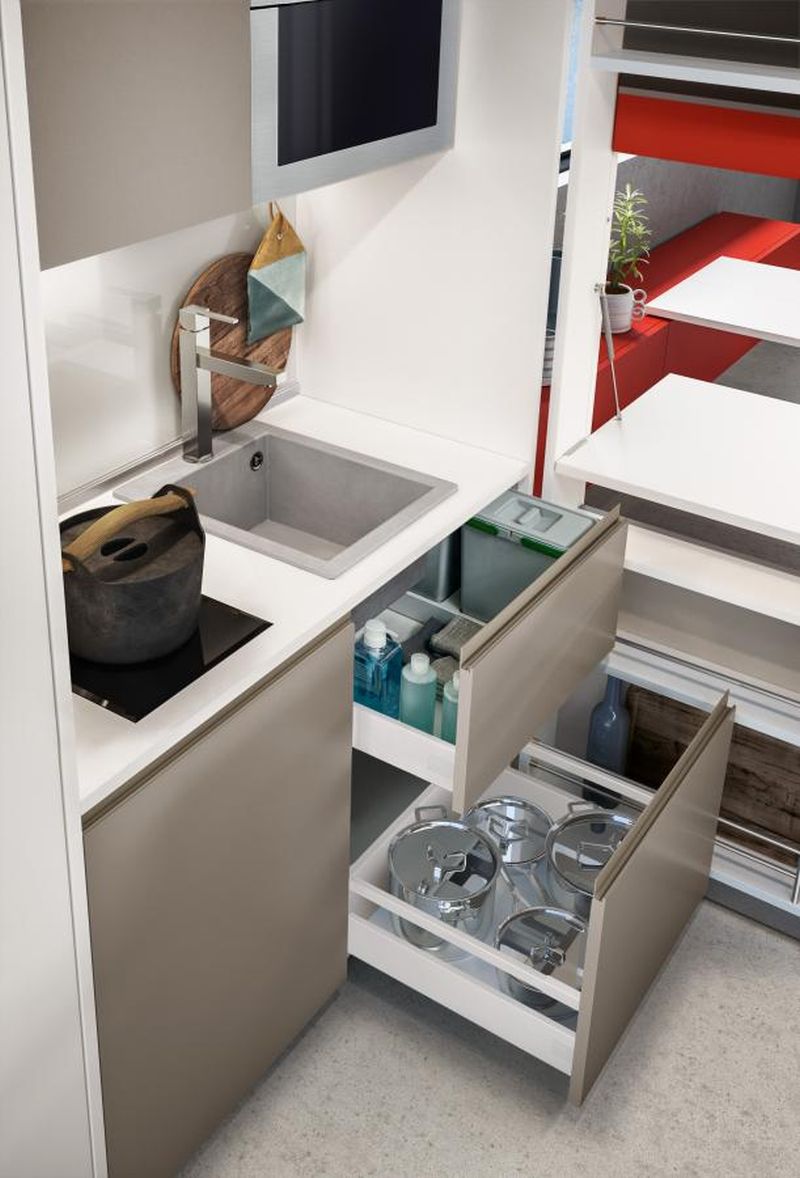 Most office spaces and homes come without other facilities, other than the usual hardware like sinks and toilets. Clei, an Italian furniture firm has unveiled its mini kitchen that is portable. This kitchen was a surprise element at the Milan Furniture fair in 2013, as this kitchen designed by Massimo Facchinetti is a compact tower that can hold all the basic kitchen appliances. It also has a 15 square foot dining space, herb garden and an espresso machine. This compact kitchen would soon be up in the market and would likely cost around 8000 pounds.
Final Words
Small is beautiful for sure as these micro kitchens prove. Micro kitchens which have every appliance built into it including "sociability". These kitchens are for the space-challenged as well as for those who are always on the go and like to have everything in place and within reach.
These micro kitchens are energy efficient and easy to clean. Furthermore, they store things, make home cooking easier and as hassle-free as possible. Micro kitchens are the latest innovation in the kitchen design. They look poised to be the kitchen of choice of the future.