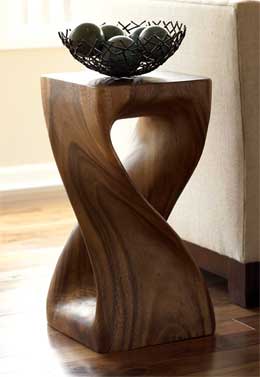 Viva Terra brings a new Twisty Stool, it has perfect height so it can be very well utilized as a stool. You can use it as a side table or just as a stand to place your attractive items on it, well I can say that it can be used for multiple purposes and you can arrange it and use it according to your requirements. This stool is very beutifully crafted and looks very atttarctive. I can only say — wow, after having a look of it.
Everyone can manage this stool, as it is easily shifted from one place to the other. It is made out of a single branch of shiny monkey pod wood. Check out the color of this lovely wood, it looks awesome, as the color varies from honey brown to reddish brown. Its dimensions are — 12″L x 12″W x 23″H.
The single piece of this stool will cost you — $195 and if you want a pair of it, than the price of this set would be — $349.