All Terrain Vehicles have always been in! They have their own niche market, which is always there. As a distant relative, they have dirt bikes. Both of these account for what we now know as off-roading sports. However, just like is the case with sports cars, they too have certain specifications which make them better than the rest. Therefore, you need to check out the specifications before you mark one ATV better than the other. So, here are 5 best ATVs ever produced in the history of off-roading sport.
Best ATVs ever produced in the history of off-roading sport
Starting with Honda ATC, ATV has been produced since 1970's. These three and four wheeler vehicles have been popular all over the world, with more than 6.5 million pieces sold in the first thirty years. In fact, even after the advent of newer sports vehicles, this utility vehicle has managed to keep its charm intact. For the past decade, it has offered millions of families a fun filled, enthralling conveyance option that manages to look mean and edgy on the roads. No matter which ATV you have, people always turn around to give a second look!
Here is a list of best ATVs that has ruled the world with their design, mean mechanics and comfort.
1. Honda ATC90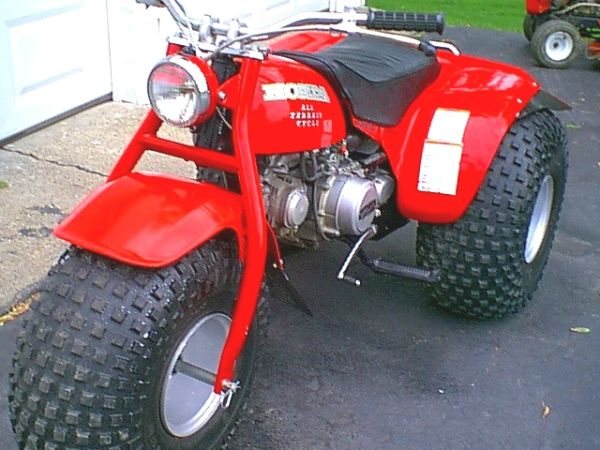 Known as the star performer and the first of its kind, Honda ATC90 was called ATC because it was an All Terrain Cycle that allowed vehicle drivers to easily make their way through different terrains, including the difficult ones like sand or mud. The three-wheeler featured air cool, four-speed engine that gave it supreme power. Not just that, it also came with folding handlebars, which was quite an innovative accomplishment those days. However, if you thought that it was pricey, then you are wrong. The bikes blue and yellow versions came for less than USD 600.
2. Yamaha Banshee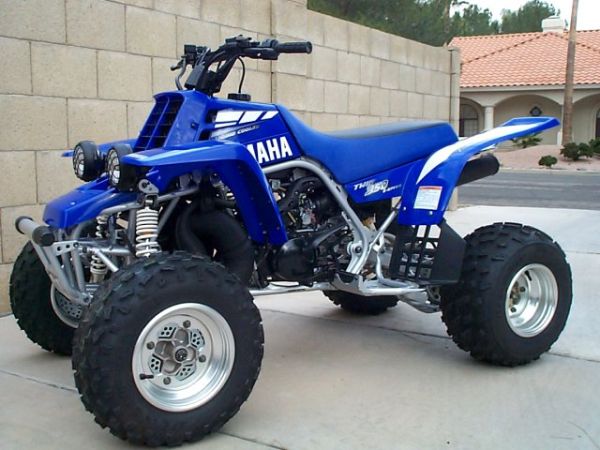 This machine looked mean from all the angles. The stylish four-wheeler, with its big tires and 350cc power plant made it sturdy, powerful and reliable company for toughest terrain. Well, it didn't really have a reverse or electric start, but it was still a machine you could race with. Today it is powered by twin cylinders and available in several countries like Australia and Germany where it is priced a little over USD 6000.
3. Polaris Sportsman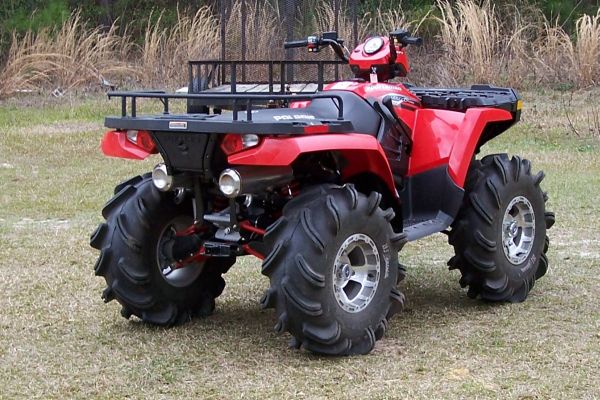 When this ATV came out in 1996, little did anyone know that a small, red color, play tool inspired book would become a leader in its class. The ATC with it 500 cc Motor and CVT suspension created waves for it's never seen before rear suspension. Moreover, now being modified, it comes with a stylish fully automatic CVT Transmission. So, whether you are in the mud or the sands, this is an ATV that would make your journey worthy!
4. Yamaha Rhino 660
Yamaha has been the undisputed king of ATVs and this is one of its stars. A lot like a small jeep, 2004 Yamaha Rhino forced ATV lovers to skip a heartbeat. The beautifully designed product had a steering wheel, two side seating and comfortable cockpit.
5. Yamaha Grizzly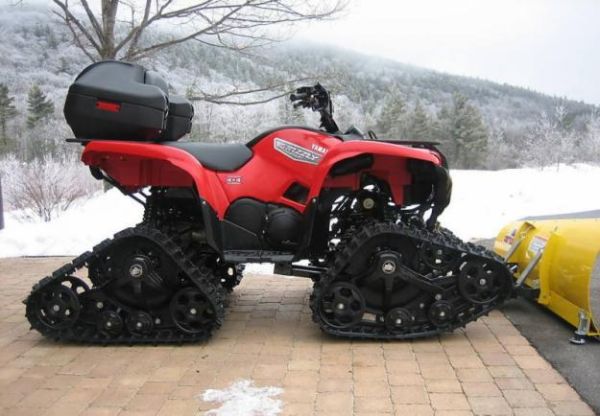 This electronic ATV is now a widely popular mode of conveyance for people who like to challenge themselves by driving on different terrains. The 2006 produced ATV comes with EPS and has several designer features that will blow you.
Some Other Innovative ATVS
1. Pantro ATV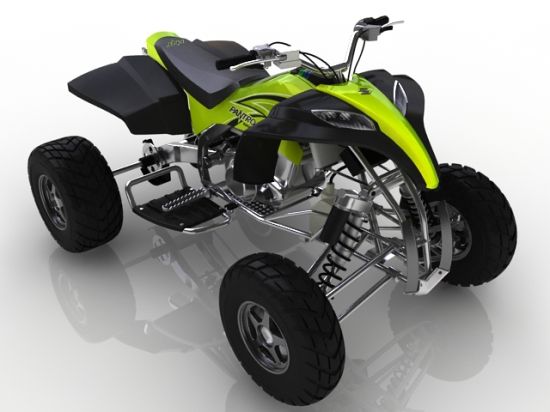 Motivated by the strong as well as flexible body movement of a panther, designer Pablo Gabriel Gonzalez Bellozas has designed an All Terrain Vehicle (ATV) named "Pantro" that not just symbolizes freedom and dynamism but also boasts speed and agility on the road. The new ATV is composed of three main parts: the front, the body and the guards. The front part includes the bumper that simulates the fury of the cat and the body presents a proportionate structure and ergonomics to perform jumps or stunts, while the side guards with serrated foot supports prevent the foot from sliding and keep the rider intact on bumpy tracks. Featuring uncomplicated controls for effortless driving, the Pantro comes with a flexible handle that allows different riding positions to the rider. The Pantro is simply a panther on the road.
2. Brudeli 654L Leanster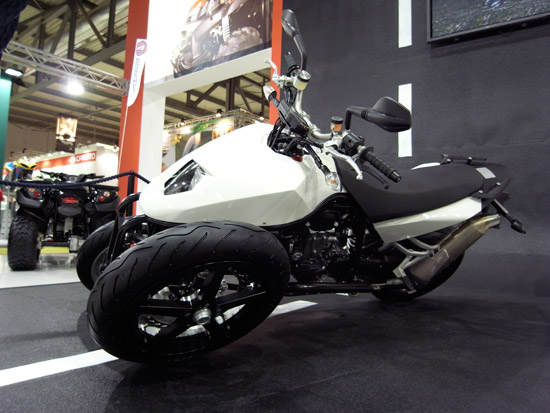 Bridging the gap between a motorcycle and ATV-quad, Norwegian company Brudeli Tech has come up with a radical vehicle named "654L Leanster" to take you on a joy ride. Ideal for both normal and off-road excursions, the hybrid vehicle other than being stable like a sport quad, can also lean into corners like a motorcycle. Not only the body but also the wheels of the 654L Leanster can tilt at an angle up to 45 degrees. And the footboards stay parallel to the ground, ensuring stability and providing a thrill as well as safety to the rider.
3. KTM RC4 ATV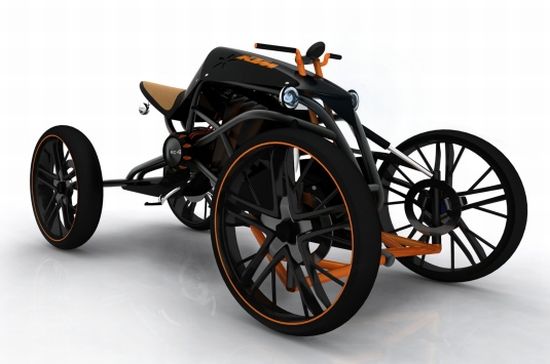 Designer Tristan Hipps continues to impress with his futuristic vehicle designs. Earlier we covered his Hotrod concept, now the celebrated designer has yet again popped up with an electric masterpiece that could well be your mode of transportation in the days to come. Dubbed "KTM RC4," the concept car shows off the man's prowess with a clean design and an interesting shape. Its design merges well with the aggressive shape, and looks fit for a badass ATV. The RC4 ATV has been designed as a road-going vehicle for "active people," and it is all fun to ride. Powered by a lithium ion battery, the concept vehicle allows environment friendly commutation for trendy commuters. moreover, the machine can pivot and carve through corners to make the ride more exciting, while allowing an enhanced riding experience.
4. TRAKROK ATV Trike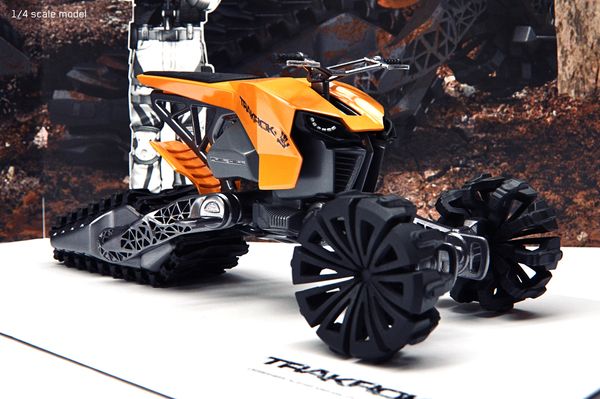 The TrakRok ATV trike concept, which can work on a wide variety of terrains, has been designed by Alexei Mikhailov. The quad comes wedged with powerful electric motors, which can easily push the vehicle both on mud and snow. The front wheels of this trike concept get all the muscle from electric motors individually, which sends an adrenaline rush to the vehicle.It can be used for a variety of purposes like farming, military, relaxation and off-roading, to name a few. Apt for adventure motorsports, it will bow down to all your demands. It comes with a flexibility to perform tasks, which other quads cannot even think of in their wildest dreams. Designed in a hollow manner, the chassis have been fashioned from anodized aluminum, which makes it sturdy and lightweight hence. The TrakRok can conquer even the worst possible terrain and weather conditions with minimum fuss.
Hydrogen fuel cell technology has been embraced to make the ATV roar like a monster. The renewable form of energy powers the system and bring down the center of gravity as well. Two radiator intakes have been embedded in the frontage, which keep the fuel cells, located in the middle portion, at a desired temperature.
With its wits and charming appeal, TrakRok ATV trike concept will quench the rider's thirst with some power loaded fun.
Via: AMV-Design
5.  MxS ATV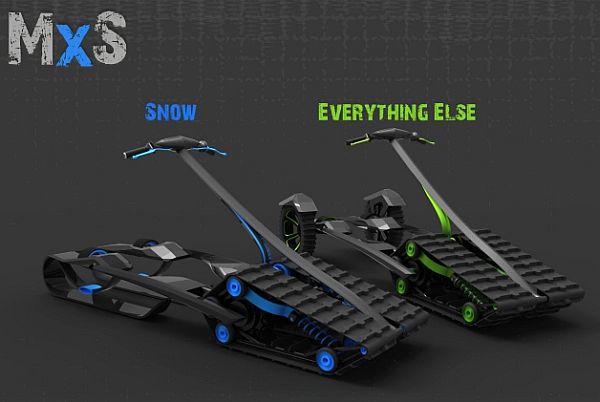 Have you ever craved for a vehicle which will work both on snow as well as rough terrain? Here to make your dream a reality is, Matt De Bellefeuille with an all terrain vehicle. Dubbed MxS, it will bow down to all your needs throughout the year.
MxS comes fitted with rear legs that are interchangeable and are a real reason why it can be driven all year round. In addition, the presence of carbon fiber lends it natural flexibility, which helps in soaking up all shocks that uneven topography has to offer.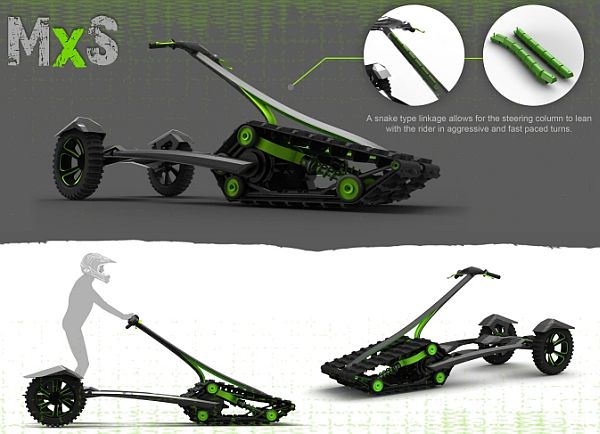 The rear tyres when swapped with two skies will make snow lovers go insane. The ride, which is powered by electric motors, will allow the user to cover snow loaded areas with ease. The steering column is supple and will bend with the rider, thanks to its snake like links. This will also add stability when maneuvering it at a forceful pace.