Nowadays, the touch screen interface has become heartbeat of many tech loving people. Almost all the gadget nowadays use touch screen interface, be it PC, tablet, phones, or digital cameras. Most of the brands of mobile telephony have some of their products with touch-screen interface. Now brands are competing against each other to have as many innovative ideas to attract the customers as possible. The result is now we have an array of easy to use touch-screen smart phones with beautiful screens. Many designers are working to bring out a revolution in touch-phone technology and in future, they will bring out such fascinating products, that you will forget that physical keys ever existed.
The BenQ Siemens Snake concept phone
BenQ designers design this snake style, irresistible bracelet phone. There is a tiny display, media playback buttons, and various phone keys. Since it remains in touch with the body, it also has a body-monitoring sensor for fitness conscious people. A smart idea, isn't it?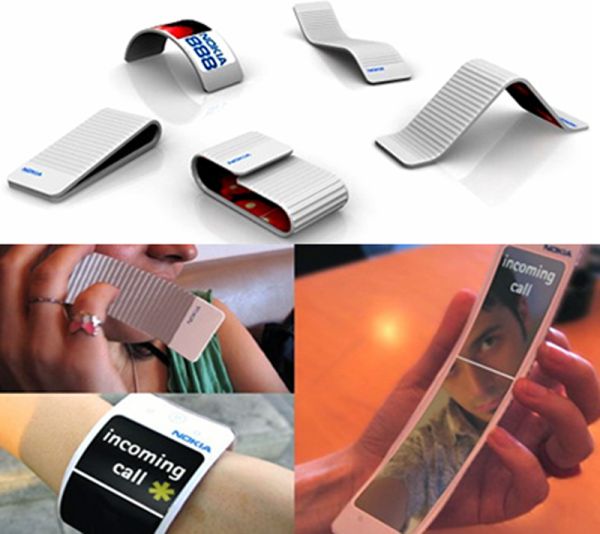 Nokia 888 mobile phone
This light and simple phone can change form according to your needs. You can bend it or even roll it and keep it in your pocket. Designed by Tamer Nakisci, it uses liquid battery. It has flexible touch screen and speech recognition feature.
The Ring phone by Tao Ma
Tao Ma designs this simple and beautiful phone. This Sony Ericsson Ring phone concept won the SE design competition in 2004. You have to bring the ring near your ear while making a call. There is a beautiful round screen at the centre.
CiSi Android concept phone
This eco friendly futuristic phone has a beautiful wooden finish. It has all the cutting-edge features and extremely thin casing. It runs on Android 2.1, a custom interface for Android OS. It has four backlit main keys and a volume rocker.
The Dial concept phone
This futuristic phone, designed by Jung Dae Hoon is inspired by the good old glorious era of dial phones. It combines mobile technology with modern jewelry sensibility, and can be worn like a bangle. A projected light beam at the centre acts as a touch-screen dial.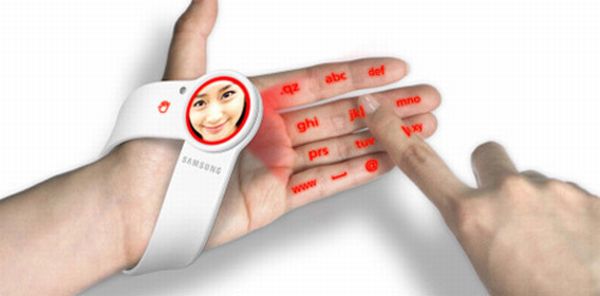 Finger touching phone
Sunman Kwon designs finger touching phone concept. There is no keyboard and your fingers become keyboard. This futuristic concept may make you feel like a nerd, talking to your fingers, but this phone allows easy communication. The phone uses the 12 instinctive finger joints for easy controls. It is a bracelet like handset that projects its keypad into your hand.