Smooth, elegant and stylish are the words that aptly describe the concept design dubbed Peel. The brainchild of Peter from United Kingdom, it was created when fruit peels, ornament and gadget collided to form a futuristic trendy bracelet that can even show you the current time!
Boasting of an organic shape, the unique design flashed upon Peter's mind during a Christmas shopping with his wife. The modern Christmas tree globes created out of a single strip metal sparked the memories of a chair based on shape of orange skin. And thus the Peel watch was born.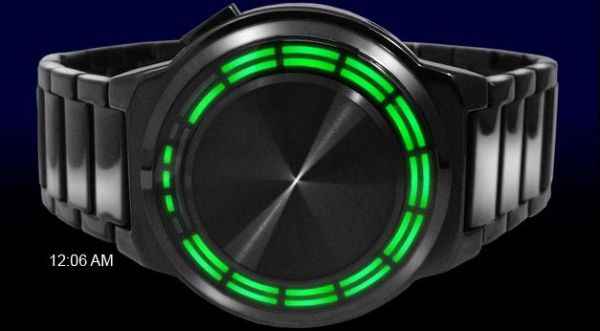 Inspired primarily by the RPM LED watches and the Seven series of watches, Peel has the similar power of LED to denote the time. The spiral has three sets of light affixed to it. The innermost section rows indicate five minutes gaps like the traditional watches. This part extends up to another row of LEDs that is present at the 12 o'clock position, counting every step in change of minute. According to TokyoFlash, the outer concentric circle has twelve rows of light that blinks accordingly from 1 o'clock to 12 o'clock. The creator is currently customizing options to enable USB charging and a decent battery backup.
The mid section of the clock is designed to be flipped open while wearing the clock in your hand. Don't be surprised if people mistake it for a bracelet! The features have a feministic feel to it but the unique design will appeal to men as well. Organic yet original, Peel is sure to make hearts race when it actually turns real from a three dimensional computerized model. The hybrid of flora and alien technology will be the perfect gift you can give to your loved ones.