Bowls count as amongst the most minute and therefore most underrated items of your home decor. Nevertheless, they are indispensable. Therefore, make sure that you buy the bowls that blend in perfectly with your overall decoration scheme. These would definitely heighten the impression of your house. Furthermore, with innovative bowl ideas like the ones mentioned in the article, you can give a specific tone to your house. This might be a thing that's too expensive to do with your other decor items like artworks. Therefore, for your reference here's origami bowls and some other highly innovative bowl design. Choose the one you like according to your particular requirement.
Origami Bowls
Her brand name 'Fold' is kind of a give away for the techniques used in creating these exquisite and mysterious bowls and lampshade designs, and New Zealander Rachel Young exhibits how the ancient Japanese paper-folding art of origami can be used to create functional pieces of daily use items as well. Using sheets of plastic in place of paper, Young adds a stunning durability to her designs all of which, BTW, are hand-folded in a grueling nine-month-long process! Now that's gotta be worth classifying these elegant designs as classics and heirloom pieces alone. Glad to see someone out there still believes in creating artwork with some good old fashioned grit and passion. If black is the tone of your home decor, go for it.
Some more innovative fruit bowl designs like origami bowls
1. The Ring: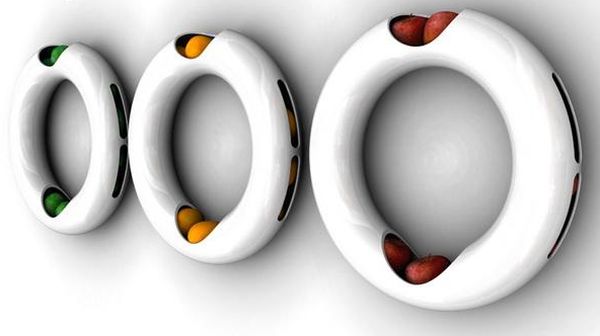 "The Ring" is a unique fruit bowl made up of porcelain. Unlike regular fruit bowls kept on a table or placed on the kitchen unit, this amazing fruit bowl is hanged on the wall. The concept of the fruit bowl is simply artistic which presents a more enchanting way of preserving the foods that you shouldn't refrigerate.
2. The Cocoon: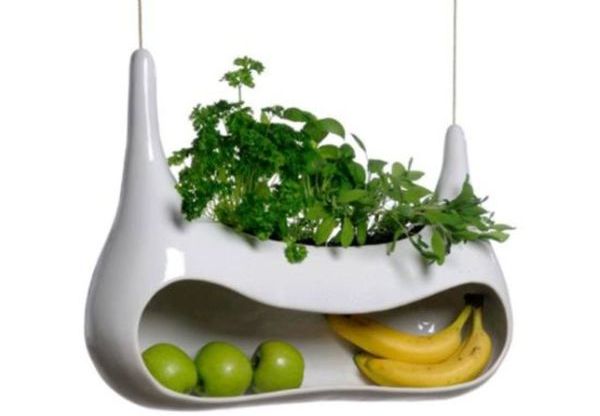 Designed by Mans Salomonsen, this is another unusual way of keeping your fruits. The cocoon is made especially for kitchen storage, which can be used to pot tiny plants and a few fruits altogether. It is multi-functional that you can use effectively for cultivation, decoration, and storage inside the kitchen and kitchen window. The shape of the bowl is very organic which can beautifully store fruits like bananas.
3. The Apple Tree: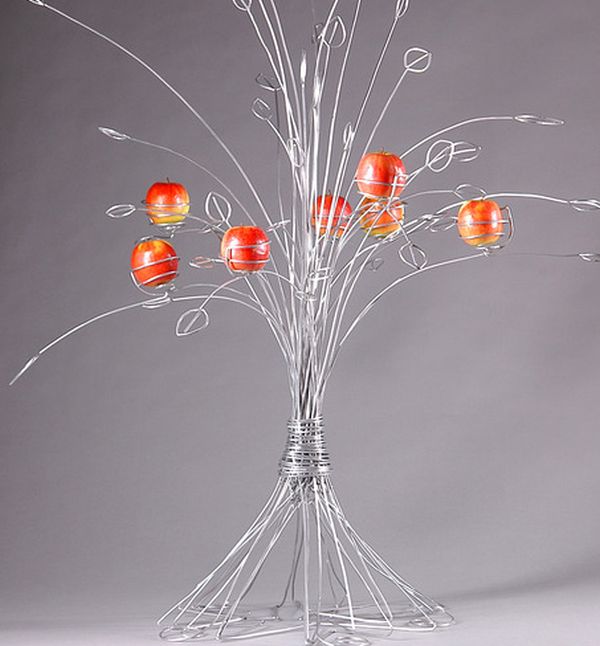 Designed by designer Anne Lorenz, the Apple Tree is perhaps the most modern of all the fruit bowls we could ever have seen. The shape as mentioned is that of a tree wherein the fruits that are kept appear to be naturally growing. This gives the joy as if you are hand plucking the fruits. The tree is made out of aluminum wire and stands on the floor with a height of 120 cm.
4. The Andalusia Fruit Holder: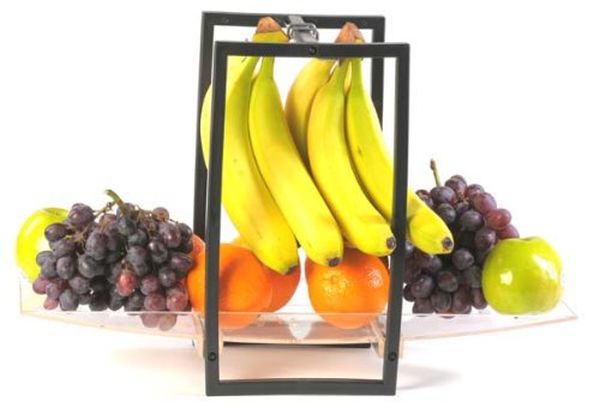 The design of this unique fruit bowl is a perfect blend of fineness and functionality along with modernism. The bowl comes in a rectangular design and is very strong and sturdy to hold bunches of fruits with the two hooks provided with the holder. The holder is large enough to hold many fruits without stacking them.
5. Fruit and Veggie Hammock:
This fruit bowl is simply attractive where the fruits remain suspended and stay fresh for much longer. The stand is provided with a soft, open weave and fully suspended net that gives a gentle yet strong support to the fruits without damaging there softer parts. An eye catching wooden stand that gives it a very beautiful visual appearance holds the net.
6. The Cocoon Storage Unit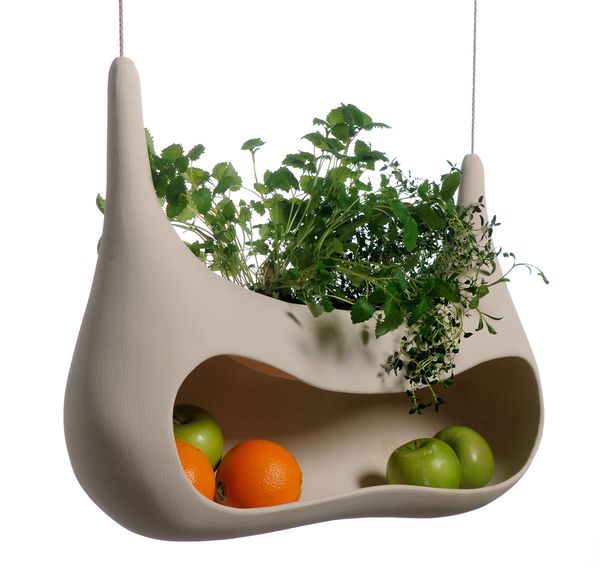 One of the best choices for storing a multitude of items, including fruits and plants, the Cocoon is a storage unit that can be placed anywhere in the kitchen. The organic shape of the unit facilitates the growth of plants at the top while an alcove at the bottom would be best suitable for your fruits and vegetables. You can hang it on the kitchen window or door to let your plants get sunlight and your fruits get air, thereby making sure that both remain fresh for extended periods.
7. The Water Drop Fruit Bowl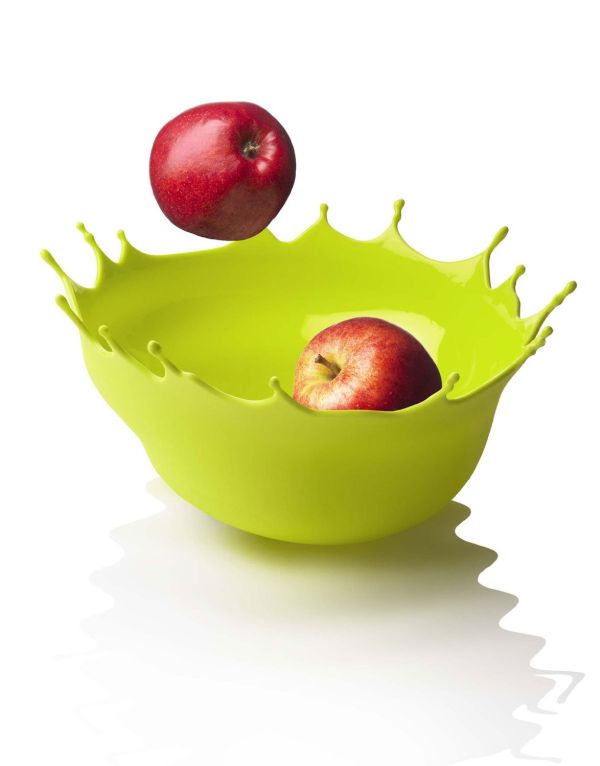 A very intuitive and artistic design, the Water Drop Fruit Bowl is shaped just like a water droplet hitting the water surface, and comes in a variety of colors and shades. While the fruits and vegetables can be placed in the ripple like curves, droplet can serve the purpose of a handle, making it easier for someone to carry the bowl.
8. The Apple Tree Fruit Bowl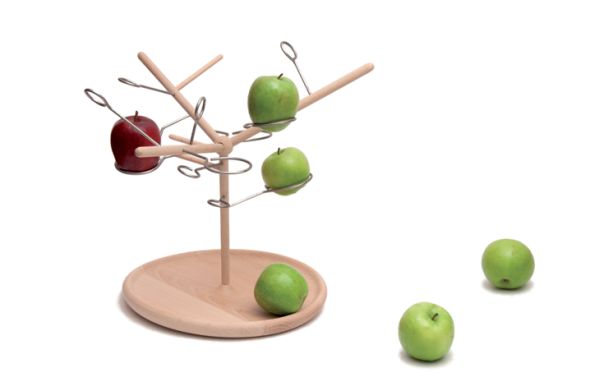 What a quaint way to store your apples? The Apple Tree Fruit Bowl is made of aluminum wire, and looks just like a branched out tree. It measures almost 120 cm in height and has several thin branches, each of which has a provision at the end to hold an apple. You can place the apples in these branches to give a very artistic effect to the entire room.
9. The Andalusia Fruit Holder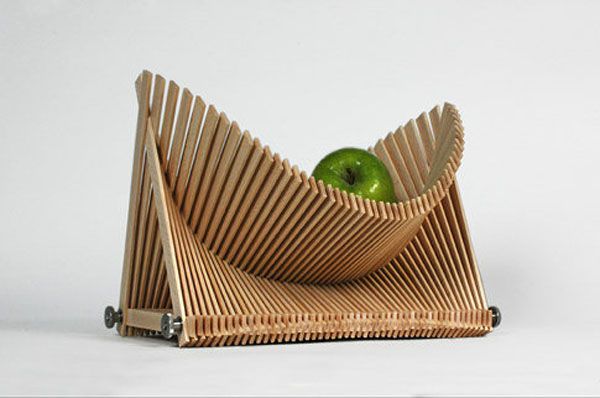 A simple and minimalistic, and yet, elegant design is what can be used to describe this beautiful fruit holder that utilizes simple lines to create a more modernized version of the traditional fruit bowl. The holder consists of two elongated trays at both ends to hold apples, oranges and pears etc. while a rectangular frame at the center contains two hooks which can be used to hold grape or banana bunches.
10. The Fantastic Fruit Bowl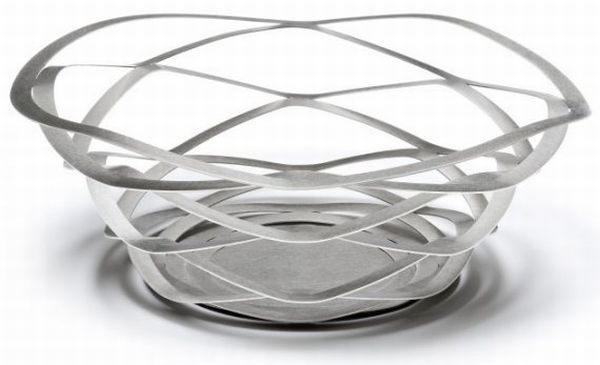 Really artistic and colorful, the Fantastic Fruit Bowl looks like a frozen drop of paint at the exact moment it splashes on the table and sprays out. These fruit bowls are available in various attractive colors, and can really become focal points in your dining room.
11. Clever Bowl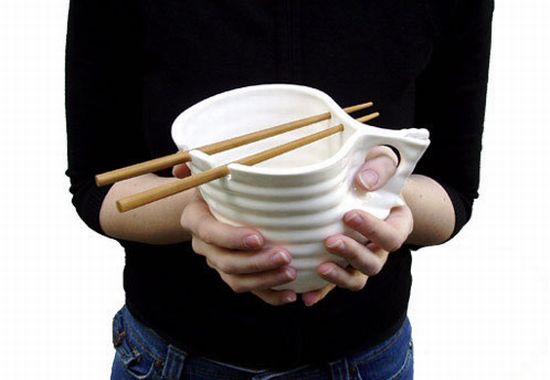 How many cups and bowls have you broken at home (involuntarily though!) by not taking extra care while carrying them? Yes, we belong to one of those who invariably break a glass (or any other breakable material for that matter) cup/bowl/dish every alternate week. So for careless people like me, we think these new bowls are pretty useful. You can easily insert a finger through the hole in the handle of these smart bowls. This indeed will help you grip the bowl tightly and lower the chances of dropping it inadvertently. Cool, isn't it? No more tension, now you can carry a glass/ceramic bowl with confidence!
12. Burst Bowl
Burst bowls are so wonderfully designed that they immediately catch your attention. This is a set of three bowls very cleverly designed to serve selected items in it. It can be used to decorate by just keeping them one by one at the top in any angle you like. You can also keep them separately and decorate or serve fruits or flowers or anything that looks nice to you.
It is made up of china clay and seems to be very delicate. As it is white in color, it can be kept on any kind of table. In fact, you can use it as a glass top, a wooden table or anything else that you feel like. Even if it is made up of delicate material, it is multipurpose and beautiful as well.
Summary
We know there are plenty of other interesting fruit bowl designs out there. But these are the ones that caught our attention at first glance. So if you are looking for trendy fruit bowls, these stylish and chic fruit bowls will add to the beauty of your place.