According to estimates, a large part of the world population, around 32%, are in need of humane and decent accommodation. These are the people who mostly dwell in poor huts or slums. Although owing to an abundance of space, the problem isn't that severe in rural areas, but in cities, it is very severe. There the slums are usually concentrated in one space.  However, nobody wants slums. Even people who live there don't want them, they want better accommodation. Slums are becoming a pressing issue for many nations. The case is more severe in the developing nations, where the gap between the rich and the poor is significant. Inexpensive portable home ideas like Compact Abod Shelter aim to solve this problem.
Compact Abod Shelter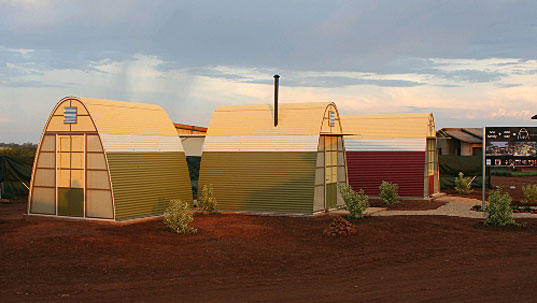 Slums pose a lot of health hazards owing to a lack of proper sanitation, drinking water, sewer system, electricity and many other facilities that render the unsustainable and inhumane.
To bring a quick solution to this blatant issue, Doug, a designer from Des Moines in Iowa has come out with the Abod Shelter. It is a lightweight and sustainable dwelling. Slum-dwellers can easily build it in just 24 hours!  It is a highly innovative solution to the housing crisis. Furthermore, one can also erect it the most uninhabitable locations. In fact, it does not require building machinery, industrial tools, water, and electricity!
Doug, along with his teams helped him to put together this philanthropic effort. His main aim was to create humane shelters that could practically be erected in no time at all.  This extremely cost-effective shelter is also very flexible. Furthermore, one can easily alter its design can be altered to create a shelter according to personal requirements.  The Abod Shelter has a core structure. Upon this, one can include 'accessories' wherever suitable – whether it is a kitchen or doors and windows.
The Design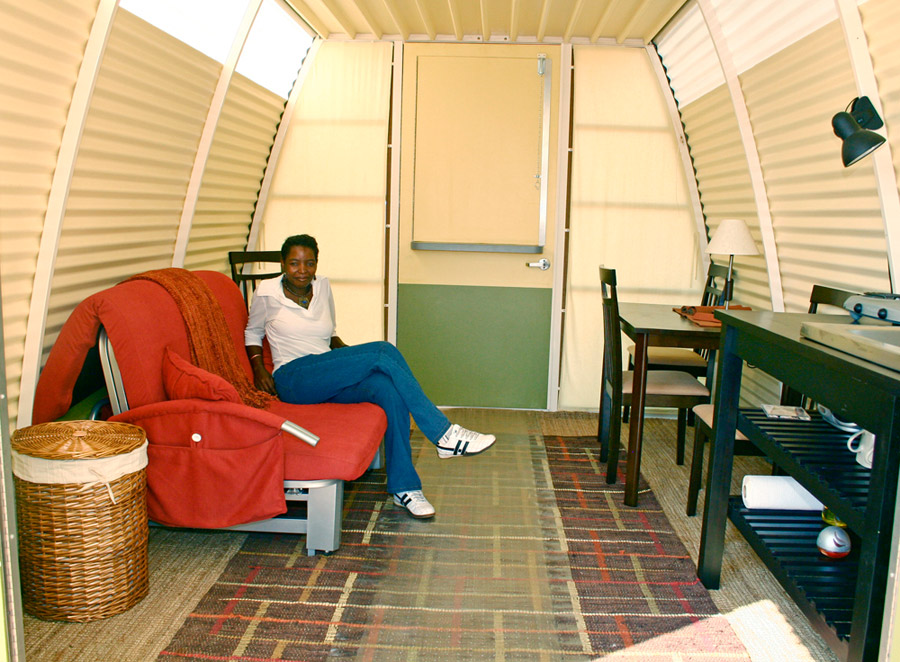 The Abod Shelter is actually made out of corrugated metal. Some dwellers may choose to add an opaque plastic panel along the sides to facilitate daylight usage, particularly in areas where it is not possible to get an electricity connection.  The shelters also have inbuilt gutter systems. These make sure that rainwater does not seep inside the home. Furthermore, they also make sure that the sanitation aspect of the home is well looked after.
These houses can also be erected in a cluster. In fact, one can link them to one another in order to form a neighborhood community.  The test pilot project o the Abod home or the first Abod neighborhood community was situated at a location that was in the suburbs of Johannesburg, South Africa.  This project was extremely successful. Therefore, it has given the impetus to initiate many other projects in those parts of the globe that have slums in high concentration.
Some more ideas for a compact shelter
1. iPAD Portable Homes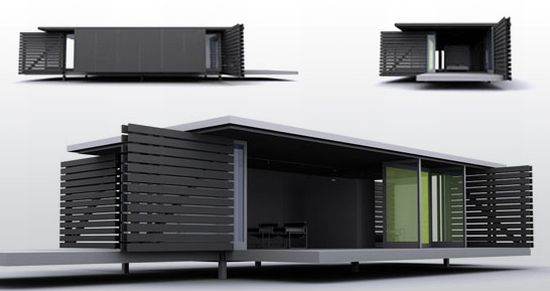 Does expensive or lack of lodging prevent you from taking distant holidays? In that case, why not carry your home with you! The iPAD homes are ready to be carried away. Yes, the iPAD Portable Home is a lightweight kitset building from architect Andre Hodgskin. It can be used as a one-bedroom holiday home, office, studio or resort unit. Furthermore, it can also be grouped into a series of pavilions for larger accommodations. This makes it fit to be used as retirement homes with individual suites, dormitory functions, vacation bungalows or rentals. This portable house gives you the freedom to choose from a variety of external color options available. In addition, it also has extendable decks matching your need and likes. Each home is outfitted with normal bathroom and basic kitchen facilities, electric appliances, laundry and a fireplace.
Measuring a total of 50 meters squared (with optional decks adding additional outdoor space of 55 meters squared) it fails to serve as a permanent residence for larger families. The iPAD can be easily manufactured, transported or shipped as a kitset and raised by a licensed contractor. These features also make it ideal to serve as a roof for thousands. It is best for people who get displaced under natural calamities.
2. WMhotel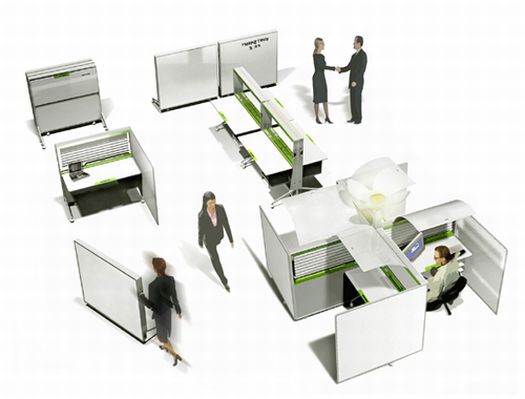 WMhotel is a similar utility workstation or office that is designed to meet the needs of the modern workplace. Flexible partitions of the personal workplace allows the users or office staff to mold the unit according to their requirements. This usually keeps changing, due to their varied assignments.
WMhotel is a compact workplace proposal for modern and flexible office environments generally cramped in a limited space.
WMhotel makes the most use of available space in cramped offices. Various personal work spaces can be combined together to form a regular workplace for office staff. On the other hand, flexible partitions of the workspace support the maximum usage of empty space. Providing a great alternative to cubicles, these are best for holding small meetings and group discussions. Moreover, you can easily shift or move the stackable workplace within (or outside, if required) the office with minimum fuss.
3. Safo Sofa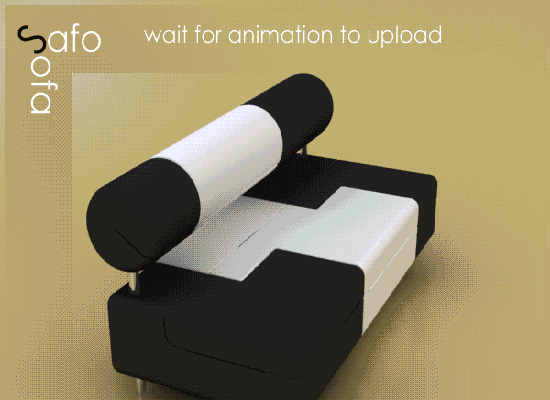 Though an essential part of a modern living room is occupied by furniture used only occasionally, we tend to spend most of our incomes purchasing them, but a furniture unit that double as a storage space costing the same or even less will always be a better choice, which the "Safo Sofa" from so readily provides. Coming from the house of Baits Design, this multifunctional sofa makes a smart use of the large idle space underneath and at the back to store your everyday stuff, including clothes, books and even a suitcase.
Measuring 800 x 800 x 1600 mm, the Safo Sofa features a structure finished in certificated plywood, seat and upholstery in foam and feet in chromed aluminum, while black and white synthetic leather gives it a trendy look to complement contemporary spaces. Presenting unconventional cushions to divide it with geometric shapes, the sofa offers straight and simple lines for a touch of sophistication. The new sofa not just saves storage space for compact living spaces but also presents a sleek and sexy design to meet the decor of modern apartments.
4. Prefabricated, Brick less House!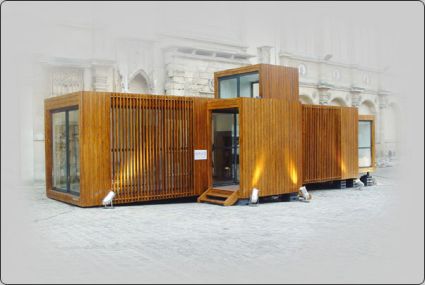 The Drophouse is a prototype of a cool looking assembled house, which consists of a project intended to combine quality and space in a compact area. The functions of the program are distributed in small units that act as extensions of a central volume and can be withdrawn like drawers. These extensions can mount when required to live in, and can be easily transported in trucks to another place of choice. Thus, the house can be closed in the event of prolonged absence, to avoid intrusion.
The prefabricated house assures of superb quality with a low cost of construction. How well will the people accept it practically, is a question worth pondering!