Now that most of getting more than what we want from our gadgets, we often get tired of how they look. Although the latest iPhones and Galaxies are cool, everyone has the same one. Although you can buy cool iPhone cases to make yours look different, nevertheless, it is more or less the same. This is the thought that excites so many designers out there. In fact, some steampunk enthusiasts are bringing the long lost creativity present-day gadgets. With these steampunk case mods, they are showing how not only we are progressing in technology but art as well.
8 – Aesthetically pleasing steampunk case mods
1. The Sojourner keyboard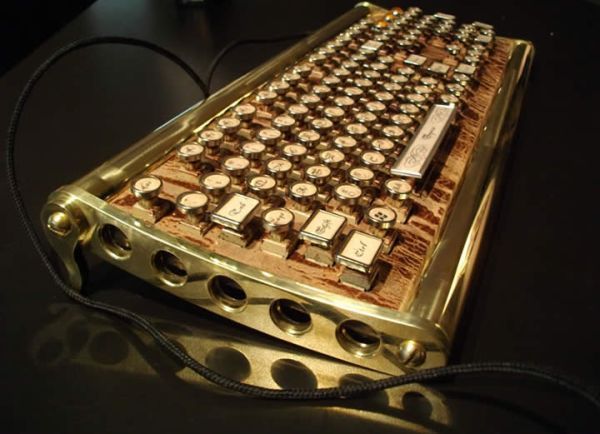 This polished brass keyboard looks very old fashioned. The faceplate is made of aged leather, and the keys, which are electroplated in brass and look weathered, are done so for special effect. In fact, the brass board itself is artificially tarnished to give antiquated look. The high quality mechanical switches have a built in 'click' feeling for extra effect.
2. The Datamancer Ergo keyboard
It is made from a rare IBM Model M-15 split ergonomic keyboard. It has beautiful burgundy velvet elbow rest, which can be removed for cleaning. There is an interesting comfortable keyboard where typing pad is tipped forward.  A button less touchpad mouse is given at the centre. The sides of the keyboard are decorated with intricate brass design. Violet LEDs add to the beauty of the keyboard.
3. Steampunk Flat-Panel LCD Mod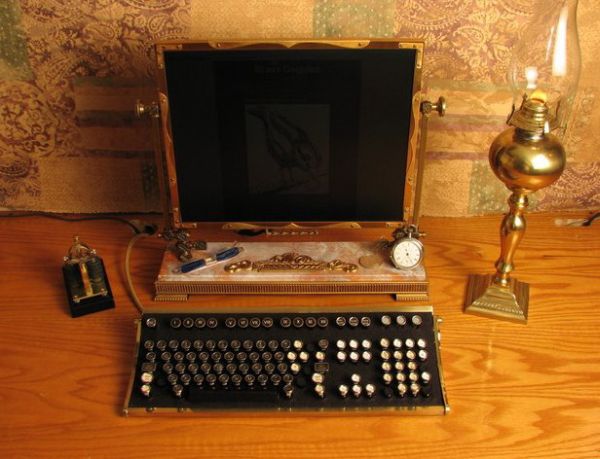 This flat panel monitor went the steampunk way to match a steampunk Keyboard! Its original steel encasing is painted to look like brass. Arms of this monitor are actually the arms of 19th century gas lamp. The controls are made from grandfather clock's chime lever. A marble lookalike wooden base with gold painted trim completes the antique look.
4. The Dial phone PC
This antique phone uses Skype technology for talks. You can Google talk, or MSN voice chat using this old fashion phone. The telephone itself is an antique piece. The antique box is fitted with computer and you can use latest technology with this old looking phone.
5. Victorian all-in-one PC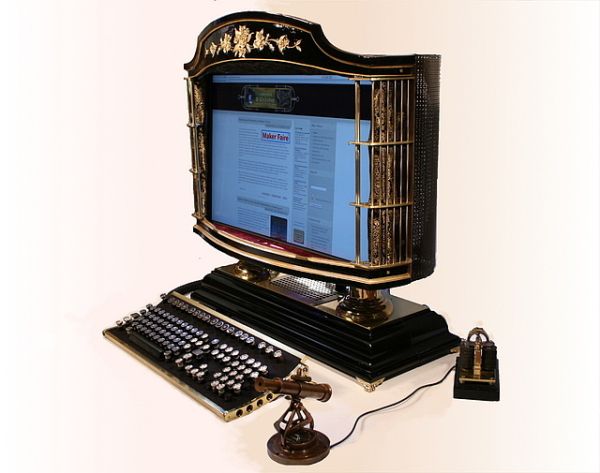 This beautiful and stylish 24' screen monitor has a built in Pentium motherboard, and is a fully functional computing system. The beautiful base is made from a waste aluminum shelf, and the other parts are also obtained from waste materials. This grand PC looks Victorian in every aspect, but can work like any other present day computer.
6. Steampunk Furnace mouse 2
Here is a computer mouse which has a furnace burning in it! Its body is made of mahogany and a copper wire cage encloses an artificial furnace. The coal of furnace is made from small glass pieces glued together by black silicon sealant. The effect of fire is brought by orange LED. Designer Unklian has beautifully designed this burning mouse.
7. The Electric Clerk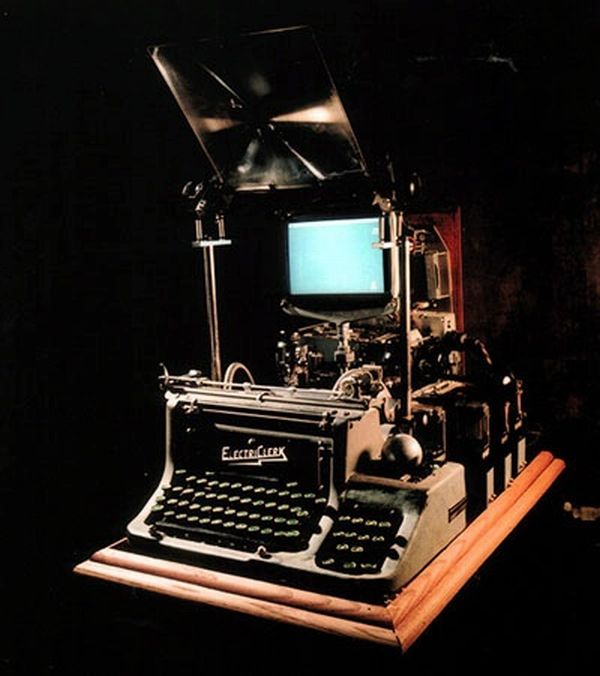 According to its designer Andrew Leman, this beautiful Steampunk machine is inspired by the retro-futuristic machines in the movie Brazil by Terry Giliam. The 1988 Macintosh SE was completely broken down and fitted with vintage typewriter keys, wooden encasing, radio tubes etc. to give it a retro look. Despite all this rough handling this machine works very well.
8. The Jules Verne
This tall Jules Verne case mod looks cool with intricate mechanism. With copper and brass work, and coolant green pipe, this elegant looking gadget won the first prize in the xLAN case mod competition. The clockwork mechanism works with the help of concealed motors.
More Innovative designs like steampunk case mods
1. Motorcycle Mod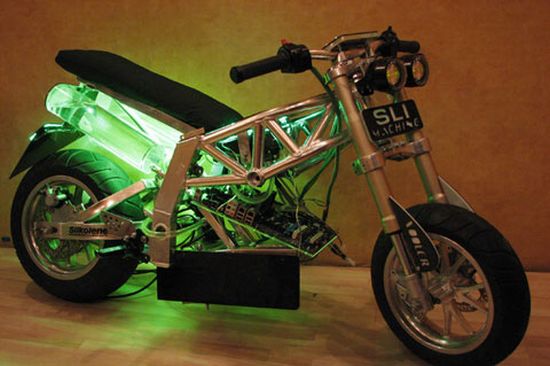 In a world where words like the Wio and MacBook exist, a Personal Computer sounds a lame possession. Hailed as one of the greatest inventions of all-time a PC is now a farcry form its own avant-garde versions. So what do we do with the ones we have lying in some shabby corner! We can, with all due respect, turn them into something unique, just as the Russian designer Dennis Ilyin a.k.a. Xooler did, by converting his old PC into a Motorcycle. The inspiration was a competition based on a similar theme and he did well to bring about that modification. The only problem people, is that it is a mod and thus lacks capability in the functional sense but we would still buy it for the sculptural value.
2. Roundbox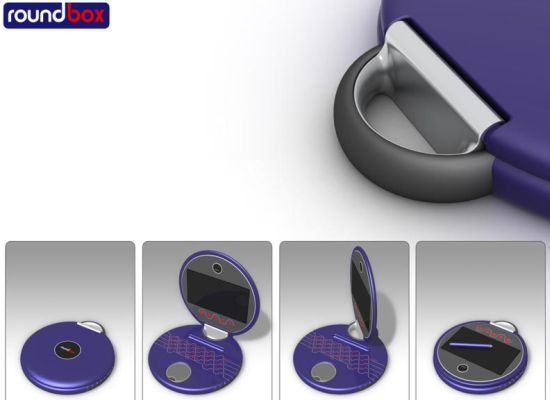 Intended toward young kids, the "Roundbox" is a portable computer that promotes creative learning while entertaining your tots. Comprising a digital camera, video game console, TV, DVD player, computer and a pen, the all in one rugged package allows an interactive learning and playing adventure for your tot. Ideal for the age group ranging from 5-14, the kid-friendly device features five mode buttons, i.e. computer mode, game mode, movie mode, art mode and camera mode, underneath the screen that allows the user to switch between different modes of computing quickly and effortlessly. The device's interface is intuitively designed to carry out tasks on the touchscreen with or without the use of a stylus. The Roundbox's touch pad besides other things also functions as a mouse and a game pad, providing the kids with added fun in learning.
3. Topaz Notebook computer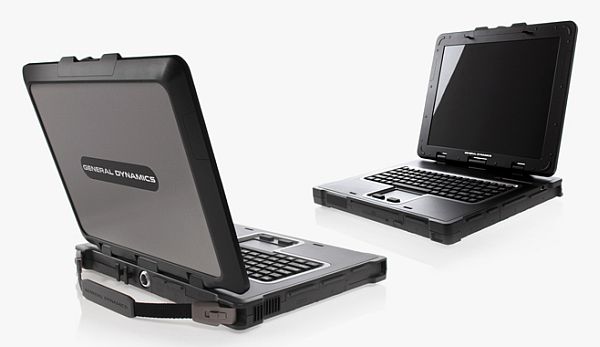 The primary mission of the army is to provide national security. It saves the country from external threats and maintains peace. For the people who provide such courageous service to the nation, Topaz has designed special notebook computers that are as tough as the army itself. These special military computers are strong enough to undergo the rough US Army qualification testing.
These notebook computers are suitable to be used during wars. They can be used to process precise data, recover important information and make accurate calculations. Furthermore, the features that make the notebook computer all the more suitable for the army are its capability to withstand all types of harsh conditions. These computers have been made waterproof, sand proof and lightning proof. They can resist vibrations and a drop from up to five feet and can also withstand high altitude and temperature.
The body of the computer has been made tough by using cast magnesium that has been combined with overmolded elastomer. Magnesium provides strength and light weight, and TPE acts as a shock absorber and gives a good grip. The company also claims that the computer has been made very user-friendly so that it can be easily used during stressful situations.
It is very thoughtful of Topaz to create such a smart computer for the army. The army provides the nation with such a selfless service, so it is the duty of the people to help and encourage them to fight bravely. Such computers will surely make their work easier, safer and faster.
Final Words
In this era of sleek, savy and sustainable gadgets, all of them look the same and monotonous. Life will be much more interesting if somehow these gadgets could have Victorian era's grace and beauty. In the time when steam power was still prevalent, instruments were beautifully embossed with copper of brass designs. The designers of aesthetically pleasing gadgets like In this era of sleek and savvy gadgets, all of them look the same and monotonous.
Life will be much more interesting if somehow these gadgets could have Victorian era's grace and beauty. In the time when steam power was still prevalent, steampunk case mods show how one can bring innovation even into the present times. Therefore, we can have the good of both the worlds. Latest technology combined with the grace and charm of the old world. Let's have a look at some of their amazing work.