Who doesn't want their children to stay ahead wherever they go. But what do we do? We hand them tablets and phones. Although these too can be helpful in the development of the child, but only if they are used in a proper way. However, there are products available in the market, that isn't just interesting for the children, in addition, your children can't misuse them. These products motivate children to study and to play. When your child has access to something like powerleap playground, it might as well be impossible to stop them from moving outdoors. Let's check out this amazing product and others that promote the healthy development of your child.
Powerleap Playground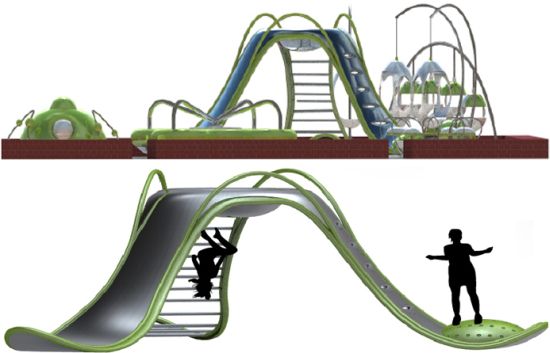 Designer: Wendy Uhlman.
The Powerleap Playground is one neat concept that will harness the kinetic energy from children's movements and convert it into electricity to power the playground. The unused electricity can be further used to power the park lights during night. POWERleap LLC is an alternative energy company seeking to create robust, highly efficient and scalable human energy harvesting solution available on the market. By harnessing the inherent energy in routine and recreational activity, Powerleap generates a new form of alternative energy for immediate use. We are short on the concept details, but the whole idea of a self-sustained, green playground looks appealing.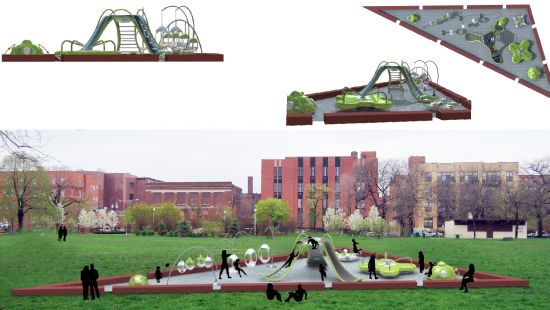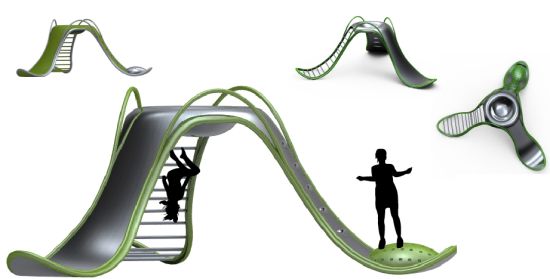 Thanks, Wendy Uhlman
More products like Powerleap Playground that would be perfect for kids
1. Lapsi Children's Chair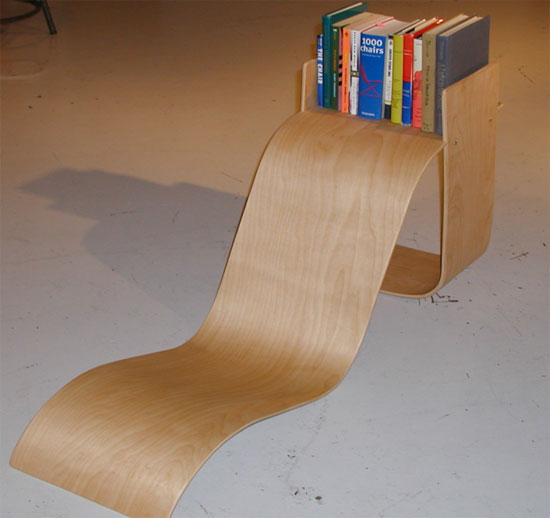 Drawing kids toward reading and writing (not on the walls but on paper) is possibly one of the most difficult tasks for parents. Encouraging children to take some time out and spend it reading, the Lapsi Children's Chair by Catie Becker is a chair cum lounging place that creates a space just for a child to store his or her books and enjoy them as well. With a chair and a stand finished with birch, the furniture unit seems to follow the principles of play and study. The top of the chair creates a shelving space for books and the bottom a fun area for a child to crawl through or curl up into, if not used for storage.
2. Kids Work
Finding an ergonomic study table for young tots is already a difficult task, and if you want it sustainable as well, then you're really asking for too much. Combining a desk and a chair into a single unit, French designer Ora Ito has come up with a workstation that will teach the important lesson of sustainable lifestyle to your kids at an early age. Dubbed the "Kids Work," the study table is made in molded plywood that not only reduces the weight of the furniture but also helps in sustaining the environment. In addition, the workstation integrates a paper roll underneath the writing surface to feed paper regularly through the built-in slot in the desk.
3. Kid's car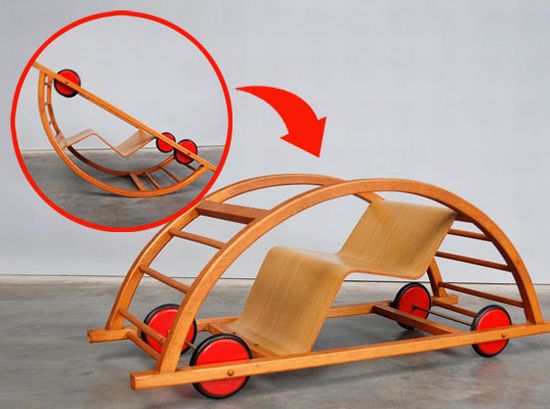 Great works never die and last forever to amaze as well as amuse people with their utility and unique design in different eras. The "Schaukelwagen" by Hans Brockhage and Erwin Andra is an identical work that continues to attract people with its functional design even after over 50 years of its origin. Developed in the 1950s, the vintage German contraption is essentially a play car that becomes a rocking chair for kids. All you need to do is tilt or flip upside-down to switch between the car and the rocking chair. Featuring the frame made in bent birch and seat in molded plywood, the €600 car cum rocking chair just measures 40 x 100 x 38cm (HWD) in dimensions.
4. Official Playground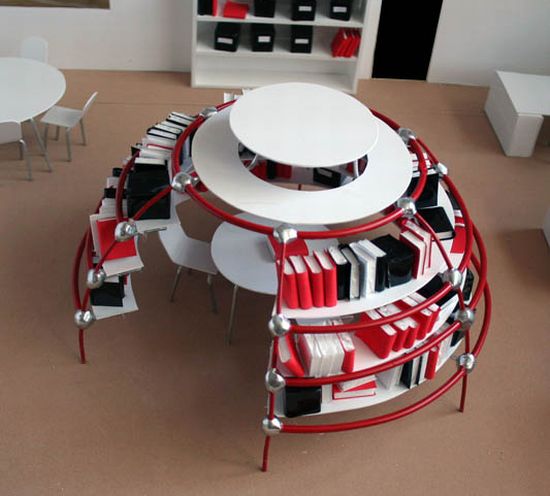 Motivated by the playground where children work or learn while playing, the "Official Playground" is a playful closet that provides personal space for work and meetings. Made in steel, chrome, and plastic, the playground for adults features different levels that double as storage for your books/documents and other objects, separating interior from the outer space. Users need to climb on top of the playground to participate in high-level meetings, which keeps them fit and increases their work productivity.
5. Play Spy adventure set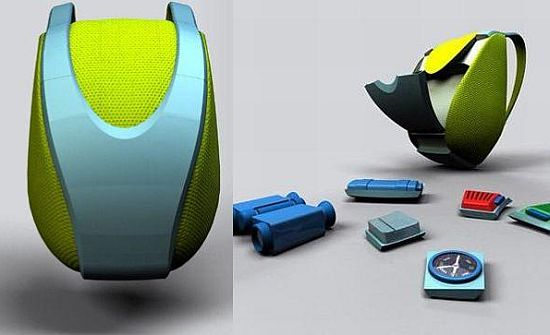 Concerned about your kids staying glued to TV and computer all the time? You're right to be, 'coz they need to get themselves some exercise to grow healthy. This nice toy Play Spy backpack brings a solution to light; since we can't draw kids away from technology, why don't we put technology in their playground so they will be thrilled to be outside as well as inside. Apart from its nice design, the toy-pack niftily has cool gadgets like binoculars, compass, flask, sample collector, and walkie-talkie set, which lets them play with one another.
Kids will love the 'secret compartment' that hides the gadgets and lets them discover, making them excited to play little Indiana Jones and James Bond. Kids will definitely get their sense of adventure amped up by the Play Spy backpack and adventure kit. They will definitely have fun playing outdoors in the urban jungle and get some good exercise for their growing minds and bodies.
6. Water tap that grows with kids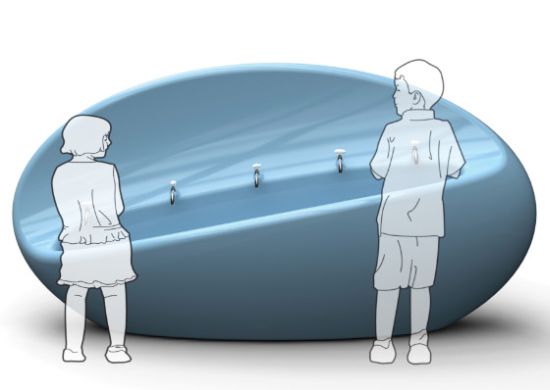 With differently build kids (between class 1 and 10) studying in the same school, drinking water from high taps, or even low for that matter, often becomes difficult for students. Specially designed for schools, here is an innovative tap design that grows with the structure of kids and let them drink water with equal ease, irrespective of their age and height. Finished with recycled plastic, instead of sharp and heavy cement, the functional tap design not just ensures safety measures for kids, but also helps in sustaining the environment by giving the lesson of the green lifestyle to the kids in their very early days. Moreover, the growing tap apart from school environment can provide an ideal water fixture for public places, such as parks, playgrounds, theaters, and shopping centers, as well.
7. Shadow Play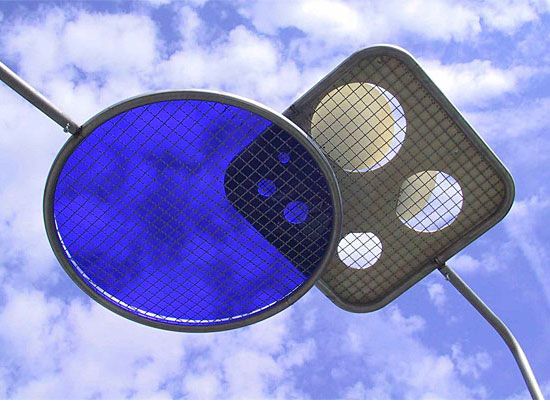 It's a well-known fact that kids learn more while playing or interacting with their mates. Utilizing the "learn while playing" method, design house Richter Spielgeräte has come up with an educational game that develops teamwork among kids or participants. Hailed as "Shadow Play," the interactive game uses sunlight to reflect different shapes and colors on the ground through a revolving 360-degree device attached on top of a fixed pole. Participants can play with their ideas or imagination to direct or superimpose the opaque or translucent color panels and create different shadows or colorful patterns on the ground.