Which material do you prefer when buying furniture? If you prefer wood, then the bad thing about it is that you obtain it by cutting down trees, which take decades to grow. If you prefer plastic, then the negative side about that is that it is not durable, and when you throw it out, it does not decompose. Even if you use other materials, they too have similar downsides. Therefore, this time, while buying furniture, why don't you opt for nature-friendly furniture? It is designed using recycled things, and on top of it, it is durable too. So, what else do you want? If this is what you want, you can buy furniture made using red wine corks, recycled newspaper or any other materials mentioned in the article.
Creative furniture ideas using red wine corks
Ever had an idea that corks could be utilzed to furnish one's whole house? Here are some creative and interesting creations to help you in having nature-friendly furniture.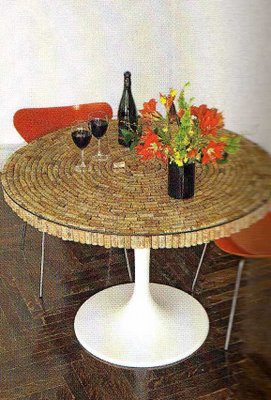 Now pop those wine corks… as remembrance of your special occasions and keep them secure. Now you no longer have to throw the corks in the trash or leave them to gather dust on them. With these different ideas you can use the natural resource to decorate your home's interior. All you need is red wine corks, white or hot glue to bind these to form the desired artwork.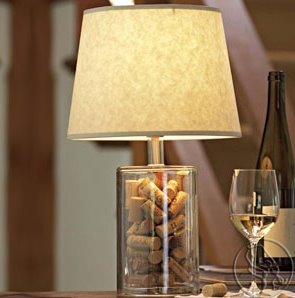 Use the corks for a chair that gives you the feel being close to nature.
Spreading the corks on plant's soil will help them to retain moisture for a long time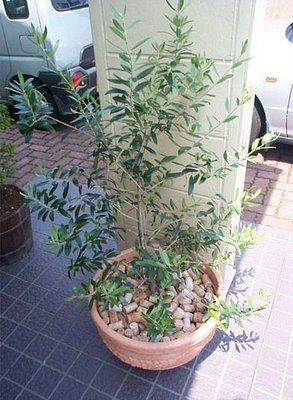 Source:Spulch
Some more creative furniture ideas using recycled materials
1. Sketchair made of recycled furniture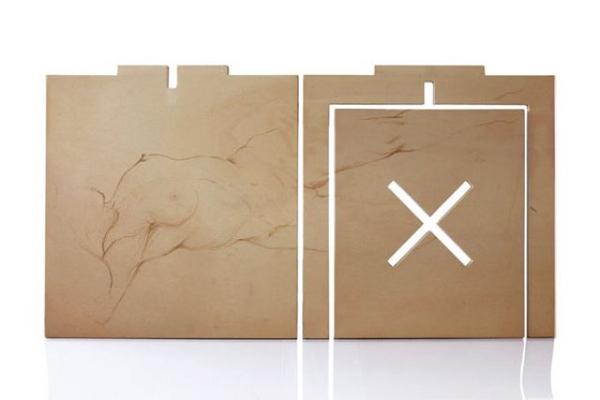 Looking for a futuristic chair with limited budget, unlimited qualities and facilities? You don't have to look too far, for Croatian designer Senka Skenderovic has created an innovative chair dubbed the "Sketchair" that fulfills all the requisites of a portable seating.
This chair can be produced from an extensive variety of materials, such as wood and acrylic. You can fold and place the chair anywhere you want. It is a portable piece of furniture that can be recycled from your old furniture, any flat object or material. This sketchair is a functional product that gives you more than what you have bargained for!
2. Ryan Frank's 'Strata' Recycled Furniture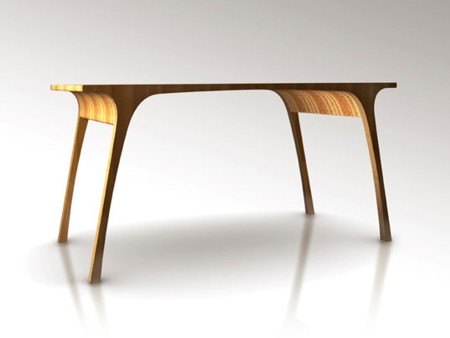 Ryan Frank's 'Strata' furniture range gives a whole new meaning to the concept of recycled furniture. The master designer has beautifully used the heap of old furniture and FSC ply to create truly amazing designs of furniture.
Playing with the basic angular shape, Ryan has carved out four delightful pieces of furniture which include a chair, stool, coffee table and dining table. Ryan has used FSC birch ply to decorate the heap of salvaged wood, which he obtained from old office furniture.
Ryan represents the face of contemporary product designing which is functional as well as eco-sensitive.
3. Cassette Tape Chair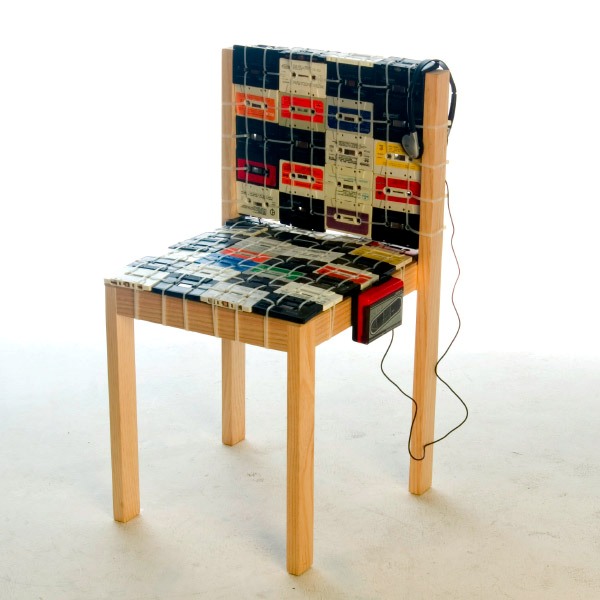 With the growing popularity of MP3 players in hand-held devices, we have more reasons to say good-bye to old cassettes. But the Cassette Tape Chair you see in above image is an awesome way to recycle those old cassettes that once entertained you with pleasing music. The Cassette Tape Chair is a wooden chair in which the back and the seat are covered with many cassettes. As the Cassette Tape Chair is made of smooth and sturdy cassettes, it offers the required comfort for the user. The Cassette Tape Chair is provided with a Walkman and a headphone, so that the person can listen to music while he/she is trying this new product.
All the cassettes in the Cassette Tape Chair are attached to the wooden chair with plastic tie-wraps. You can also make the Cassette Tape Chair at home. All you have to do is get a wooden chair, many cassettes and plastic tie-wraps. Then you have to just attach the cassettes to the wooden chair by using the tie-wraps.
This chair is a green product because it is made of recycled products and eco-friendly materials.
4. 'This Way' lounge chair made from recycled road signs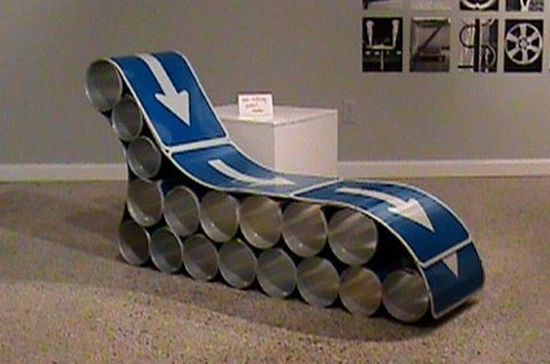 Road signs are equally important to guide you toward the right direction, as are the traffic signals. However, there is no end to the creative brains, and Marie Hermansson too explores the creativity with these road signs. Giving new life to the old road signs, Marie rejuvenates them into lounge chairs, credited with the name "This Way." The multifunctional lounge is made by using nearly 25 arrow signs bent to form the inner and outer structure of the chair. The arrow points in the direction guiding the way to have a seat. Not only lounging on it is fun, but also the coils formed underneath offers storage space to hold your small belongings.
5. Zeta is a recycled genius for a side table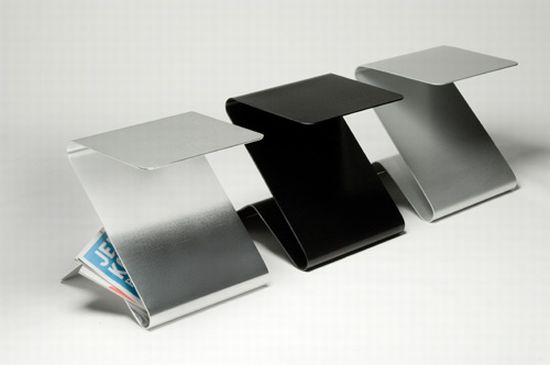 Originated from an instinctive approach to our day-to-day needs, the "Zeta" from Glue Glue Design is an end table that doubles as a stool and triples as a magazine rack. Made of 100% recycled aluminum, the Alulife, the multifunctional furniture is not just elegant and durable, but it also lets the users adopt a sustainable lifestyle. The Zeta is available in three color options, including glossy natural, matt natural and glossy black, to complement the decor of your place, while being functional.
6. Recycled 'Fridge Couch'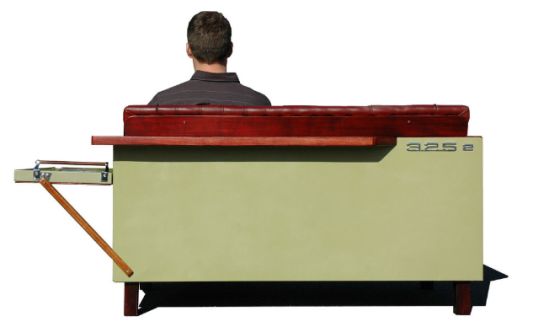 Recycling is in vogue. People value the sense of contentment which they amass by putting themselves into the green mode. With all sorts of waste getting reused in various home décor products you won't mind checking out this stylish sofa made from an old rusted refrigerator. The Fridge Couch base has been prepared from a 1982 avocado green Gibson Frost-Clear Deluxe while the seating is a beautiful cherry-red leather back seat from a 1984 BMW 325.
7. Recycled Chair-Sofa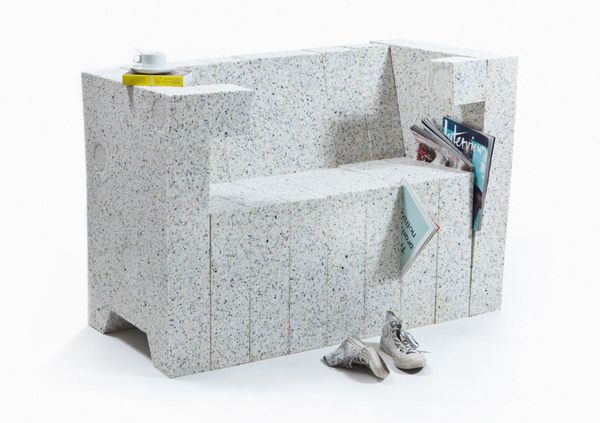 Ever wondered what to do with the messed up home! Boxes, cupboards going out of control! Space reaching out its maximum crying not to bring anymore new furniture home. Tired of cleaning up! Here seems to be a savior for all those who just want something, which can take away the mess at least from the living room. Born out of modular recycled foam, a nontraditional couch dubbed Recycling Chair-Sofa seems to be that solution.
Those scattered magazines, pins and clothes will now get a home into this couch. Flaunting unconventional looks, the chair seems quite unique to style about with its natural foam color. Slender fissures across the couch looks like a rack where things can be squeezed in.
In comfort, it is like a cat bed ensuring that relaxed moment we always wanted. Bonanza on this is that the couch can be adjusted or re-framed by a simple cable control framework and can even create wide variety of its version just by adding more panels. Is this not interesting!
German industrial designer Stephan Schulz, the father of this invention has in his books few other unique collections as well. You can visit his studio to get more idea or to even order this couch for your living room. However unique this couch be, the functionalities and durability is a real expectation. Hope it meets it all well.