We no longer live in the times where the only purpose of a watch is to show the time. Nowadays, smart wristwatches are amongst the most popular form of gadgets. These add technical innovativeness to the old-school watches and make them much more useful. Moreover, it isn't just technology. Apart from that these watches also offer cutting edge designs, unique looks and various exciting features. They are high up on the priority list of all the millennials. Second Skin wristwatch is one such watch.
'Second Skin' wristwatch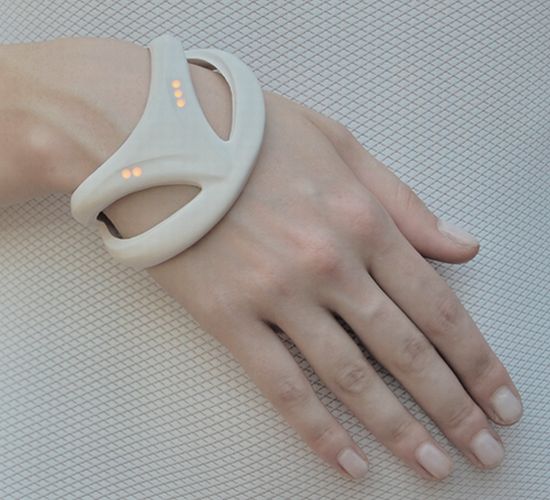 Modern technology has paved the way for some of the sleekest gadgets that apart from being functional have also become a hi-tech accessory or fashionable jewelry for the stylish. Conceived by New York based designer Svetlana Blum, the "Second Skin" is an identical device that presents a unique blend of an accessory, jewelry and wristwatch. Made in PU, LED and metal, the concept watch presents two rows of LED lights, one displaying hours and the other minutes, to shows the exact time every five minutes. All the user need to do is touch the display, which illuminates the LED lights to demonstrate time and attract trendy users with its hi-tech design.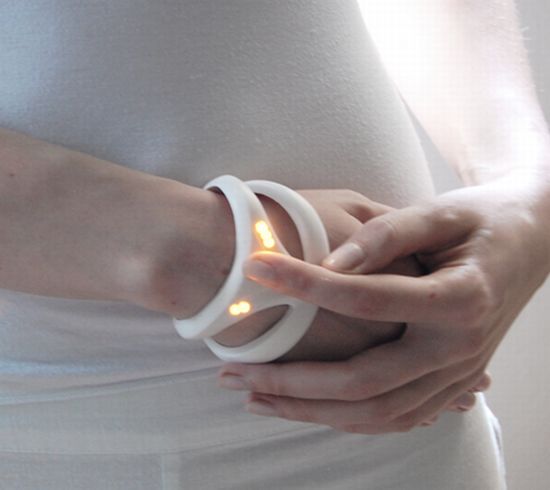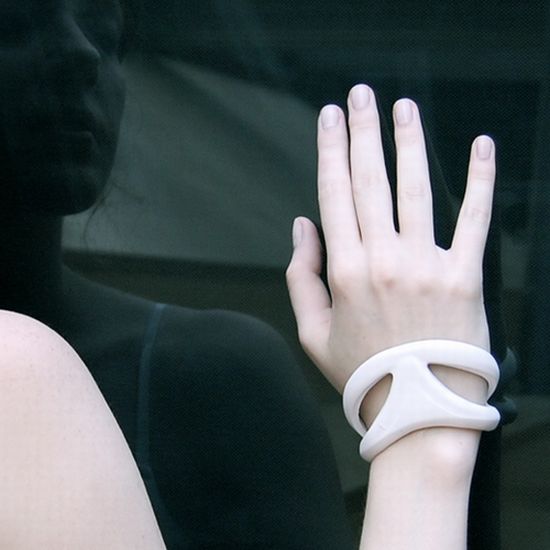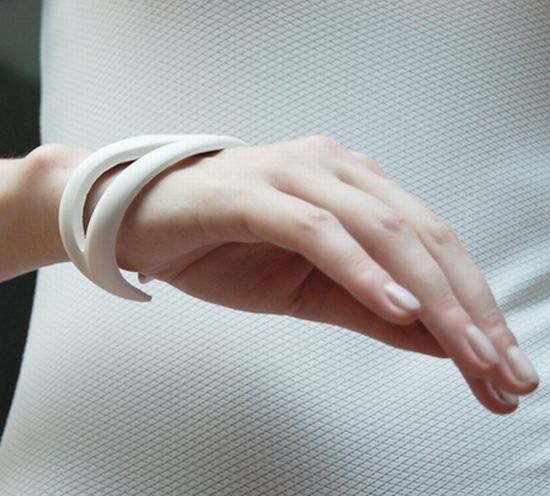 Designer: Svetlana Blum
Some more out of the box wristwatch designs like Second Skin
The following hi-tech watches are definitely going to woo the ones who are looking to make a style statement through their wrist watches:-
1. HD3 Slyde:
This watch is the brainchild of Jorg Hysek who has given it a sleek and suave look with an LED screen that has a sapphire crystal cover that helps the watch to curve effortlessly around the wrist. This watch has a stylish minimalistic look that is devoid of physical buttons. Everything in this watch is controlled through taps and slides!
2. Ziiro Watch: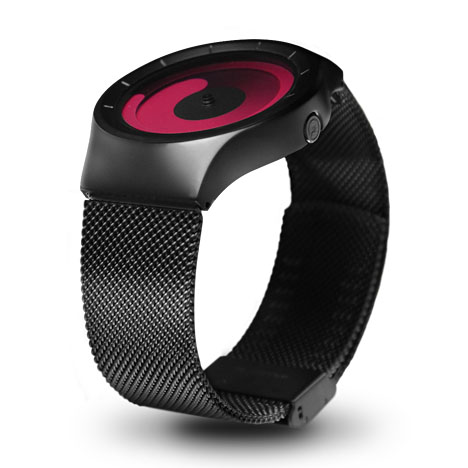 This unique wrist watch is an absolute looker. The striking feature of the Ziiro watch is the absence of hands! One has to look at the whirling circles on the dial to be able to tell the time! The tip of the inner swirl will tell you the current hour whereas the outer swirl stands for the minutes. This watch design fits the definition of out-of-box better than most other models!
3. Olivier Demangel's Solaris Watch: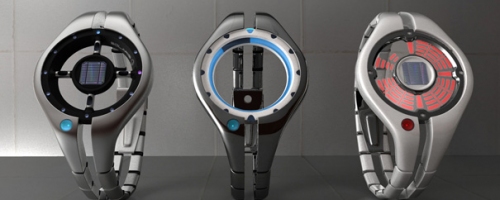 With this hi-tech watch is on your wrists, you will look like a character out of a sci-fi flick. Solar cells form an important part of this watch's design and in spite of its "hard-to-use" quality which is common to most Tokyoflash watches; it is a hit with many!
4. Television Remote Control Wrist-Watch: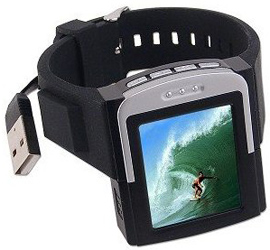 This technologically developed watch has an uber "gadgety" look which makes it an absolute hit with the younger crowds! The watch can double up as a universal remote! It has six buttons with which you can control various operations such as volume, change of channels, power on and off, play, rewind, pause and so on.
5. Sony Ericsson Live View: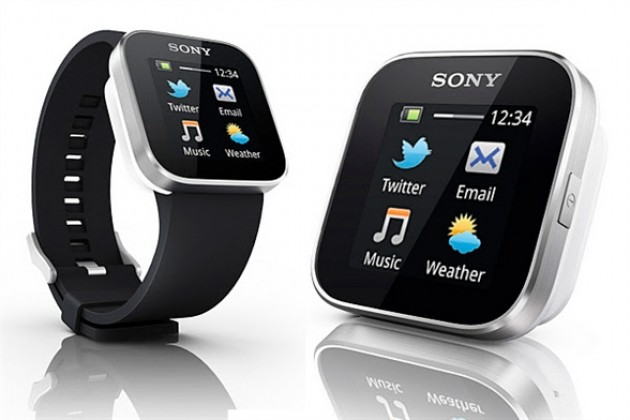 This particular watch model can be tuned with the cell-phone via the Bluetooth making it possible to check all the updates on the cell phone through this watch without having to take the phone out of the pockets! The list of features does not end here! This watch also has a music player and supports many android apps that set it apart from the truckload of watches around!
5. Superior Watch: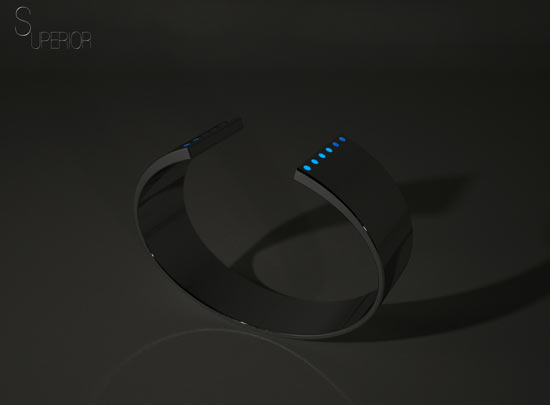 Everything about this watch is cool, very cool indeed, until you want to actually read the time. The Superior watch is made from Tungsten Carbide. It is one of the toughest substances in industry, and features a magnetic strap lock. The strap locks peculiarly at the top, instead of the conventional bottom. Now here's where it gets trick: The only displays on this watch are the twelve dots on the face, six on each side of the strap. We'd assume each dot stands for one hour, but then how would we guess the minutes (forget about reading the dates).
You have to read the time on it according to  a chart that looks like Morse Code encryption. Here one or two dots are lit at a time on the hour side, while for the minutes, one to six dots can be lit, with each dot standing for a ten-minute interval. So in addition to being very complicated, its also not very accurate, giving time to the nearest ten minutes only. I guess the oddness of this watch is permissible, since it is only a concept. Moreover, any production formats would have to feature easier reading systems. However, this concept is bound to catch the eye of tech-savvy collectors, who would be much enthralled by its space-age characteristics.
6. 4N Watch: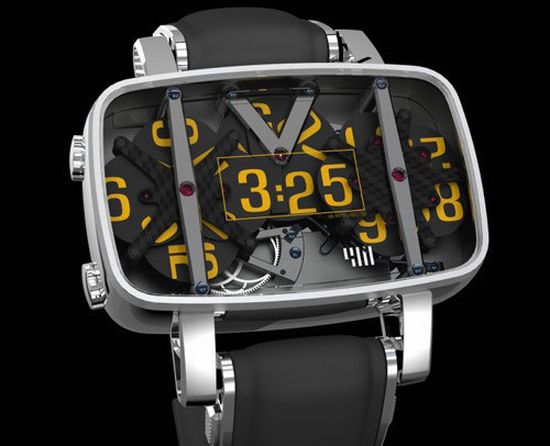 Crafted by French designer Francois Quentin, the "4N Watch" or "4N-MVT01/D01" is a unique watch that displays digital time through mechanical, analog function with exposed gears and sprockets. Powered by manual winding, the limited edition (16 pieces) timepiece depicts time with a 12-hour clock. Featuring three numbered discs finished in aluminum or titanium that rotate to display time, the timepiece encloses all the gears and sprockets within a carbon dial covered by a sapphire glass crystal.
7. Touchstone watch: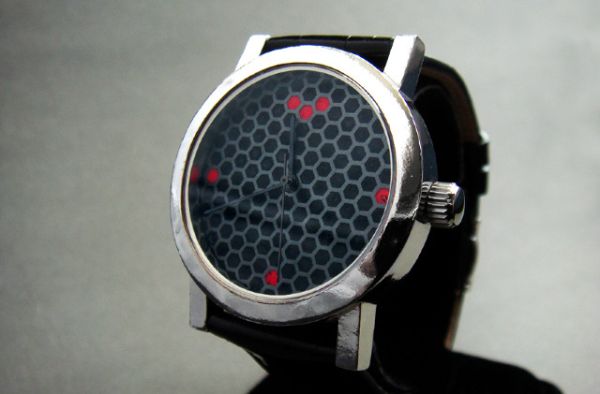 Here comes another addition to the world of luxuries. Watches have always been a way to flaunt power and come swathed with unending grace. A well-crafted timepiece can dazzle with all its worth and leave an everlasting impression.
The handcrafted wristwatch is a picture of true craftsmanship. Touchstone is quite classy and has been crafted from sterling silverWith a thickness of 11.5mm, it comes attached with a genuine alligator strap that lends impressive looks. A double fold clasp has been made from stainless steel, which makes it all the more durable. It can be released with the help of a button without much effort.
The dial has been presented in an impressive manner. It has been given an eye-appealing resin-enameled pattern and is created from oxidized sterling silver. The movement of this pretty timepiece is Swiss Mechanical Automatic (self winding) 17 jewels. This arrangement can be viewed with the help of a crystal that has been wedged in the caseback of this classic beauty. Touchstone Watch will make you stand out of the crowd thanks to its beauty. Packed with impressive features, the sturdy creation will sure make it worth a steal.
8. Watch DV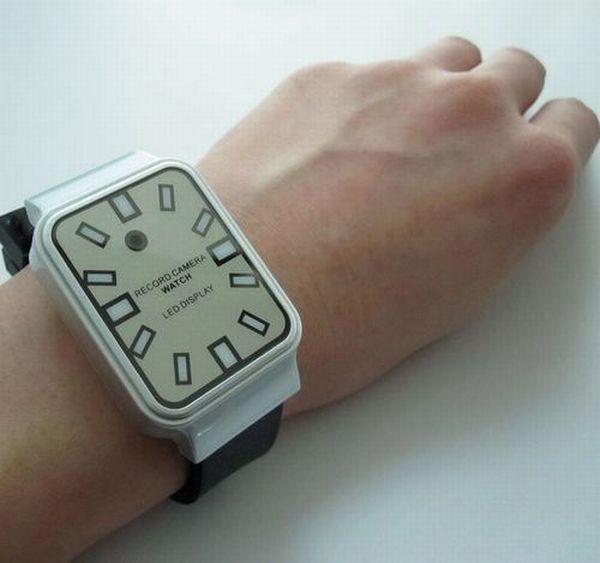 As the name suggests, it has an LED screen with a camera, a DVR and even an MP3 player to suit your gadget buds.
Fondly called the Watch DV, this device even has built-in 4GB inner memory in order to store your favorite music and pictures. The LED display makes it a visual delight at the same time, with blue and red lights emanating the hour and minutes respectively.
Besides its fun quotient, it can vouch for a good device, ideal to monitor public activities at supermarkets or schools. It also comes packed with an earphone, USB cable and a CD! A lot of goodies in just one small gadget!