If we were to think about a game that doesn't require much, but that improves your critical thinking, then chess would certainly stand on top. It is a wonder how we came up with something so brilliant. Only chess lovers can understand the novelty of the game. If you happen to be one, you know how deep this game is. For chess lovers like that, here are few of the most innovative chess sets out there. Most of them, like Image Roll-Up Chess Board, are designer and are only available in limited edition. So, hurry up and grab your share.
Sharper Image Roll-Up Chess Board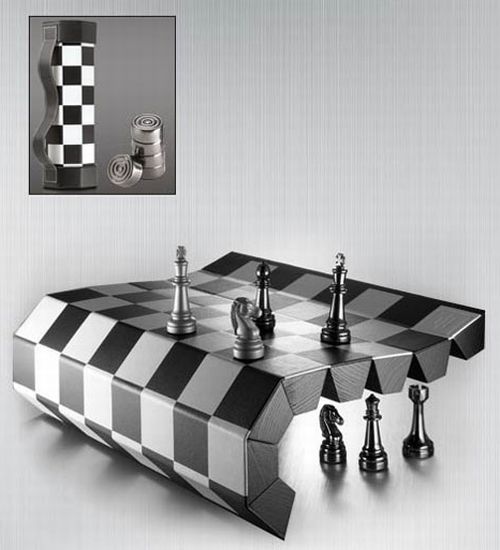 Chess aficianados get to have all the coolest innovations thought up for them. From playing with real people on street-sized chessboards to having pieces from the most expensive metals and having rarest of stones. If that didn't make the non-chess playing public feel snubbed-enough then the new Sharper Image Roll-Up Chess Board will. The intriguingly-designed board rolls up with the checkered side-up and a Velcro-fastening carry strap lets you show it off on the streets. It's cheap for its glamour value!
Source: Gear Fuse
Chess Board designs concepts similar to Image Roll-Up Chess Board
1. Bloodwood chess board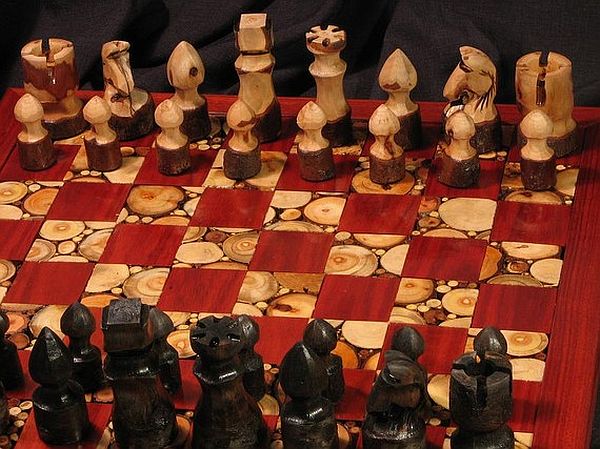 This exotic chess board and the pieces have exquisite design, elevating it to a piece of art. Designed in dark bloodwood, set against contrasting light shade with an interesting bark pattern, this will be any owner's "board of pride"…not to mention the opponent's cause for envy!
The board consists of 2-inch solid bloodwood spaces and trim. Moreover, the wood of this board belongs to 3/8-inch-thick slices of wood from several other trees like Poplar, Crimson Bottlebrush, Red Oak, Redwood, Orange, Maple, Sycamore, Crape Myrtle, Pine, Grape vine, Walnut, Elm etc.
The base of each handmade piece is hollow. The makers did this in order to add 1/2 to 4 1/2 ounces of weight. Then the pieces are felted at the base to avoid damage to the board to be played on. Finally, each chess piece is individually sealed and cured by many processes. To add a distinct style, a little bit of bark around the bottom of each piece is left bare. The Kings are 3.5 inches tall and the Pawns are approximately 2 inches tall.
2. Nikon/Canon Chess Set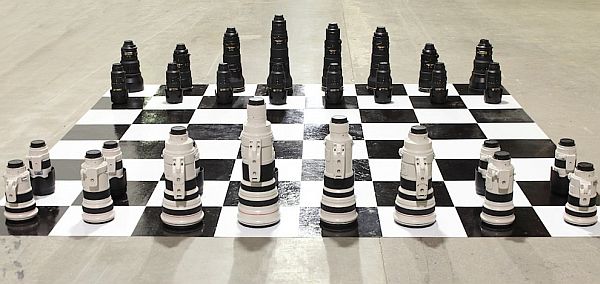 Of all the chess sets on DesignBuzz, this is possibly the least innovative and the most uselessly expensive one ever. It consists of nothing but a bunch of super-expensive camera lenses, this chess set is gimmicky at best. And that too for people who have enough cash to swing around to trash really expensive pieces of photography equipment and then play chess with the obsolete ones.
The complete 32 piece set is the brainchild of the good folks over at LensRentals. They probably trashed a few boxes of their Nikon and Canon shipments playing footie in the warehouse and just had to come up with a way to salvage the expense. Or maybe, the firm hired a really lousy marketing officer and this is the best s/he could come up with for a promotional campaign on the peanuts s/he was being fed.
The set consists of black Nikon and white Canon lenses with the 70-200 f/2.8 lens functioning as pawns, the 600mm f/4 lenses as Kings, the 500mm f4 lenses as Queens, the 400mm f/2.8 standing in for Bishops, the 300mm f/2.8 lenses as Knights and the 200mm f/2.0 stepping in for the rooks.
If you have enough of these to spare at home (or if you can siphon some off from the office), you can always make a set of your own. If not, LensRentals can rent you one for $9,221 but you will have to shell out an extra $1,100-$2,400 on shipping.
It may be hell expensive for a dull-looking chess set and it may not be much to look at, but it still makes pretty good gift for photographer friends. Throw in the Lens Pillow from Plushtography and you may just become the world's cheesiest gift-giver.
3. Decorative steam table and stool with chess board on the top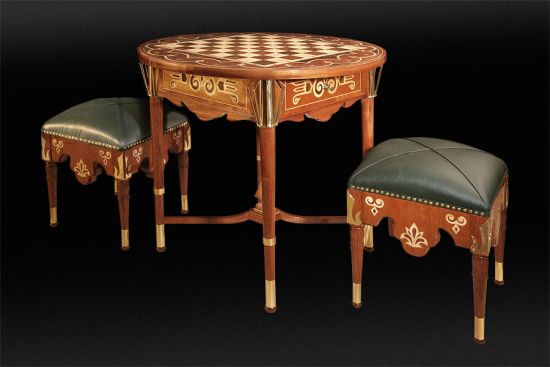 The steam table and stool, has the chessboard on the top of it. There are chess pieces under the table, which are cut out of Mammoth's tusk. Moreover, the whole decor pieces seem to belong to the historical battle of river Kalki. The decoration is in the Tatar national cultural traditions and the headset consists of mahogany. Chess king Anatoly Evgenevicha Karpova has praised and appreciated the work of art. Boxes are of oat and the chess piece case has a covering of velvet. The whole work of art is admirable and relates to the era of kings and kingdom.
4. 3D Chess Board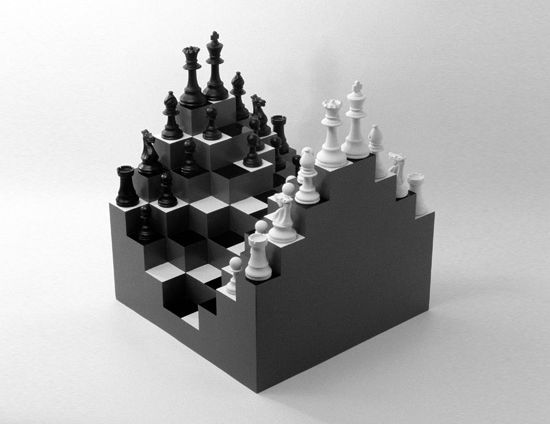 Presenting a new challenge to your intellect, often missing in the regular chess sets, designer Ji Lee has an innovative chessboard that adding an extra dimension of physicality to the game's battlefield will definitely give some food for your thought. Hailed as "3D Chess Board," the new chess set presents a three-dimensional terrain, which offers a step beyond the game of antiquity. While sticking to the conventional rules, the 3D Chess Board tosses up a new test to the modern mind, inflating their ideas and abilities.
5. Onda Chess Set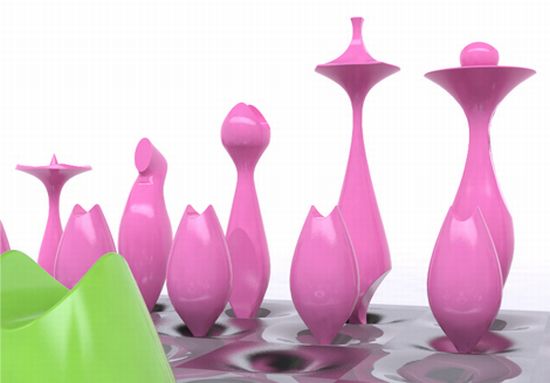 Gone are the days when dull black and white used to parade over the chess board. Alvaro Uribe doesn't affirm to the customary designs and the Onda Chess Set seems to be a symbol of his quest for novelty. A metal chess board forms the combat zone where armies projected in green and pink would clash. Surprisingly though, one can't deny a place to elemental simplicity behind his ingenuity.
Design Status: The Onda Chess Set by Alvaro Uribe is a part of his project. It aims at reconstructing the usual designs.
Usability: This new design not only helps to rejuvenate unexciting plaything models but makes it evermore presentable. Its metal chessboard gels so easily with magnetic pawns and rooks to ensure you never lose interest on while playing.
6. Nuts & Bolts chess set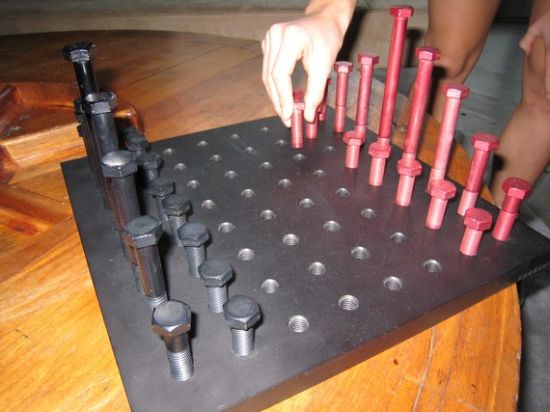 If you happen to be an enthusiastic chess player then this limited edition "Nuts & Bolts" chess set by Forrest Richardson is right for you. It is indeed the right set to replace your conventional board and give checkmate to the opponent king. Featuring a solid base, the robust chess set includes red and black pieces to segregate the opponents. Both the board and the check men are anodized to prevent the natural oxidation on the metal. It will be altogether exciting to play the century old game on this metallic board as the 64 holes replace the traditional ranks and files.
So this time, checkmate your buddy's king with neither the wooden nor the crystal pieces but go ahead and try doing it with strong and sturdy different sized nuts and bolts chess men.