If you had to count the number of hours that you end up spending in the kitchen for cooking, heating, doing the dishes or simply taking out the plates, the numbers would be quite staggering. Given the amount of time that most of us spend within the confines of the kitchen, making sure that you enjoy your time there only makes sense. Sure, a great pizza can lift up your kitchen spirits substantially, but you know what spells 'good vibes' the most? The right kitchen décor. Agreed, what's right varies across individuals and each person's sensibilities are tailored for a certain kind of décor. However, what we can do is introduce you to what's trending.
Rustic kitchen décor is the latest favourite of decorators and is something that they are swearing by. What's rustic décor you ask? Designers have different interpretations of it but most include handcrafted, homespun, worn and distressed themes. There's a certain sense of connecting and moving closer to nature with this style of décor. Think rough wooden textures or stone finishes.
Within the rustic look, the shabby chic look is all the rage right now, what with retro making a huge comeback be it in lightings or furniture. If you love the rustic kitchen décor in old farmhouses, you will love this look. Well, much easier to do up your own kitchen now than buy an old farmhouse by the country!
Here are some little things that can add that rustic charm you long for in your kitchen –
Galvanized Metal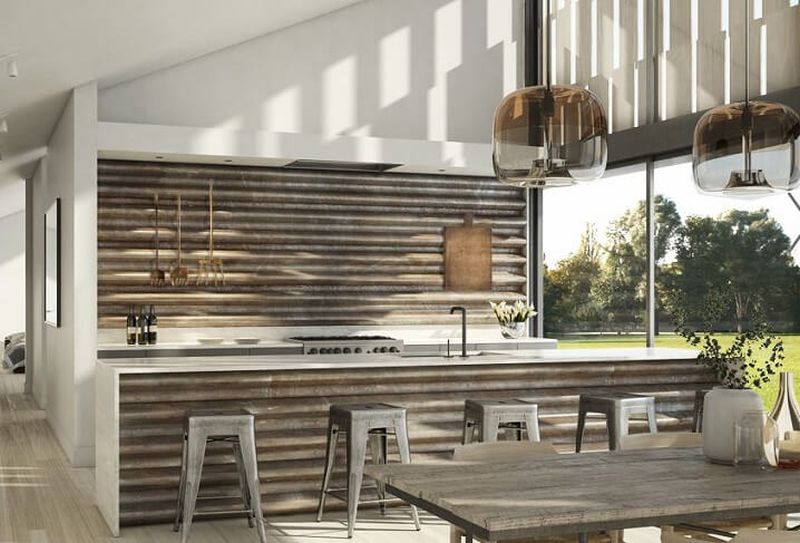 The easiest and most effective way to give your kitchen a rustic feel is through the use of galvanized metal pieces. It could be bowl that has a distressed finish of white metal contrasted with black handles that you could put your fruits in. Or, walk the line of sophistication and vintage with some pedestal servers in galvanized metal. You can also lay your hands on an old fashioned produce scale that instantly transports one through time and rings in the rustic bell.
Wood
Since creating a rustic feel needs a connection with nature itself, using wood – different kinds of it and in different forms – can instantly add on a rustic touch. You could have wooden cabinets, hardwood flooring, teak countertops or wooden ceiling beams.
Colours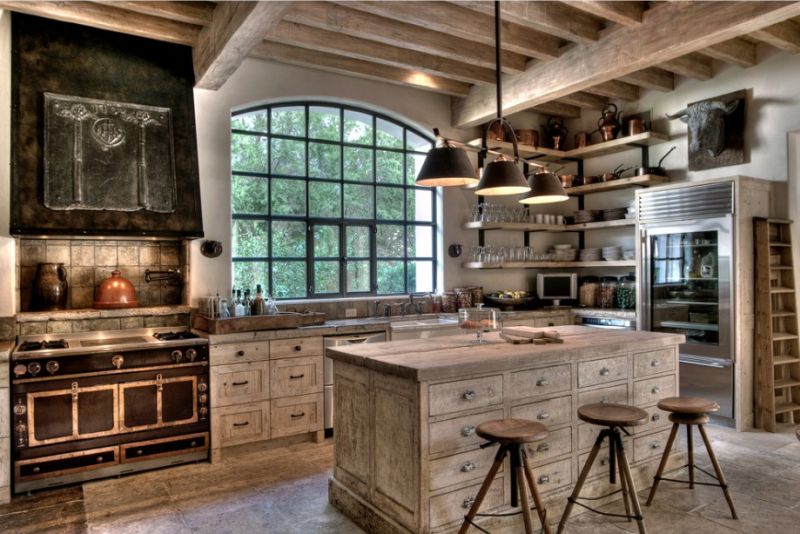 Image Source : cdn.freshome.com
Simply changing the colours can sometimes go a long way in adding a rustic charm to your kitchen. The traditional colour palette that spells rustic includes warm and earthy colours like yellow, brown, orange and even greens and blues. You could also draw inspiration from the colour of natural materials like stone, clay and sand to inform your colour choices.
Farmhouse sink
Farmhouse sinks or apron sinks as they are also know are typical to rustic decors. Not only can they help you add that touch to your kitchen but are also immensely utilitarian. They are deep, large and can handle all the dishes you want it to. The material could range from soapstone and granite to copper and iron.
Article Submitted By Community Writer