Not only travel is becoming more tech-savvy, so are our travel accessories. In fact, to satisfy our modern traveling needs, modern suitcases have evolved into something completely different. These modifications are as evident in their colors and designs as in their technical aspects. Smart luggage bags are no longer a dream and bags like Modobag show how easy your traveling can become if you just make a switch from your plain travel suitcases. Let's check out this and other popular suitcase designs in the market.
Introducing the Modobag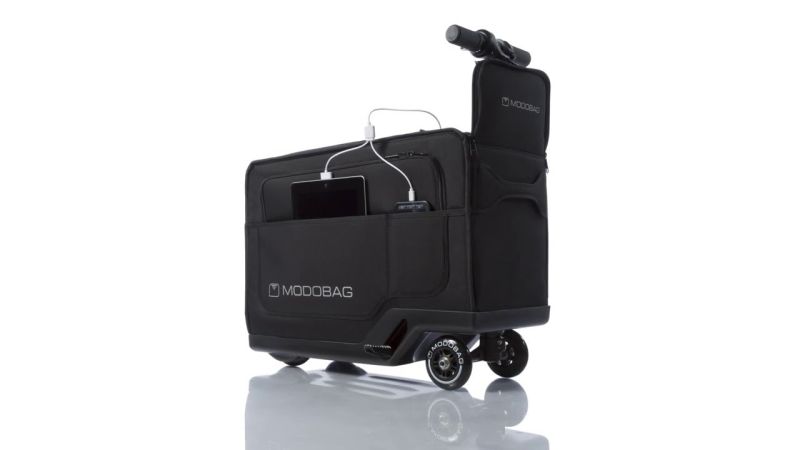 Nowadays, there are easy solutions like the roll on carry on. But still it can be a painful experience. Well, it looks like things are finally changing with a new and innovative bag called the Modobag. A dream for people who practically live out of the suitcase, this is no ordinary bag. This is a combination of a scooter and a bag in one. Yes you heard it right, the Modobag will not only store your stuff for you but also allows you to ride on it. Let us get to know more about this bag.
A design that is compact and stylish
The design of the Modobag is not only stylish to look at but it is also compact. This is sized perfectly to fit the cabin storage area of the plane.
Multiple pockets for easy storage options
It comes with multiple pockets and enough storage space to pack your stuff. It also comes with special allotments for storing your mobile phone. There is a special laptop compartment, which is made from sturdy materials to protect your laptop even while you are sitting on the bag.
Dual use handles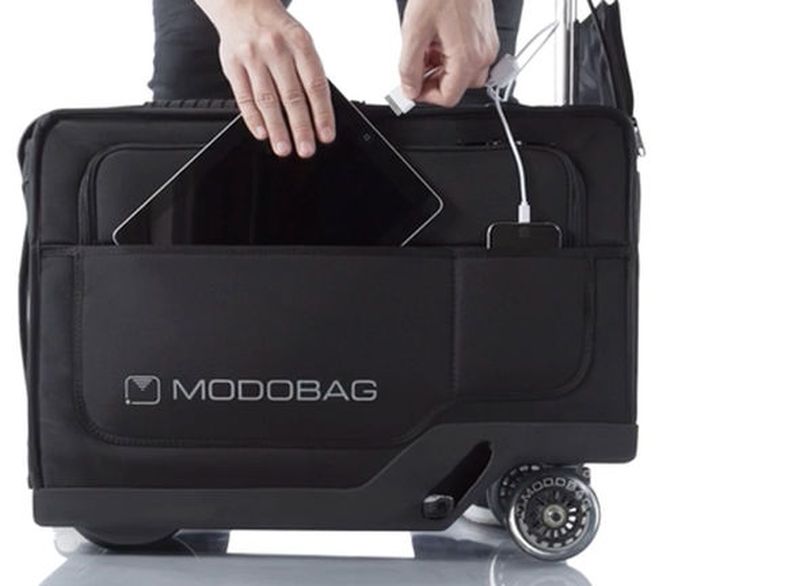 You can use the handles of the bag to pull it if you are walking and to use it as a navigator when you are riding. A telescopic handlebar for 2-1 use is also adjustable. There are also small break handles installed to give you a better control and grip of your motorized bag.
Seating and feet rest arrangements
The bag is designed to withstand the weight of the person sitting on it and it comes with a special pair of handles for easy control. While the seat is made from memory foam, there is also a special Quick release foot pegs for your feet.
Power charging options
Another good thing about this bag is that it has its power supply that is inbuilt and also a special USB allotment for charging your cell phone. With this bag, you will never need to worry about finding a space to charge your smartphone or tablet while you are on the road.
LED display
The bag comes with an LED display that lets you know the speed as well as when you are charging your phone.
Do not lose track of your bag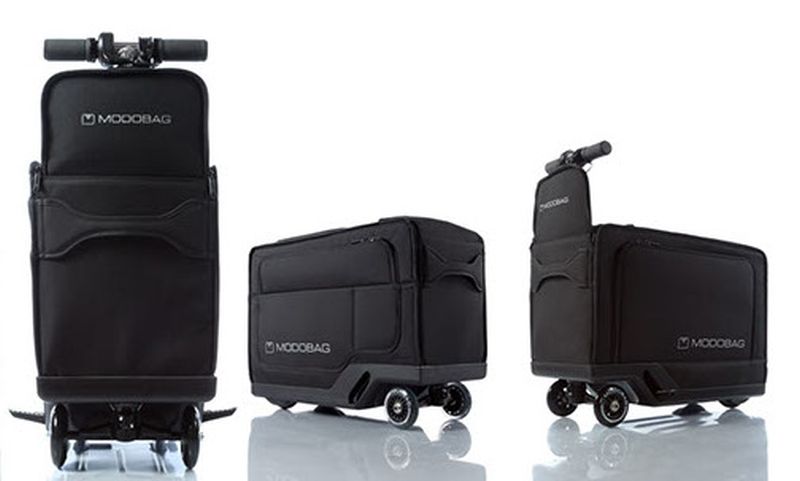 Another feature that deserves to be highlighted is the Modobag Tracking App. For a price of $69, you can get the Modobag app, which comes with various kinds of features and benefits. This tracking app will help to locate your bag easily. You not only get alerts, but it is also has the GPRS/GSM technology. And the best thing is that this app is compatible with Android and IOS smartphones. When you purchase the companion app, you get unlimited tracking for the first year.
Deals and discounts offered
Since this is a product launch, the company has come up with various kinds of deals and discounts for their customers. Let us have a look at them.
Customers who book their Modobag can avail a special discounted rate on the MRP of the bag. While the original price of this bag is $1495 + shipping, customers will get a 13% discount and can avail this bag for $1295 as a special launch offer.
For those opting for the companion app, the cost of the app is $69 and gives you unlimited tracking for the first year.
Co-Pilots can also benefit from the Modobags if they place an order for the product. Instead of a base price of $2990, they can get two Modobags for the price of $2550
Similarly, flight crew can also avail the benefit of this bag if they book for five Modobags for the price of $6300 instead of $7,475.
Companies can avail a good chance of having standardized bags by booking the special company package deal of 10 Modobags for the price of $12500+ shipping instead of the base price of $14,950.
Some more modern suitcases like Modobag
Move-On Suitcase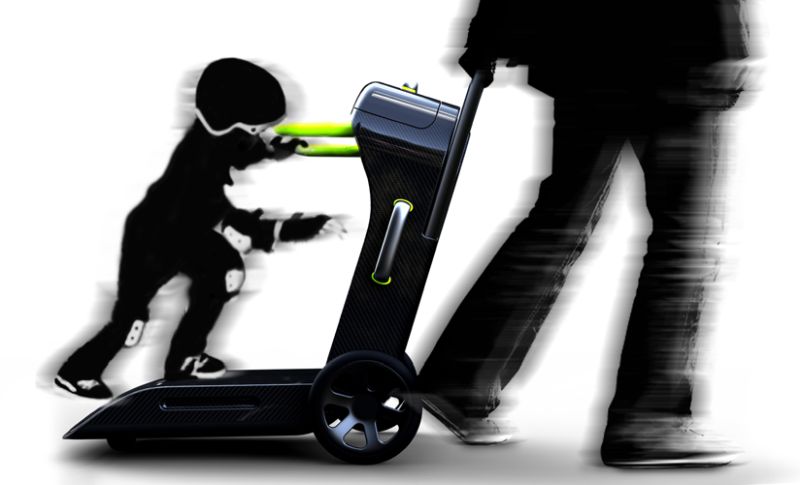 Designed by Alberto Villareal and Agent (a Mexico-based Strategic Intelligence Embassy), the Move-On luggage is a modern-day traveling suitcase. The front portion of the luggage has a capability to split-off from the luggage and swings in a downward direction to act as a wheeled platform. You can use this platform to tow other pieces of luggage and children. On the side of this luggage is a comfortable seat shape design, which you can use to sit comfortably while waiting in check-in lines.
Colored Suitcase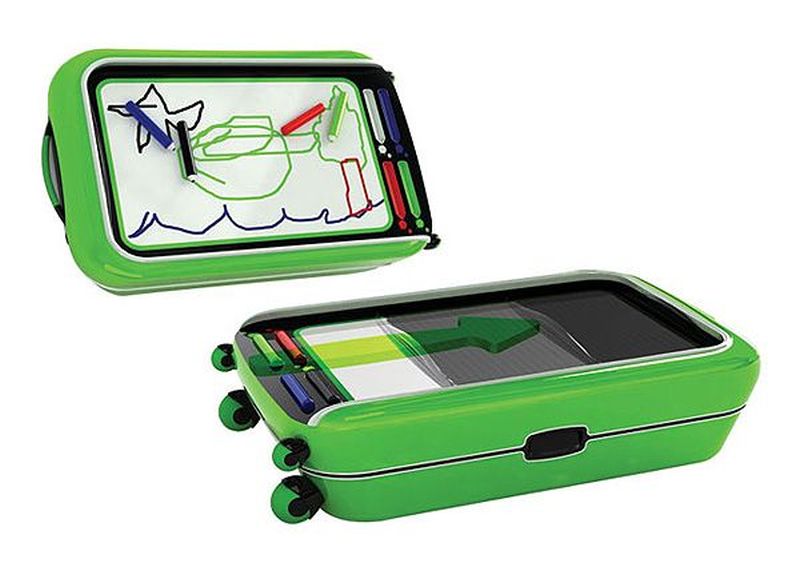 The Colored suitcase has an integrated whiteboard on its one side, which is for keeping the children busy during journeys. Marcial Ahsayane has designed this modern-suitcase, which is a RedDot award-winning concept. Along with the whiteboard, it has colorful markers with it so that your children do not get bored when you are waiting for bus, train or plane. For protection against bumps and scratches, a sliding door conceals the whiteboard. Moreover, it looks stylish and has a durable material used in its construction to have a longer life.
Samsonite OBAG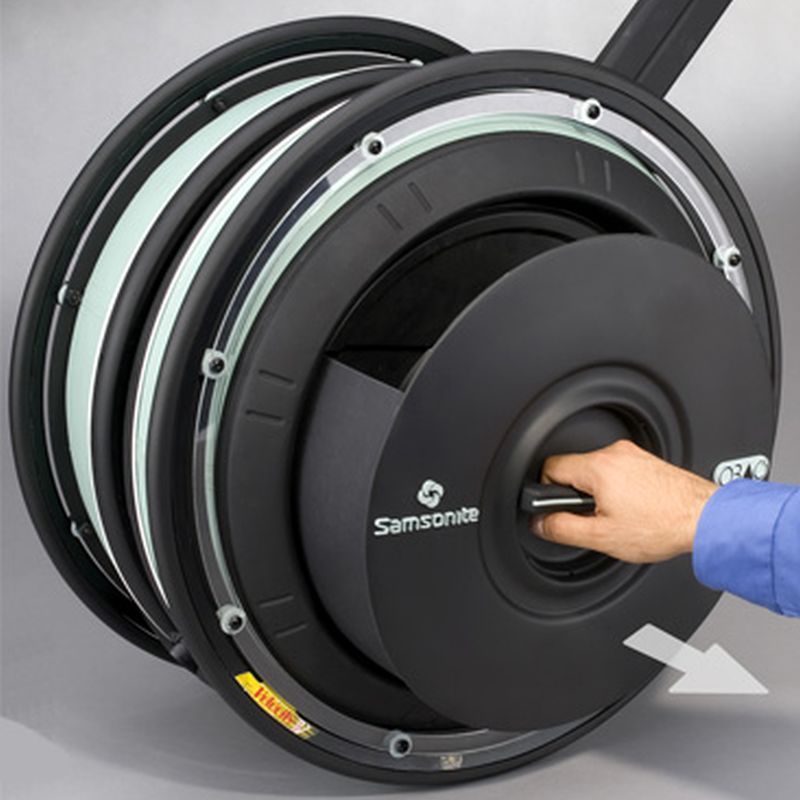 Samsonite is a renowned company for making high-quality luggage. The Samsonite OBAG is the latest roll-on bag designed by Rooz Mousavi. The OBAG has a rugged exterior, which makes it ideal to use in snowy and nasty weather conditions. The bag has a design of a giant wheel that rotates when moved by the user. It has a smart design that helps the user to save energy while maneuvering it. The Samsonite OBAG has two compartments for storage and its handle collapses, which enables the bag to slide under your bed. Moreover, it also easy for the user to drag it up or down the stairways.
Pumppack Suitcase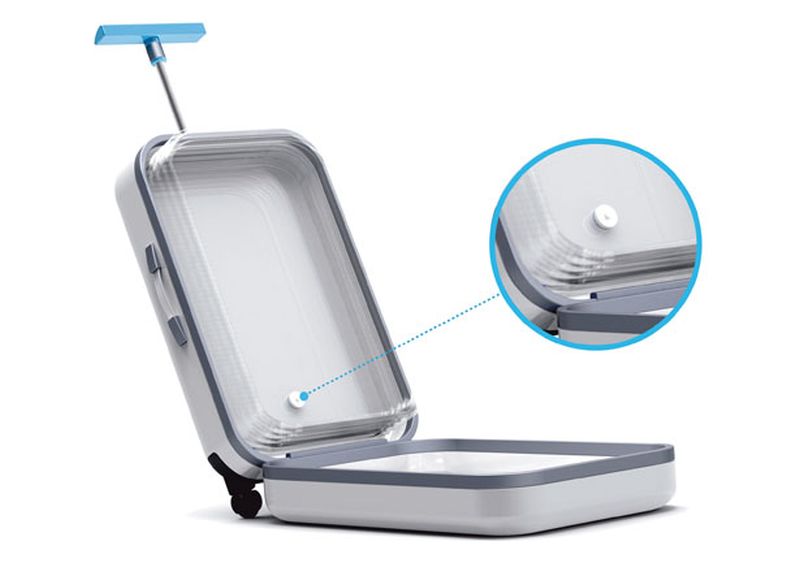 Pumppack is a 2011 Red Dot design concept winner and is a suitcase that uses vacuum packing in its functioning. It has an integrated hand vacuum pump, which enables the user to compress clothes to make more packing space. The vacuum pumping of clothes can reduce the volume of luggage by 70%, so the user can utilize this extra storage to accommodate more stuff in this suitcase.
Trunkster Zipperless Luggage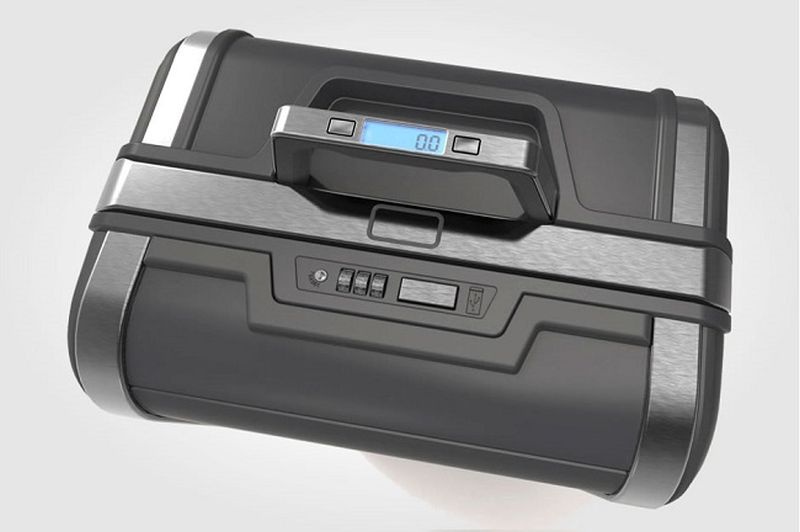 The Trunkster is a modern-day luggage, which has extraordinary features. The luggage uses sliding door for hassle-free packing and unpacking of goods and has no zips installed in it. The smart handle of the Trunkster extends from end to end and has an integrated weighing scale, which shows the weight of the luggage. The user can also charge his/her electronic gadgets with its integrated power bank. Adding to its features is its inbuilt GPS module, which enables the user to track its location anytime.
Hop Suitcase
Hop is a prototype suitcase developed by Rodrigo Garcia. The Hop is an advanced modern suitcase that follows its user wherever he/she goes. The luggage follows its user by utilizing three built-in sensors that enable the tracking of the position of user's mobile phone, which send signals via an app to the sensors. A caterpillar system actuates the movement of the luggage through a microcontroller. 
Final Words
Travelling can be fun but hectic at the same time, especially when you have to catch a connecting flight. The constant pressure of running from one gate to another to make sure that you do not miss your flight is immense. It gets even worse when the airport is big and the gate for your flight is far away from where you are. What makes this even more challenging is to carry your luggage along with you. However, if you have suitcases like one mentioned in the article, you have nothing to worry about.
All the innovative suitcases are something more than mere suitcases for tagging all your belongings. Their enhanced accessibility and usability makes them one of the best companions to accompany you on your journey.