Being eco-friendly doesn't mean you have to compromise with the aesthetics and utility. It means that you have a design that inculcates both of these while, at the same time, takes care of nature too. With a growing population around the world, we are both exploiting forests for their resources and ruining their beauty by dwelling there. However, nowadays there are plenty of ideas like Eco Box tent that give you an option to live in natural surrounding without harming their environment. Furthermore, these consist mainly of sustainable materials, which makes them even greener.
Here are Eco Box tent and some other tent designs that you need to check right now.
1. Eco Box Tent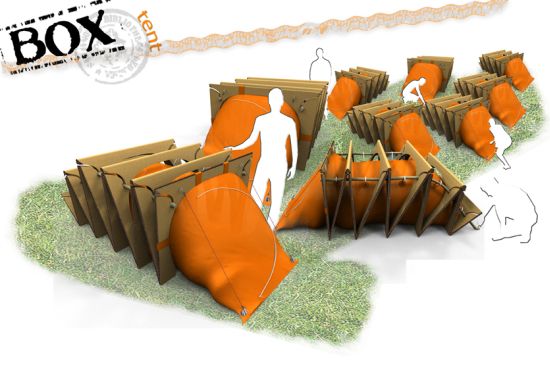 With drastic changes in climate, disasters (natural or manmade) are becoming the order of the day in all parts of the world, calling for more extensive precautionary measures to battle the crunch situations. Addressing the issue, Turkish designer Can Koseoglu has come up with an innovative tent that provides instant shelter for the victims during calamities. "Box," the portable tent folds flat for easy storage as well as transportation that you can move easily anywhere via air or road. Made of recyclable corrugated cardboard and polyester, the tent is not only lightweight and durable, but it also helps in sustaining the environment.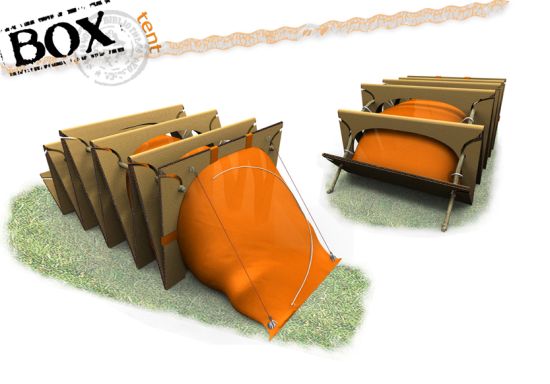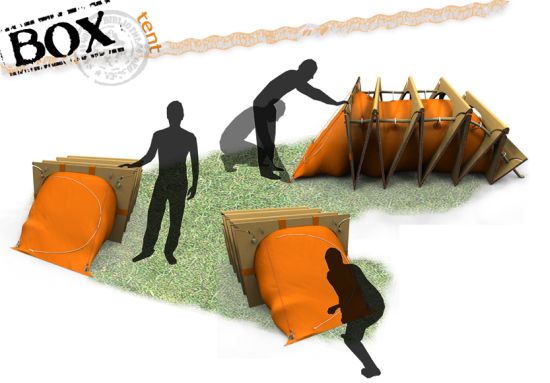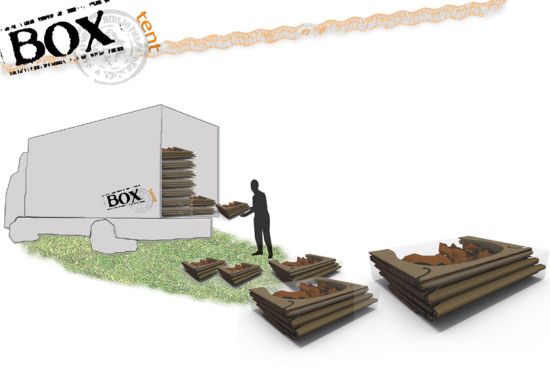 Via: Cankoseoglu
2. Solar-powered beach tent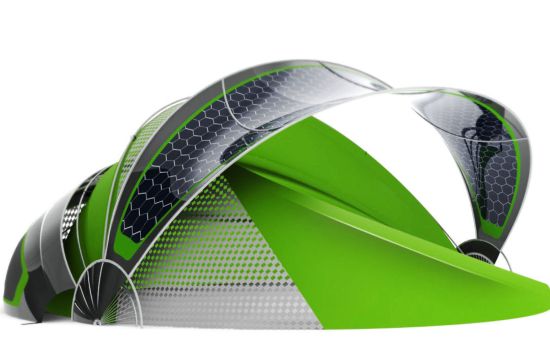 Beach enthusiasts should to take a very close look at this amazing surfing shelter. It is an absolute must-have for your seaside outings. The eye-catching concept design by Emma Harris is more particularly for the British coast notorious for its wind speeds and lacking sun. Presenting an alternative to a traditional windbreak or beach tent, the structure of the roof has an aerodynamic design which allows the wind to flow into the rear tunnel, where it helps run a turbine thereby helping generate wind energy besides providing shelter against high wind speeds.
The shelter's eco-design features include photovoltaic fabric and to harnesses solar energy throughout the day along with charging points to juice your favorite beach going gadgets including an MP3 player and mobile phones. The shelter also becomes a sociable arena for having barbecue parties, sun bathing or just simple relaxation with friends and family.
3. 'Spring' extreme places tent
Pictured above is not a storage box, but a tent for adventure junkies. For someone who wants to go camping to take a break from his orher tech obsession, the "Spring" extreme places tent by Alberto Caputo looks to be a great option. It doesn't seem to feature any power outlets or mood lighting, but the design alone is inviting enough to camp in the wilds. You can tow the spring tent away with any vehicle.
Anyway, the tent looks like a trailer when closed and I assume it has space inside for your adventure gear. It opens like a folding bed to reveal a spacious tent. We don't have detailed info on the materials used in the making, but we do expect the Spring tent to be really strong and durable. This is one of the roomiest tents I've ever seen. Hit the jump to see how this box transforms into a full-size tent.
4. Tent-Cart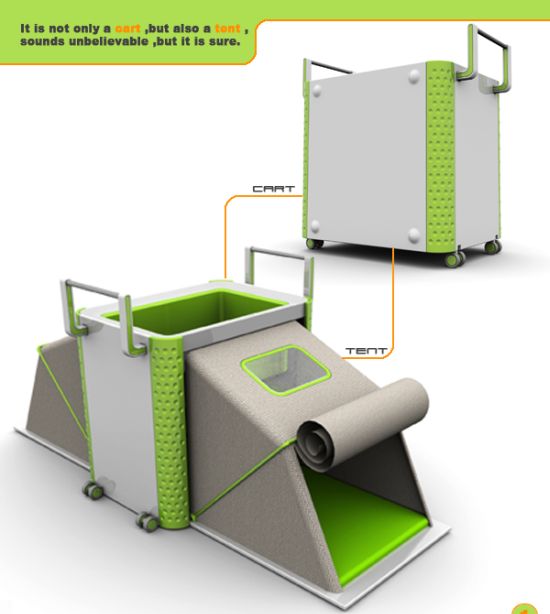 Poor homeless! Who cares a hoot about where they live? Do we even stop a moment and wonder where exactly they spend the dreadful winter nights? However, we are sure use to seeing them bums move around with their carts, which are filled up with crap nobody gives a damn about. Since homeless and their collecting carts are something that go together, almost without an exception so, a designer from China wants to make these items more useful. Hao Jiang has designed something that he likes to call the Tent-Cart. He has taken the usual push-along cart and endowed it with some extra attachments so that it becomes a sort of mobile home.
Tent-Cart has two sides door which can be opened up and stretched out to convert the space into a tent. Tent-Cart is otherwise the usual cart – albeit one with two handles and adaptable wheels – but when opened up it can easily accommodate an average full-grown person inside. This being a concept, some considerations obviously remain to be sorted out as regards its practicability but the idea itself is worthy enough for a ten on ten. Two more images follow after jump.
5. 'Branch': Nature inspired tent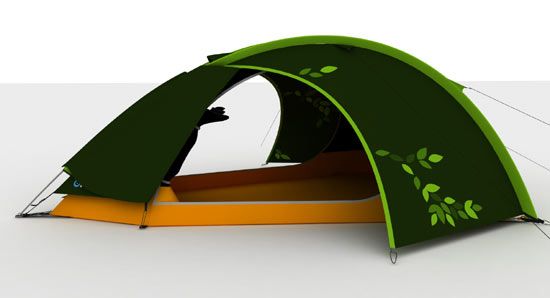 Check out the latest designer tent, 'Branch,' by Ondrej Vaclavik of Czech Republic. Designed for Husky company, this designer tent quite profusely carries the very spirit or nature. Therefore, it won't be wrong to say that Branch tent is inspired by nature. That's the reason why leaves, twigs or branches find their due place in the designs of the tent. Above all, what makes the concept of Branch tent more appetizing is the sense of closeness, which it provides. It is just like putting on the refreshing mantle of nature. So, when you are out, enjoying outing, especially into the wild so, lurking into this tent would certainly create an enthralling atmosphere around you. Isn't it? Check out more images in picture gallery after jump.
6. Pop-up hotel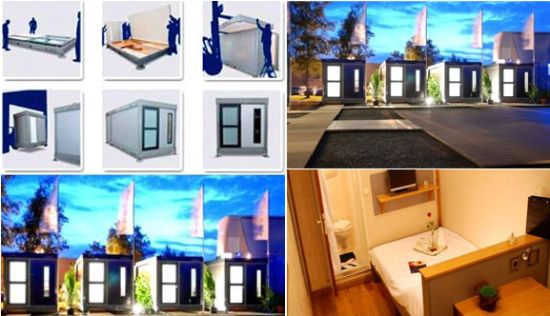 This mobile hotel room format is a dream come true for event planners. The difficulties with getting proper and comfortable lodging for events located outside of cities can be great, especially when the event is on a large scale. There is the problem of running out space, which was previously solved by lodging attendants far away from the venue. These difficulties could very well be a thing of the past with the temporary according suites from the French Company Albimo.
Albimo delivers and sets up the individual hotel units , making easy to lodge everyone in comfortable dwellings close the site of the event. These compact units are surprisingly well equipped, decked out with bathrooms and showers, and an impressive hardwood floor. It even has heating and air-conditioning, as well as noise insulation. The company is also willing some moderate customization to suit unique tastes, but even without that, being able to order several of these and save travel time for an event is still a big plus from Albimo.
7. JakPak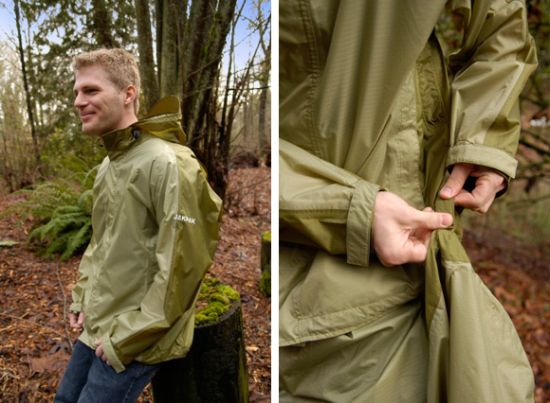 Combining a waterproof jacket, sleeping bag, and a tent with insect netting into a single object. The "JakPak" is an all-in-one camping product for outdoors and sports enthusiasts. Moreover, you can also use it during emergency situations. Easy to carry and use, the multifunctional accessory unfolds a sleeping bag from inside back and pulls a tent from the back pocket of the jacket, providing alternative personal shelter for anyone who needs a reliable solution to exposure from the elements. Claimed to be the world's first all-in-one waterproof jacket, sleeping bag and tent, the JakPak will be available in green or black colors.