The housing market in Amsterdam is known to be one of the most adventurous ones in the world. homeowners and designers in the region are a lot more open to creating houses with a cutting edge design that are highly functional, make full use of the space and also provide excellent protection against the elements while being superbly energy efficient as well. This particular home made in the artificial island community of Ijburg in Amsterdam of called the Villa Rieteiland-oost and was designed by local design studio Egeon Architecten.
---
The house features a stunning all-timber façade while a spiral staircase connects the three storeys. The house features an office on the top level, the homeowner's bedrooms on the first floor and a bunch of living spaces dominate the ground floor. To ensure that the office remains a space separate from the living rooms in the home, an outdoor staircase has been provided that connects the balcony of the top floor to the ground floor via a recess in the front wall. The house was designed to offer a stunning south facing view. To give the house a stunning natural look, the architects covered its façade with cedar strips that were laid out vertically as well as horizontally to give the home a seamless look. The shutters of the windows were also included in this treatment to insulate the home further.
A garden is laid out at the back of the house and a bunch of floor-to-ceiling windows are installed at the ground floor to let the greenery in. dark-stained wood partly clads the glazed rear façade which makes Villa Rieteiland-oost the perfect wood covered home in the locale. Wood and glass dominates the construction of the spacious detached house. Large sliding doors and a glass façade fill all the floors of the house with ample sunlight through the day while keeping the heating/cooling on the inside intact. The bedroom floor is designed to be more open on the inside since there really was no need to make it more open on the outside. The uppermost floor has an all around view which makes it the perfect spot for an office.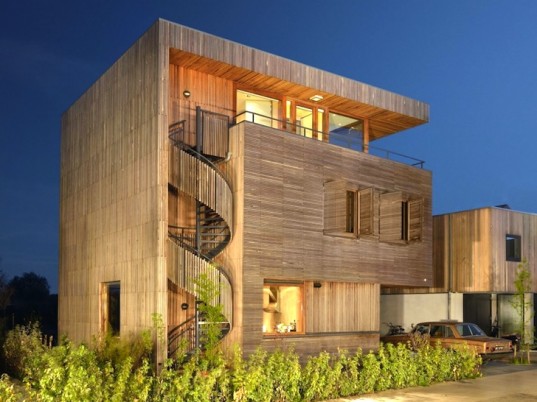 To make the home as eco friendly as possible, sustainably sourced materials were used while the addition of features like the home's orientation, thermal bridging, a sedum roof, special heat-resistant glass, roof walls and floor with high insulation values, natural ventilation, low temperature under floor heating and a heat pump was used to keep the home's energy consumption on the lower end as well. The house has a total capacity of 700m3 and provides 225 m2 of floor space as well. The home has three bedrooms and a bath though all floors have separate sanitary facilities.