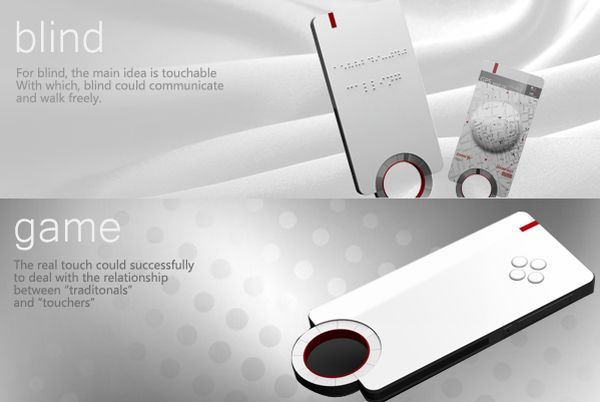 Gone are the days when touch phones made jaws drop, it's time for touchable phones to infect us! Christened, the Floating Phone, it has been designed in an impressive way by Messizon Li, Li Ke, Yang Fan, Liu Linghan, An Pengcheng and Zhu Yunlong. These designers have vowed to bring a 3D revolution through their concept.
The gadget has been crafted from plastic polymers that enclose silicon, carbon, oxygen and other metals. It will come embedded with a Screenfloat and E-ink technique, which will shower user-friendly traits. The design is anticipated to hit the markets by 2015 and is ready to create a sensation.
As the name suggest, the surface of the phone's screen will float that will be based on FSM plan by Microsoft. When we text using a touch-screen, the scope of making errors rises. This can lead to some embarrassing moments which cannot be corrected later. But, with the Floating Phone all such situations can be kept at bay, thanks to the wonderful screen!
Normally, visually impaired people need special gadgets but not in this case. Such people make use of risen surfaces to communicate and this phone offers exactly the same. If you are a game addict, then be ready to feel the change when the power of touch gets into your system.
Phones come decorated with a homepage, which is difficult to alter. Floating Phone will endow the user with the flexibility to customize the home page as per their taste and needs. Wow! The sensor rotating circle will make your phone quirky and eye-appealing.
The futuristic gadget will let you savor the magic of a real keyboard. So, if you want a phone that will delete embarrassments from your life then the Floating Phone won't let you down.
Via: Designboom