Owing to the gradual loss of housing space, people are quickly looking for functional and affordable alternatives. Amongst these alternatives, trucks, and trailers stand out on the top. Not only they are cheaper compared to modern housing facilities, but their mobility also gives them the bohemian edge. If you are unsure, where your whereabouts would be in the near future, these housing alternatives are ideal for you. So, let's check them.
Buffalino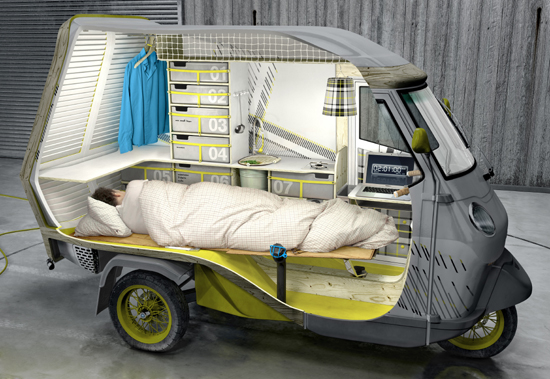 German industrial designer Cornelius Cormanns has skillfully modified a three wheeled Piaggio to create a small camper suitable to meet the requirements of a single individual. Dubbed as "Buffalino," Cornelius wanted to design a vehicle that would offer greater flexibility during travel besides enabling an economic and fuel efficient ride which does not become heavy on the pocket. The main components include the frame, the chassis and an engine. The vehicle serves perfectly as a base camp during long solitary sojourns thanks to its excellent furnishings.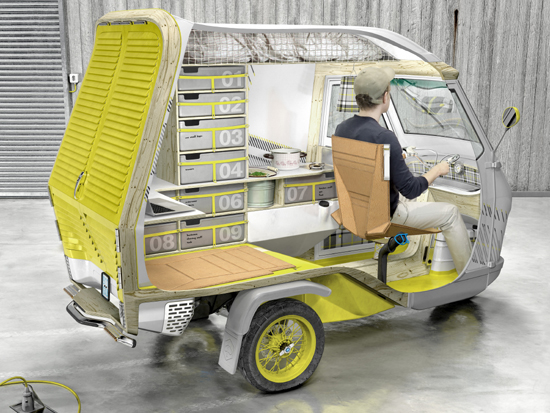 The personal base camp is fully equipped with a bed, two seating units, a cooking zone, a basin, storage space, a water tank and a refrigerator to offer the comforts of a home on long journeys.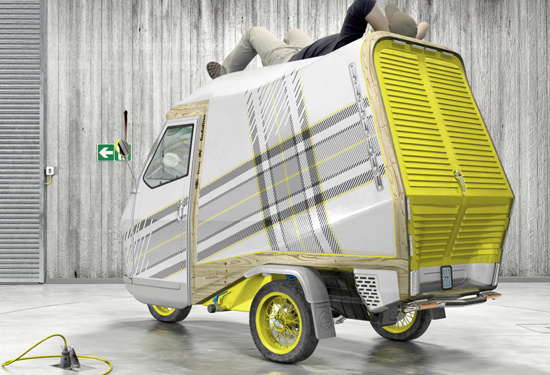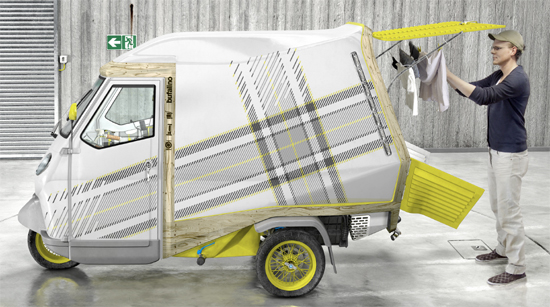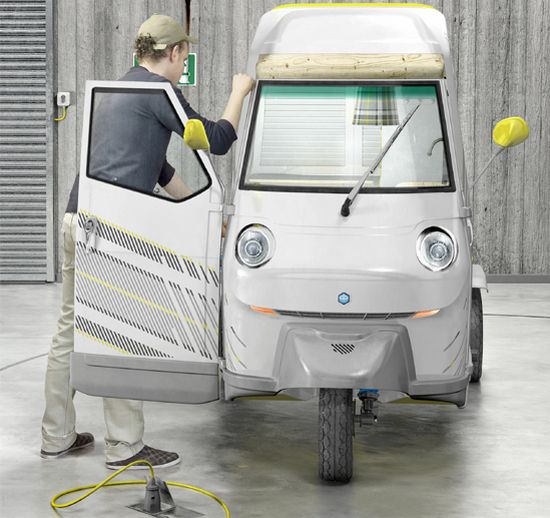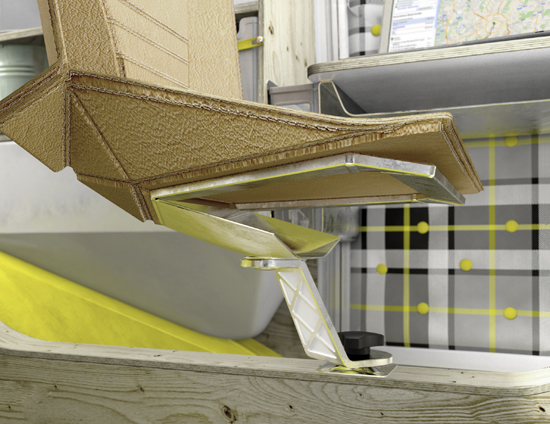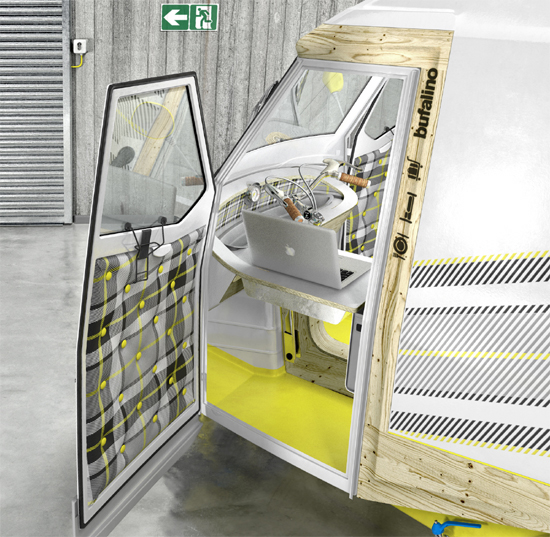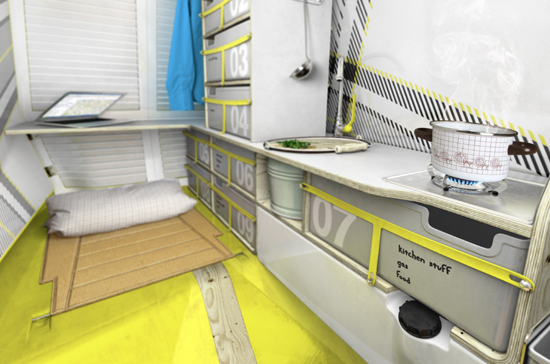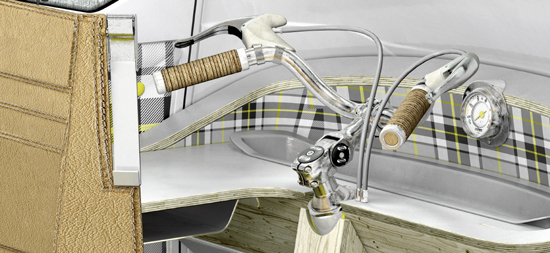 Via: Designboom
Other unique trucks and trailers similar to Buffalino
We have seen our share of trucks. But there's something about these trucks that keep makes them so unique. Here are some of the most awesome trucks and trailers you can ever come across.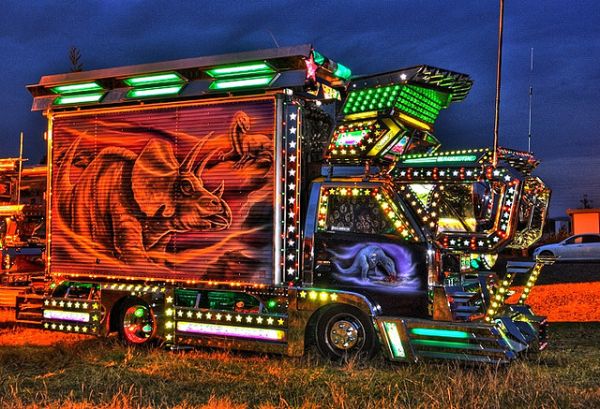 1. The Dekotora
Short for the Decoration Truck, the Dekotara is a truck you can find in the Phillipines and Japan. These trucks are loudly decorated with bright neon colors, ultraviolet lights, shiny parts and extravagant paint designs. You can find these loud designs on the truck, the trailer and even the interiors. Some of these trucks even have shiny golden colored parts. In most cases, Dekotaras are used as work trucks or as artistic showcases for events.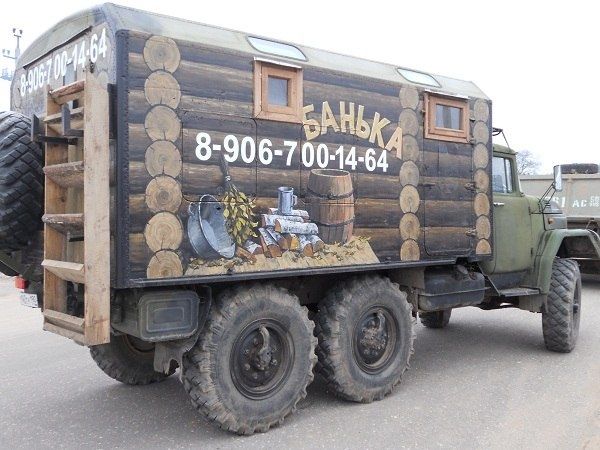 2. The Sauna Truck
Fancy having a steam bath but can't manage to visit a sauna? Then why don't you call one over to your house instead? The Sauna Truck in Russia is known for its mobile banya (Russian for sauna). In short, it is actually a truck that is equipped with a sauna. You can opt to take a steam bath right by your house, steam bath as you ride through Russian woods. And there's always the possibility of visiting a desolate forest in the mobile banya. There's nothing like jumping into a cold lake right after a rejuvenating steam bath.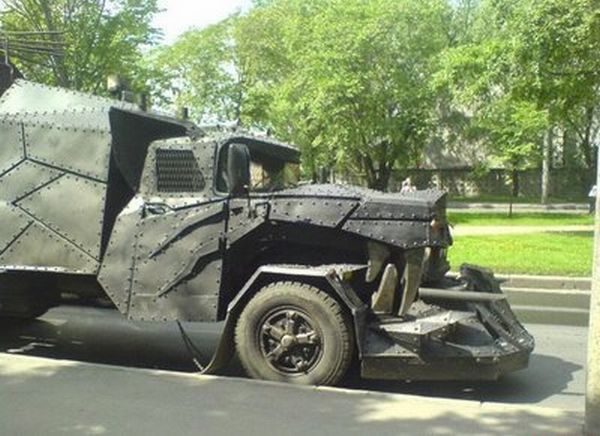 3. The Iron Wolf Truck
If the Ghostrider (from the movie of the same name) happened to own a truck, then this is probably how it would look. Designed and developed by some Moscow bikers, The Iron Wolf Truck sports a realistic looking wolf head made of iron and steel, with a trailer following behind. Add a pair of flame shooters on both sides of the wolf head, and you have one vehicle that would literally give anyone a heart attack on a dark night.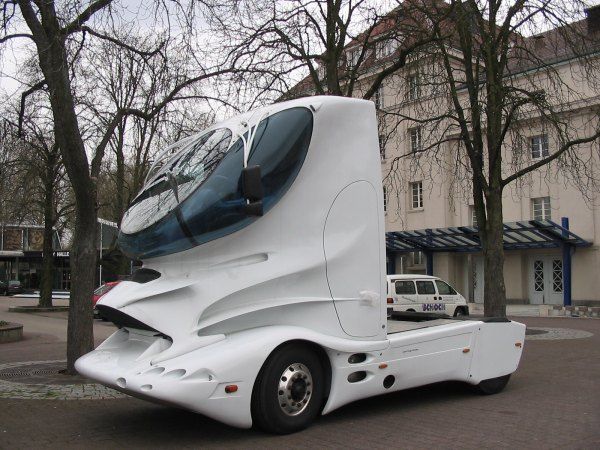 4. The Concept Truck
Designed by Lugi Colani, a Swiss-German based industrial engineer, the Concept Truck is an extremely futuristic vehicle. It has all the luxuries you can ever dream of. The entire truck looks as if it came out of a Mercedes platform. The front end of the truck contains a cockpit for the driver. He can drive it with the help of a joystick (that's right). The truck has plenty of other interesting features as well. It could become a staple vehicle on the road for its extremely high cost.
5. The EX63-HDM 6×6 Truck
Don't be fooled by the garbage look exterior of this truck. Walk inside and you will be bowled over by the luxuries you find inside. Designed and developed by a German company called Unicat, the EX63-HDM 6×6 would be the perfect choice for those really long road trips. The truck is fitted with all the basic amenities you would find in any luxury home, and would appeal to families who love to go anywhere and everywhere, traveling in comfort as they do.
6. Trailer mounted 'Mobile Shower Unit'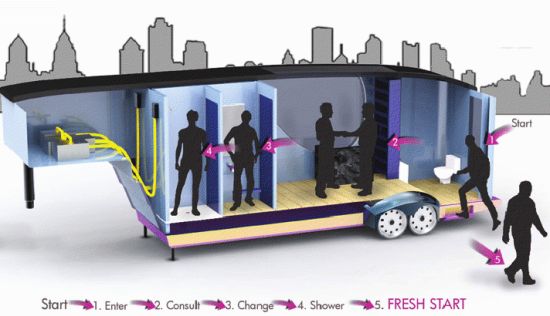 Intended for homeless people devoid of basic facilities in and around Kalamazoo, the largest city in the southwest region of the U.S. state of Michigan, the "Mobile Shower Unit" by designer Matthew Parr is a self-sufficient trailer that promises an enhanced lifestyle for poor. The trailer not only provides a hygienic bathing and lavatory facilities to the poor, but it can also be rented to purchase the basic amenities like soap, toilet paper, towels and so on for the needy users. In addition, the trailer fulfill its requirements and maintenance cost by providing advertisement space for companies and business organizations. Above all, the trailer is easy to clean, and when unoccupied it can also be collapsed effortlessly for easy storage as well as transportation.
7. Gypsy Wagon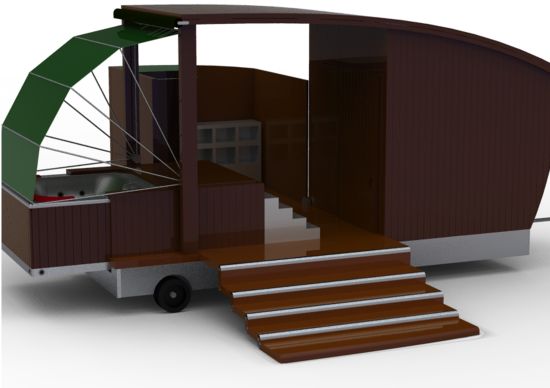 Contemporary caravans may fulfill most of your basic needs while camping outdoors or on the go, but when it comes to luxury baths, they too have their limitations. Addressing the issue, Kiwi designer Harriet Hone has come up with a mobile sauna or spa called the "Gypsy Wagon" that keeps you clean and fresh all the time, no matter where you travel or stay. Featuring a sauna/spa unit with storage and a changing room, the mobile bath comes integrated with luxury bathing fixtures to clean and relax you in utmost comfort. Moreover, the portable unit folds into a trailer that the user can haul to distant destinations with ease.
8. Fiat Sentiero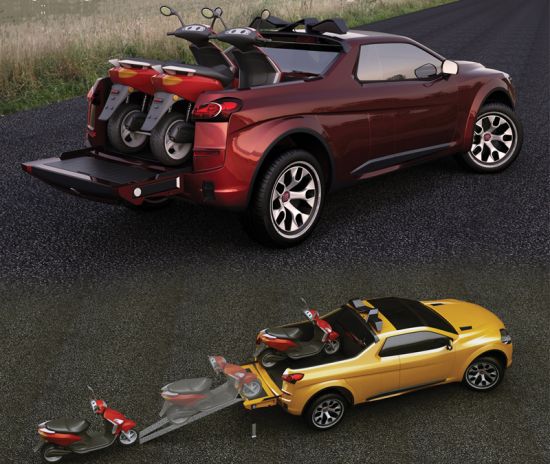 Intended for the Fiat, the Sentiero by Dragos Prodan, a student designer from George Enescu University in Iasi (Romania), is a compact utility vehicle essentially designed for the European market. Taking a cue from current design language of Fiat as well as Italian design for styling, the pickup truck seems to go hand in hand with the Fiat brand by complementing other vehicles from the company's lineup. Moreover, the concept vehicle boasts a drivetrain with three running modes, 2WD mode, Auto mode and Lock mode, and provides various storage spaces, together with the main bed at the rear, lockable storage compartments in front of the back wheels and different sealed compartments in both the rear of the bed and in the tailgate.

The Sentiero generates power from a 3.0 liter V6 diesel engine, offering 250 hp, with a payload capacity of 820 kg (1807 lbs) and comes pre-wired for trailer brake controller, which is capable of towing up to 2400 kg (5291 lbs). Moreover, the utility truck features an integrated class III hitch, while a closed box frame with internal strength steel frame stiffener, electronic brake distribution and brake assistance makes the active and passive safety systems.
Summary
These are only some of the most unusual trucks and trailers that can be found on the road these days. But the road to creativity is endless, and we are pretty sure that sooner or later, a new list of really unusual trucks would replace the ones mentioned above. Let's wait and watch.
Read More: