The market is flooded with billions of smartphones. Most of the people tend to focus only on specifications, but there are only a few who go by the looks. You can make a statement by being one of them by buying one of these creative smartphones. Below is a list of 15 smartphones that pledge to alter your lives with their features and designing.
Philips Fluid smartphone with flexible OLED display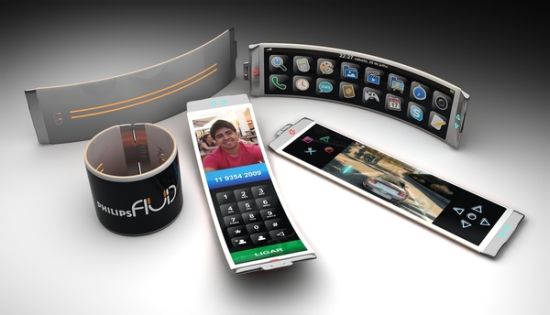 With modern gadgets getting smaller and better to replace the jewelry or fashion accessories, the contemporary jewelry designers may have to face a tough time in the days to come. Yesterday we covered the Bricell Jewelry Phone in the blog, and now it's time for another stylish gadget to tickle the trendy users. Conceived by Brazilian designer Dinard da Mata, the "Fluid" is a smartphone concept that as suggested by its name features a flexible OLED display to allow better mobility and ease of use. Designed for Philips, the mobile phone wraps around the wrist to become a bracelet for the fashionable, while gives an easy access on the go.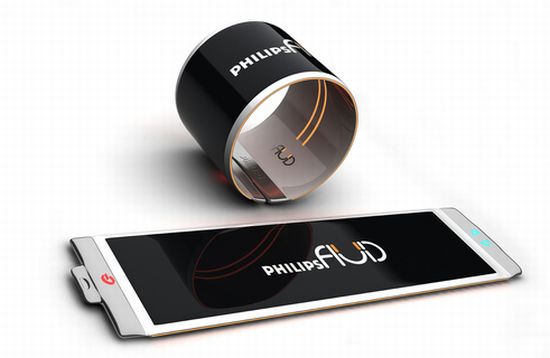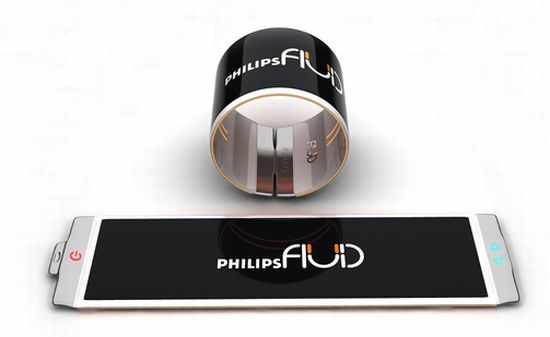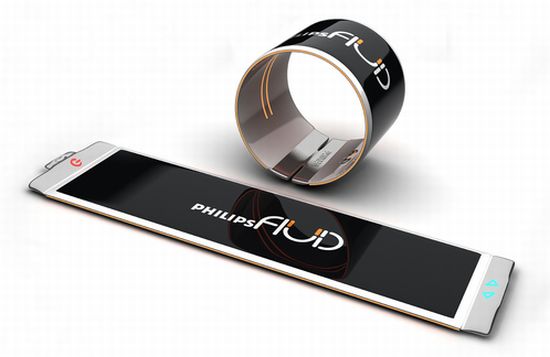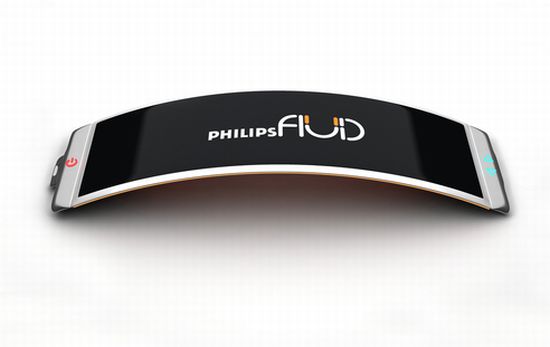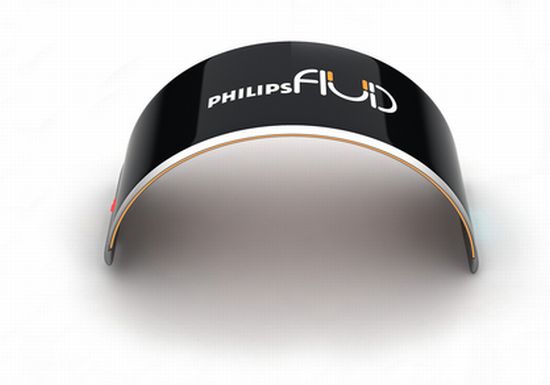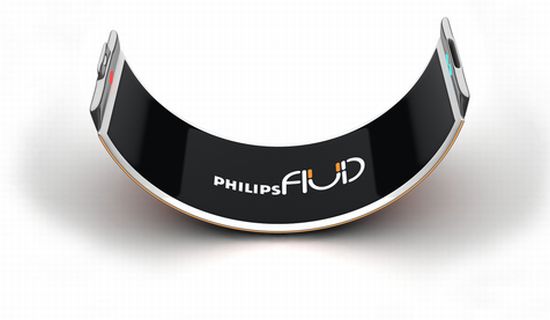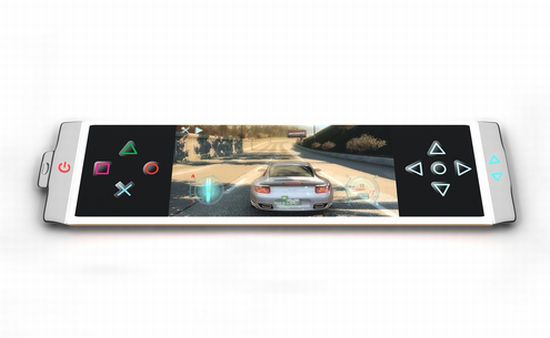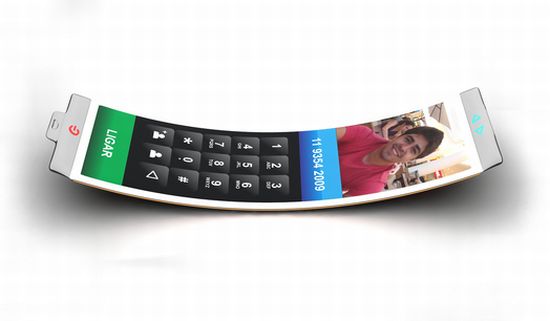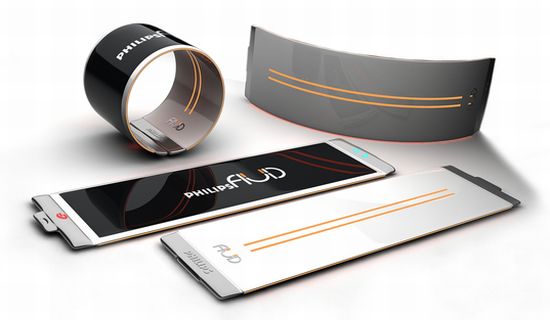 [Cheers Dinard]
1. BlackBerry Cloud-Based Smartphone Concepts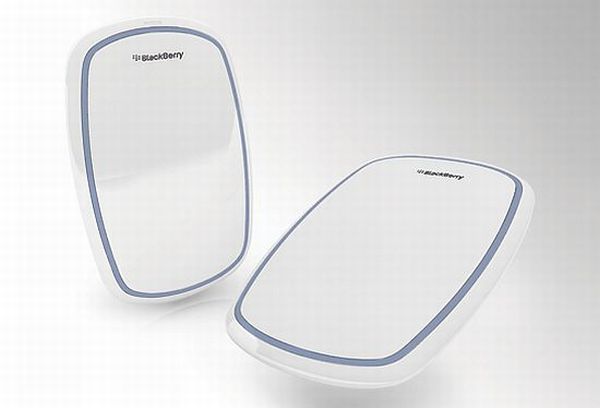 Resembling a white fluffed up cloud with a blue line is the Cloud BlackBerry Cloud-based smartphone crafted by designers at Bounthavong Designs. The phone derives all the power to stay alive from a liquid fuel cell. The amount of fuel left can be easily read through a transparent trim. As the name suggests the phone will be able to couple with the cloud computing network. It will shower a user with processing power and unlimited storage space. The concept comes with a crystal clear and sharp zoom which is made possible through a liquid camera lens that controls the shape of the liquid lens with the help of an electric current.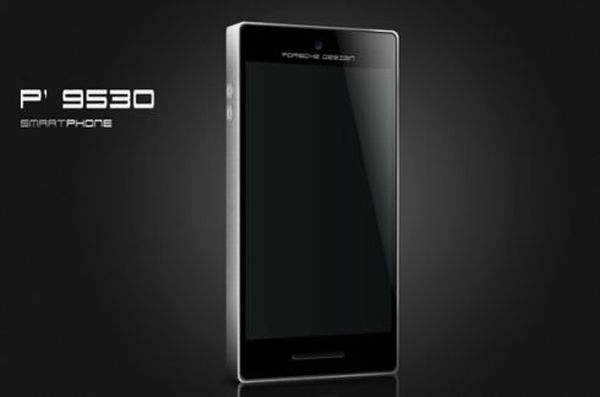 2. Porsche Design Smartphone P 9530
Designed by Andre Duarte Silva, Porsche Design Smartphone P 9530 is a stunner in every sense. It comes embedded with a camera that can record 3D pictures and videos with an LED flash, a feature which we won't see in most of the phones present. With stereo sound and quality the camera is 5 Mp and 720 HD. The right side of the device has a button specially placed for quick video access. A vast touch screen makes the façade quite attractive. It comes with an aluminum case and nicely concealed behind the screen is the speaker.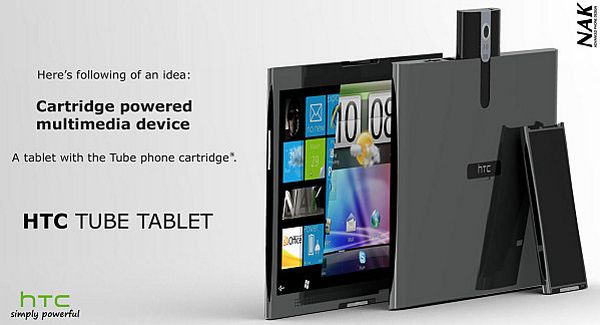 3. HTC Tube smartphone
The globe is filled with smartphones and tablets. Keeping this is mind a technology is required where both can work as a team with utmost synchronization. Called the HTC Tube Tablet, it has been designed by Antoine Brieux. Running on either Android or Windows, it is measures 10mm in thickness. With the help of a Tube Cartilage System, HTC Tube Tablet amalgamates a smartphone and a tablet, which allows easy upgraded by syncing the two devices. This multitouch capable piece of equipment has a 10.4 inch screen (S-Amoled) display with HD resolution. It has a 128GB internal memory, 6400 mAh unit battery, HDMI port, SD card, USB host and stereo speakers of high quality.
4. Ultra thin and lightweight wearable concept smartphone
PCOD aka Personal Communications and Organization Device is a smartphone with a zero size figure. This slender and light weight concept phone has been designed by Karl Thompson. It comes embedded with a lot of multifunctional features like a high resolution 10 megapixel anti shake camera, mp3 player, storage (for photos, files etc.), GPS, games, app's, time/date/calendar and a lot more things. Simply strap the phone this Irish designer has crafted and feel the power on your wrist.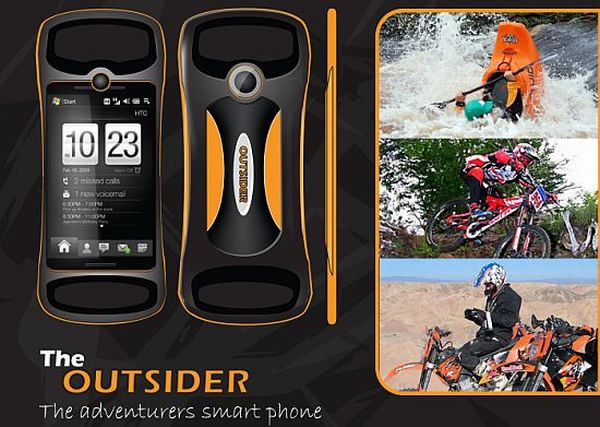 5. Outsider smartphone
Named the Outsider this smartphone designed by Jonathan Coop is capable of facing all the harsh conditions that the outer world can come up with. This sturdy and supple phone is water, freeze and impact resistant making it a favorite amongst adventurers. It has a flexible screen that cannot be destroyed easily. Place t around your arm or a crossbar or attach it to a pole, the three-stage injection-molded phone will always be by your side with all the functionality intact.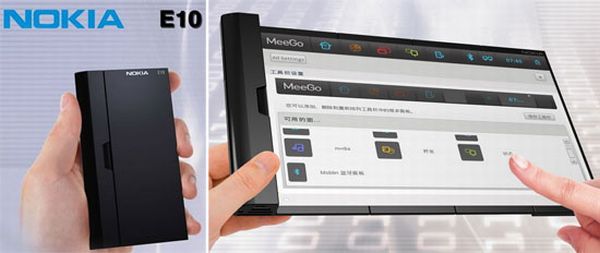 6. Nokia E10 concept phone
In this compact world where everything is shrinking how can phones stay behind from this influence? People today want things that present foldable features which when not in use can be concealed beautifully. Nokia E10 concept designed by Chris Wang has been crafted on similar lines. Made out of supple materials is an eye-appealing foldable display. When the screen is rolled around a 6 mm axis it looks like just another touchscreen phone. It presents all the normal functions like texting, calling, playing games that too the flexible way.
7. 'HTC 1' Smartphone Concept
This concept phone for HTC called the HTC '1' has been designed by Andrew Kim. The piece of equipment is a perfect amalgamation between glass, metal and UI. The phone has stereo speakers on the top and bottom of the unit, brass housing, kickstand, and built-in UV light for killing germs on the surface of the phone. The UI (Sense mono) has been given an overhaul making the durable and stylish phone a high-end approach.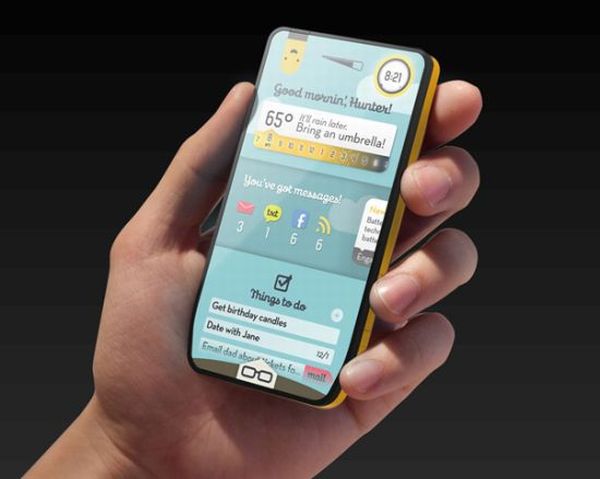 8. Modai cellphone
"Modai" is one designer's idea of a perfect smartphone. This ground-breaking cellphone designed by Julius Tarng develops an emotional bond between the user and the device. It's plain yet exceptional ergonomic designing makes it even more attractive. The phone has an aluminum body with a full screen display and a peel stand. Te phone as per the user's need offers two things, Fundai (social) and Prodai (work). The first one will display the social content while the later will provide all work related and professional events. The Modai OS, a human user interface present in the phone will provide you exactly with what you want that too just anywhere and at any point of time.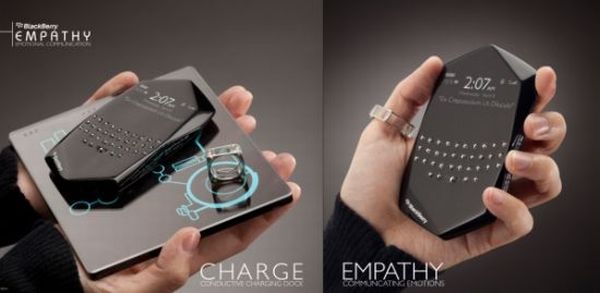 9. BlackBerry Empathy Phone
Life in today's technology oriented world is becoming busy and moves at a fast pace. This hardly leaves people with time to interact with their near and dear ones. The only saving grace in today's modern era is social networking which has come out as the most favorite medium to interact and stay in touch with everyone. Bringing the world of social networking in our lives is Daniel Yoon who has designed the "BlackBerry Empathy" which stands out from the rest because of its ability to keep you in touch with activities and updates of your friends by using a biometric ring that collects the emotional data apart from the usual verbal communication. This beautifully integrates human emotions with social networking.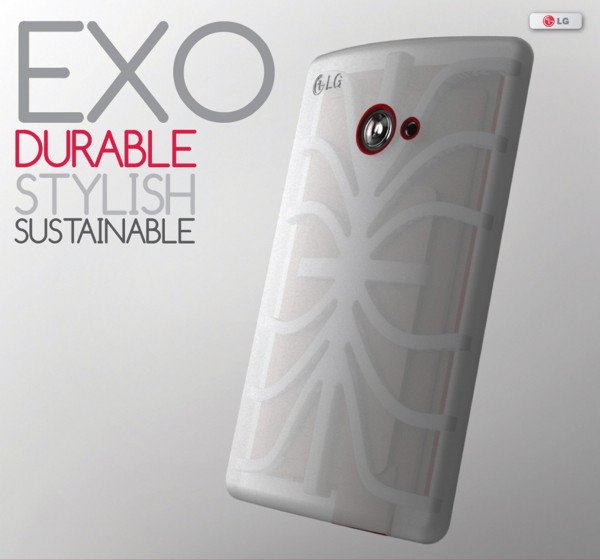 10. LG Exo Smartphone Concept
Benjamin Lotte has designed the LG Exo Smartphone Concept which gives smart protection to the inner apparatus by the use of high strength polymer exoskeleton. The whole designing is similar to that of a human skeleton that protects the vital organs. It comes with OLED technology and 5 megapixel wide angel camera.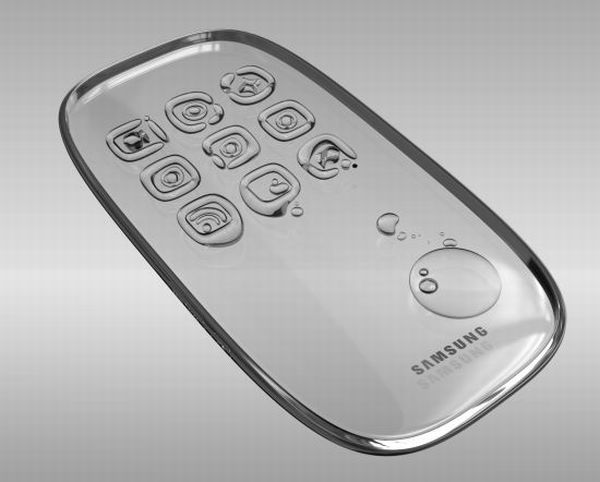 11. Aqua water-based touchscreen mobile phone
A transparent phone christened "AQUA" inspired by water on table has been designed by a South Korean designer Bon Seop. The design will leave you in awe especially its water based touchscreen which looks every inch magnificent. It has graphical user interface (GUI) and an AMOLED display.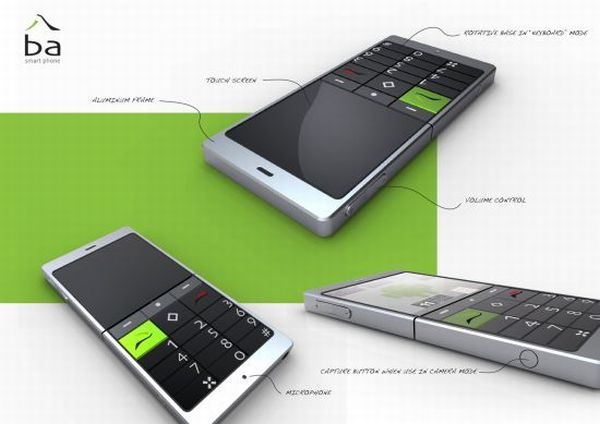 12. BA – Smart phone
BA – Smart phone is here to conquer hearts of both touchscreen and QWERTY keypad lovers. Designed by Sebastien Maleville it has a revolving axis that flawlessly flips between the touchscreen and keypad. This phone with an innovative idea is quite versatile. The tossing and turning feature will empower the user to make a self-portrait by twisting the screen toward them.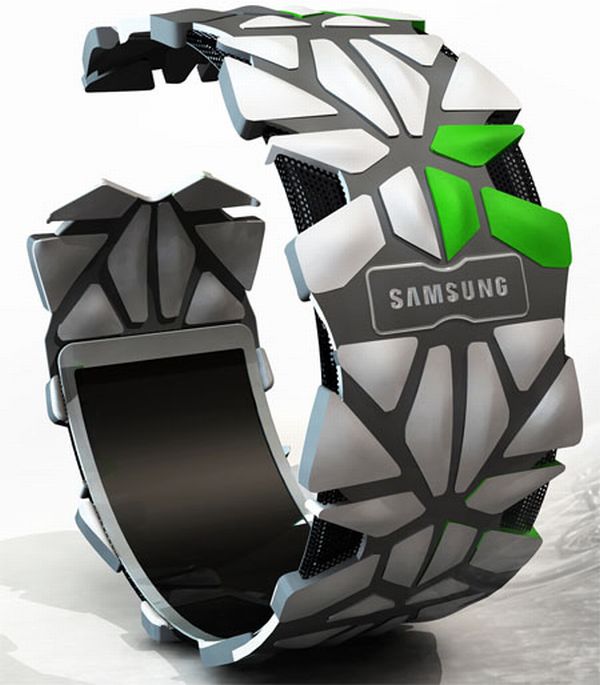 13. Samsung Bracelet Cellphone
Phones in the form of bracelets seem to be quite a fancy for designers. Erik Campbell has designed a phone on similar lines for Samsung named the Samsung bracelet phone. This phone has an OLED touchscreen display and depends on memory alloy articulation. With a mission to decorate wrists of tech freaks, adventurers and sportspersons, it has all the flexibility intact. Improving air circulation and kicking sweat on your hands, Samsung bracelet phone has a tactile keypad and a "split pad design".
14. iWeb 2.0 Smartphone
Designer Yang Yongchang has come up with replacement for a PC, notebook, netbook and a smartphone. Named iWeb 2.0 smartphone it is a hybrid between a smartphone and a netbook. It has a QWERTY keyboard with a 6.5 inch 16:9 touchscreen display. The smartphone has keyboards that can be folded and also supports multitouch and gravity sensing technology. At the bottom of the keyboard comprises of status indicators. It also comes embedded with HOME button zoom, WEB attributes, and more.
Read More: