Beanbags are those extra chairs that people generally use to accommodate extra guests in the living room. However, in recent times, they have gone through a complete renaissance. They are quickly becoming an affordable and eco-friendly alternative to other types of furniture. Seems unbelievable? Scroll through to see some of the coolest beanbag designs that you can bring home:
Lay Down Your Body On Beautifully Designed Beanbags For Extreme Comfort
Beanbag chair is most comfortable home furnishing item where you can lay down and experience the comfort of extreme respite. Nowadays, beanbag has evolved as an essential part of home décor. Beanbag chairs are common at homes, as it is easy to wash and carry around.
These bags are filled with micro-balls that offer extreme comfort and backing to your body. Besides this, removable and washable covers of this bag help you maintain the hygiene of home. Homeowners can use these beanbags at home, party and gathering of family or friends. Some of the top design concepts for beanbags come up as elephant beanbag, shark beanbag, cowch beanbags, hot lips beanbags, topiary big-ball beanbags, baked potato beanbags and football beanbags.
Topmost Designs Of Bean Bags
1. Snorlax Bean Bag Chair: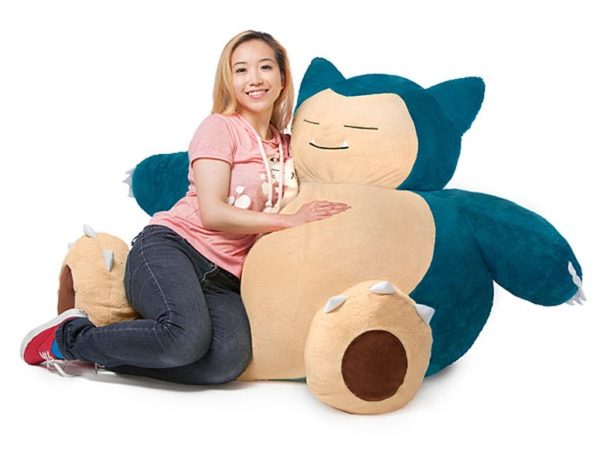 This is an awesome chair designed in Snorlax shape. SmellenJR, a member of Deviant Art designed this chair for Christmas Gift on the theme of Pokémon world.
2. Football Beanbag Chair: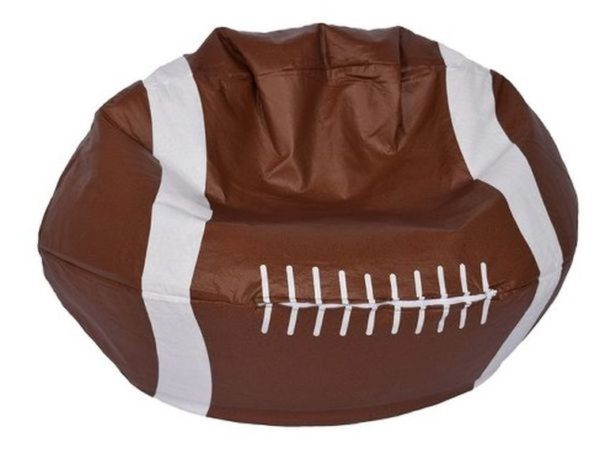 Football shaped beanbag is tough, stain-resistant and can be cleaned very easily with the use of damp cloth. Besides this, Football beanbag is made up of waterproof fabric popular as smartmax ballistic. Ultimax beans filled inside the bag make this football beanbag 20% denser, smaller and newer. With double stitch and double zipper, this beanbag becomes more strong, spot clean and safe.
3. Shark Beanbag Chair: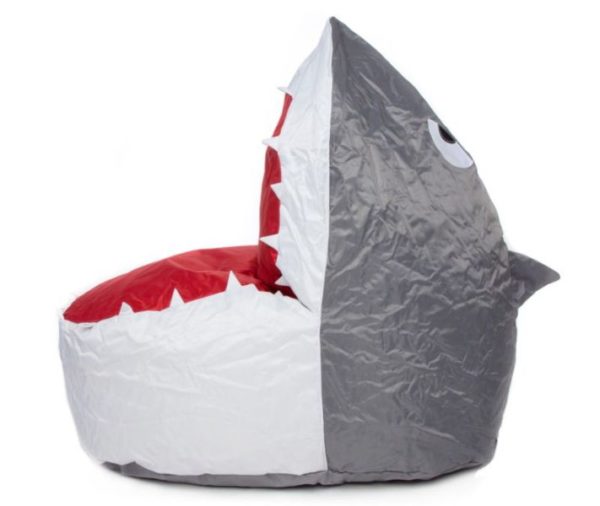 This Beanbag is designed in the shape of open-mouthed shark. This is among the masterpiece of furniture suitable for both kids and adults. Shark Beanbag is made up of machine-washable polyester fabric. This beanbag chair can be an ideal addition to your lounge room or bedroom.
4. The Original Big Joe Bean Bag: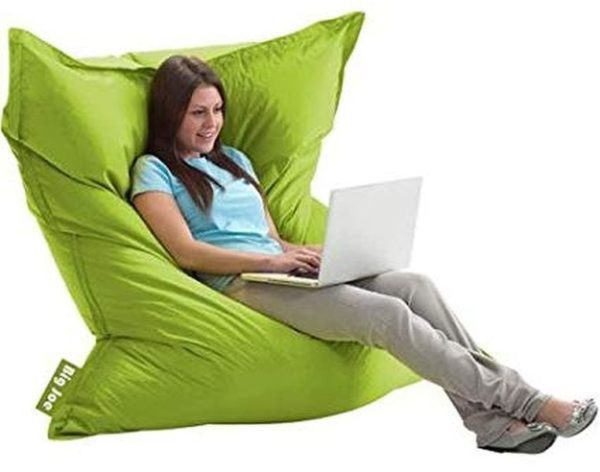 This is another addition to the assortment of top designs of beanbag. With smartmax fabric and ultimax beans, this chair brings home great comfort and luxury. Besides this, Big Joe Beanbag is double stitched, double zippers, tough and stain resistant.
5. Rock Beanbag: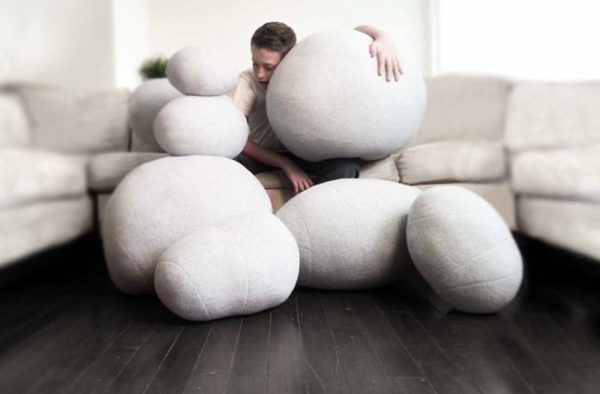 To bring more innovations to beanbag designs, manufacturers have now shifted their focus to natural theme. Beanbag chair were never that cool, but the onset of these fun-loving and amazing rock-like cushions has made it so. This beanbag chair is great option for geologists and earth scientists. Fabricated from 100 percent merino wool interlocking fibers, these oversized rock cushions can proffer immediate comfort to exhausted torsos looking for relaxing seat. Rock beanbag is soft, buoyant, veined and smooth-textured that can be use to support back or seat.
6. "Fatboy Marimekko Unikko" Original Beanbag: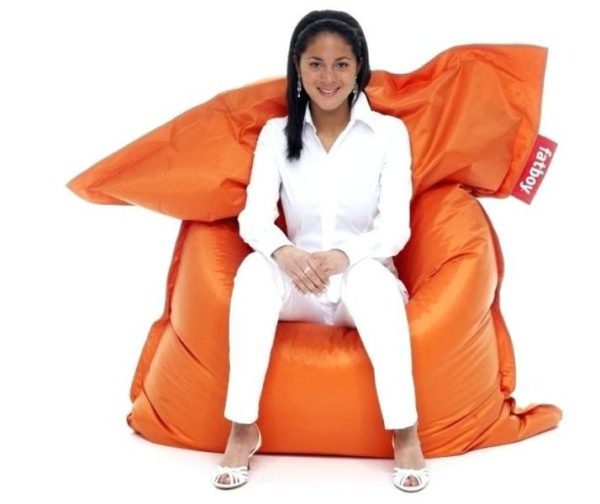 This is a stylish and elegant Marimekko-patterned beanbag introduced by Fatboy for watching TV, relaxing, reading and cuddling. With hardwearing nylon cover and protective coating, this beanbag is both water-resistant and stain-resistant filled with polystyrene beads. This classic and poppy design by Unikko is available in bright colors that perfectly match up your bedroom, living room, office and dormitories.
7. Mountain Beanbag: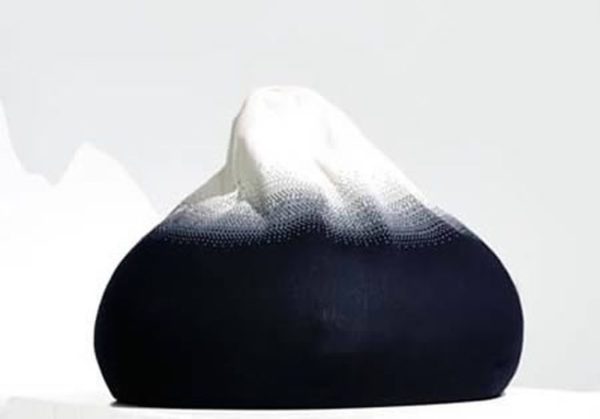 This amazing beanbag is crafted after Kebnekaise that is Sweden's highest mountain. Mountain beanbag is most suitable pick for your baby, as it equates your effort when climbing up to mountain.
8. Hot Lips Beanbag: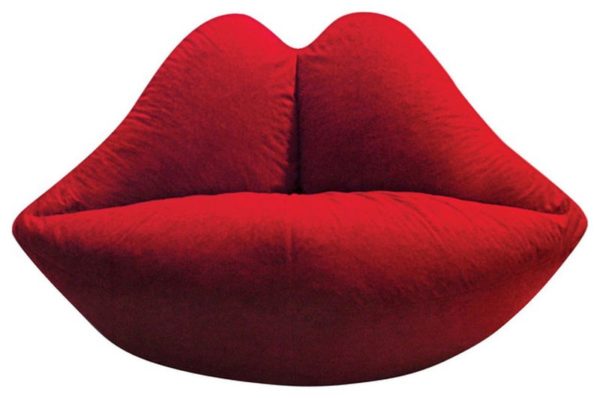 Hot Lips Beanbag is designed specifically for teenage girls. Good thing is that this beanbag offer lush seating comfort with its soft, cherry-colored and wild fabric.
Luxury Beanbags For Kids
1. Lotus Flower Beanbag: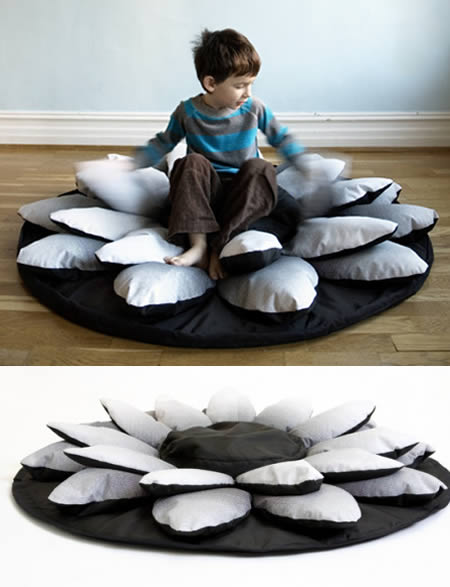 Ulrika E.Engberg together with Kasper Medin designed a Dream Bag that is simple and highlights seats of theologies. This attractive bag is modeled on lotus to ensure beauty and comfort at the same time.
2. Topiary ball Beanbag: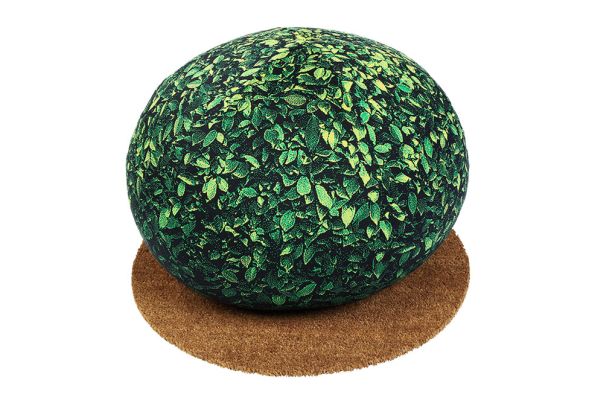 This beanbag comes with pillows fabricated from knit fabric. Despite printing graphic on beanbags covers, designers have formed this look by using uncountable knots.
3. Baked Potato Beanbag: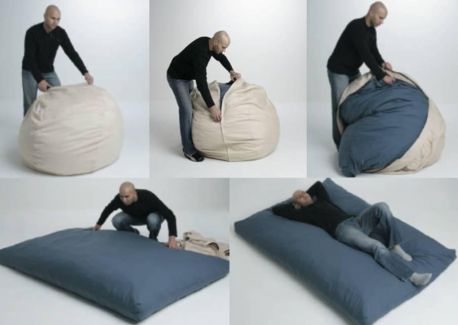 Children can have great fun with this baked potato design of beanbag. Without any doubt, this chair is very comfortable and relaxing. Manufacturers used hand-dyed cotton to bring about this plush beanbag.
4. Porcupine Beanbag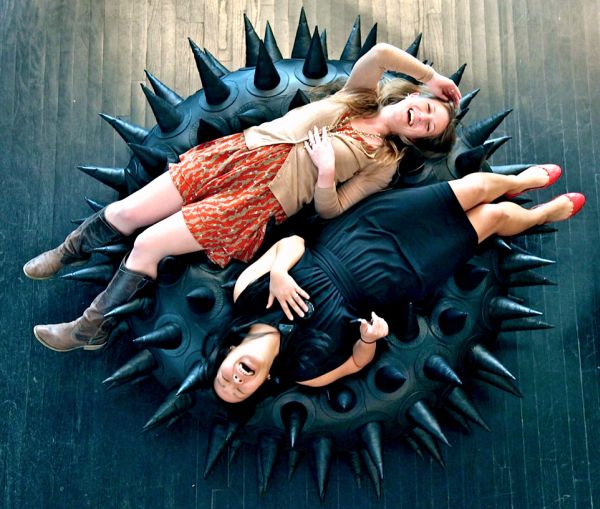 The seat with spikes looks so uncomfortable and almost impossible to sit upon but only until you touch it, or you actually sit on it. It is made from black lambskin leather that makes this spiked beanbag only an illusion of hard spikes, whereas in reality the spikes are soft. Its spikes will not hurt you but its price can, as this porcupine beanbag is a bit pricey.
5. Elephant beanbag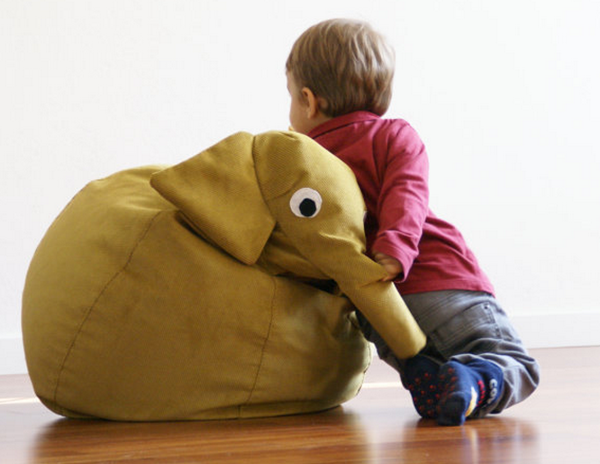 This very cute elephant beanbag is a perfect gift you can give your kids, and is an ideal addition to a child's room. They can enjoy their favorite cartoons sitting in the lap of this adorable elephant, and can spend their reading time on it. The grey colored beanbag also has an elephant trunk that kids can rest their heads upon, or simply lay it on the floor.
6. Fatboy Marimekko Unikko Bean Bag
This stylish beanbag features Unikko poppy design in bright eye-catching colors, and is extremely comfortable to sit on, relax, and even sleep, as it is 70 inches long, 55 inches wide and 8 inches high. The outer cover is made of nylon and has a protective coating that saves it from stains and makes it water resistant. Designer JukkaSetala has used virgin polystyrene beads for the filling. This beanbag is perfect to place in family rooms, media rooms, and bedrooms as well.
7. Hot Lips Bean Bag Chair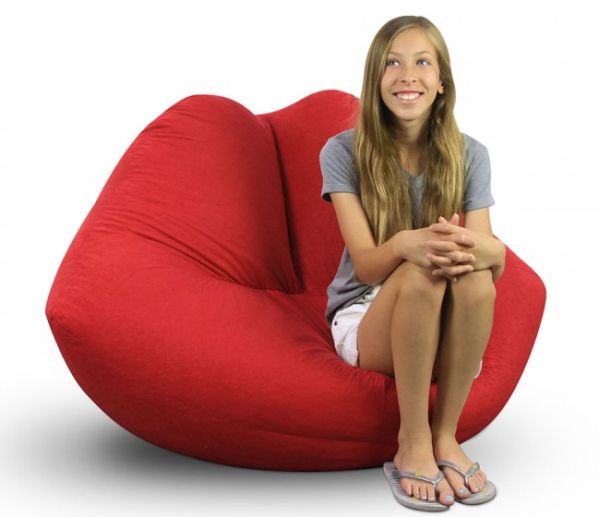 If you have a penchant to add some spice to your room then this plush red-hot lips beanbag is something to consider. With a dimension of 29 inches length, 47 inches of height, and 24 inches of width, this beanbag chair looks fantastic in a room that is otherwise does not score well on the fun factor. It is durable and comfortable owing to its double stitch construction and a bottom with a double zip.
8. Bubble Beanbag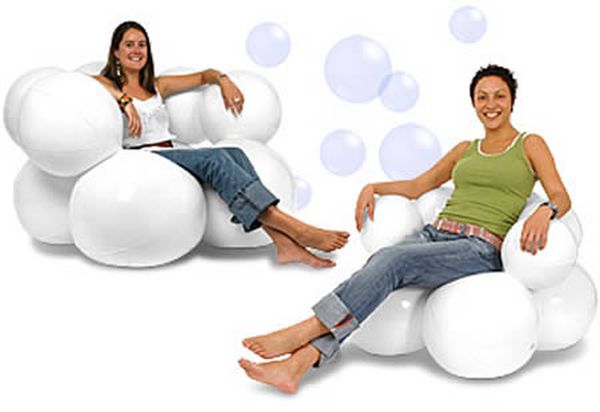 Bubble beanbag is ideal for homes with limited space. You can inflate these inflatable balls and use them as comfortable chairs, and deflate when not required.
Summary

Beanbags serve as extra seating in rooms and are comfortable to relax on. Nowadays, beanbags have become bold statements owing to their creative and interesting designs.
Read More: