Tal Gur is an industrial designer who was born in Israel in 1962. He has gained an eminent position in the last decade in the field of design, especially in the arena of plastic light fixtures and objects manufactured in the rotational molding technology.
From the time when he took onto the journey to the Far East during 2000, especially to Japan, he has been digging into a variety of arenas in craft, where design forms a vital component in a dynamic texture of life-culture. Wanna know more? Well, glue yourself in here and quench your thirst as the artist gonna reveal his knack for designing.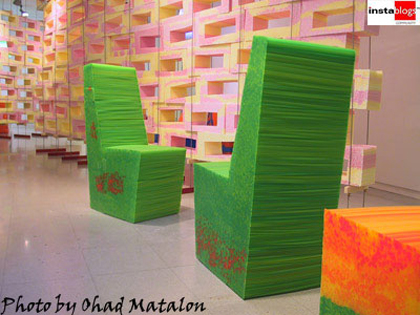 1. Please, tell us something about your autobiographical background?
Gur: Taken from the text of Meira Yagid Haimovici: "Tal Gur (b. 1962), a graduate of Bezalel's Department of Industrial Design, 1996, became known in the last decade as one of Israel's prominent designers in the area of plastic light fixtures and objects manufactured in the rotational molding technology. Some of the objects are produced as "home industry" in the studio at Kibbutz Gilgal in the Jordan Valley. Ever since he first embarked on his journeys to the Far East in 2000, particularly to Japan, Gur has been exploring various areas of craft in domains where design forms an integral part in a dynamic texture of life-culture".
2. What made you plunge into the designing industry? We'd love to hear your story.
Gur: I lived in a Kibbutz and my role was to take care of the turkeys. My friend noticed that the way I fixed the turkeys coop system and the way I arranged the space was highly connected to design concepts and suggested I should apply to the Bezalel academy of art & design for design studies.


3. Who or what has influenced your work? Are there any designers that you really admire?
Gur: The way Gaetano Pesce worked with various materials always intrigued me. Mark Newson has interested me in the way he deals with technologies and his formalistic solutions. His works reflect his background as a surfer, and this notion, like an oil painting that has many color layers but due to the medium of oil it enables the first basic layer to shine through, is something I appreciate and believe comes through also in my design works.
4. Could you please acquaint us with the 'rotation technology', employed by you in your works?
Gur: Rotation Modeling- A measured amount of powdered thermoplastic resin is poured into a hollow metal mold. By turning the mold inside a hot oven around two or more axes, the resin melts, coats the walls of the mold, and fuses uniformly. Cooling of the mold by air or water spray during the final phase of the rotation causes solidification of the resin and allows the removal of hollow parts from the mold.
Commonly used resins include: Poly Vinyl Chloride (PVC), low and high density Polyethylene, and Polypropylene. I changed the conservative way of doing Rotation Modeling and will use a citation from a text written about my works for that: "The rotation modeling technique was taken to a new extent in his works, and embodied the essence of improvisation. Gur interfered in the industrial process by creating semi disposable molds that are partly dependent upon the actions of the designer himself, thus creating each product characteristically different one from the other. This approach allows him to explore randomness and degrees of freedom both on the tactile and on the conceptual level. "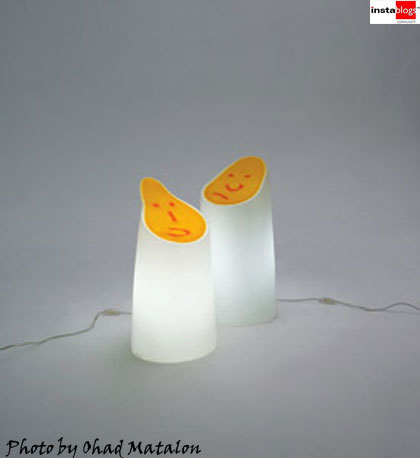 5. Is there any kind of evolution in your work, what do you say?
Gur: The evolution in my works can be detected in several layers and aspects. For instance in my first series colors were a main feature in the work and part of its expression, whereas in my most recent series presented in my exhibition The Turtle Laughs at Me the scale of colors is more subdued.
In my works I always create a certain dialogue with traditional crafts – in the former series it was with Rotation Modeling when I used semi-disposable mold, and in the recent series I relate to the notion of time in crafts.
6. May we have the honor of knowing your future plans with respect to your designs? And presently, what are the interesting things that have hooked your attention?
Gur: Below is a segment from the text of Meira Yagid Haimovici, curator of "The Turtle Laughs at Me", which describes my present interests as expressed in my recent works:
Gur's present in situ environment was perceived while internalizing a process he dubs "erosion of goods"― an economic-social-political reality undergoing changes in the rules of world commerce: irregularity in the flow of supply of raw materials, the shifting of manufacturing areas to the Far East, transition from a working society to a production society, and the disappearance of no longer needed skilled craftsmen.
The exhibition space contains several objects which reflect a laborious production process: "Reading" tables, "Alata" light fixtures, "Mesh" chairs, and a "Bamboo" partition. The objects, with their entire range of materiality, sprawl, outline their course in the space, and dissolve mass, allowing a glance through―through the object, the place, the space. Bowing encounters are woven in the exhibition into "working time." The exhibition space teems with unidentified rustles. Abu Dawass, the broom maker, is seen producing one broom in the course of three hours. "Abu Dawass time," akin to the time of making an object in the rotational molding technology, is perceived as meditative time, "inefficient" in economic terms. In an age in which industrialists and manufacturers strive to increase the uniformity of goods; Gur persists on producing irregularity and poetic disparity in processes of industrial production and in processes of "home" production.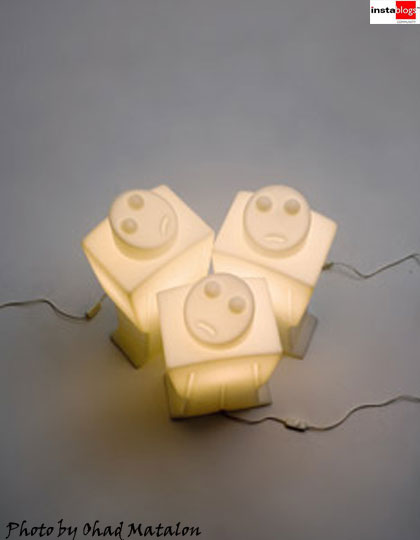 7. Do you think there's something you're most proud of so far?
Gur: My two sons Eden (Shangrila) and Matan (means "giving").
8. Do you have a signature style? If yes, what are the hallmarks of the style?
Gur: That is not for me to phrase.
9. Any words of wisdom, you'd like to leave for our readers?
Gur: "Distant yourself from thoughts about destination and you'll be able to achieve your calling" a phrase by the Israeli artist and thinker Pesach Slabosky.
10. Finally, we would like to have your thoughts on the Instablogs News Network and all its related sites. Which one is your favorite?
Gur: Good thing to have it.


Now some rapid fire questions:

1. Describe yourself in one word?
Gur: Subtle.
2. If not a designer, Tal Gur would have been?
Gur: A farmer.
3. What is the best moment of the day?
Gur: Dawn.
4. If given a week's holidays, how would you like to spend them?
Gur: Talk about going fishing.
5. If given a chance, what would you change about the world?
Gur: The earth turning direction. Maybe it would solve part of the problems on it.
Before concluding, I'd like to thank Gur for sparing his valuable time for this wonderful interview and would like to wish him luck for all his future endeavors.
Here are some images from his recent exhibition, The Turtle Laughs at Me, at the Tel Aviv Museum of Art: