The leaked image of the One tablet was initially posted on SIM Only Radar and was subsequent re-posted on Phone Arena. The image shows a design that looks to be an HTC One that's been stretched out. HTC may be looking to dip its toes back into the tablet space with a design borrowed from the company's much acclaimed HTC One smartphone. The One design should give the HTC-branded tablet a premium feel, and one that may be good enough to go head-to-head with Apple's iPad and iPad mini slate, with an aluminum shell, stereo front-facing Boom Sound audio speakers, and a minimalist look. The use of a premium aluminum body construction in the tablet space has been sorely lacking in the Android camp and HTC's entry could give Android slates a design boost.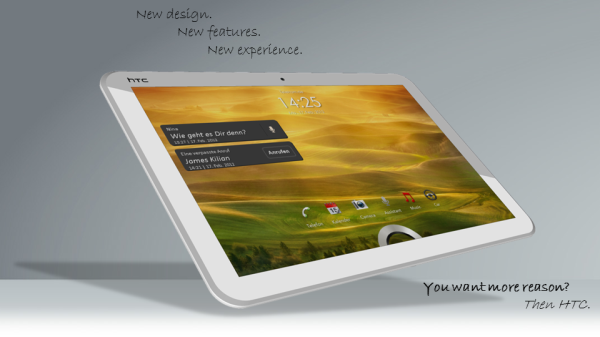 Features of HTC One Tablet
Little information is available right now surrounding the HTC One slate, but this would mark an expansion of the One's design language into more products. HTC had borrowed the One's premium feel on the HTC One Mini and the company is also rumored to be working on a 6-inch HTC One Maxphablet. The leaked image of the tablet shows corners that are slightly less rounded than the HTC One Max phablet, but still comes with the classic design.
The HTC One tablet is believed to have a display size between 8 and 10 inches. With a larger than 7-inch display, the One would be a more premium tablet as the 7-inch category has been facing downward pricing pressures from lower cost Kindle Fire and Google Nexus 7 prices. The device would likely compete against the iPad mini at the 8-inch segment and the full sized iPad closer to 10 inches, Samsung's various Galaxy Tab 3 and Galaxy Note lines, and the LG G Pad.
The last HTC tablet was the HTC Flyer, the tablet was the first to come with an active digitizer using N-Trig's technology. HTC initially debuted its tablet before Android Honeycomb was released, the first Android OS targeted to larger screen tablets, though the Flyer later did get upgraded to the more modern Google OS. The Flyer was a premium tablet that had a unibody aluminum construction as well, though its design was slightly bulkier than the plastic slates from Samsung at that time. HTC had been rumored to be working on a Windows 8 or Windows RT tablet with Microsoft in the past.