A bicycle is quite perfect in itself. It is designed that way. However, that doesn't stop designers from tweaking it to hilariousness. In fact, with designs like folding bikes coming into the market, you don't have to worry about parking your bike anywhere. These designs would let you carry your bike wherever you go. That's not all. With bikes having variable speed, size, and design concepts, you can pick one that you like from a stack of many. Here is a list of Hubless BMX concept bike and some other similar bicycle concepts that are surely making a statement when it comes to bicycle design.
Hubless BMX Concept bike
Fitness is a necessary requisite, we all know that. But the gruesome pace of life is eating into it by the day. Nonetheless, the need for staying fit has re emerged as a chic trend. The ones who can devote time for their bodies like to do so by hitting hip gyms, using neat and advanced equipment, paired with cool and sporty apparel to get that "feel slick" vibe. Bringing the same vibe of style, efficiency and sophistication is the Hubbles concept bike. It's not only neat looking but also advanced in its make up in that it uses no chains for its gear system. Suddenly feel that surge to break some sweat? Well don't stop yourself. Read on and let the endorphins build up.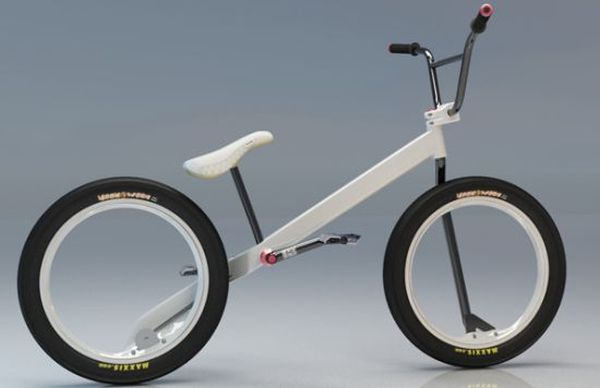 Hubless wheels allowing a neat and minimal design is fast becoming an integral part of contemporary as well as futuristic autos. Designed by Nikolay Boltachev, a beginning graphic designer from Russia, the "BMX Concept," is a hubless bike that features Zigzag OneFoot fork, NS Bikes Quark Pro White stem and custom slick 20″/ Maxxis Hookworm 20″ slick tires, together with Crankbrothers 5050 pedals, Superstar SweetSweep handlebar and gear system without chain for a smooth and effortless city ride. We don't have much info about how it's gonna work, as the bike is in its conceptual stage at the moment, but hubless wheels definitely give it an elegant look.
Via: Fallingpixel
Some more bikes like Hubless BMX Concept bike
1. Olive Public Bike concept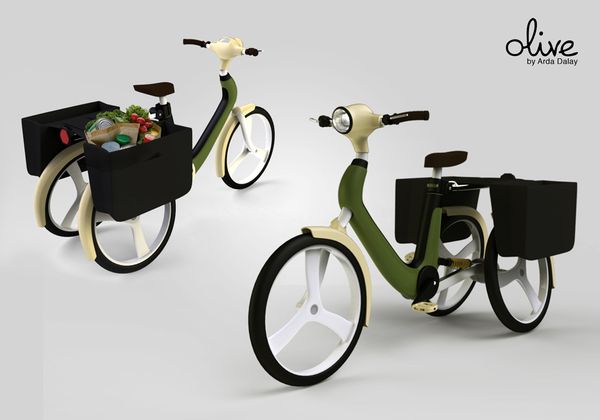 With rising petroleum prices, it only makes sense that we should look for other alternative forms of energy, which provide an easily accessible and environmentally efficient transportation system. The Olive Public bike concept created by Turkish designer Arda Dalay is just such a concept that targets smaller cities with slower lifestyles.
The eco-friendly bike or trike rather, looks like a cross between the moped and a scooter, borrowing silhouettes from both the genres. With three wheels providing optimum stability, the bike comes with two handy storage units on either side that serve as luggage compartments for shoppers and can be used to house the bags. The bike system would utilize a smart card system that would automatically detect the users' profile (age, sex, preferred destination and routes, etc.) and allow charge the users' for the bike's usage accordingly. The designer intends the use of this bike to be free for a limited distance beyond which the bike's services would be charged accordingly. The GPS-enabled bike can be parked anywhere within city limits making it theft-proof and more public-friendly. The bike would be powered by an electric motor that can be charged if required, by using the pedals.
2. 'Flex' monolithic concept city bike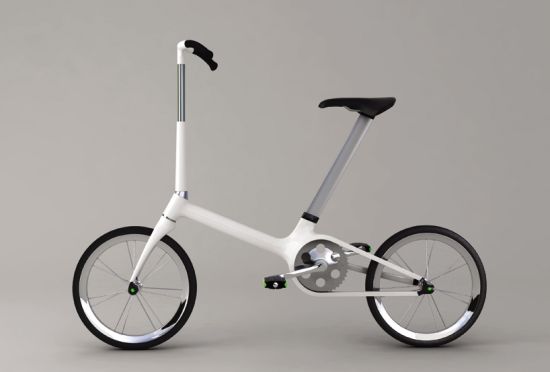 A design entry to the famed Seoul Cycle design Competition 2010, the "Flex" by Israeli designer Ran Amitai has been conceived as a city bike. The idea was to create a monolithic concept which was a whole in itself rather than being a conglomeration of several parts. Keeping that in mind, Ran envisioned a bicycle that combined the back fork with the chain cover elements, thereby inducing unity into ultimate design form apart from enhancing the overall aesthetics.
The carbon fiber bicycle demands a rather unusual action for braking. The brakes are located in the back wheel so that the rider has to reverse pedal in order to bring the bicycle to a halt. To augment visual appeal and also increase maneuverability through crowded streets, Ran has narrowed the handlebars.
3. Chain-less Nulla Bike Concept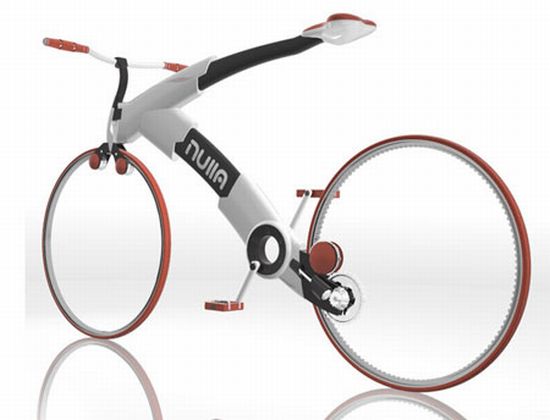 Tired of riding around on fancy, OTT styled bikes? Well then, this minimalist new bike concept created by designer Bradford Waugh might interest you a lot. Named Nulla, which is Italian for 'nothing', the bike's design eliminates the central hubs or chain-drive letting the pedals work directly with the back wheel for movement.
Though from a distance it might not look entirely safe to ride, the streamlined form of the bike ensures that the lightweight frame remains under firm control of the user at all times. The fact that it looks like a fashion icon is always an added bonus too!
4. Flying Bike concept uses magnetic levitation to challenge gravity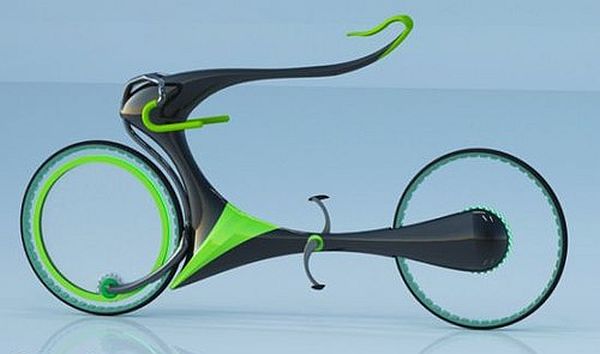 A creation of designersHoyoung Lee, Jungmin Park and Youngwoo Park, this flying bike concept has some unique levitation properties. The bike levitates to reduce friction, and uses the momentum of the bicycle to generate power. As you increase the speed, the kinetic energy lifts the rear of the bike and enables you to avoid bumps and stones on the road. When you lower the speed, the flying bike becomes just like any other normal bike.
5. The Air-Purifier Bike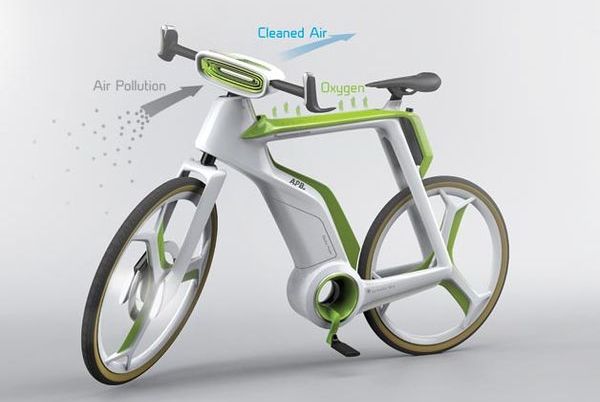 This is one superb green bike concept wherein a bike not only moves, but also purifies the air. This design is a creation of Bangkok based design consulting firm, Lightfog. The bike seems to be a good product to fight pollution. The air filter monitors air pollutants, the photosynthesis system and water tank produce oxygen, and there is an electric motor and battery as well. When the bike rides, the air filter at the rear filters the air and then passes purified air to the cyclist. The air purifying function can also be availed while the bike is parked because of the battery.
6. Sunny Day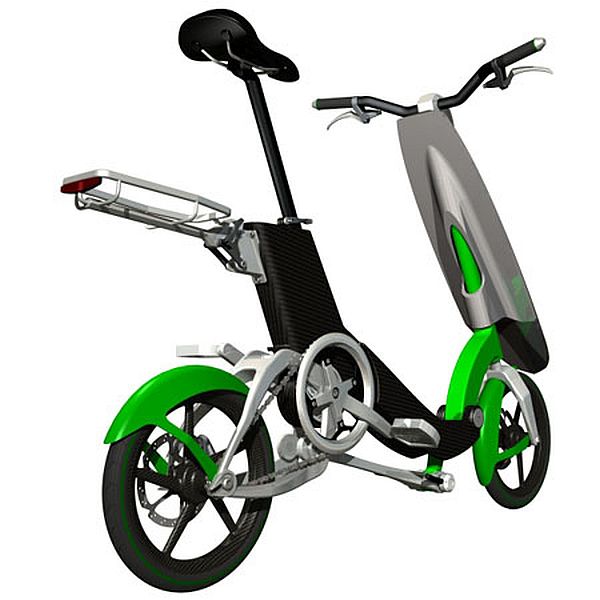 Designed by Larry Chen, Sunny Day is a solar electric bicycle design. The solar panel on the bicycle serves two purpose – reduces wind resistance and uses sun energy for power generation. The design seems to be a promising public transport in future, as it is a lightweight design that can be easily transported from one place to another. You need not worry about the charging, as all it needs for power is sunlight.
7. Miss Courant d'air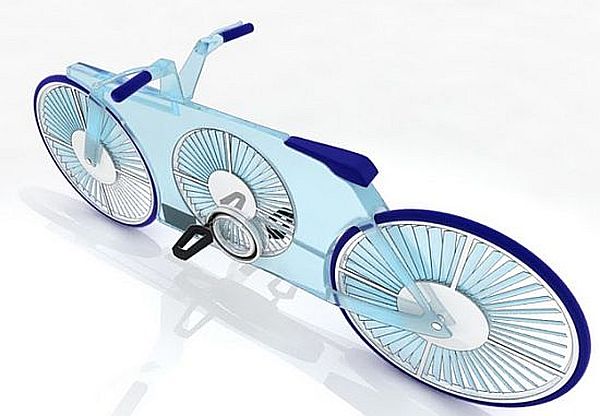 This concept is a transparent Bicycle with fans. It is an electric/ pedal powered bicycle with a transparent frame. Between the front and the rear wheels, there are fans that rotate with the gusts of wind. The fans connect to a generator that produces electricity with the help of wind, and use it to power the bike.
8. Wind Solar Energy Bike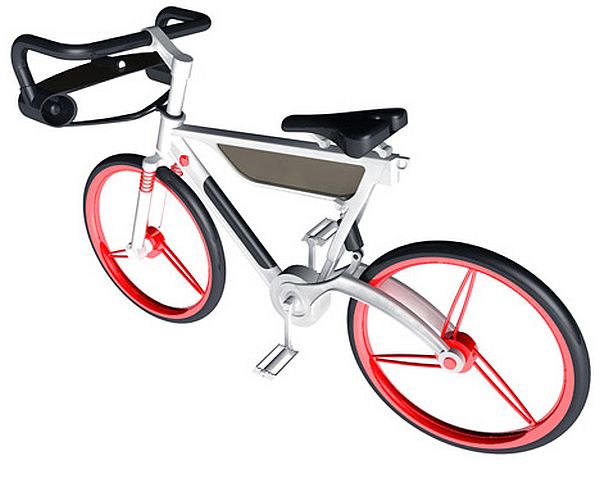 This wind solar bike concept is a creation of designer Chen Chun Tung. This bike will be useful for many bikers who get exhausted with pedaling. The bike can harness renewable energy in four different ways and stores it in a battery for use in times when the biker decides not to pedal.
9. Bringley Custom Cargo Bike
Since 2008, designer Lawrence Brand has been drawing and refining the design of the Bringley Custom Cargo Bike. Finally, he has completed the best design to suit our narrow and crowded city rods. The best thing about the Bringley Custom Cargo Bike is that it can replace your cars on the rounds of grocery shopping and intercity commutes.
The compact cargo bike easily fits inside cramped spaces. You can also use it for taking your kids to the parks, running errands and getting fresh air outdoors. It is stylish and does not look out of place at all. The bike has a huge 60 cm flat cargo deck that you can swap with child seats. The cargo bike also features aluminum crates in the deck region to carry heavy-duty packages or grocery stuffs.
10. KiBiCi's lightweight cargo bike
KiBiCi, a small Copenhagen based studio, has designed a lightweight cargo bike for the Danish manufacturing brand Biomega. It is ideal to be used in busy and narrow city streets. The cargo bike has a sturdy and durable aluminum frame with a bordering trough. The tubular aluminum shape weighs just about 22 kg. The trough lets the user carry heavy loads. The sleek and smart design makes it possible for the rider to cut through busy roads with élan.
11. 8 Freight Cargo Bike
Despite being a utility cargo bike, the 8 Freight Cargo Bike is capable of moving fast through city streets. Easy to maneuver, the cargo bike also has an aluminum frame and monoblade fork. Single side-wheel support for the rear makes it user friendly and swift.