Both chess and product design have two things similar. Both of these require immense focus and a sense of harmony. Therefore, it is no wonder that product designers from all across the world come up every year with many innovative chess set designs. There's no better way to pay homage to a game than creating chess set that shows your love. Depending upon your perception of the game you can give your singular touch to your work of art. It might sound superfluous to many, but true lovers of the game would know how cool it is.
While it's one thing to play chess with the regular pieces, it's an entirely different experience with something-themed chess sets. If you're a chess fan, you would probably love to play the game on a unique chess set. Here is a collection of some of the most unusual and interesting chess set designs we've come across. Hit the jump to see them all…
1. Endangered Parrots of the World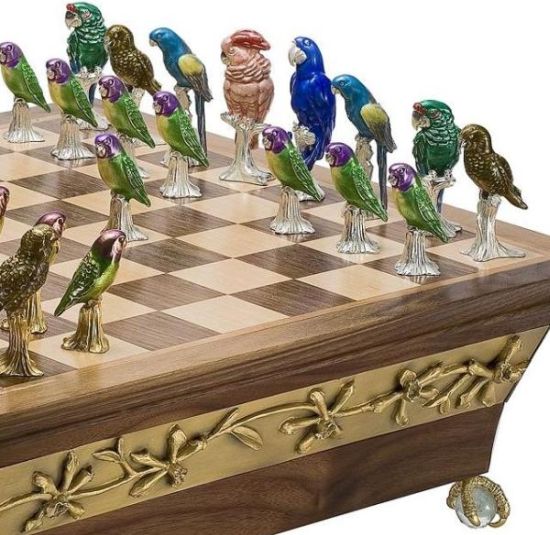 If you're concerned about wildlife and intend to play your part in its conservation, you don't just have to be a chivalrous campaigner of a wildlife program or part of a big wildlife protection organization. You can even protect wildlife from home. This is perhaps what the Grant Dawson Collections, designer of the Endangered Parrots of the World Chess Set, seems to illustrate to the world. Comprising 32 lead-free pewter playing pieces, finished in 24k gold or sterling silver or even hand-painted, with recycled glass ball feet, the eco-friendly chess set is carved out of certified sustainable North American hardwoods (walnut and maple) which is adorned with a gold-plated Laelia xanthina orchid border.
Bringing luxury and sustainability together, which we don't see go hand in hand too often, the evocative chess set not only presents a pleasing option for the lovers of the classic game of chess but also creates awareness about the endangered birds by depicting them in its pieces and border. The chess set measures 14.625″ long x 4.125″ high and comes with a box for safe and easy storage as well as transportation of the precious pieces.
2. Greek architecture-inspired set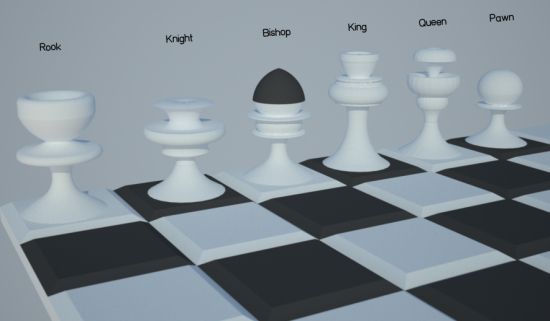 The ancient game of chess, which dates back to the 6th century, is one of the most famous games known to man. Inspired by ancient Greek architecture, this set of chess by Finnish designer Krisztian Griz tries to break free of the usual forms and shapes of traditional chessboards. The design is limited to the chess figures, as it does not consider storing and transportation of the game.
The figures have specific characteristics that make them easier to distinguish, though it can take a little time to get used to them. All of the figures use the same basic shape to stand on; this makes them look part of the same family, but in the meantime each figure tries to emphasize its role and feature. Moreover, the chess set puts emphasis on the grip of the figures, for each piece has a different head, separating it from the rest. And the board, though not an integral part of the design, maps the play area on a slim surface with a raised column as if the game is played on a rocky island.
3. Monstrous chess set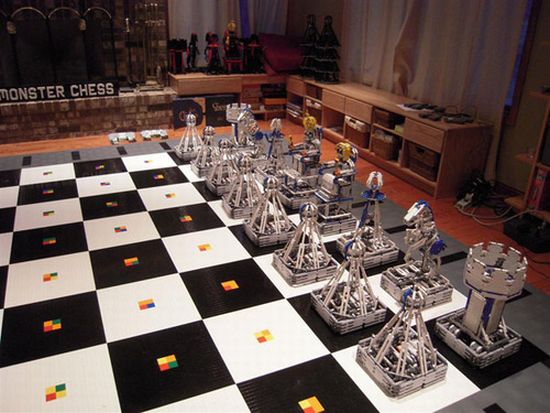 Chess was inspiring enough with its dazzling combinations and complicated positions. However, someone liked thinking and ended up splurging creative madness across a monstrous chess set by combining chess with technology. On display at the Brickworld Convention, Chicago, is the Monster Chess set. Spread over 156 square feet and built from 100,000 Lego pieces worth $30,000, it took over four years to create this piece of art. It's basically a game where one plays against a computer. Each chess piece is an autonomous robot with 38 separate NXTs that must be controlled, commanded and communicated with using a laptop running the chess program. One can play a normal chess game or replay historical match with varied opponents.
4. Star Wars chess set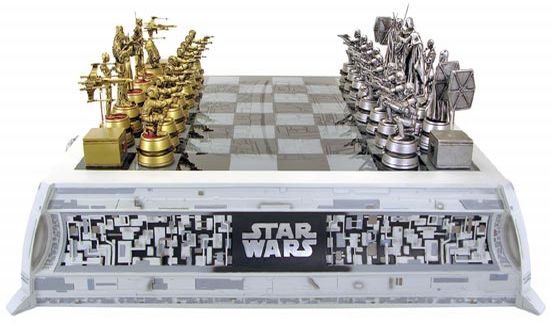 Portraying the battlefield on a board with 64 B&W squares and 32 pawns is a game that utilizes your imagination. For those who commend war, the Star Wars is an interesting chess set that demonstrates warfare as an art. Blending luxury and the punk aesthetics, the Star Wars thematic chess set features a glass-etched board with Death Star imagery and 32 collectible pewter figures leafed in silver and gold. Playing a legitimate game on the board while manipulating the famous Star Wars characters with your fingers might be the designer's obsession behind development of such an unconventional chess set that could be another valuable addition to the list of unusual chess set designs.
5. Aruliden's Vibrator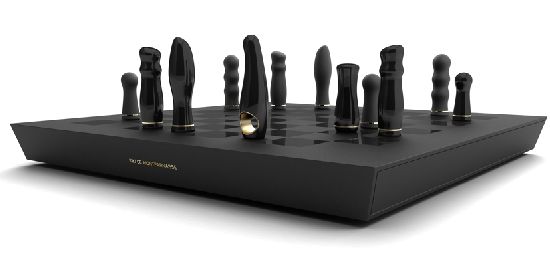 Sex is a part of life. It keeps the life cycle going. However, those who are excessively involved into this thing surely knock the door of mania. Nevertheless, those geeks who live and breathe sex, here is a gift that'll make them happy, the Vibrator Chess Set. The set will not only allow geeks to play but give them amusement to play with their sex instinct.
Designed by New York-based product consultancy Aruliden for the chichi erotic shop Kiki de Montparnasse, the Vibrator Chess Set is all about round-tipped pawns to knights shaped like anal beads and all the 32 pieces double as vibrators. And, like any decent or old vibrator for that matter, they're made of medical-grade silicone and ABS as well as have got gold-plate detailing.
6. The WU LED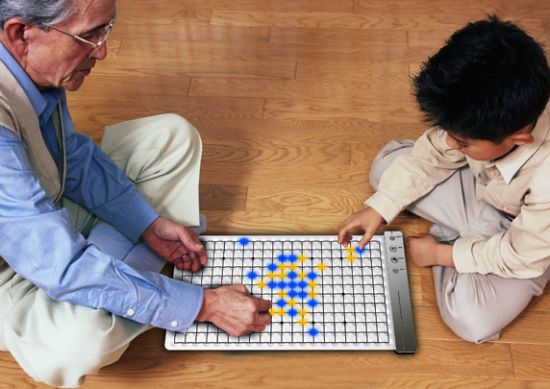 Chess is one of the most stressful games that require a lot of strategic work and patience to break the defense of the opponent. Adding modern technology to the classical game, designer Guan Yi Quan has developed an innovative chess set that integrate LED lights to illuminate in the dark. Presenting a foldable silica gel chessboard that rolls up for easy storage and transportation, the geeky version of the chessboard also features an onboard computer, in case you don't have a worthy human-partner around to withstand your lethal moves.
7. Auto part chess set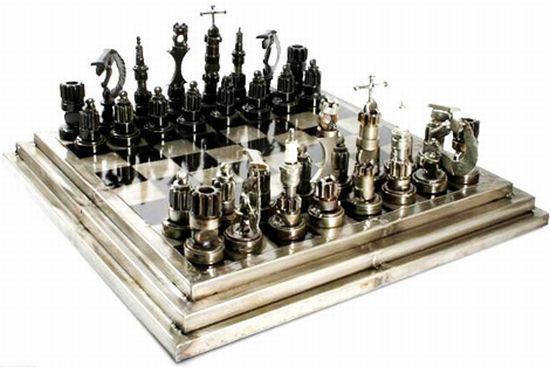 The cool chess set made of automobile parts.
8. LEGO Castle Chess Set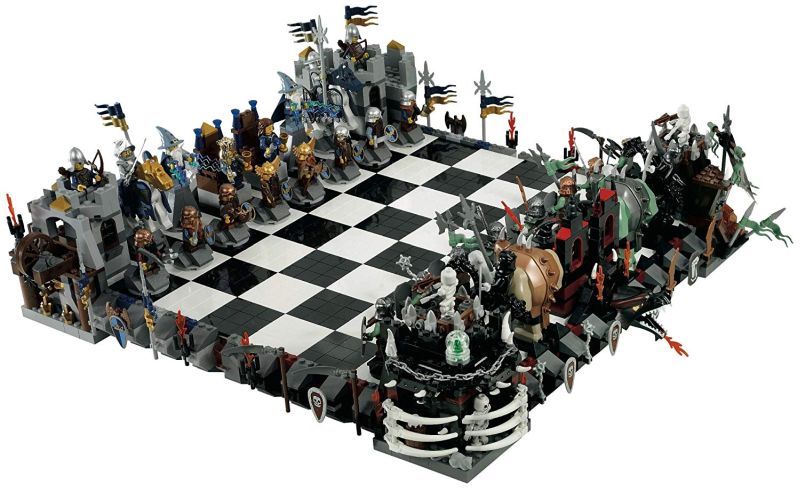 Chess set for the Lego lovers.
9. Wobble Chess Set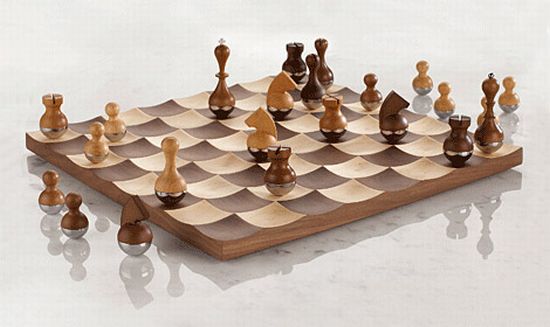 The Wobble Chess Set allows for more interaction between the board and the pieces.
10. ZeroGrav chess set
How about a game of chess in zero gravity?
11. 3-way chess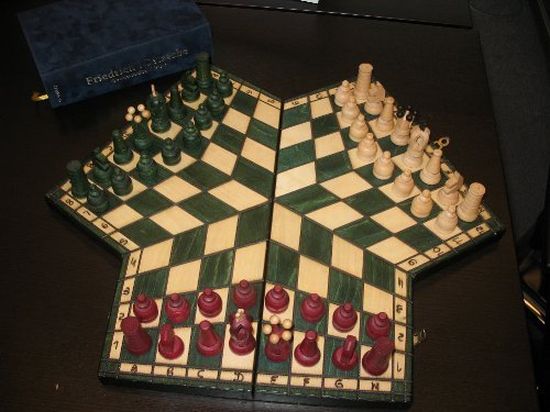 Chess is no more a war between two kingdoms. Three-player chess has become popular recently due to the availability of three player chess sets. If you are interested in purchasing a wooden three player chess set or any three-player chess set, first take a closer look at the history of 3 player chess and learn more tips
12. Chess set by Jake & Dinos Chapman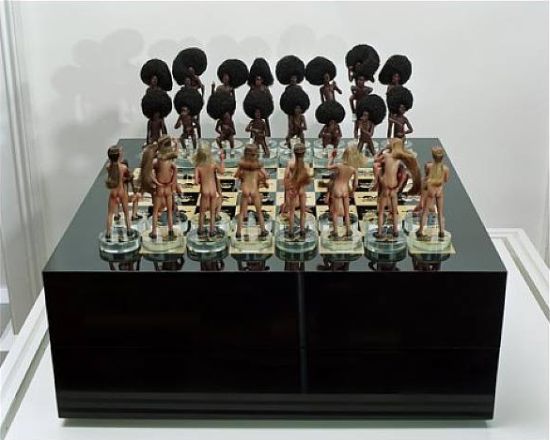 This chess set shows the growing equilibrium where humanity is the winner.
13. Damien Hirst's chess set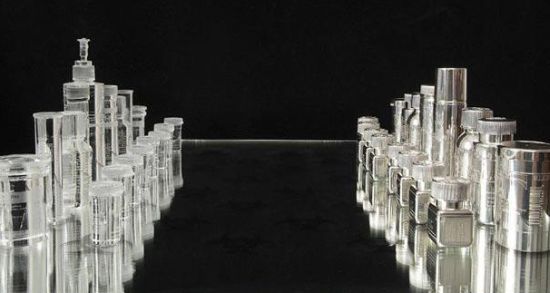 Damien Hirst explores the world's obsession with mortality by casting medicine bottles in silver and glass with engraved labels on a mirrored glass board upon a surgical trolley.
14. High Octane Chess Set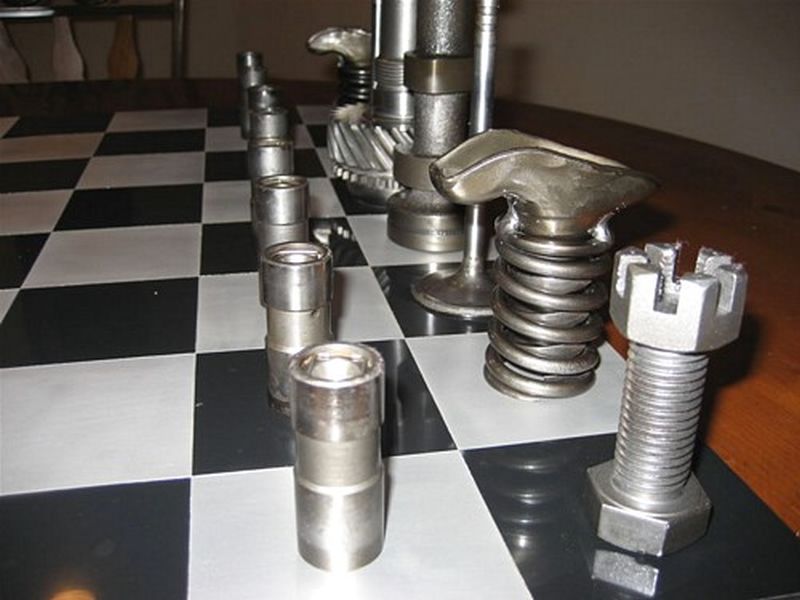 A chess set made from car parts is sure to put a smile on your face.
15. DIY World's Most Expensive Chess Set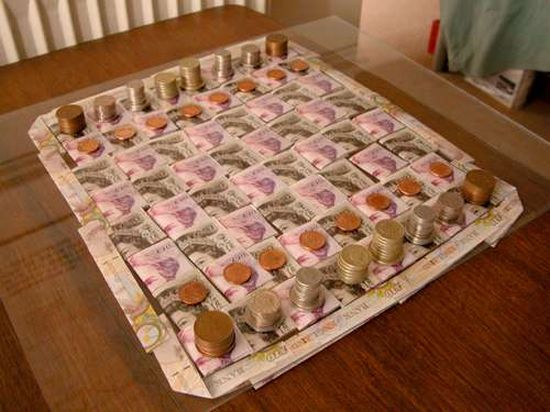 A chess set made using only money. Notes for the board and coins for the pieces!
16. The Royal Diamond Chess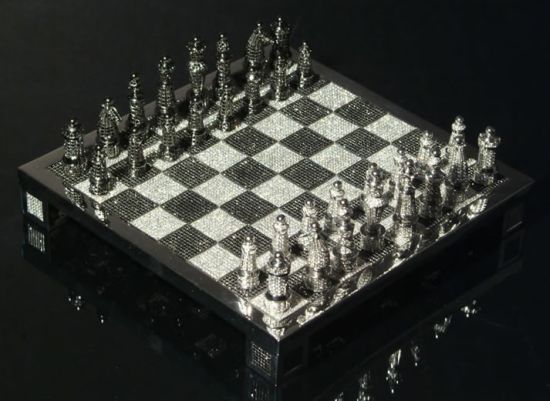 Bernard Maquin's Royal Diamond chess set is one of the most expensive chess sets in the world. It is made using 1168.75 grams of 14 carat white gold and approximately 9900 black and white diamonds.
17. Formula 1 Chess Set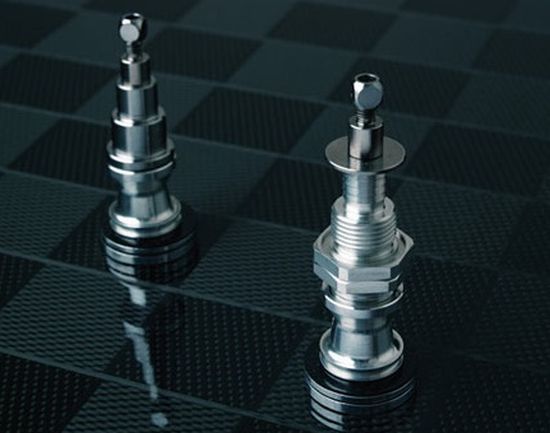 Attractive chess set made of old Renault parts.
18. Straight-up wall chess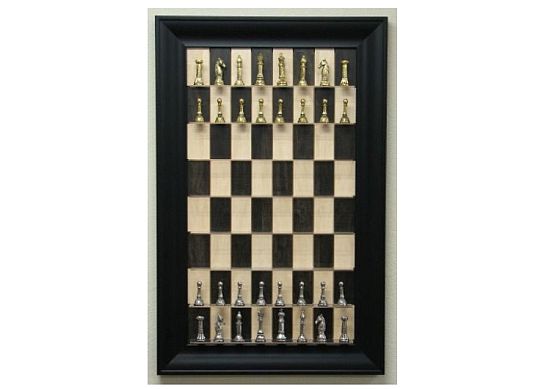 A revolutionary way of playing and displaying your prized chess set.
19. Alice chess set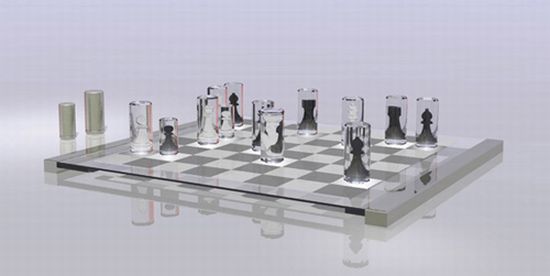 A chess set that features pieces that "magically turn transparent" when they touch the board.
20. Democratic Chess Set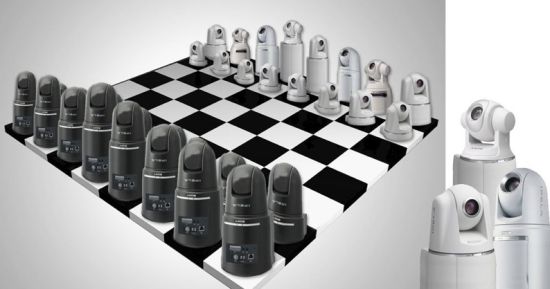 This high-tech set has a network camera built in to each piece that facilitates interaction between each other and a human player.
21. Lord of the Rings Collectors chess set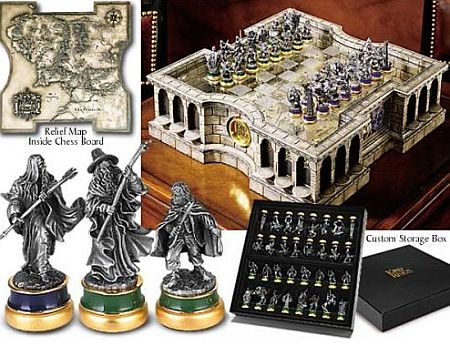 Calling all the Lord of the Rings fans! The Lord of the Rings Collectors chess set has every detail richly realistic and true to the Academy Award-winning epic film.
22. Make your move – bathroom chess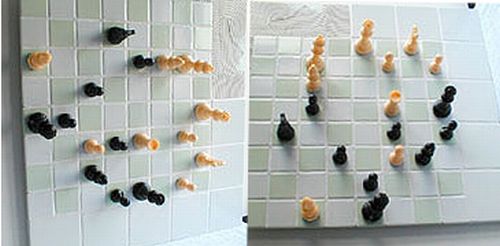 A wall-mounted chess set for your bathroom.
23. Organic chess set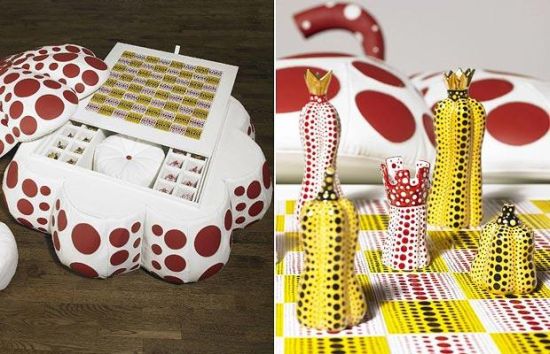 Japanese artist Yayoi Kusama has designed this organic chess set with hand-painted porcelain pieces housed in a leather pumpkin case.
24. Insect chess set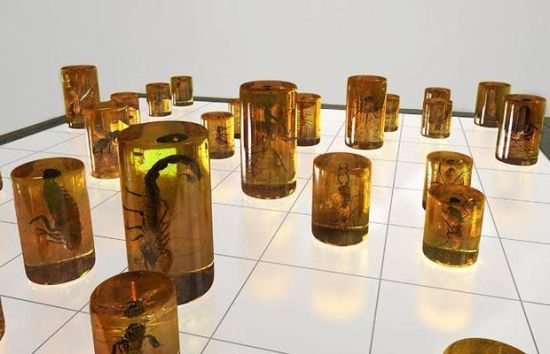 Alastair Mackie has made a chess set in which each piece encapsulates a single suspended insect. The white pieces are represented by flying insects.
25. Charles Hollander's Gold & Diamond Chess Set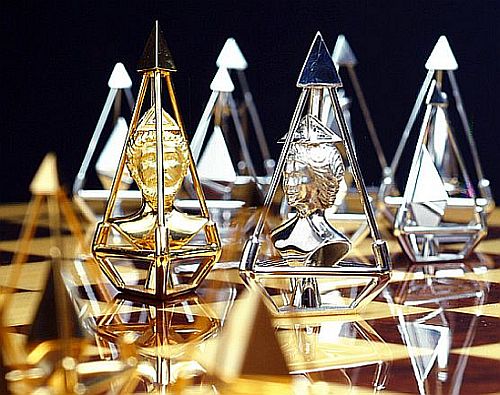 The chess set is made out of gold and the king and queen are set with diamonds.
26. Lamp parts chess set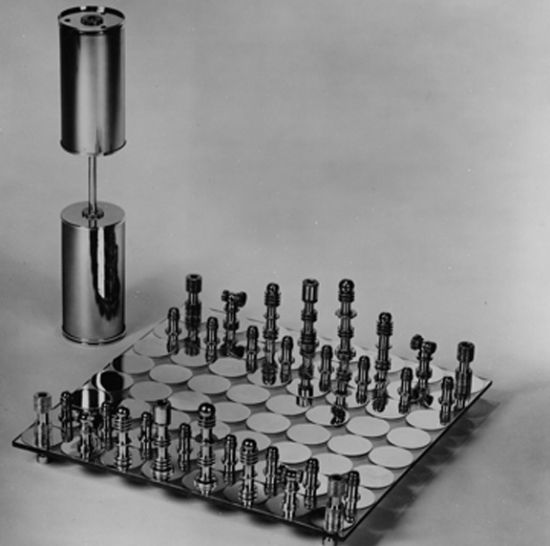 A 1968 chess set made from various disassembled parts from a lamp.
27. Iraqi Quagmire Chess Set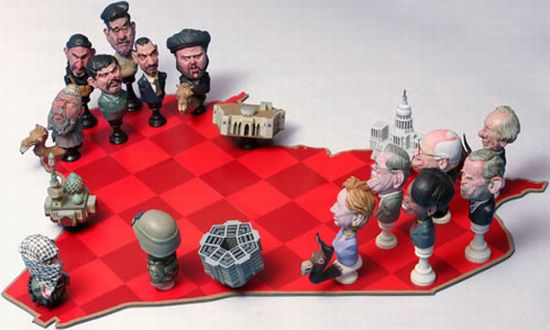 This one hardly looks like a chess set.