Lighting might easily be the most underrated part of home decor. We spent thousands of dollars on making our walls look good, however, we don't spend even part of it on lighting, which would ultimately illuminate the walls. In fact, if you plan with care, lamps would not only illuminate your walls beautifully, in addition, they themselves would add to the strength of your decor. If you have a beautifully innovative lamp like the Lady Jane Table Lamp Timber in your house, you can also keep it at the focal point of a room. It would make your house shine the way a grassy meadow shines on a sunny day. Not only that, you can combine it with other lamps mentioned in the article to give your house a celestial look.
Read More: 15 – Innovative lamps to complement contemporary lifestyle
The Lady Jane Table Lamp Timber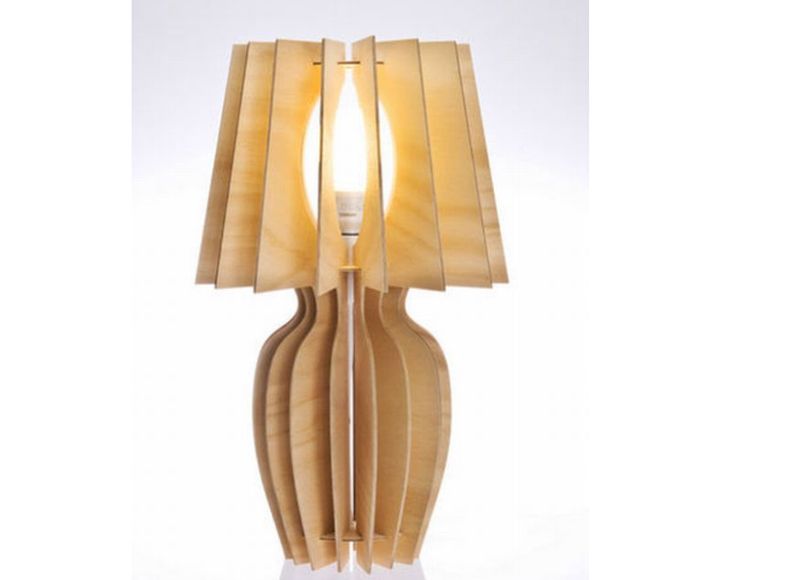 I have come across a wide spectrum of new-generation lamp shades and to me each one seems so distinctive from the other. Take a look at this amazingly sophisticated (perhaps owing to its yellow-brown color combo?) lamp shade from the house of Kevin Webby. It is named Lady Jane Table Lamp Timber. I feel it's been aptly named as it has a very feminine outlook.
This lamp is a contemporary decorative piece that has been so delicately curved out to lend a luxurious appearance to any home décor. Furthermore, it is made from Hoop Pine and then the laser-cutting process has given it the polished and sleek exterior. In addition, it really looks so pleasant to the eye. We think though it can be kept on the bed-side table, study table or in the living room. We feel its price is a way too expensive. Nevertheless, these exquisite and trendy items do not come in cheap either.
Source: cleverbastards
More Innovative Products like Lady Jane Table Lamp Timber
1. Seaweed lamp by NIr Meiri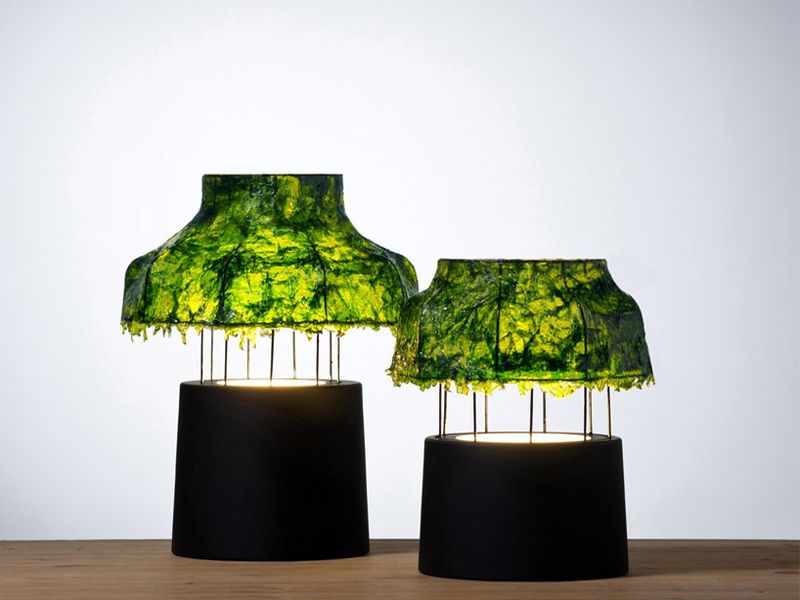 Designer Nir Meiri launched his seaweed lamps in Milan. These sea inspired seaweed lamps are made by pasting wet seaweed over the metal strips which make up the frame of the lamp. As the seaweed dries, it shrinks to form the lamp shade. Another coat of seaweed is applied to give it a smooth finish. Furthermore, as light shines out from seaweed lamp, it gives the impression that one is underwater and you'd find interesting shapes thrown on the walls.
2. AT-SP Steampunk Walker desk lamp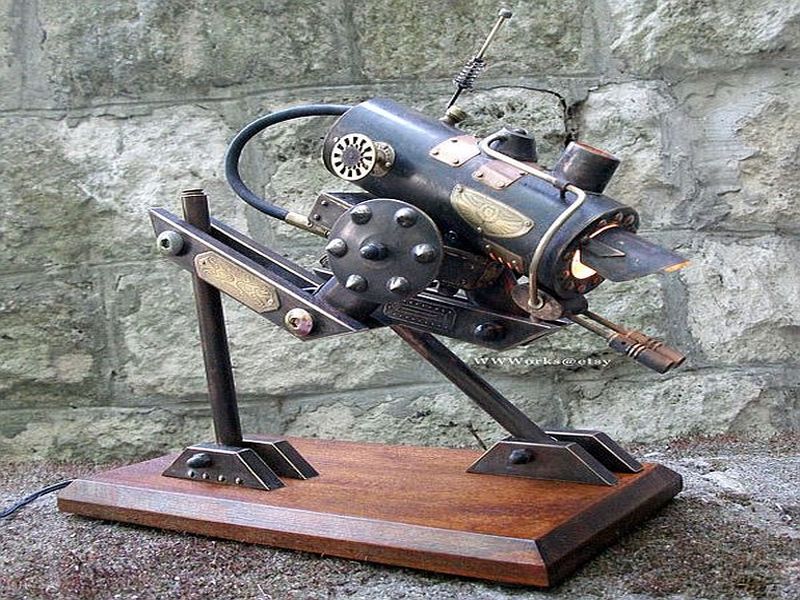 This lamp is a hybrid mechanical and steam engine. Its 35 cm high and hand crafted from brass. It contains a halogen bulb of 12V and 10W. It has a dimmer switch with a front which can be opened to let the bulb be replaced. This desk lamp can swing right and left and move up or down. In addition, the wiring is hidden inside the leg on the right, bolted to the hardwood lacquered base. Brass tubes, brass dome and steam cannon result in a 'walking' desk lamp.
3. Water balloon light bulbs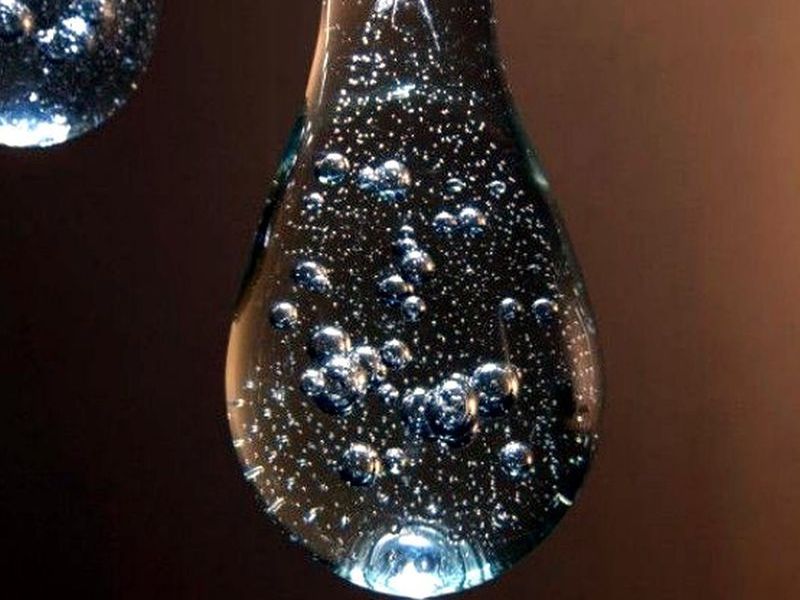 This exquisite bulb is made by mixing electricity and water. Inspired by water balloons inflating, Torafu architects created this stunning lamp. The bulb is made from florescent recycled glass, lit from the back by an LED light, and diffused by air bubbles within the bulb. Artisanal glassmakers and designers created this beautiful lamp, which looks as though tiny water bubbles have been illuminated by electricity.
4. Lightbean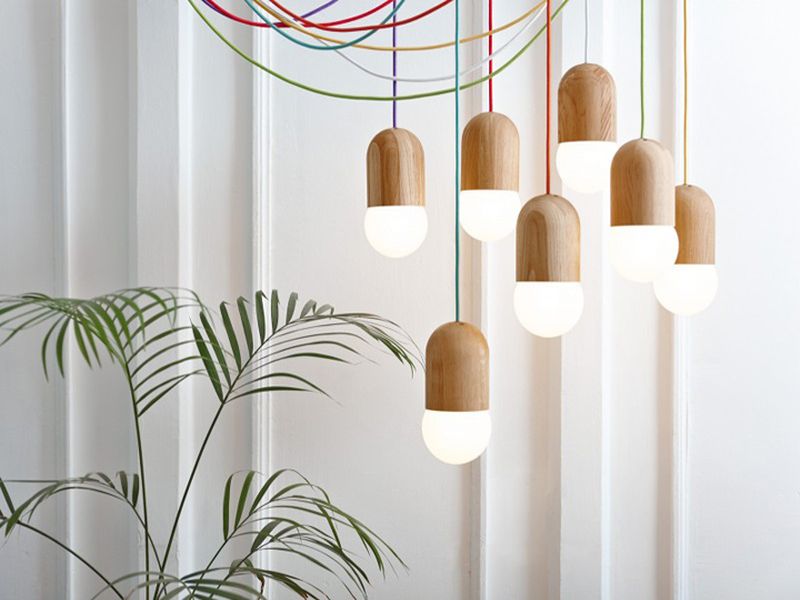 This lamp looks like your favorite legume. It's a fun lamp which would brighten any interior with light and cheer. It is machine made but hand finished to give a perfect finish. Fitted on to natural or black oak, it is attached to a cord which comes in 12 different colors.
5. Bulbing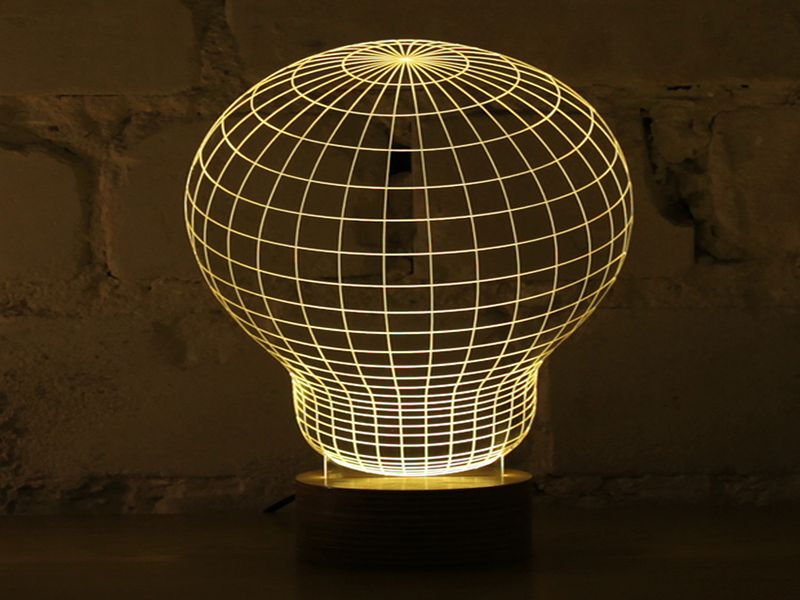 Bulbing is an LED lamp which creates an optical illusion to trick your eye and challenge your mind. The lamp is 2D but gives the effect of 3D, as it uses 3D images of wire frame and transfers them on to 2D, creating the optical illusion. It uses energy efficient LED light which does not overheat and can last for 50,000 hours The changeable designs can be used to suit every mood.
6. Lorenza Bozzoli's juuyo geisha lamps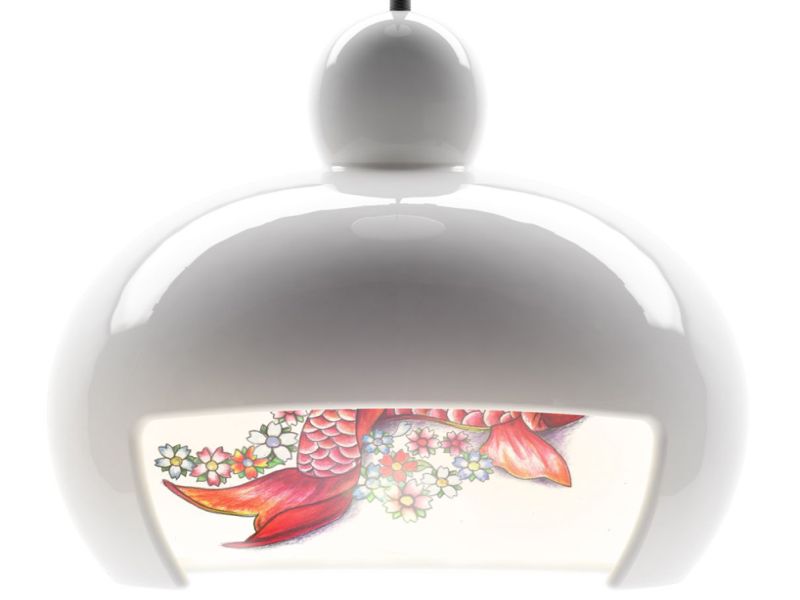 Designer Lorenza Bozzoli was inspired by the glamorous and beautiful hair styles of 'Juuyo', the Geisha's predecessor to design this beautiful lamp. The lamp reflects a Geisha's grace and strength. Traditional Japanese elegant prints, vibrant colors and soft shapes in the form of peach blossoms and koi fish have been included in the design to create a lamp which reflects Japanese iconography.
7. Rodger Thomas's Recycled Antique Lamps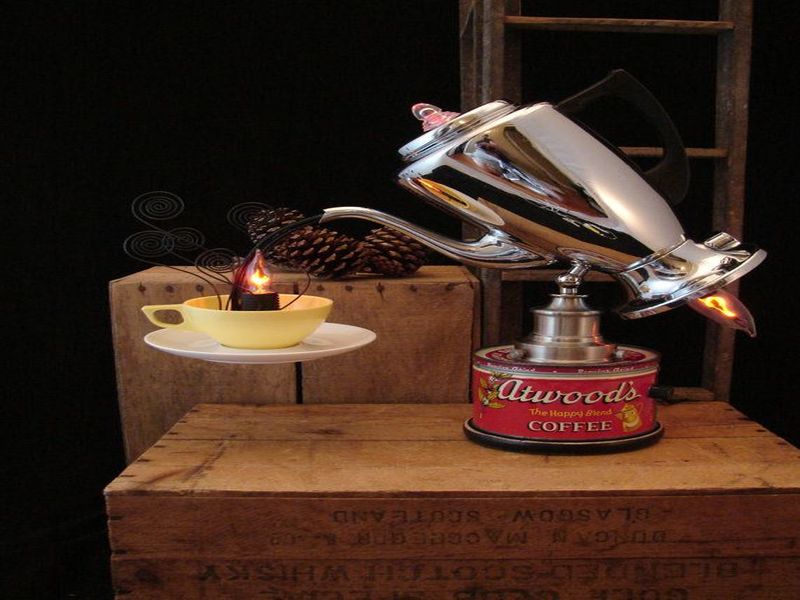 Rodger Thomas's lamps will make you see the everyday things in your house in a new light. He cleverly transforms antiques to amazing lamps. Old birdcages or telephones, even a kettle and cup have been delightfully repurposed into eye-catching lamps. This artist's designs are truly impressive!
8. Edie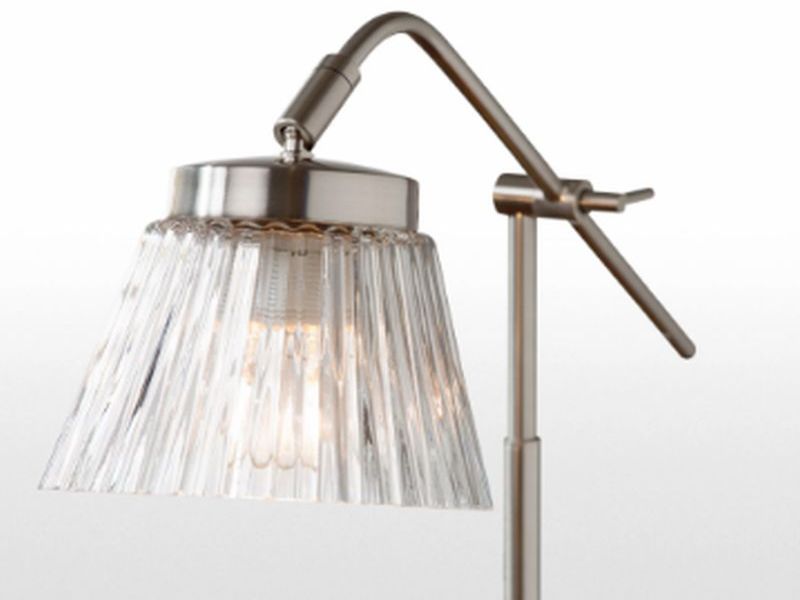 This lamp has been designed by the design studio AuraDesign. They've created a light bulb which works after it is submerged in a liquid. The effect is a luminescent light field in the area around the lamp. The bulb looks like any ordinary light bulb, but after it is submerged and activated, it creates the same kind of refraction lights which you'd get if you hold a water glass through light. The effect is surreal and shows what a simple science principle and a great imagination can accomplish.
9.  Jar Lamps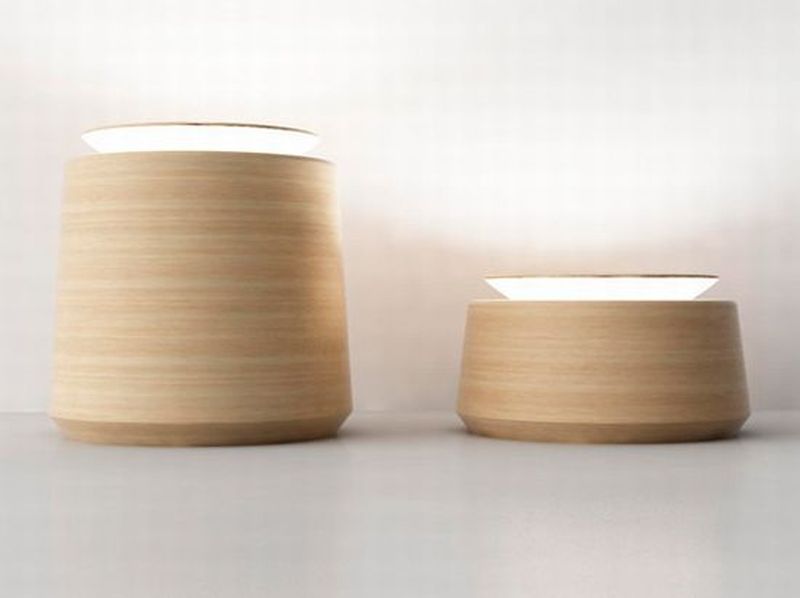 Lighting may appear one of the most common areas for designers, but it at the same time gives them a great flexibility for experimentation or scope to play with their creativity. The Jar Lamps from Noon Studio are lathed wooden desk lamps that use rotating lids as switches to turn them on and off and control the intensity or glow of the light. Made in oak, the Jar Lamps come in different dimensions, ranging between 125x280mm and 250x280mm, to give a new perspective to home decor.
10. Alpha & Beta Lamp
Alpha & Beta is a wonderful new design for a table lamp by Singapore-based JG Design. Jaren Goh took the geometrical form and tried to blend it with organics. The result is a beautiful and elegant table lamp (technically lamps) that looks refreshing. The classic body of a table lamp has been organically grown and joined with another lamp using a central connecting body. So the flow is from "a geometric shape to an organic and finally back to geometrical shape." The resultant shape is reminiscent of 'U' and exudes harmony.
The outer shell is glossy and dazzling in every color that Goh has used. The designer visualizes two persons with difference in opinion working together towards a common aim. This is a brilliant reflection in the lamps that are directed towards different directions and yet produce a common product: warm glow. Hit more for a couple of pictures of Alpha & Beta.