Scientists are working hard to finding ways of generating electricity from renewable sources of energy. Apart from conventional solar and wind energy, we are also going to see much developments in many other spheres. In fact, the new search for green energy is making us explore much wider horizons. These include but are not limited to Geothermal Energy, Hydrogen Energy, Kinetic Energy among others. However, this isn't all. Till we are utilizing non-renewable sources of energy, the best thing we can do is reduce our electricity usage. Innovations like Sun Tunnel Skylights show how we can do the same without compromising on utility.
Sun Tunnel Skylights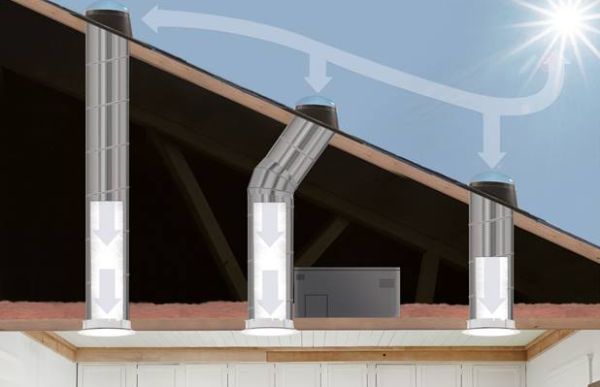 You may have residing or working in some of the most lustrous enclosures. However,  there often remains a dark corner or room in each apartment that never sees the clear rather natural light of the day. If you are not the lucky one to have an apartment that's illuminated with natural light and requires electrical light to make your place glow even during daylight hours, the Sun Tunnel Skylights by Velux may be an innovative as well as an ideal solution for you. The tubular sun tunnel does not just bring the natural light to your murky working or living places, but it also helps to turn you eco-supportive. It brings passive light from the Sun without the normal heat emitted by electrical light sources. Moreover, it'll allow users to reap valuable health benefits of the natural light.
Via: Core77
Some more eco-friendly lighting concepts similar to Sun Tunnel Skylights
1. Porcini lamps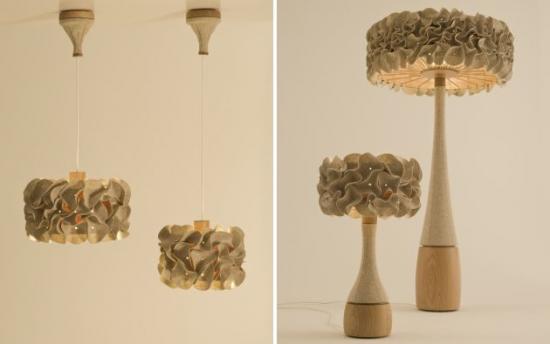 An outstanding creation by memake, "Porcini Lamps", is a live example of elegance incorporated in the craft. The whole range of Porcini is an innovation that explores a variety of organic shapes and forms. Therefore, it helps in creating fragile mushroom-like artistic piece decorating your interiors.With its two exclusive designs, the Porcini stem comprising a standard lamp and table lamp and the Porcini canopy comprising various sized pendant lamps, the Porcini range brings style and remarkable ambiance all around.
Not only this, with its interchangeable range you can also get various combination of different sizes as desired. Serving as an attraction for environment-friendly people, the lamps use biodegradable and renewable material. These materials include Tasmanian Oak, a non-endangered timber species having natural Australian beeswax and 100% pure new wool upholstery. Thus, the creation not only lightens up your home but your environment too.
2. Eco-friendly Kinetic Lighting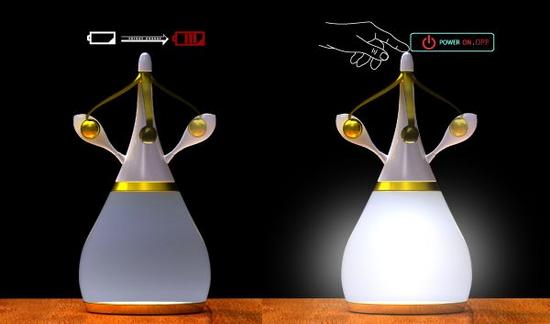 Kwon Kinam has designed Kinetic Lighting, which as the name suggests, converts kinetic energy to electric energy. Consisting of a magnetic case, it makes good use of the repulsive activity of similar magnetic poles. Magnets have been built on leaves that are placed on both sides of the lighting. The pendulum that has fixed magnets, moves to and fro. As a result of the repulsive forces, which produces kinetic energy when it advances towards other magnets in the leaves. After this, the kinetic energy is transformed into electric energy. This acts as an environmentally friendly form of energy to light up spaces.
The storage battery is positioned at the bottom gets charged and can be brought to good use whenever required. It comes embedded with a switch to turn the power on/off placed at the base.
So intelligently convert kinetic energy into electric energy with Kinetic Lightening and illuminate you area the eco-friendly way.
3. Green-hooded floor lamp
Finished with sustainably grown plywood and a planet-friendly tungsten bulb, the "Floor Lamp" by raow, a New Zealand-based group of designers recently graduated from Victoria University. It is an innovative light that besides decorating your place also helps in sustaining the environment. It is esigned to be packed flat for easy storage and transportation. In addition, the Floor Lamp comes wrapped in compostable packaging with a 15w tungsten light bulb, power cord, and assembly instructions. Measuring 300mm in height and 210mm in width, the $153 lamp is available only in natural plywood color.
4. Sustainable Emergency Light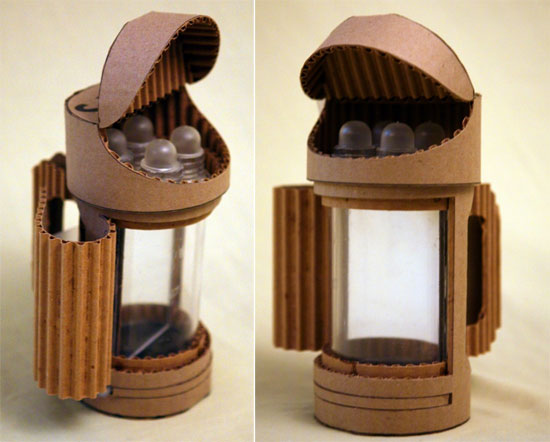 The Sustainable Emergency Light (SEL) by designer Jonathan Janke is a portable lamp that can be conveniently stored in the home or car. Always ready to use, the SEL instead of batteries or electricity runs on chemiluminescent power source. It is non-toxic and if you store it properly, it never expires. The Sustainable Emergency Light reduces end cost by eliminating unnecessary parts and materials leaving only the most essential components. The products integrated packaging combines the product and the package. This helps in reducing waste by keeping packaging material from entering the waste stream.
The Sustainable Emergency Light does not produce heat, is windproof, and it is safe to use around fumes. It can create constant light for up to 24 hours, getting users through any extended power outages, emergency, disaster or just a recreational night camping. The light also locates return shipping information is on the bottom. This ensures that it returns to the manufacturer so it can be refilled, repackaged, and redistributed directly back to the consumer if desired.
5. Flicker Sustainable Lamps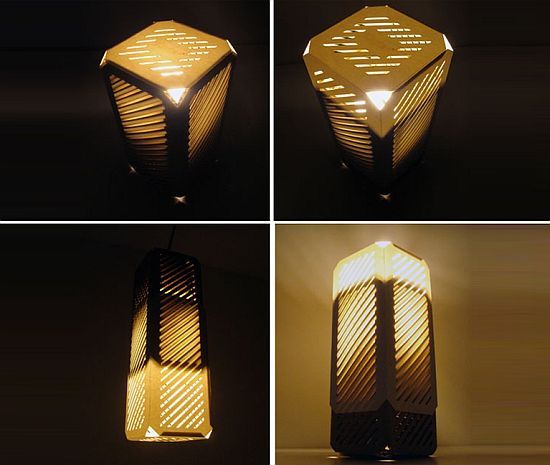 Lights are just not a mode to light up your dwelling, but also a source that is the bling of your home. Redefining the concept of light, the Flicker Sustainable Lamp is a new lamp that takes the illumination source to a new elevation. The lamp comes in a packaging kit that lamp does not need to taken out. This packaging stuff features a slotted sleeve, letting you adjust the intensity of light. Not only one can tune the hard and soft light intensity, but also doubles as table or a pendant lamp. Hit the jump to see the video in action.
6. GIRA Sustainable Lamps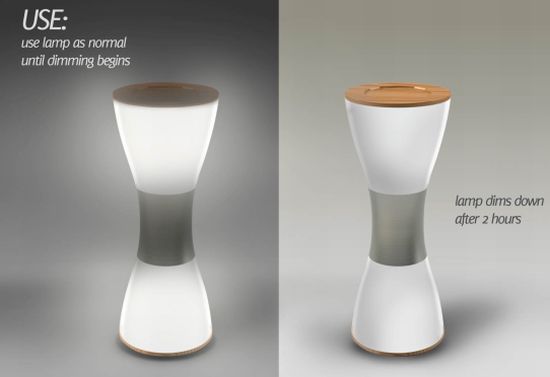 Promoting responsible energy consumption habits, designer David Estupinan has come up with an energy efficient lamp dubbed the "Gira" that requires constant physical interaction to bring users out of their comfort zone to preserve energy. Looking like an hourglass, the sustainable lamp includes a 9V Lithium-ion battery in the middle that can be charged by placing the lamp on the induction charging dock. Using LED lights, the lamp allows up to 300,000 hours of light on a single battery charge. Working like a normal lamp, the Gira dims down after two hours and needs to be turned upside down to reactivate it for another two hours. Developed for the residential use, the new LED lamp moves a step beyond to give a new meaning and value to a common functional object.
7. Soil Lamp

Mother Nature's abundant natural resources are enough to fulfill most of our energy needs. All we need to do is discover the huge potential and work them out on a larger scale. Eyeing a sustainable source of electricity, Marieke Staps, has thus popped up with the 'Soil Lamp' that is a natural but innovative source of light. Running on mud surrounded by the cells containing copper and zinc, the Soil Lamp just requires an occasional 'splash of water' to keep it glowing.
The Soil Lamp, without doubt, is an eco-friendly source of energy that will light our dwellings while sustaining the environment. What remains to be seen is the practical or commercial potential of the product, which at present appears far from reality.