Trade shows are an important part of marketing and networking, but like any other activity that forces you to "take your show on the road," as it were, they aren't typically sustainable. In fact, they're precisely the kind of event that encourages unsustainable activities, from big behaviors like air travel to smaller actions like using disposable plastic tablecloths or other wasteful items at your booth. With more businesses – and their customers – making sustainability a top priority in their professional decisions, though, companies need to reevaluate their trade show practices to reflect their values.
1. Establish Your Goals
Before you make any changes to your trade show practices and tools, it's important to clarify what your goals are when you attend these events. These goals will inform what changes you make. Some of the most common goals and benefits of attending trade shows include promoting new or existing services, networking with related businesses, and growing your customer base. At their core, none of these goals demand wasteful practices, but establishing your aims can help you discern what changes will be most impactful.
2. Start Simply
One of the easiest changes you can make to your trade show strategy involves ditching all the extra paper. No one wants to walk around a big event toting piles of handouts, most of which will end up in the trash anyway. Instead of offering fliers and pamphlets, consider equipping your booth with QR code stations or digital sign-up booths so that visitors can access PDFs of important documents or, better yet, interactive presentations that they can view at their leisure.
3. Attract Positive Attention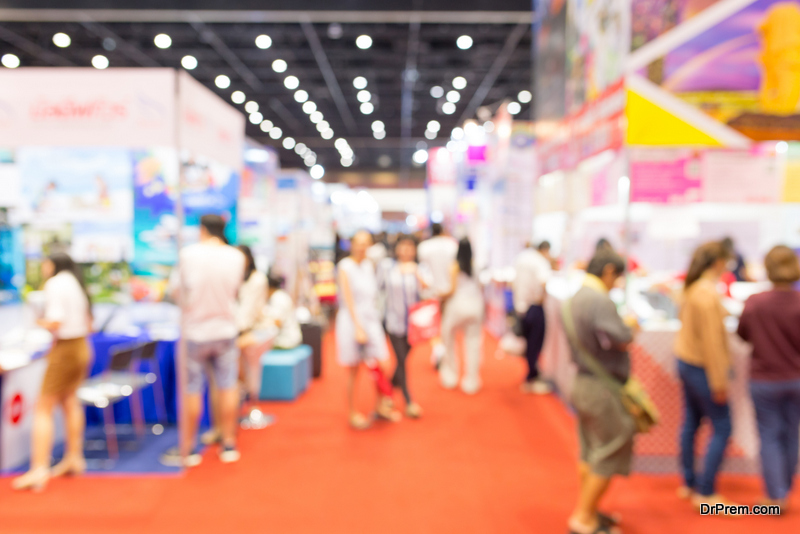 To succeed at a trade show, your booth needs to demonstrate a number of key traits: it needs to be attention-getting, be memorable, and feature compelling sensory elements. Too often, though, businesses rely on cheap, throw-away elements to make their booths pop. As sustainability becomes a topic of general interest, though, more companies have found that employing eco-friendly elements as part of their display is a more effective way of attracting visitors and making a strong impression.
At last year's Greenbuild Expo, the country's largest event for the sustainable building industry, businesses brought their most showstopping booth designs featuring sustainable elements. These included recyclable booth and banner elements, as well as sturdier structures made from Forest Stewardship Council certified materials. These are the types of designs that are attractive to attendees today and they signal that your business shares their ethical commitments. That's the best way to make an impact.
4. Study The Pros
There are a number of brands, not just in the green housing market but also in the outdoor sector and others, that have mastered the art of the sustainable trade show booth. At this year's Outdoor Retailer Summer Market, Patagonia chose to audit their booth waste and the shared the results of their evaluation publicly to help others make changes, as well. By reading reports from companies like Patagonia that have already taken steps toward reducing their environmental footprint, and modeling your practices on their experiences, you can build on their efforts at your next event.
Sustainability is rarely at the top of the list when businesses plan their trade show displays, unless such efforts are already key principles for your industry or your individual business. As norms continue to shift on a broader scale, however, developing more sustainable trade show strategies will matter for every business, not just those in niche industries. By taking steps to modify your company's practices now, you can establish yourself as a truly responsible company – not just a trend chaser.
Article Submitted By Community Writer