Creativity, dynamism and provocation, these are the three words that best describe product designer, Alexandre Boucher. His domain of knowledge is quite vast regarding the processes and feasibilities of product. He has the ability to communicate ideas and concepts and has an excellent understanding in three dimensions. Wanna know more about his latent abilities, well, you'll have to scroll down from here,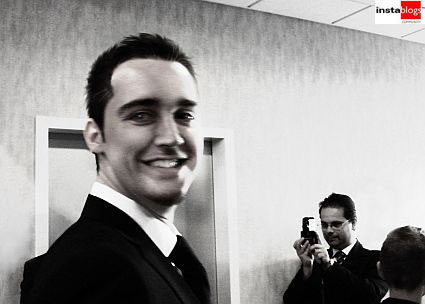 1. When did you decide to pursue design as a career and how did you go about it?
Alexandre: At the university, a friend spoke to me about a school of design located in Paris (France). When I had the booklet of Creapole in the hands, I knew that the trade of designer corresponded to me perfectly. Then, I learned how to develop my creative abilities.
2. Who were the biggest inspirations for your career?
Alexandre: Well, nobody in particular, however an acquaintance, a young designer which attended the same school as me: Ora-Ito, the way which he manages its career inspires me. We are similar, insolent, bold, anti-conformist… I hope a similar career.
3.Amongst the designing tools- hand sketch, photoshop, illustrator Studiotools, Rhinoceros, 3ds max- you are the most comfortable with?
Alexandre: Definitely hand sketch; I have always drawn, since my childhood. Indeed, whatever nature of my works and the tools used, I always start with hand sketch. But I use more and more Photoshop from the very start of my creative process. It makes work easier.
4. How do you come up with new ideas and designs?
Alexandre: Each time, it's different. My approach proves to be instinctive at the beginning. Often, I use the words to widen my field of ideas. Sometimes I develop the opposite of the brief to work with the boundaries of the subject. Often, being ironic seems to be a good method if we wish to propose a concept judicious and surprising…
5. What is innovation to you – design, technology or the creative processes itself?
Alexandre: Innovation…is the creative processes itself which make it possible to combine design and technology. Innovation arises from our capacity to exceed our imagination.
6. What particular challenges do you think designers face these days?
Alexandre: The responsibilities for the designer are ever and ever heavier. The designer has to give a global vision, to allow a back zoom that neither engineering nor marketing allow. The designer must have a critical judgment, a high vision, based on a controlled artistic know-how. The human is the starting point. The use and the economy of the design bring us to the notion of quality. Our concepts must be much more precise.
7. As a designer, what would you still like to accomplish in the future?
Alexandre: I think I would like to accomplish myself. I mean that my artistic sensitivity will let an indelible mark on my whole creation, my signature in a way.
8. Do you feel that product design and architecture are related? If so, why?
Alexandre: When I try to explain my job with somebody, I often compare my work with the trade of architect except that I do not design buildings but products. Both, we have an idea that we make mature, then we supervise the production until obtaining a finished product. I must acknowledge that some architects inspired me for my work. Finally, creative trades are related; the creative process is personal but it shares by all.
9. If you had to point to the most impressive feature about the new product design, what would it be?
Alexandre: The most impressive feature, hum… its too great diversity not to say its uselessness sometimes.
10. Where do you see yourself, after, let's say, five years from now?
Alexandre: After, I hope that one of my ideas – the 'desk with one leg' for example – will materialize. I could be the author of a best-seller. I work so…Well, in five years, I see myself at the head of my own design studio.
Before signing off, I'd like to thank Alexandre for sparing out time for this fantastic interview and would like to wish him luck for all his future endeavors.