Have you ever wondered how much time you spend every day sitting on a chair? In fact, most of us who are working spend an average of more than 8 hours a day on a chair. This has a great impact on our health so much so that there are people who even call sitting the new smoking. Nevertheless, there are ways to minimize the impact. Apart from not sitting continuously and doing some sitting stretches, the best thing you can do is invest in your chair. You can rest assured that this would pay off. A good ergonomic chair with proper back support can be of great help in correcting your posture. For example, node chair is one such chair, which can prove highly beneficial if you introduce it in our schools.
Read More: Tips for choosing chairs for better posture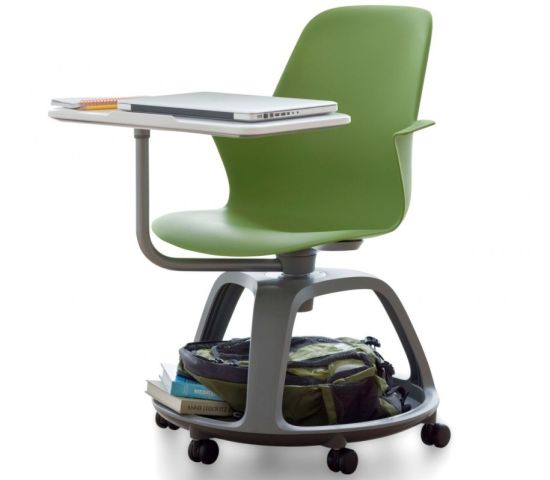 Produced by Michigan-based furniture company Steelcase, the "Node chair" by IDEO is a revolutionary school desk that seems to change the face of teaching and learning in contemporary schools. Featuring a compact and flexible design, the modular furniture includes a rolling base to let the user shift around quickly and adapt their posture to the activities going on in the classroom. Combining into form a conference table, the classroom furniture also integrates storage underneath the seat, off the ground, to place backpacks and other stuff. Made in heavy-duty metal, the chair is available with and without a fully loaded desktop.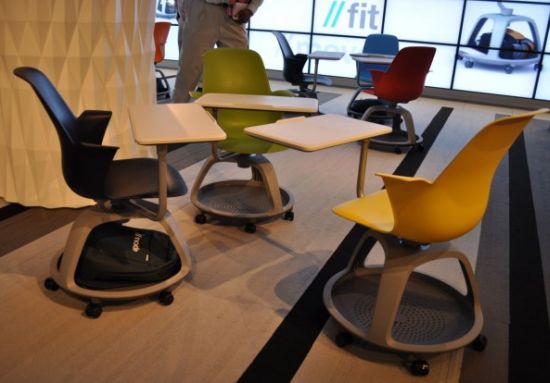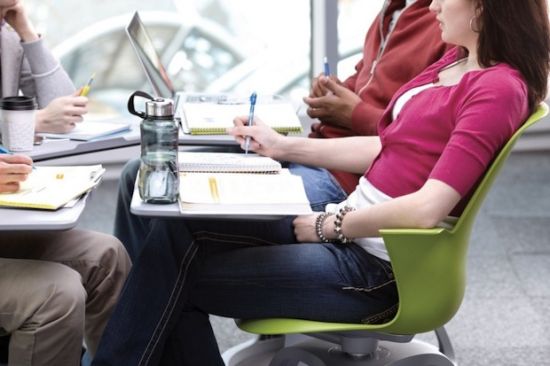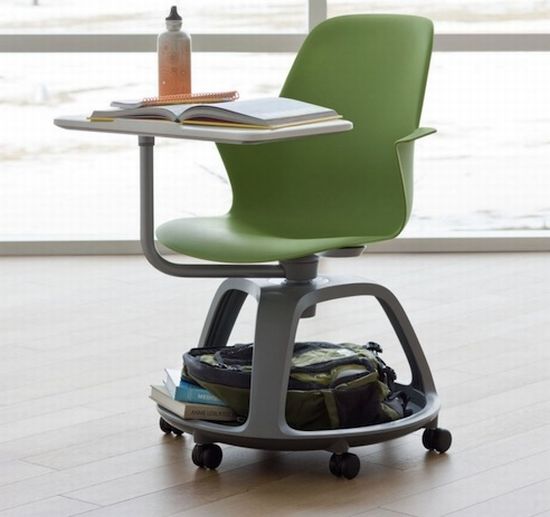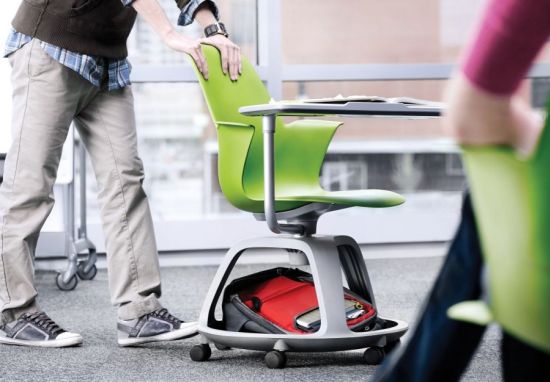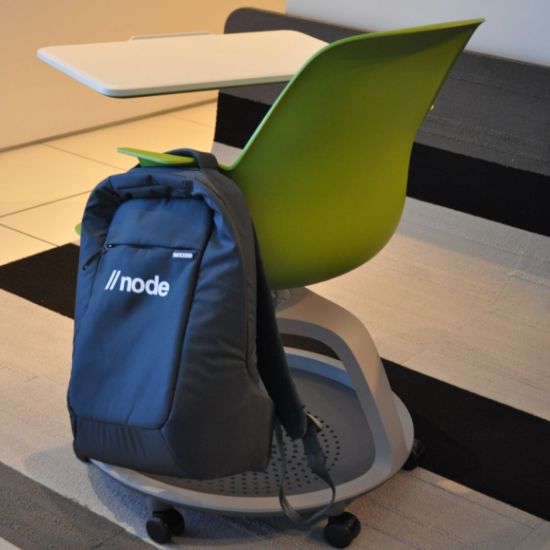 Via: Contemporist/Fast Company
Some more chair designs similar to the node chair
1. Chair/Desk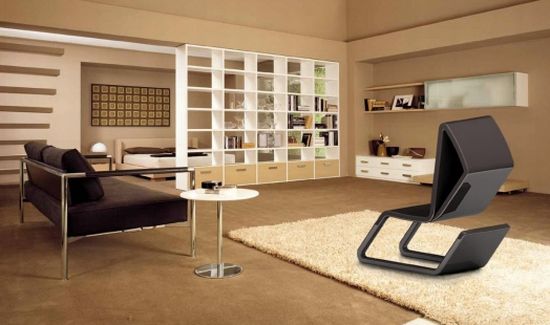 In an attempt to create a stylish, functional, modular furniture piece, industrial designer Joven De La Vega has created the Chair/Desk. It functions as a normal hard chair, but when flipped forward, it doubles as a small desk with a bench seat and a table for any work that requires a hard surface, such as using a laptop or eating food. Ergonomics have been paid proper attention to. The open legs for the chair and table allow the user to stretch and move their legs with utmost ease, irrespective of the chair or desk position. It's not just a chair or a desk. You can use the open compartment behind the backrest, which creates the bench seat for the desk, as a magazine rack. Thus, the Chair/Seat desk is one smart piece of modular furniture that would jell with most of the urban apartment settings.
2. Mosaic Folding Chair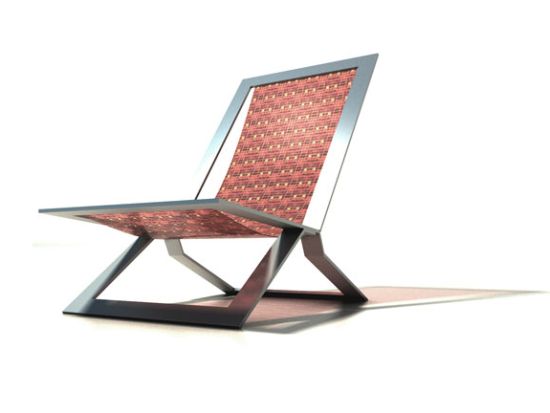 With modern apartments cramped for space, more and more designers have been coming up with portable and multifunctional furniture designs, to make the maximum use of the least available space in the house. And the latest creation to catch our eye is the 'Mosaic Folding Chair' by ODA-Architecture. The frame of the chair is finished with conventional materials. It consists primarily of aluminum that not just makes it light in weight but elegant in design as well. The seat of the chair consists of mosaic tiles embedded in silicon. It utilizes the latest method for tile prefabrication, which makes it sturdy as well as comfortable to sit on. When not in use, you can fold the chairs and line them up as a divider for your room.
3. Fashionable 'Rocking Chair'
Renowned furniture designer Jack Rogers Hopkins is back with yet another contemporary chair, named the 'Rocking Chair'. It is a perfect blend of antiqueness and modernity. Rocking chairs were highly popular in the past. This is a well-curved out piece of wooden furniture, with stylized features. The seat and the back-rest look extremely comfortable. The walnut colored rocking chair is indeed an example of this man's creative ingenuity.
With dimension measuring 37H- 24W-33 D, you can place this trendy rocking chair can be anywhere in the house. In addition, you can even put in the lawn. It is the perfect piece of furniture to sit back on rewind peacefully. Well guys, this chair indeed rocks!
4. Protective Coloring Chair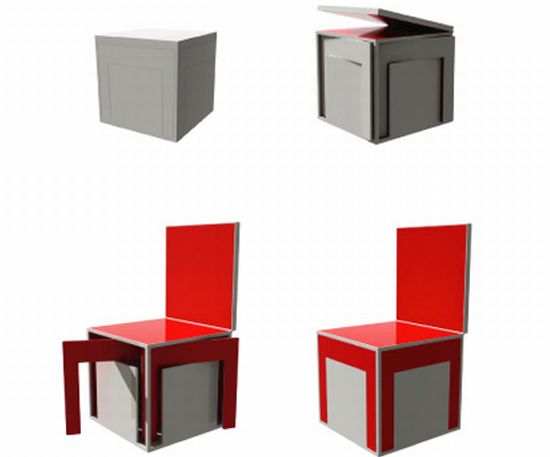 Designed by Hyuh Jin Lee, the "Protective Coloring Chair" is basically a cube box that can be transformed into a chair. The chair is neatly hidden in the normal box. It reveals when you open the cube from different angles with your hands. You can use this modular unit both as a side table, a seating unit and hopefully, a storage unit. The most interesting part of the design is the color scheme. While the color used for the box looks a bit dull, when it doubles as a chair, the bright color combination makes the modular unit a real eye-catcher.
5. 'Hey, chair, be a bookshelf!'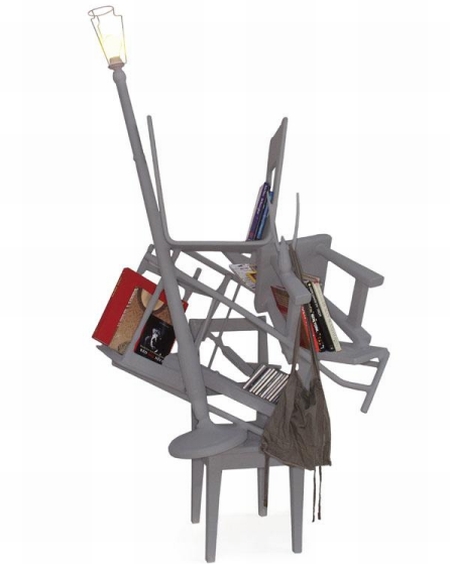 When it calls for recreation, Baas is rightfully credited with its unique assemblage-sagas. It magically gives new function to all kinds of second-hand objects that are not even in the condition of reselling creating demand eventually for their multi-functionality. Yes, one such creation is the Hey, chair be a bookshelf! For the above design, which may leave you confused, Baas has gathered several second-hand products, collected from the region of Eindhoven and created this unique design. It is a chair turned into a bookshelf; a lampshade into a vase, and amazingly, a violin into a coat rack! The weaker hand-coated raw materials are generally reinforced by polyester — coated in a Poly-Urethane coating.
The height of the grey "Hey Chair, be a bookshelf!" is approximately 210 cm.
6. Gym-Ball Chair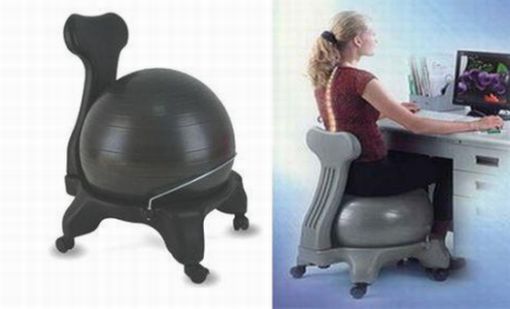 The Fit-Chair gives the old gym-ball a new place in the office. It is the same old fitness ball with a new spin on it, but a creative spin none the less. The design here is a rack with rollers which has a gym-ball on top of it. It also has detachable back support which you can put on for normal seating. It pretty much functions like a regular office chair, you can adjust it very easy to serve as a piece of fitness equipment by removing the back support.
To adjust the height of the chair all you have to do is either inflate or deflate the ball. You might find it odd when you see air pumps doing the work. However, But this oddness is only a minor inconvenience since most people can spend a short time adjusting it to their comfortable height, and stick with it at that constant level afterward.
We are sure when a lot of people saw this chair concept, they remembered the popular scene from the drama The Office where Dwight was using a bare gym-ball in place of his office chair, irritating and provoking Jim to take drastic action. Check out the video after the jump.
Read More: 20 – Creative chair designs that will knock your socks off