Landfills around the world are getting filled up to the brim. It is time we think twice before dumping anything. But, what about the stuff that is already lying on our hands waiting to be dumped? Well, you better reuse it. Moreover, in case you can't find any way to reuse it, then why don't you turn it into art? Who knows the junk in your house might be the way to your fame. There are more than many examples of people who made their way to fame by recycling junk into art. For example, take a look at all these designers who made amazing sustainable art using old car parts.
Read More: Five stunning and inspiring homes made using recycled materials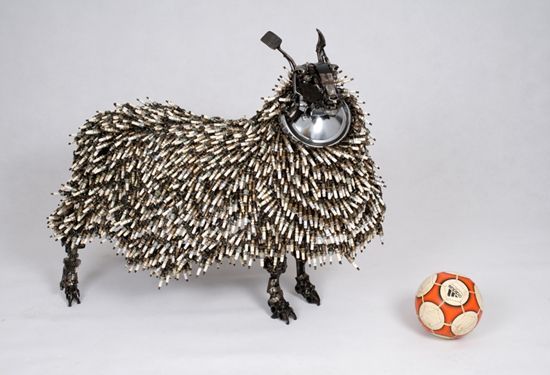 The pace with which new motor cars are being produced with no proper disintegration of the old vehicles, the day is not too far when the earth will be converted into a junkyard. However, artist James Corbett has turned old car parts into awesome sculptures that can be used to enhance the décor of your living space. The beautiful sculptures, that includes small bikes, cars, animals and birds, will not just decorate your home but also help in decomposing the auto waste. Check out some of the unique sculptures after the jump.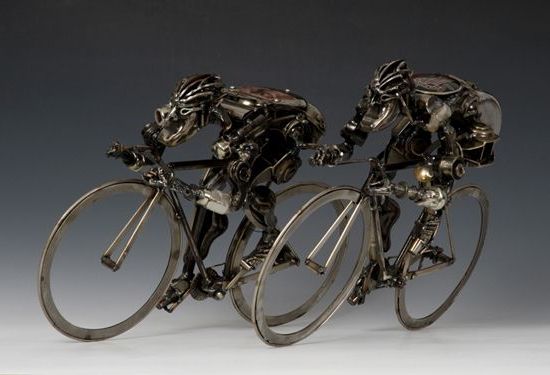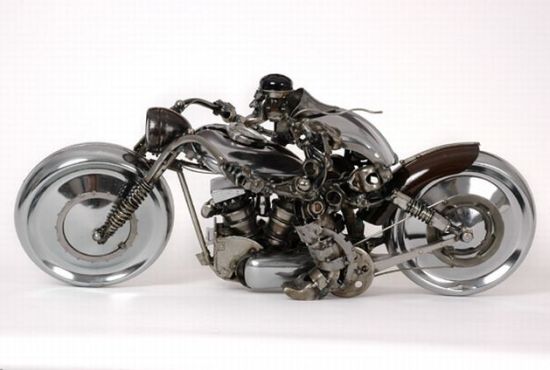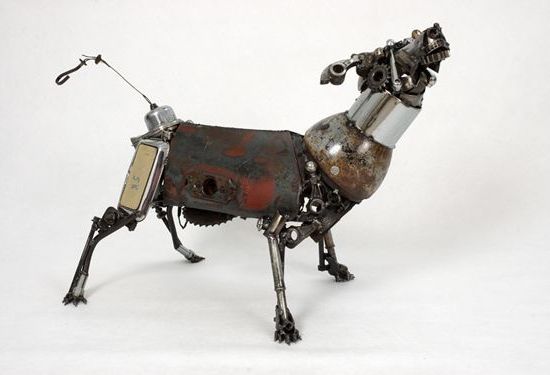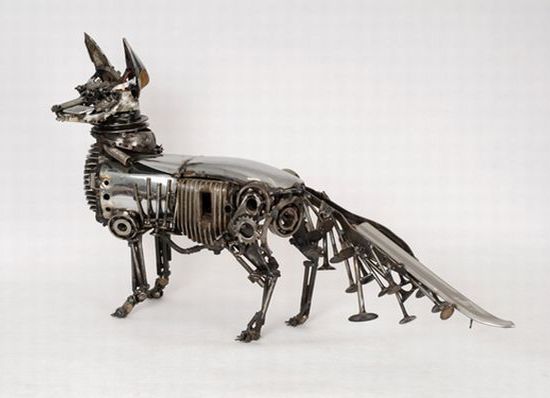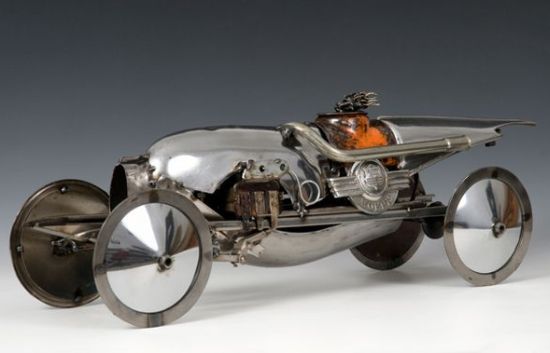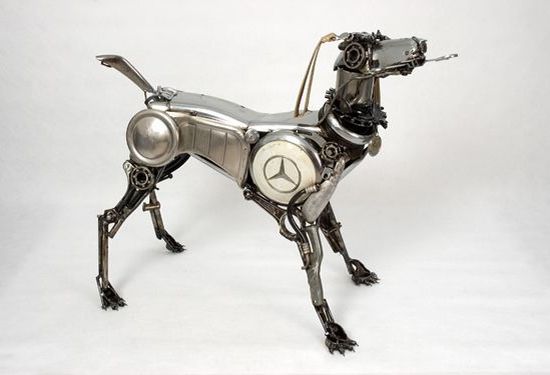 Via: Automotto
Some more art pieces consisting of old car parts
1. Spare part car by James Corbett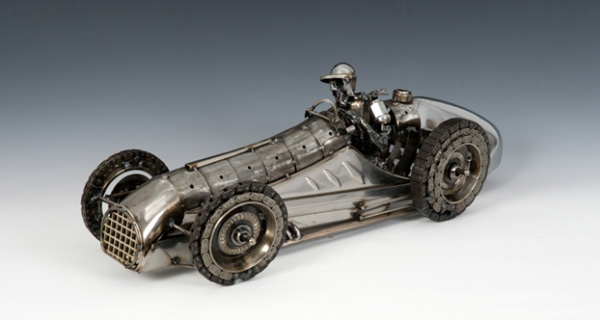 Australian artist James Corbett has made an amazing piece of art. He used bits of old car parts to make an amazing sculpture, just to pay tribute to the automobile making style in late 1950's and 60's. He mainly used parts from radiators, exhausts, spark plugs, gears and anything that fitted into his artistic sculpture.
2. Transformer robot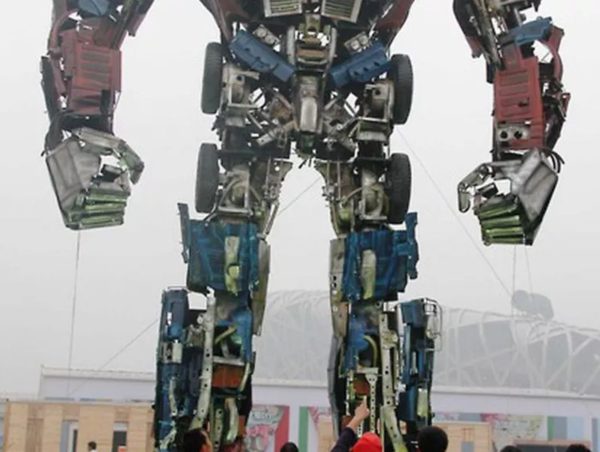 Image Source : cnet3.cbsistatic.com
The amazingly designed Transformer robot is designed and fabricated from old auto parts. Visitors witnessed this 10 m high 'Transformer' standing tall at the Bird's Nest Stadium in Beijing's Olympic Park in 2010. The robot structure is made of old auto scraps, which made itself quite a huge hit.
3. The Alien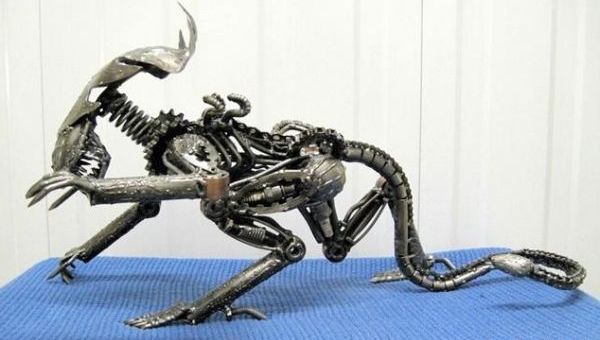 Speaking of robots, now you can witness a brilliant crawling Alien queen sculpture made right from old auto parts. The Ireland based studio RoboSteel created it giving it a neatly textured finish. The sculpture is welded and then finished with glossy lacquer to lend it a slimy look. It is about 45 m long and weighs 10 kg.
4. Motorcycle Man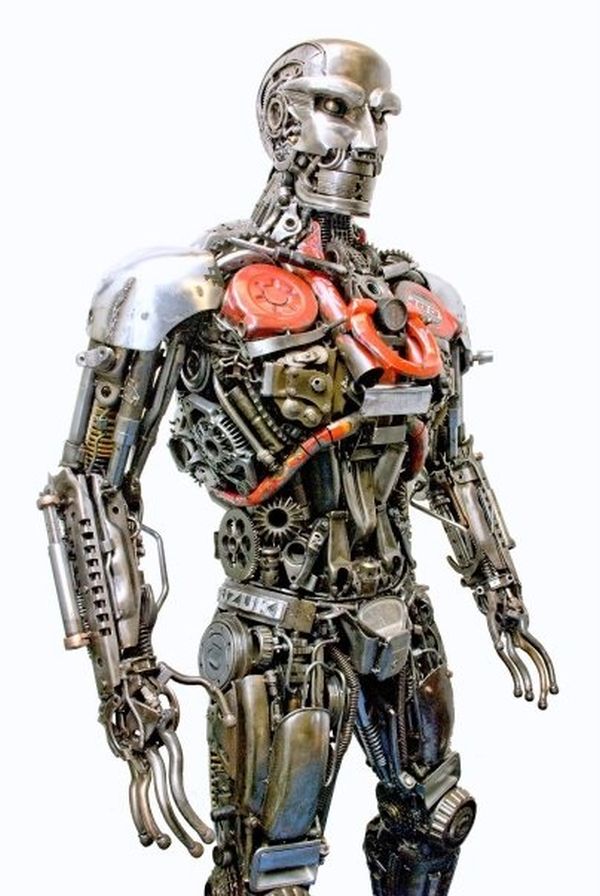 Image Source : infobarrel.com
Remember fictional characters from movies like I, Robot or Terminator? Then the life-size Motorcycle Man will do the job. This brilliant auto creation is conceived and created by Carole Nash International Motorcycle and Scooter show by RoboSteel. It is entirely created from old auto and motorbike parts. The team took around 750 hours to create this two meter tall Motorcycle Man!
5. The Paladin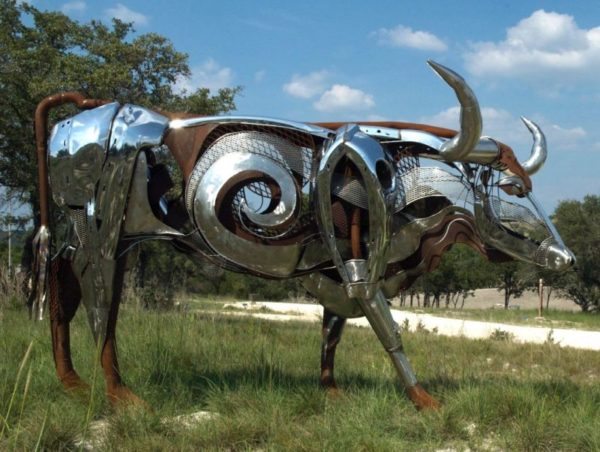 Image Source : bloximages.newyork1.vip.townnews.com
If you loved those mechanical bull rides at Texas themed restaurants then you will fall in love with this auto part creation named as Paladin. Made from carbon steel, useless stainless steel, old motorcycle and auto parts, this undeniably is one stunning masterpiece by Bettye Hamblen Turner.
6. The Fish by Alastair Gibson
Alastair Gibson created some fish like creatures from gearboxes, radiators, bodywork fixing, exhaust tailpipes, and various other auto parts. He designed these weird and amazing automotive sculptures to unearth some similar qualities between Grand Prix cars and game fish.
If you got an old vehicle, however, and you are wondering if you should turn into a brand new sculpture, then wait. What about you turn into a new vehicle altogether? Here are some smart ideas for doing so.
Smart Ideas to give new look to your old car
Everything is possible as you can give a new look to an old car by following few simple tricks. You can take help of a professional to change the look of your old car. But if you have a limited budget, you can also give a new look to your vehicle like the pros without splurging much on it.
We will discuss some smart ideas to give a new look to your old auto thereby customizing the look and design of the car. Here are some useful tips to transform your old vehicle with these tips:
1. Clean your car: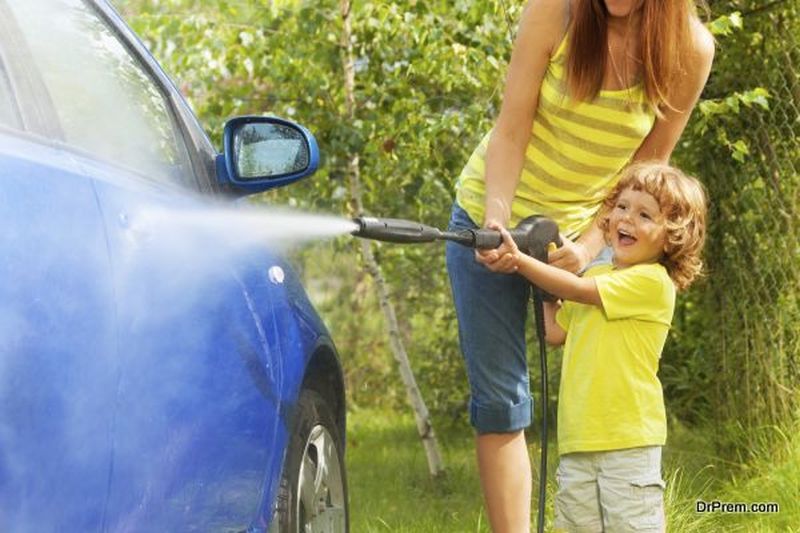 You need to start with washing the car with a car shampoo available in the market. You can clean the vehicle on your own or you can take it to a small independent garage for a spick and span car cleaning. Most of the garages are done with a quick wash, so you need to ensure that the mechanic gives extra attention to the areas like engine bay and underbody while cleaning. Take out the seat covers and clean underneaththe seats with a vacuum cleaner. It can help to remove the smallest dirt particles from the car seat with ease. This will help you give a new look to an old car as well as uncover its hidden damages or problems. 
2. Fix the issues in the dashboard:
Over time, the dashboard plastic of your car may fade away. However, you can bring back the shine and make it new as before by polishing it with dashboard waxes and silicone polishes. You can get a funky steering wheel cover as it is a good investment if your car's steering wheel looks old and dull. So, plan the interior designs for an old car instead of buying a new car.
3. Paint the car:
Painting your car may not be a tough job but you can take professional guidance to complete the task. If you are doing it on your own, then start with the help of a dry sandpaper. Try to sand away the coating of the car to get a smooth and even finishing surface of the car. Once you are done with the sanding, use a clean rag to wipe away the leftover particles from the surface. Once you clean up the car, put a primer coating with the help of a spray gun. Let the primer dry, and then mix the paint with the thinner in the ratio mentioned in the instruction on the manual and start painting the car. You can successfully complete the task with methodical approach and patience.
4. Get new seat covers:
Get new seat covers stitched contrasting with the body of the car. You can use bright colors for the covers as the color will not fade away quickly. You can buy seat covers with printed patterns or geometrical shapes or bright color fabric for your car. This is how you transform your old car with these tips on the seat covers. 
5. Install a parking sensor: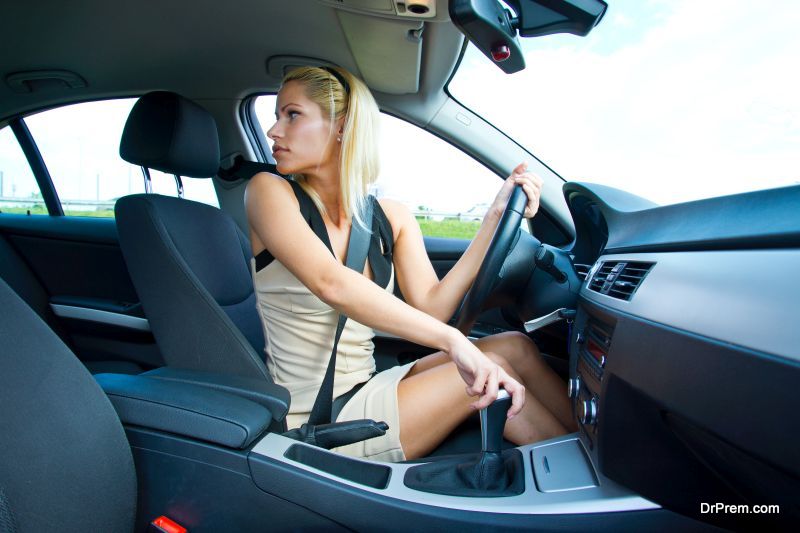 The driver can understand the stress of parking the car in a crowded parking area of a mall. Therefore, an affordable parking sensor can be of real help to your old car. You do not have to worry when you have a parking sensor while reversing the car.
6. Get a new rear-view camera:
This rear-view camera is a must have on the listwhen you are revamping your old car. It is a safety equipment and most of the new cars have a rear-view camera. Investing on this gadget will be good and you can install the gadget in the car on your own. 
7. Replace the headlamp lenses: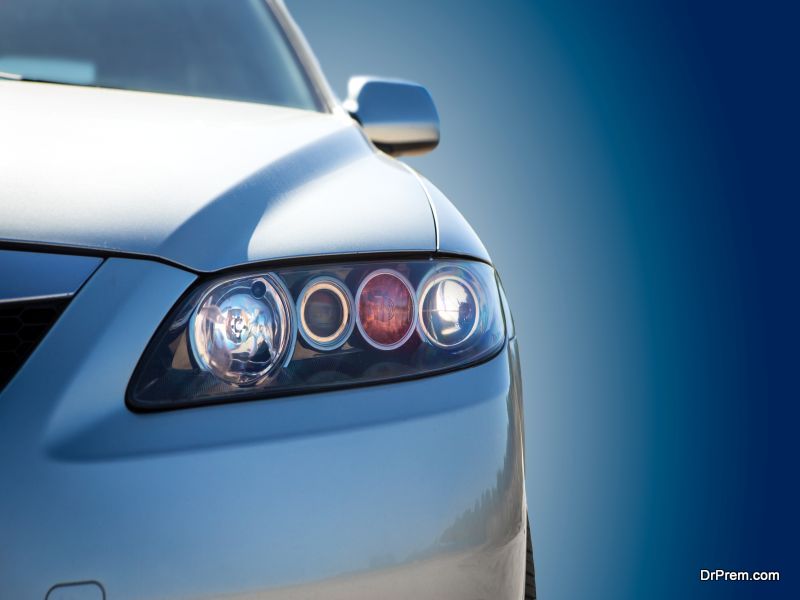 Headlamps lenses usually become dull over time, you need to replace them if the lamps are not working. In case the lamps have become dull, you can use toothpaste to polish the headlamps to make them as bright as new lamps.
By following the above-mentioned tips when you are planning to change the interior designs for an old car for a new look.