A bedroom is a place where everyone likes to come to at the end of the day for a good and relaxing nights sleep. This is one of the main reasons why a bedroom should have some of the best furniture's and a soothing color that would be inviting and luring. There are various styles that are in vogue in today's bedrooms starting from the colors, the paint and the furniture. There are abstract paintings which can also be done in your room so that it has a visual appeal.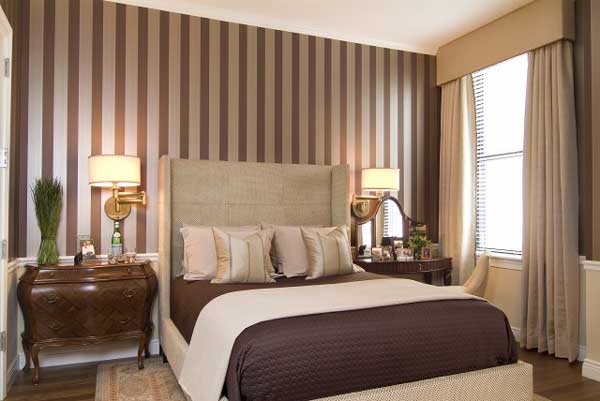 Some of the most popular styles that are being adopted by the new generation in their bedrooms are stripes on the walls. One of the main reasons of using stripes on wall is because stripes make the room look big and airy. It is also popular because stripes can go with any room decoration and also matches with a wide number of colors in a bedroom. Women like stripes and men also consider this to be masculine. Stripes are appreciated by all age groups in the house.
Why stripes?
Painting stripes on the wall make your room look larger and bigger in size. Since bedroom is the place where you spend your maximum time, this is ideal for the same. Just like a horizontal striped shirt can make a person look wider and a shirt with vertical strips make a person look taller, stripes can have that similar consequence on the walls of your rooms. The best kind of color of stripes can be white, cream or taupe.
Choosing the kind of stripes on the walls
A stripe also helps a room to look elegant and attractive. Striped walls look clean, crisp and bold. The horizontal stripes ion walls look better then the vertical ones. Also one need to consider the kind of stripes that would look in a room, whether the stripes should be narrow or bold, thick or thin, whether they would be hand painted or wall paper. The efficiency of a stripe will depend on the breadth.
Kinds of stripes one can paint
Different kinds of stripes can be painted on a wall. It can either be long and narrow stripes or bold stripes. There can also be a combination of thick and thin stripes. One can select from a wide range of possibilities like the pinstripes, candy stripes, awning stripes and other stripe sequences. The candy stripe would look best in a kid's room. A bold stripe brings out the boldness in a room. It is necessary that while painting stripes you take the help of a good painter as the stripes should be straight and crisp. Also the background colour of the wall should be taken into consideration while painting stripes. The stripes should be painted in a way so that it can have room for the other elements in the room as well.
Different design ideas of stripes
Twin Room DB Small
If you have twin children in your house, then the best stripes that would look good would be blue and white with a few of their favourite cartoon characters.
Minimalist Bedroom
Stripes of black and white like a zebra can make a room look bigger and brighter if you see right through the ceiling of a room.
Bedroom Visualization
If you are a person who craves for luxury and sophistication, then you can pair the tiles of the rooms with the colour of the striped walls. This would look elegant and classy.
Bedroom with stripes
If you are a person with minimum design, then a contemporary design with the minimum stripes would be ideal for you. The headboard area should be designed in w ay in which it can highlight the stripes in the room.
These are some of the designs that may look good in your bedroom.