Technology is making our lives much more luxurious and comfortable. Furthermore, it is also making our kitchen cleaner and more sustainable. Not only it is reducing our work burden, in addition, it is also helping us in adding more beauty to it. Even when it comes to something as simple as a toaster, you can make a statement by opting for something like Dyson Toaster. These toasters not only are as functional as you would want a toaster to be, but they also add an artistic element to the mix. Here is a range of similar toaster designs that will make you fall in love with them and you will not resist buying one for yourself
Dyson Toaster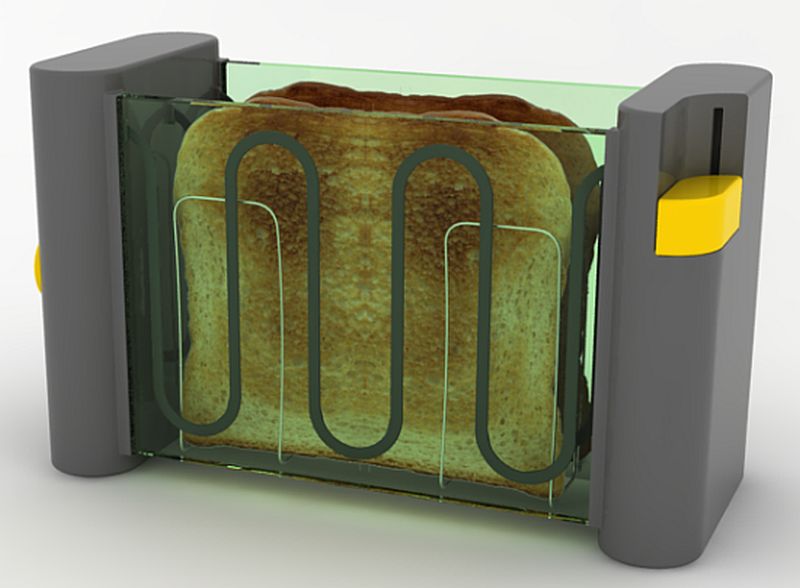 You'd think that making toast was the easiest thing one could do in the kitchen. But the fact remains that the average person burns more toasts per weeks than other food items like eggs, bacon or even a roast dish. Of course, I don't have any official stats to prove that, since no one really gives a damn how many toasts get burnt in the kitchens across the world every morning, except this David Chacon guy of course who went through a lot of trouble and invented this wonderful see-though Dyson Toaster concept.
Furthermore, Dyson toaster features a high-tech see-through body based around product branding that allows users to check the toasting toast for toastiness, and as soon as the toast is toasty enough for their liking, it also lets them save it from an ashy demise! Clever, isn't it? Check out more images of the innovative toaster in image gallery after the jump.

Some more toaster designs like Dyson Toaster
1. Triplo Toaster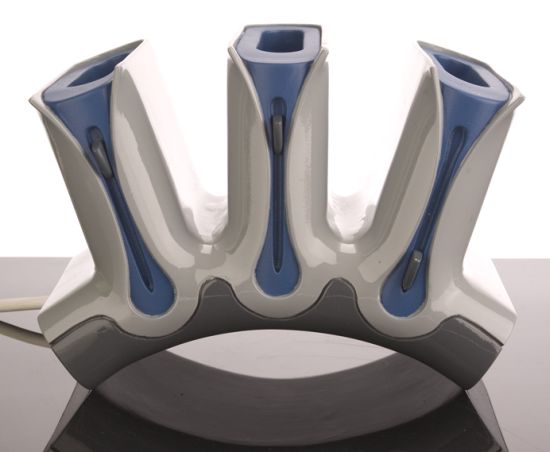 Nowadays, along with various technical specifications, designers also pay a lot of attention to the design of their electrical appliances. So much so that sometimes they look more like a decorative piece than a regular appliance. Featuring an elegant design with refined technology, the Triplo Toaster is a similar kitchen appliance that will altogether change the way you prepare your morning toasts. Boasting of an external finish of glossy, durable and organic plastic, the toaster will accommodate refined heating and mechanical elements. Moreover, the toaster splits into three separate modules that will possibly allow baking and differently roasted toasts simultaneously.
Triplo Toaster is a unique concept design that, if it goes in production in the future, will change the visual as well as the functional styling of an ordinary household object. The chick toaster is designed to toast separate pieces of bread in between the modules, so the unit would be both a toaster and a toast rack.
Craig Strangward is a product design student, with specialization in industrial design, 3-D modeling, and packaging at DeMontfort University.
2. Good lookin' Toaster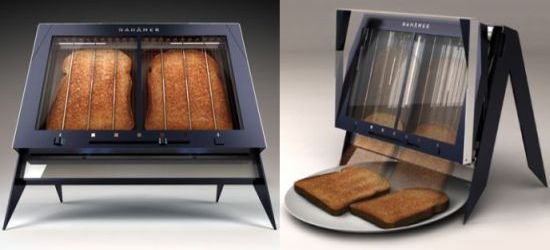 Environmentally sustainable and a good looker to boot, the Nahamer T450 is the world's first toaster that is 20% faster and uses half the energy of a standard 900W toaster thanks to its close-proximity low-temperature heating elements. Created by designer Rob Penny, the intelligent toaster only switches on one side of the heating when a single toast is inserted which instantly help you save a lot of electricity as well as a lot of bread slices!
With a see-through window allowing you to monitor the toastiness of your toast, you can well say goodbye to mornings rituals with ashen-faced bread waiting for you on the breakfast table while a Toast Drop system slides your toast straight onto a plate.
Thanks to intuitive browning controls, the toaster turns on automatically when the front is closed. The best part is that the toaster is designed to be repaired if broken and disassembled at the end of its useful life making it a recycler's dream!
Read More: Simple ideas that make your kitchen a greener place
3. Nespresso Toaster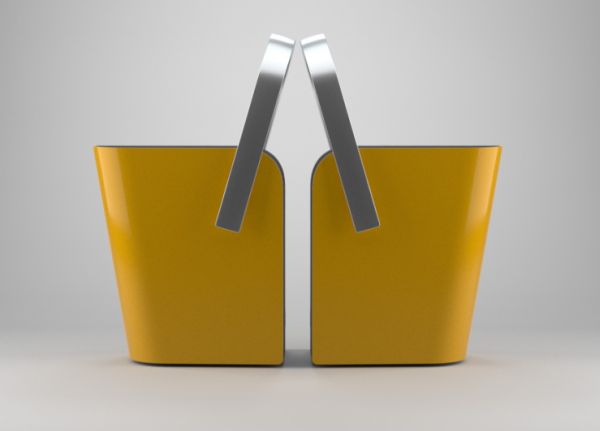 Taking a design cue from Nestlé's Nespresso Expresso Coffee Products, the Nespresso Toaster is an innovative design that merges style with substance to enliven your daily breakfast routine. The design operates on the sensory experience that users derive when they start their day by interacting with highly stylish and highly efficient products. Using the versatility of the Nestle coffeemakers as a starting point, the toaster looks to provide users with a unique breakfast experience.
The concept was developed by designer Bruno Fosi as a Product Design & Development Academic project in partnership with Flama, a home appliances manufacturing company.
The playful design of the Nespresso toaster resembles a swing arm picnic basket and adds to the fun element of the concept. The concept comes with the option of single or dual slice options and looks to cater mainly to single, city dwellers on the go who depend on a variety of push-button appliances to prepare their breakfast and do not have the time to fuss with pots, pans or other complicated gadgetry every morning. Tab toaster features a face-to-face closed system and supports multi-flavored tabs that can be worked with different types of bread, butter and table spread. The Nespresso Toaster is available in multiple colors and textures that allow users to brighten up their kitchen decor.
4. Notepad Toaster: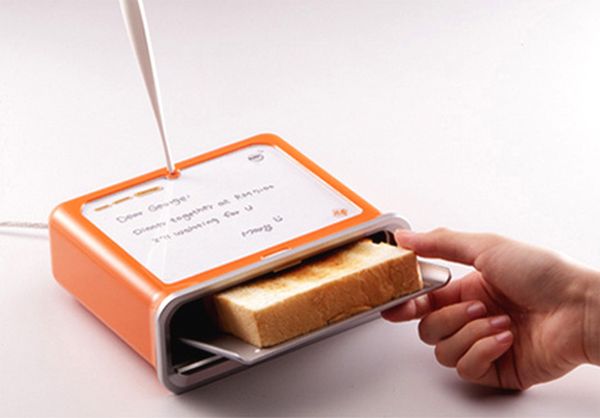 Sasha Tseng has come up with the wonderful and elegant toaster that looks like a notepad. The toaster is unique in that it has a small message board where you can list down your notes for the day. To your surprise, you can also toast the message on your toast and enjoy reading while eating.
5. The Hello Kitty Toaster: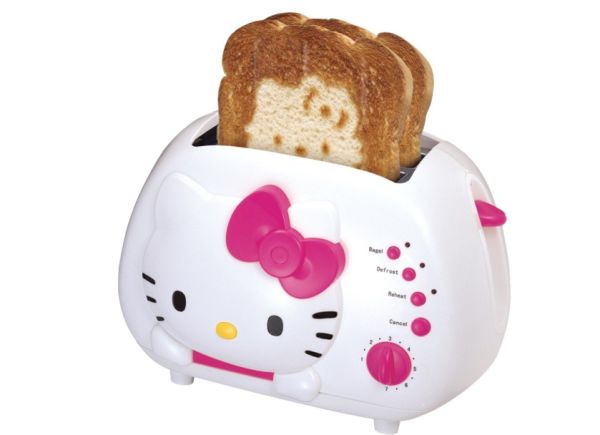 This is the cutest of all the toasters you would have seen and is available with seven toasting levels. The delicious toasts have a hello kitty imprinted on them. The beautiful pink color and the soft white exterior of the toaster makes it even more wanted.
6. Pop Art Toaster: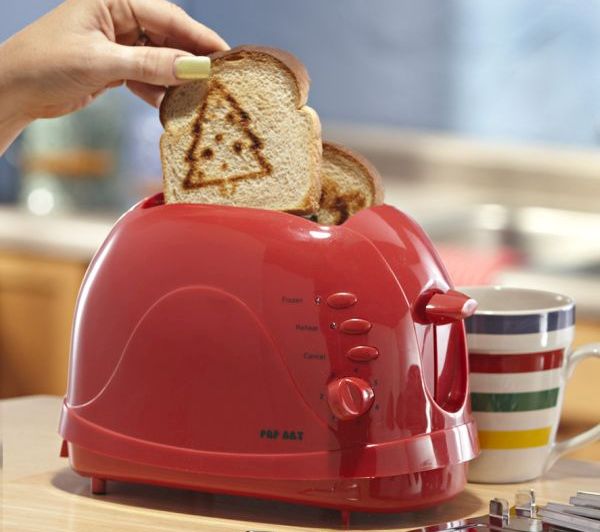 For those who are tired of eating the same boringly toasted breads every day here is something exciting. This creative toaster prints funny images on your toasts and is even available with different types of SRT plates to have different prints every day. The art plates are removable and have patterns saying "LUV U," flowers, snowflakes and various smiles to brighten your day up.
7. Transparent Toaster Concept: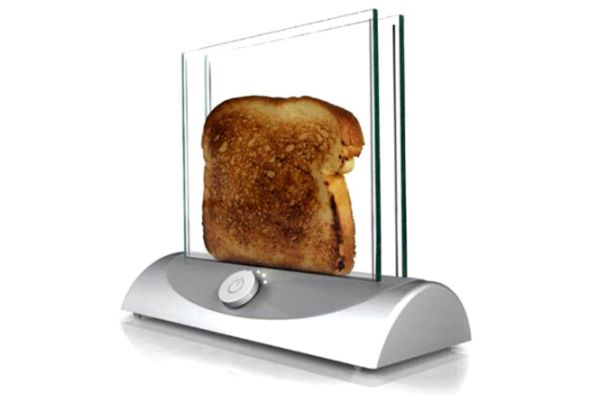 This latest innovation on the toaster designs is extremely useful and creative, since with this model, you do not need to worry about your toast getting burnt or overcooked. With the transparent body, you can have a watch over the cooking of your toast and can even stop the process whenever desired. In addition, this also helps you to have the perfectly toasted toast for breakfast without over or under toasting. The toaster is attractive and elegant too.
8. Nahamer Toaster: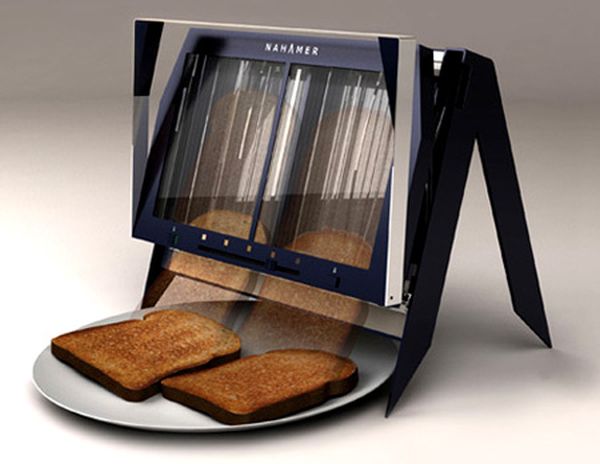 This Nahamer T450 toaster design goes to the credit of Rob Penny and excels in its good looks and smart transparent windows. With the windows, it is easy to have a watch on the toasting process and the toasts in this machine unlike popping up gently slide down into your plates. The design is based on the simplification of conventional toasters.