What comes to your mind when you think about having a really energizing and refreshing bath? A bathing tub or a shower? Well, if your answer is a shower then we certainly have something for you. In fact, we have good news for all those who dream of having the best bathing experience in their bathrooms. Yes, shower designs, though these might be an underrated aspect of your bathroom, these are all that matter. Therefore, you should not take lightly. Remember, a day dull began will end up in even more dull way. Spicing up your mornings in an energizing and refreshing manner would take you a long way. So, reader, especially for you, here are 11 of the best shower designs available from which you can choose the best for yourself.
Read More: Folding Shower lets you enjoy a relaxing bath in limited space
11- Shower Designs for the Best Bathing Experience
1. An INIZO shower: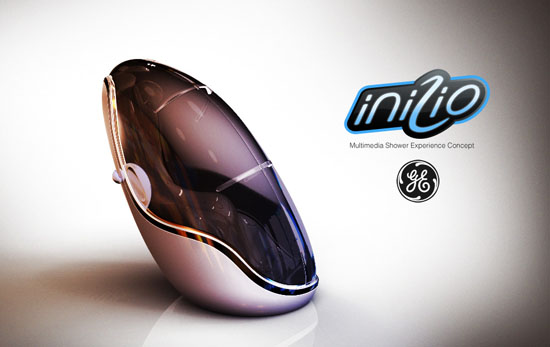 Guarantees you the best showering experience. This cocoon shaped shower offers the best luxury experience ever. There are embedded rollers out there to massage your body while you sit in it comfortably. It brings you back to life after a tiring work. It even allows you to watch movies and read newspaper. Isn't it a perfect way to pamper you!
2. Colour changing showers: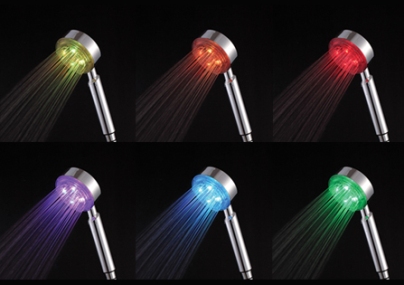 This shower comes with temperature controlled light to give you exactly the type of shower designs you need. Temperature changes from Green (32 degree centigrade) to red (45 degree centigrade).The different types of colours are available between blue, orange purple and pink. Wouldn't it be just wonderful to bathe under water of different colours?
3. The 18 head shower: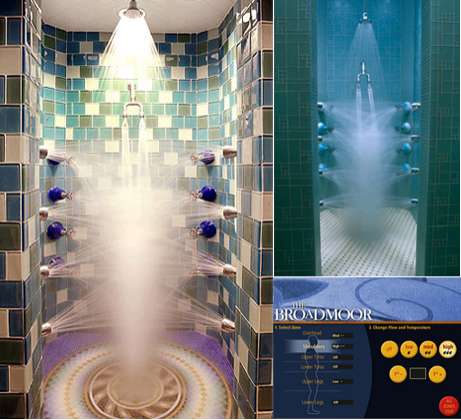 Imagine yourself under a shower with water coming all over you from 18 different shower heads! With adjustable settings of everything from temperature to water pressure. This water shower is designed to just woo you while you bath. It is just perfect….except …urr…the price of this one! It comes for $ 100,000 (yes that's five zeros) the only turn down of this magnificent shower head.
4. Touah eco-friendly shower systems:
One of the most eco friendly showers made to minimize water wastage during bathing. No electricity ,  no complicated pipelines just one simple piston mechanism to  collect used water from the base and store it in a steel container which you can purify and use again for bathing or other activities.
5. Pocket shower: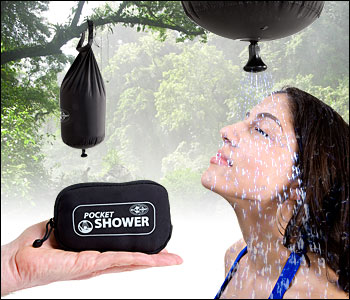 How about a tiny pocket shower you could anywhere you are .A perfect option for Travellers, campers and even tourists. It comes in a fist sized bag but can hold up to 10 litres of water and can absorb solar energy to heat water. Not that expensive. You can buy this one for $ 27 before you go out for camping!
6. Psychedelic Shower: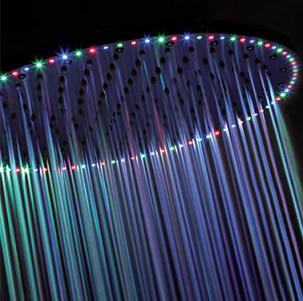 The tiles of this shower changes it colour according to the temperature of the current .Base temperature this glass tile will set it to a default colour which will change colour for every 6-10 degree change. Although this seems one of the most interesting showers to own but this will be very expensive.
7. Shower of end-less space:
This unique shower design never runs out of space. It's a lot like shower screens Australia. Created in a 3Ds Max and also manages to put together extra seating arena. Also has the perfect techniques for drainage and prevents water from spilling out. One shower you can own if you have ample space in your bathroom.
8. Rice grain shower: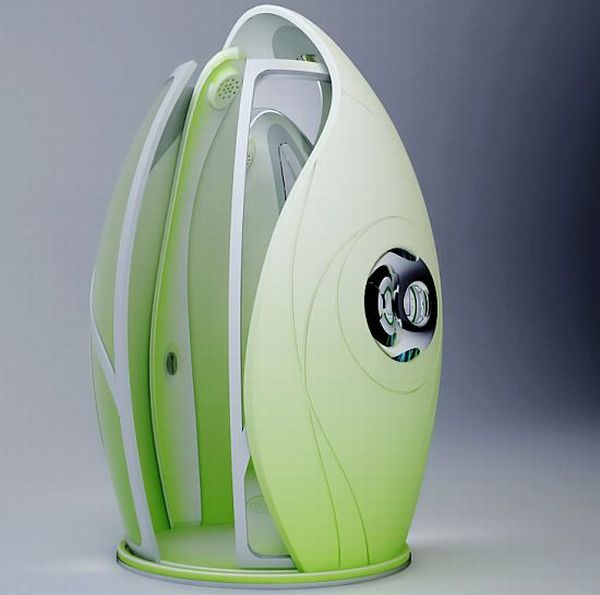 Named because of its shape which is like the shape of paddy. A unique combination of trend and technology with all the facilities you want. Hydraulic massage system, temperature control, LED lighting based heat sensors and one of the most eco friendly showers out there! Just perfect for a nice relaxing bath.
9. Solar Powered shower: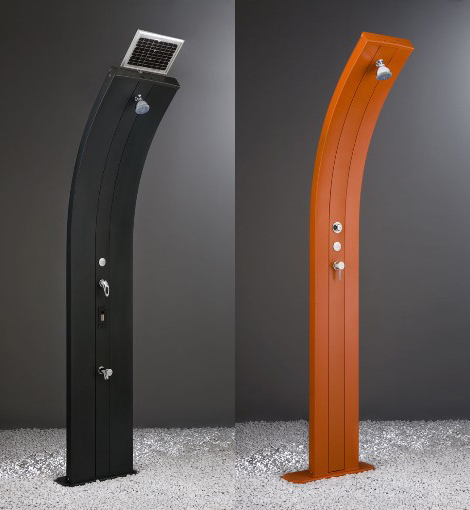 How about doing something good for the environment? Let us get some shower head you can use in the bath room as well as in the camps. Ideal for both your pocket and to give you a lovely time while bathing!
10. PUMA smart shower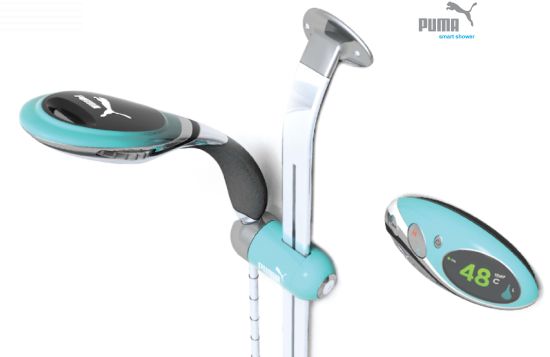 Designed by Hideki Kawata, the PUMA Smart shower system being apart sustainable also boasts both a technologically as well as aesthetically advanced design. Shaped around the idea of fusing technology and recycled materials to achieve a higher level of sustainability, the PUMA bathroom accessories introduce the stylistic elements of the modern sports products into your bathroom, prompting the users to adapt a green and healthy lifestyle. Integrating features like spray control, pressure control, a swiveling hose-to-shower connection for flexibility and an ergonomic handle for ease of use, the PUMA Smart shower comes with a controller that allows the users to control and view water temperature, preset a desired temperature and also monitor their water usage through a simple-to-use interface.
The PUMA shower system also includes a water tap that featuring a hybrid design utilizes both mechanical and electronic controls to control water flow and temperature. Presenting the hot and cold buttons on the head, the PUMA tap also displays the change in temperature visually, while the occupancy sensor automatically shuts off the tap when no occupancy is detected by the system. Ideal for gyms and swimming pools, the PUMA Smart shower and faucet persuades users to increase energy savings and decrease the wastage of water.
11. Kit Set Shower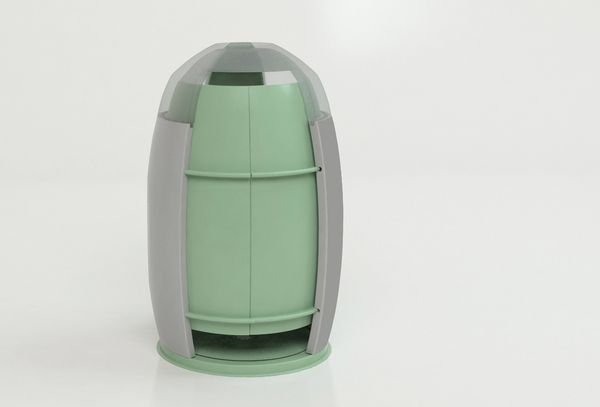 The Kit Set Shower by Alissa Richardson is out to help you shower near any water body or water sports event. This small impermanent shower alternative, best for summer seasons, will endow you with the much needed drainage, privacy and protection while cleaning yourself. Either fasten it on the ground and sand or for a semi-permanent set up simply use concrete, the choice is yours.
Crafted from five rotationally molded Polyethylene parts, the compact unit comprises of seven portions and won't make you do extra work while cleaning. Permitting trouble-free plumbing are the cut-out doors while the panels are held together with stainless steel brackets. Cutting the tooling charges are the side panels and doors that move both left and right. The flat back is crafted in a way that consumes less space and lets the shower, plug together in a modular pattern. With this movable shower make summertime more fun and pleasurable.
So did you choose the perfect one for your house and the features you want in your shower? Nowadays, many innovative shower designs like the walk-in shower are there in the market. Will it be the one which relaxes the body or the one which saves our environment? Whatever be it they are all perfect in their own ways now chose the ones that suit you!