Owing to the state-of-the-art technology and creative minds, we are seeing unforeseen development in kitchen designs. Therefore, some designers are taking their responsibility to make the kitchen not only aesthetically appealing but highly functional as well. Minimalism is the dominant trend here. Everyone likes a clutter-free kitchen. It makes for people to focus on the cooking when there isn't too much clutter around. Keeping this human tendency in mind, Dario Grasselli has come up with this ritual evolution kitchen. Let us see what it is all about.
Ritual Evolution Kitchen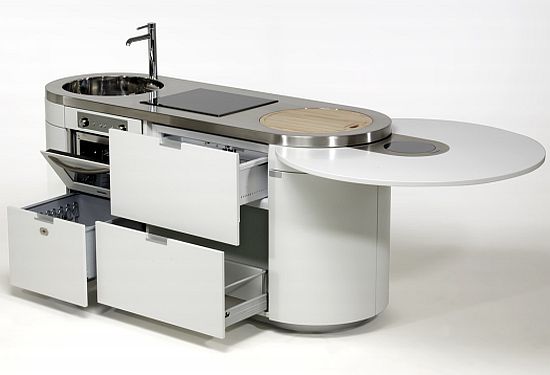 In quest for the most self-sufficient and practical kitchen for the urban society, Dario Grasselli, all by himself, conceptualized a solution for Whirlpool. Dubbed as Ritual Evolution, this all-in-one standing kitchen is ingeniously designed to fit in the cramming living spaces without loosing out the luxurious element.
Designated as the senior industrial Designer of Global Consumer Design, design department of Whirlpool Europe, Dario gave shape to something so versatile that every woman will crave to give shelter to it. Ritual Evolution is composed of a washing zone on one corner, a central zone of cooking, and the preparation and serving zone on the other corner. He has placed all the appliances on one long side for an easy accessibility and a rapid utilization.
Design
It consists of an induction cooktop and a combi oven. You can also find a warming plate just in the middle of the table, to keep warm the food. The dishwasher and fridge drawer are appropriately placed for uber convenience. The counter top is made of stainless steel while the preparing zone, near the round table, consists of a large chopping board which niftily conceals a scale. The tap features a color sensor technology that indicates the water temperature with blue or red light.
It is also befitted with LED light in the plinth, controlled by a proximity sensor that enables it once somebody gets near it during night. Now that's something I appreciate the most! Other two LED placed below the sink light the trash containers, while more LED lights the fridge drawer when is opened. So no more stealing food in dark!
On the reverse, Ritual houses a large space for storage that consists of different drawers and chambers. One of these is dedicated to the control panel of the entire system, with the general electricity switcher, several plugs for small appliances, the LED light switchers and some warning light for the sensors. For security reasons, it features a water sensor which disables the general electricity in case of water leakage.
Bingo! I feel there's nothing more a chef can ask for!
Some Smart Kitchen Gadget Concepts for Future Kitchens

With the growth of technology, modern kitchens too need to become smarter. It is highly important to support people working in kitchens by high-tech gadgets that are able to make their tasks easier. Thus, many companies and tech designers are working toward creating innovative kitchen gadgets. While you may be making use of some smart appliances and phone apps in your kitchen, here are a few creative design concepts of kitchen gadgets for smarter work.
1. Food Hub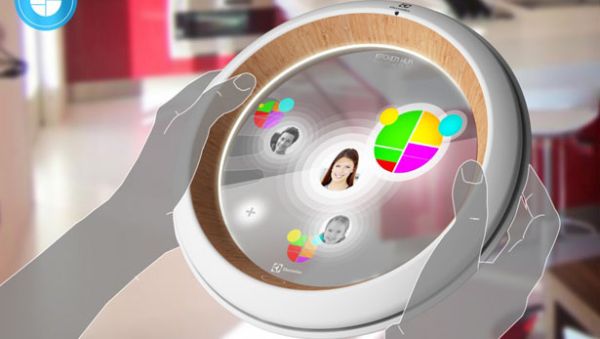 Designed by Francisco Barboza Grasa, this stylish kitchen gadget can help you work with a variety of food stocked in your kitchen. The device can suggest the best use of these food items to you. It can also keep track of individual diet for multiple people and offers you a bagful of recipes. You can easily synchronize this gadget with your Smartphone so it may help you in shopping too. It is a quite useful concept if turns into reality.
2. Yummy Kitchen Connect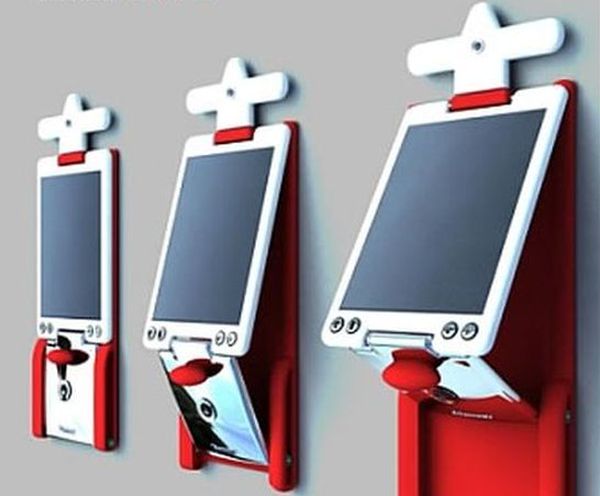 This is a computing gadget concept for people who want help in cooking and food shopping. It can connect to your food network by accessing various types of media like music, video blogs and podcasts. The gadget can also scan item barcodes so your shopping becomes much simpler. While this device can be placed on your kitchen wall, its concept actually looks unrealistic as of now.
3. ICE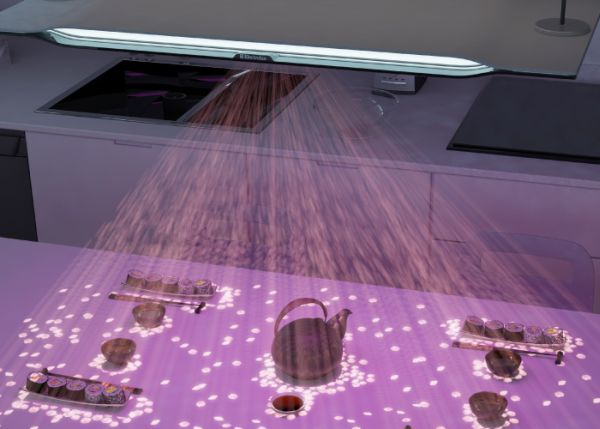 This is a kitchen gadget concept that has been developed by Julen Pejenaute. This device acts as a virtual assistant to the person cooking in the kitchen. Designed like an illuminating lamp, this gadget can be fixed on the kitchen roof in order to illuminate the kitchen table. Its intelligent system then lets you know about right ways of cooking so you can create the best meal and design the tableware properly. The gadget can scan its surroundings and project effective meal ideas by scanning your ingredients. It is loaded with unlimited recipes and is a great futuristic concept.
4. Multipurpose kitchen gadget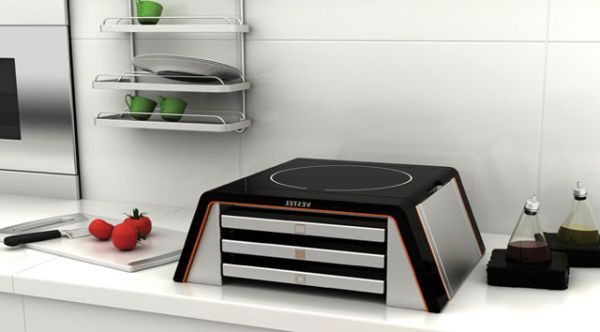 Buse Ustun has designed a compact kitchen gadget concept that can be of help in small apartments. This multipurpose, space-saving gadget not only works as a frying pan, but also as an induction hob and grill. It also requires very low maintenance.
5. Induction Cooking Table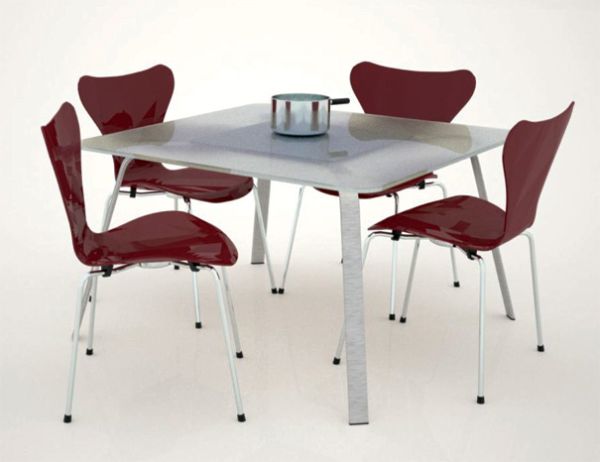 As the name suggests, this gadget concept by LDI Aramis Herrera is for your dining table. In fact, your dining table itself acts as a cooking device. While your family sits at the dining table, it cooks food for you.
6. Prep Pad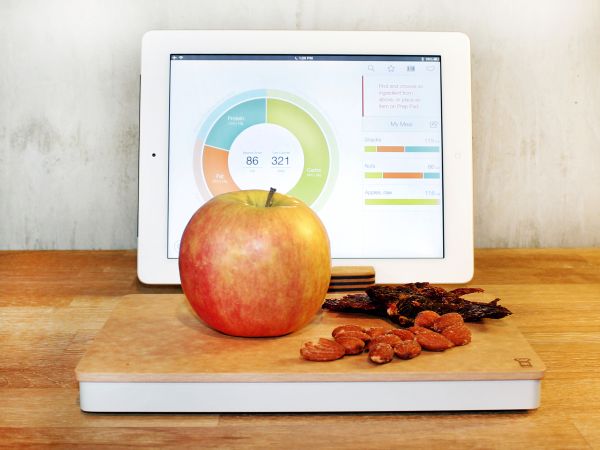 The Prep Pad is one ultra-modern kitchen gadget for the iPad users who love to stick to healthy diets. This smart scale can be used in your kitchen to measure the nutritional value of every meal you cook. It is like your personal dietician sitting in your kitchen, keeping an eye over anything and everything you cook. Prep Pad weighs your food in terms of calories, fats, carbohydrates, and proteins present in it. The gadget requires an iPad to operate.
7. Egg Minder – A Smart Egg Tray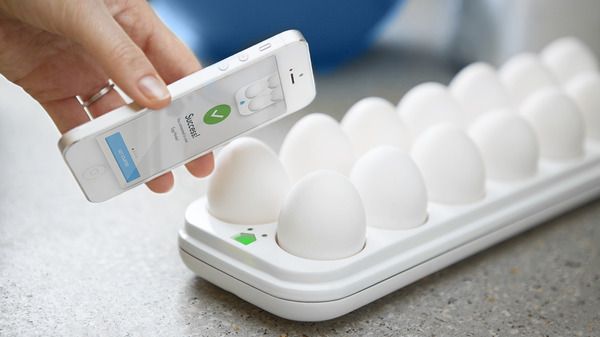 We all have a hard time finding which egg is fresh and which is stale, or is it still good or not. Isn't it? However, we can get rid of this every time dilemma with the help of the Egg Minder, a smart egg tray that tells us how old the eggs are, and the number of remaining eggs in our fridge. It synchronizes with the Wink app on your Smartphone and alerts you when there is a need to buy more eggs. Moreover, the LED light indication in red shines on the oldest egg out of all fourteen eggs that the tray can hold. This smart egg tray requires two AA batteries to work.
8. Belkin Crock-Pot WeMo Slow Cooker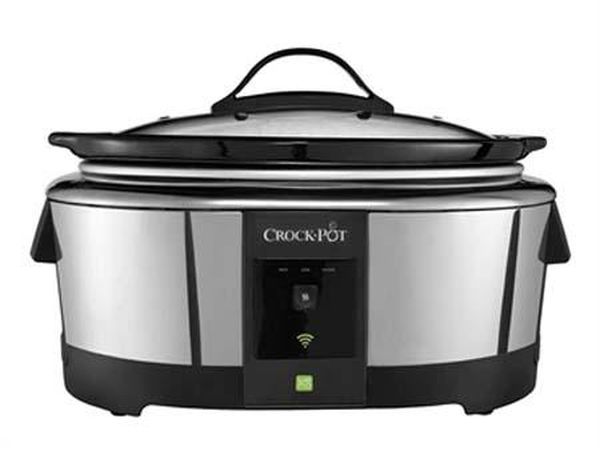 Crock-pot meals are the holy grails for people who have extremely tied up schedules. Crock-pots is a utensil fit for slow cooking of frozen vegetables. Belkin Crock Pot is ideal for busy people, as they only need to use their Smartphone to control the operation of this smart cooker. You can put the vegetables in the cooker before leaving for office in the morning, and then while being in office you can turn it on, off, increase and decrease its temperature with just some clicks on your Smartphone.
9. Simplehuman Sensor Can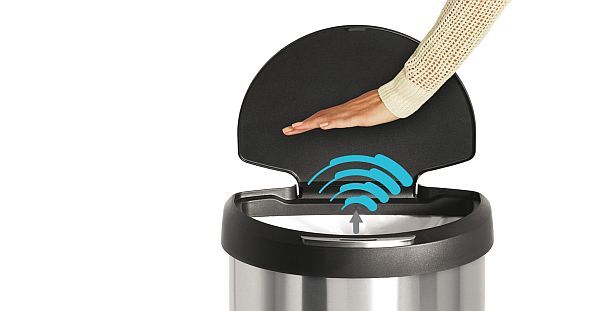 To match up with the smart world of today, this trashcan is smart and aesthetically pleasing. This garbage can has a built in sensor that follows your hand movement and automatically opens and closes the lid.
Summary:
Creative designers understand that how tough it gets to manage everything along with busy office and outdoor schedules, and this is the reason that made some of the creative designers to design ultimate kitchen gadgets that make the kitchen chores too easy to do.
If kitchen gadgets can integrate well with technology, then innovative things can happen in your kitchen. Several designers are trying their hands at designing wonderful kitchen gadget concepts that can definitely make your kitchen smarter in future.