One of the compliments that people often give for a piece of furniture is, 'I felt as if I was sitting on a cloud'. Nowadays, brands are focusing on furniture that not just feel like clouds, but also look like clouds. Apart from providing immense comfort, they are very aesthetically appealing as well. In the league of these floating furniture, magnetically levitating sofa by DK Wei is amongst the most popular. Here is what it's all about.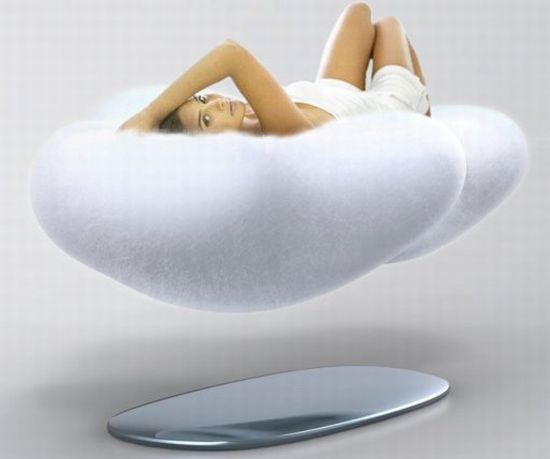 Designer: D.K. Wei.
Very much like the Magnetic Floating Bed, the Cloud Sofa is nothing less than a design masterpiece. Designed for ultra comfort and relaxation, the Cloud magnetically levitating sofa is the most amazing sofa concept I've ever come across. The magnetic force generated by the base offers support for the verrry soft upper part of the sofa. It would be a great thing to work, relax or powernap on. Unlike the magnetic floating bed, it's not tethered with any steel cables. The soft cloud-like chaise lounge received an honorable mention at the RELAX furniture design contest.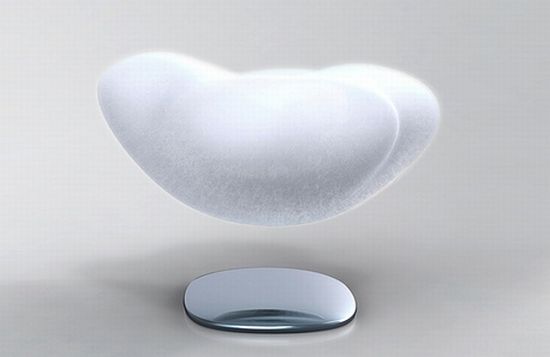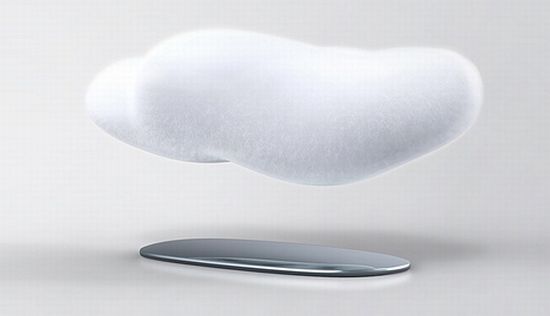 Via: BoingBoing/KooTouch
Furniture design similar to the magnetically levitating sofa
All of us love optical illusions for the way they trick our eyes, as in, they make the things look different than they are in real. Such illusions fascinate us. Some designers have done a commendable job, as they have designed furniture pieces that create optical illusions. Click through to find out some astonishing pieces of optical illusion furniture:
1. The unique chair design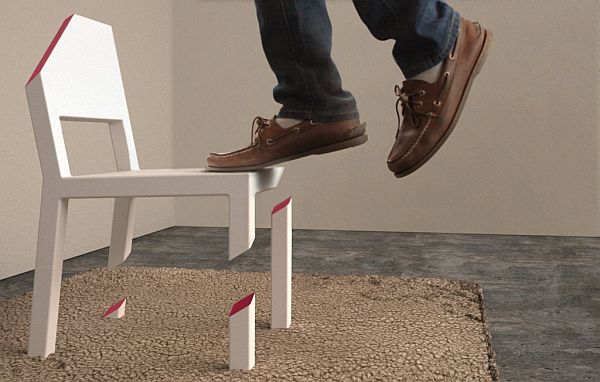 Seattle based designer Peter Bristol is adept at making home furniture that is unusual, and has created a unique chair that creates optical illusion. The three legs of this chair appear to be cut off from the top, whereas in reality they are not. This unique design is a perfect addition to a home décor that requires the element of excitement, and surprise.
2. Chair 3/4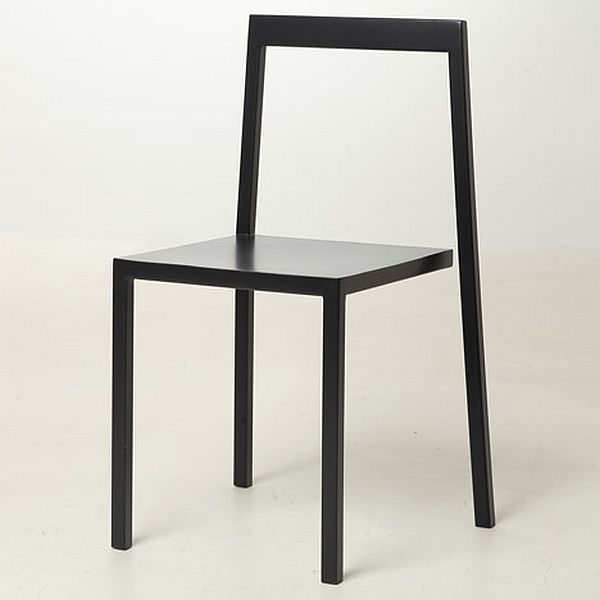 Designed by a Georgian designer Sandro Lominashvili, the Chair 3/4 is an angular steel chair with a seat having four corners. The unusual thing is that only three corners out of four are attached to the frame. The chair looks as if it cannot withstand much weight, but it is absolutely sturdy and comfortable.
3. The black line collection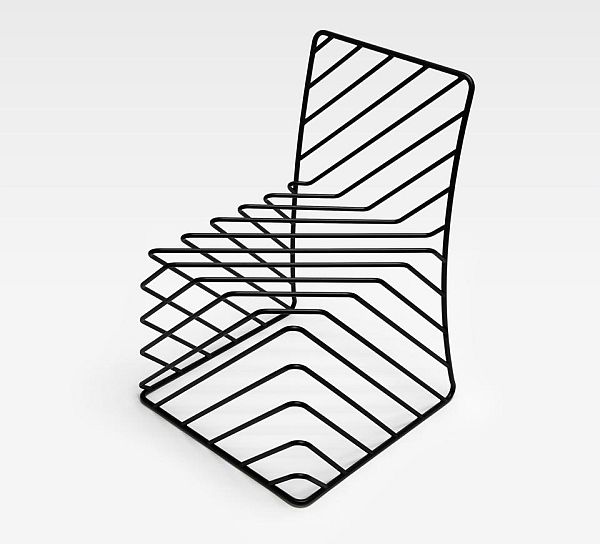 Nendo is a Japanese designer who has designed a collection of 29 unique furniture pieces. All the furniture pieces are made of clack lines and create freaky optical illusions. It is remarkable how Nendo has come up with such designs that are minimalists but appear as two and three-dimensional altogether.
4. Fadeout chair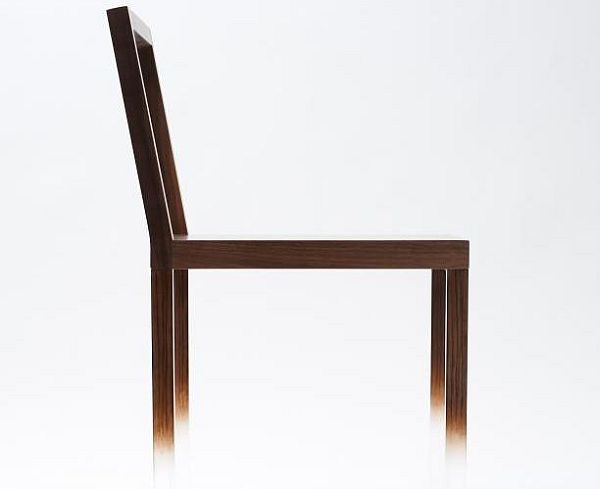 Japanese designer Oki Sato and his team have designed an unusual chair whose legs disappear, as they get closer to the floor. It appears as if the chair has half legs because the bottoms of the legs are transparent. The chair has acrylic legs, which the artisans have painted so cleverly that it looks like wooden legs that gradually fade away. The seat and the back of the chair are wooden.
5. Table cloth illusion table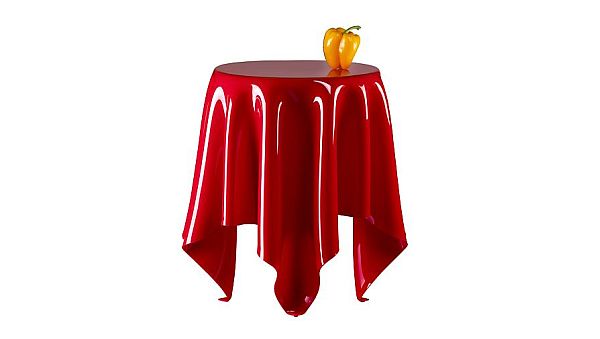 This is one stupendous design, which is a side table that gives an optical illusion of a tablecloth. It is a handcrafted piece designed by John Brauer, and produced by Essey. It is a beautiful creation made of 4mm acrylic. The round shaped acrylic table has a flowing design of a tablecloth.
6. Shadow Chair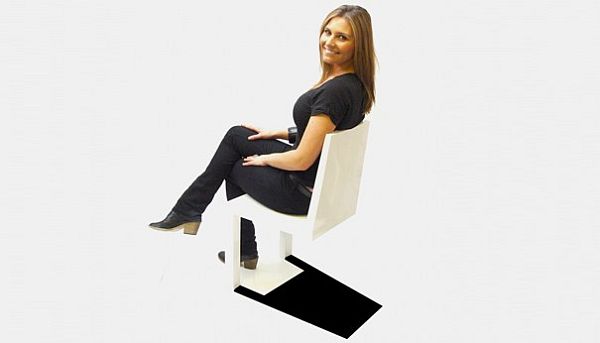 Shadow Chair is an innovative design created by Duffy London, which defies gravity. A mere glance at the chair would make you feel as if the chair stands only on the front two legs and has a shadow beneath, but on taking a closer look you will find that the shadow is not real, and is an integral part of the chair.
7. The More
The More is an innovative furniture unit that allows the users to play with their ideas while being functional. Designed by Giorgio Caporaso, the modular furniture unit can be modified into a bookshelf, a table, a chair or a separating unit, and it does not require any specific tool for this. Users can increase or reduce the size of the furniture according to their likings and availability of space in the living room. The More, allowing more flexibility to the users, would be an ideal furniture unit for compact residential as well as commercial apartments.
8. 'Xi' furniture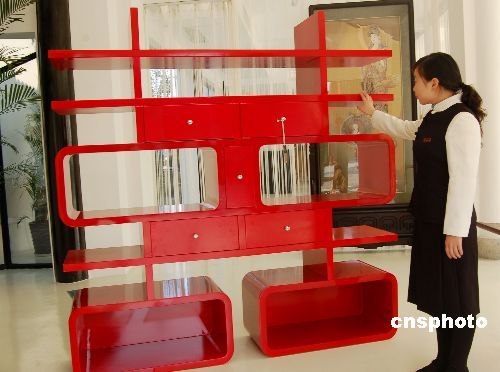 The designers of China have introduced a new style of design for furniture, which is being appreciated a lot. The idea of the furniture's design is derived from Chinese character 'Xi', which means happiness. And it might be a good sign to have this furniture at home that possibly will attract happiness into your home. There are some characters that are considered lucky and good for the people and it is believed that keeping images or idols of such characters in home attracts good luck and happiness. This furniture is available in a craft's shop in Suzhou, which is in Jiangsu province of East China. It is becoming popular among elite and fashionable people of China.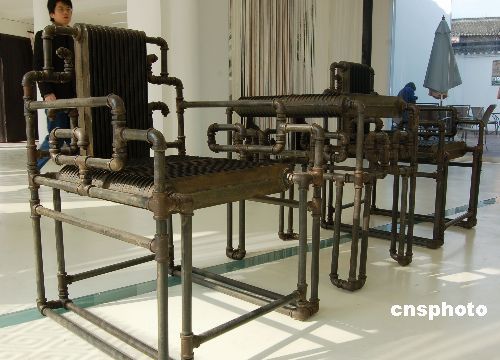 The second design is also an example of creativity and craftsmanship. The whole set of furniture is made of abandoned heater tubes. This style of furniture and its uniqueness is attracting a lot of people who want to decorate their house in a different style. As this design is based on complete imagination and the material used is totally different from regular furniture, cool stuff for people who believe that fashion is to change the look of the trendy designs. The traditionally accepted designs are changing now and people are more than willing to decorate their homes differently with the theme usually based on imagination.
9. Carbon Fibre Furniture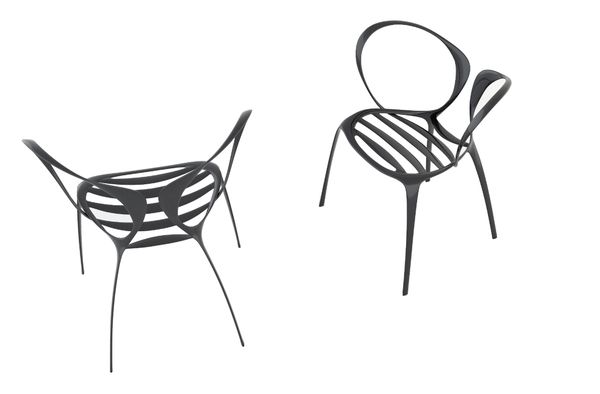 Chairs and tables are an inevitable part of all dwellings and offices. They offer you utmost comfort and instantly soothe those frazzled nerves once you park yourself on or besides them. They are available in different shapes, sized and colors which gives a flexibility to pick and choose.
A well carved and placed chair/table is like a piece of delicate art that comes injected with a magic to add a special touch with its designing. Modern era has seen furniture being designed in an aesthetic as well as shocking manner. They can be carved from different materials like wood, plastic, fiber to name a few. Mathias Bengtsson, seeing how important these pieces of furniture are has designed the Carbon Fiber Furniture.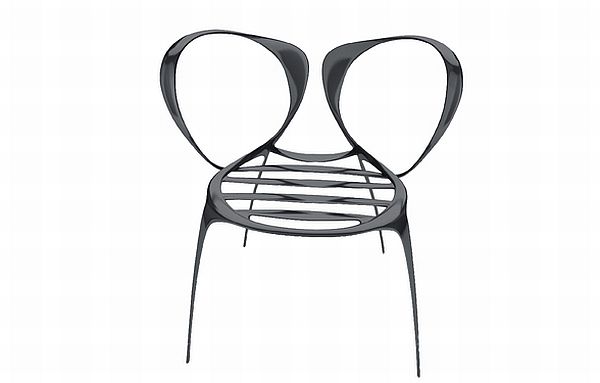 The designer has beautifully tried to craft furniture using carbon fiber material using modern technology and concepts. They are visually very appealing and have freshness in terms of designing attached to them. The furniture has been carved in a simple manner and does not look chaotic at all. The back of the chair gives an impression as if it has eyes and is staring at you. Legs of the table look like a cute bow on which a glass top can be placed.
Place this furniture item anywhere and all you will fetch is praises form onlookers.
Summary
The furniture that creates optical illusions is an ideal addition to a home décor, as it adds the element of surprise and fun to it.