Did you know that your work environment also has an impact on your work productivity? Well, if you didn't, now you do.  Moreover, this work environment doesn't just include your colleagues. In addition, even your cubicle, your office design, and your workstation are also an important part of this same environment. Furthermore, these constitute the part of the work environment that one can easily change. Therefore, no matter whether you are someone with special needs or for someone who is tired of the same old workstations here is a list of innovative workstations that would surely help you out. So check out Study nook and some other workstation ideas similar to it.
'Study Nook' collapsible workstation for children with special needs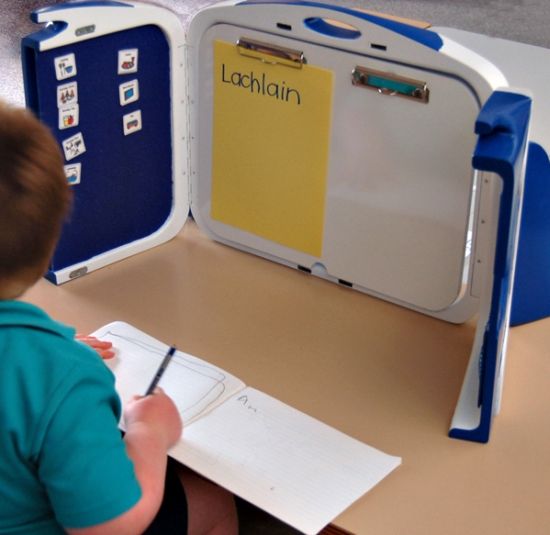 Study Nook by designer Aaron Kowald is a learning aid that has won the James Dyson Award for community value, and educational assistance it offered to the disabled children particularly those suffering from Profound and Multiple Learning Difficulties. Specially devised for children ailing with autism and Down syndrome the work station provides a child with the necessary day to day educational tools for learning in the classroom.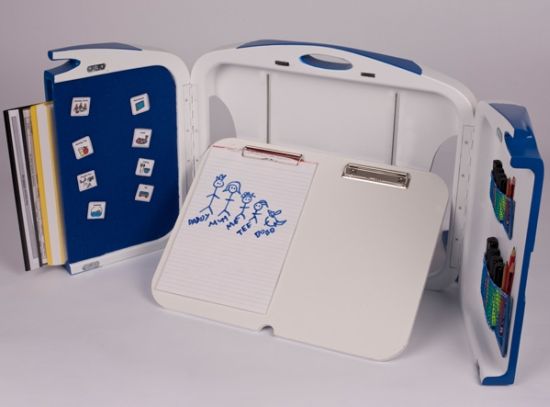 The portable study unit works as an effective tool that focuses mainly on the functional needs of a child with PMLD. It helps prevent distraction and helps the child to explore perceptual and sensory skills while interacting with the product. The unit also builds sense of comfort by creating a personal workspace for the child within the classroom itself. The somber colored device is collapsible and easy to use making it innovative, functional and aesthetically appropriate for the need.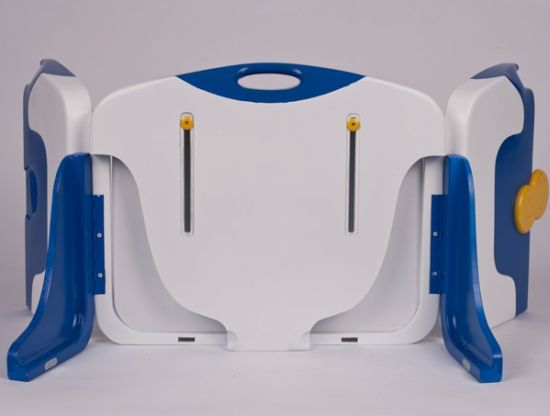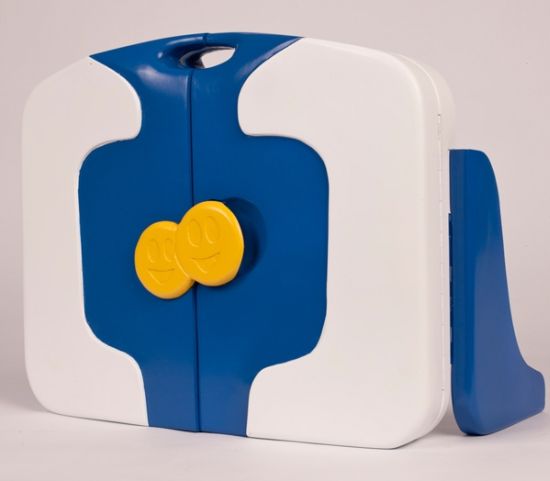 Via: DesignAwards
Some more modular workstations like Study Nook
1. Modular Workstation by Sean Cathey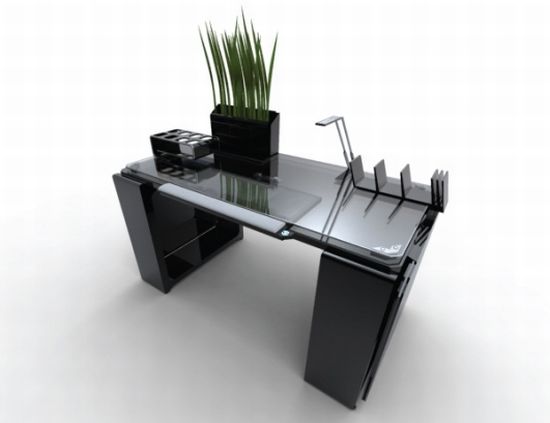 The modular workstation by designer Sean Cathey provides a flexible workspace that the user can adapt for a variety of professional and consumer applications. The system of components can be arranged and rearranged in any number of ways to best suit the user's work-flow and comfort. Providing an elegant platform for customization, the workstation includes durable components and requires no specialized tools for its construction. The components comes as ready-made task kits to best suite a specific work-flow, such as design, illustration, business or even a home office. A raised glass top also provides space for slide in accessories for storage and productivity.
Featuring a generic kit setup with options for shelved storage supports and plain supports, as well as a light table, desk lamp, writing utensil caddy and document holder, the workstation lets the user reorganize their work according to their needs with minimum fuss.
2. Hinge Workstation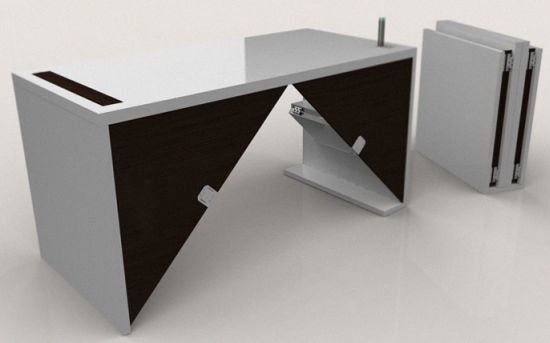 A full-size workstation is always a nice thing to have by your side to accomplish multi-tasking activities, but contemporary workspaces don't allow adequate space for bulky furniture too often. Offering a way-out, the "Hinge Workstation" from Knot Design is a modular table that makes a seamless balance between spatial maximization and work space usability. When stretched, the workstation offers adequate space for team work or multi-tasking, and when not in use, it just folds into a 7" thick flat board for easy storage. Easy to install, the workstation gels perfectly with both the visuals and space needs of modern workplaces.
3. Four Works workstation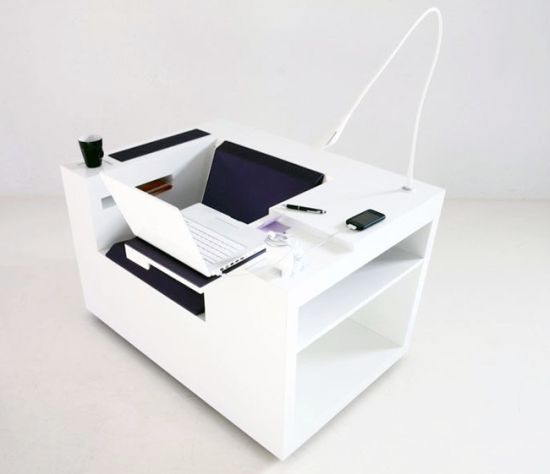 Designed by Patricia Terrazas and Michael Swan for Danish furniture manufacturer Four Design, the "Four Works" is compact yet functional workstation that allows a smart and sleek workspace in open offices as well as home offices. Presenting a fold-out laptop stand, table lamp and power connection, the multifunctional workstation also provides space for your coffee cup, cabinet for external hard drives, printers and all small gadgets and accessories including your cellphone or keys. Available in high gloss white and pale black, the workstation gives a touch of industrial aesthetic to your workspace.
4. Charlwood future workstation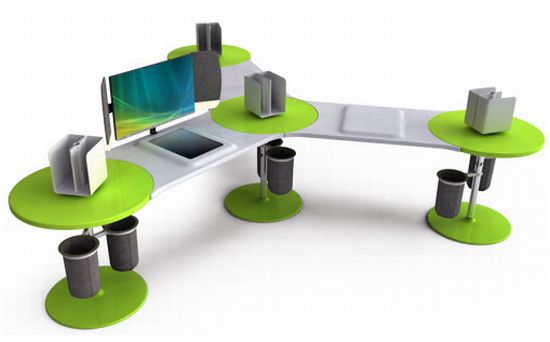 Running or managing a home office in a compact apartment is an achievement in itself; just forget about meticulousness and ergonomics amid the household clutter. Addressing the issue, Charlwood Design has developed a neat and minimal workstation that expands to the needs of the user and availability of space in the workplace. Based on modular construction and sustainable design principles, the futuristic workstation makes use of modern technology and integrates large LCD screens on monitor arms for better ergonomics, enhancing work efficiency even while working from compact home offices.
5. Rewrite workstation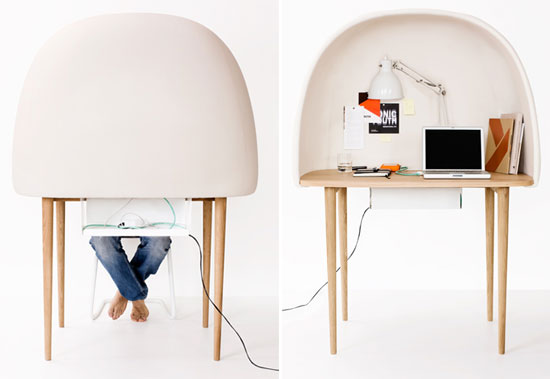 If you are one of those who don't want to be disturbed while working or studying on your workstation, here is a workstation that provides solitude even in a library or a crowded space. The winner of Denmark's Walk the Plank Award 2009 for excellence and craftsmanship in furniture, designer GamFratesi has come up with a desk dubbed "Rewrite" that creates an intimate working or study environment in your home, office and library.
Showcased at GamFratesi's solo show at The Danish Museum of Art and Design, the workstation features a cave-like shield that installs a big screen, upholstered and covered with textile to highlight its visual and acoustic aspects, so it can be used as a satellite desk wherever you like. The workstation by the Copenhagen-based designer combines the traditional form with modern technology, while a white lacquered metal box hides all the cables underneath the table, allowing a clutter-free workspace on the table.
6. Openair from NICK+BEAU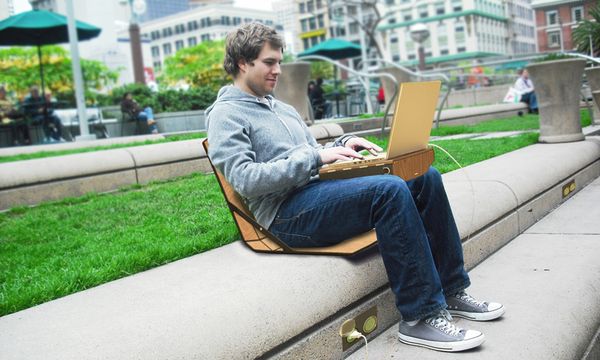 Openair as the name suggests is a wonderful solution for those who want to work in an open space, but do not want to keep managing their laptop on the lap while sitting on a bench or rock. This portable workstation can actually provide you a laptop table and chair at the same place. This intelligent solution integrates everything into a simple-to-carry laptop bag with a sling. You can simply hang it on your shoulder and take it to a park or sea beach.
Openair has a removable strap that transforms the bag into a seat. You can place the comfortable desk on your lap and start using the laptop and mouse attached to it. It may be a little heavier to carry as compared to a regular laptop bag, you will still find it sturdy and balanced.
7. Portable Office Laptop Bag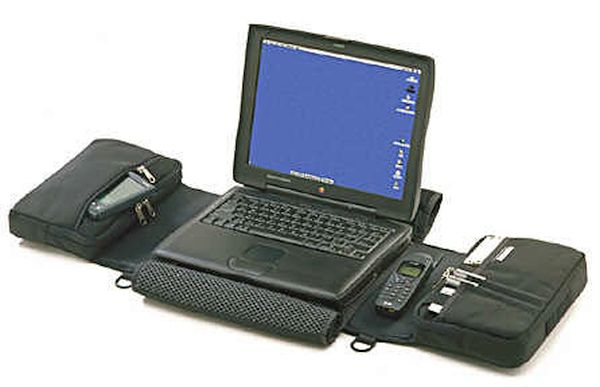 This is another workstation and laptop bag concept that can help you work anywhere, anytime. While most of the modern laptop bags do not even have sufficient space to carry your laptop and accessories, this integrated bag can carry almost all essential office items to any location. There is a bar-style printer and surface attached to it that you could simply slide to place and use your mouse.
The laptop remains safe and intact within the bag. The laptop bag also has adequate storage space for your media player, headphones and accessories. You can use this workstation cum laptop bag wherever you go.
8. La Fonction No. 1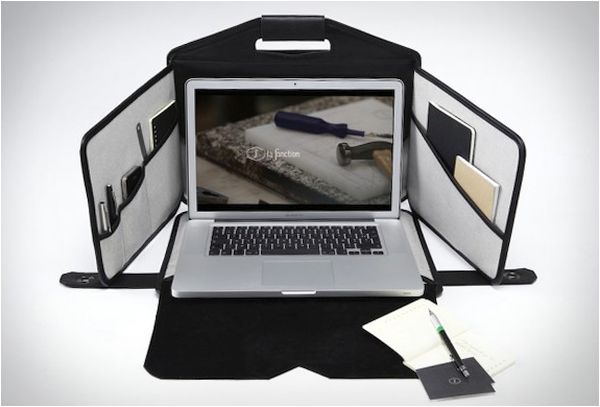 This workstation plus laptop bag comes with leather panels that unfold to form an office to let you work comfortably anywhere. It has various side pockets to store your stationery and office essentials. In addition, not only it is easy to carry and assemble, in addition, the portable workstation also comes with a detachable external pocket added to block the sharp glow of your laptop screen.
Designers are coming up with workstations that give you all the essentials of office space, including the laptop, at one place. Such workstations are comfortable to carry and place anywhere you want to work.