The recent trend of emerging need for makeover and reorganisation of workplace to get maximum innovation and creativity from employees is gaining momentum day by day. The design and technology for improving work environment is the need of modern hi-tech and ever innovative business environment.
Everyone is aware of the fact that the creative thinking does not invariably work under all circumstances. Innovation is essential for success in business irrespective of its size, location or dealing. The source pips of such innovation emerge from the brains of gifted staff members. Everyone cannot flourish or succeed alone like that great Steve Jobs.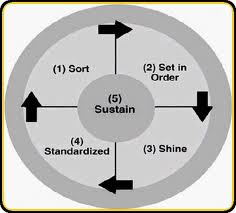 The question arises as how to win that "eureka" flashes? With the emergence of high tech inventive skilled office environments the employees get optimistictoteam up, share, and growconcepts with theircolleagues. Such a type of workplace that nurturesmotivation is not created out of blue or by chance.
Steel case is a company which leads in workplace design technology according to new innovative techniques and strategies from the rock bottom to create a positive working culture in the employees. But this one-size fits approach is not suitable for all. Just like a business that engages contractors has different requirements than the in-house creative crewmen workplace environment that motivates a team of ten employees might not motivate staff at a much bigger company or business.
Steelcase is one of the pioneers in the field who presented eight models of workplaceinnovation in a white paper called "How Place FostersInnovation" whichshows how to mouldoffice spaces of companies according to changingand varied layouts,workforces, requirements, andtactics. Some of these models are:
 In-House Marketplace Model
The goal of this model is that every group and any individual in the organization from the top executives to the lower staff are responsible for creativity and innovation.
The setup of this model envisages that the workers can goinformally to private places or to a cafefor more determined brainstorming .He believes that the sensitive collaborations take place in the nearby communities in the area of main project for updates and visual presentations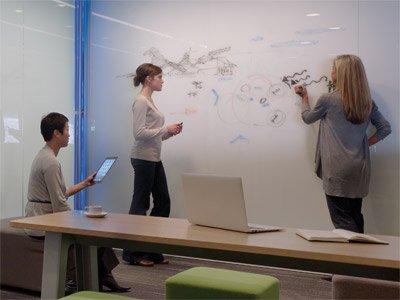 In-House Share Model
The goal of this model lies in involving separate groups of employees to work on one cooperative project or focused projects by sharing information and data.
The setup of this model pictures that specialised groups are teamed together side-lining individual work terminals. Such areas act as front porch for sharing public information .But more sensitive collaborations are done in private and confidential spaces kept for the purpose in the workplaces.
Partnership Model
As the name envisages the goal of this model is to make different partners to work on one collective project by collaboration.
The setup of this model is such that every partner has its own company area, though all share physically and virtually one unified area. The members of the team meet break apart to walkover with consultants and work in specified laboratories to convokeonce again.
To remain afloat in a very competitive marketplace may be one issue but to remain alive in that marketplace is a vital issue. It is not the issue of changing colour or paint of the walls or making choice of office chairs of yourworkplace; but how to adjust and connect business strategy to the layout of workplace to encourage or inspire innovation to turn your employees in to great genius in their work.
Everyone knows that innovation is the fuel of success in business and is the key to supercharging a business environment towards growth and expansion