As more temporary shops open to showcase new products, the worldwide pop-up market is now worth an estimated $50 billion. Here today, gone tomorrow, pop-ups give companies the opportunity to test new products, engage with customers, create brand awareness and so much more. Their popularity with consumers is unsurprising; the ephemeral shops give consumers the feeling they're getting a unique experience that won't come back around, as well as feeding in to our psychological desire for new things.
If your own brand hasn't yet jumped on the pop-up bandwagon, what are you waiting for? To help guide your future campaigns, we will look at the inspiration you can take from some of the best pop-ups of recent times.
Fenty X Puma's pop-up showed how to bring a brand to life with striking visuals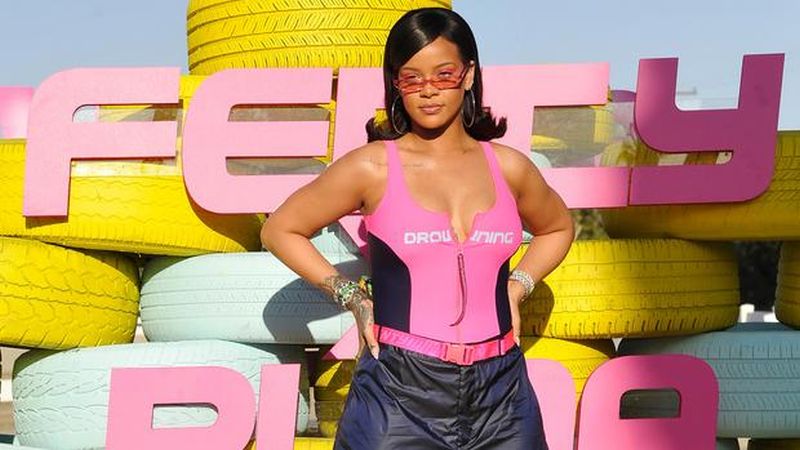 Image Source : image.iol.co.za
Pop-ups are typically geared to be eye-catching, in order to entice potential new customers to a brand. This can only be achieved if individuals are convinced to take a moment out of their day to actually check out the pop-up, making striking visuals a key component of persuasive pop-ups. Yet, they can't just be all aesthetics and no substance—pop-ups also tell the story of both the brand and campaign, something that is so vital in forging relationships between brands and individuals. Not all brands find this easy to pull off, but Rihanna's business Fenty did with its memorable 2017 pop-up campaign, making it a campaign your own business should learn from.
Promoting its Puma-partnered Rihanna SS17 collection in retail stores across the UK and Europe, Fenty enlisted the help of design agency FormRoom to design, produce, and install pop-ups to bolster the fashion line's advertising campaign. The design took inspiration from the fact that the Rihanna SS17 line was conceived as a reimagining of 18th century French Queen-turned-fashion-icon Marie-Antoinette's style, but as if she was at the gym.
The pop-up echoed the oversized, extravagant attire associated with the former French monarch, with a giant version of the Fenty X Puma hand fan used as a centrepiece. This was a great way of creating an incredibly eye-catching pop-up that also effectively told the story of the campaign. For all future pop-ups, your own brand should ensure the campaign you are publicising is portrayed through your pop-up in a similarly striking way. This both draws passersby in and effectively promotes the campaign.
Birds Eye's pop-up restaurant exemplified how to imaginatively harness the power of social media
As highlighted previously, a pop-up store is a great way to create brand awareness and get people talking about your brand and its products. But simply relying on word of mouth won't cut the mustard, and in the age of social media, harnessing these platforms to amplify a pop-up's reach is an essential part of the process.
If possible, this should go beyond simply filming content, sharing it on your social media channels, and hoping others interact. Instead, brands should actively involve customers in order to generate as much exposure as possible, as well as creating authentic conversations around the event. This is something Birds Eye pulled off with their 2014 pay-by-picture pop-up restaurant.
Opened for just a week in Soho, Manchester and Leeds, Birds Eye's The Picture House restaurant served the frozen food brand's new product range, and allowed diners to 'pay' for their meal simply by taking a picture of it and posting it on Instagram with the hashtag #BirdsEyeInspirations. Capitalising on the then emerging mania of sharing food pics online, Instagram users would see their friend's Birds Eye posts on their feeds, creating even more exposure for the brand's new products, all the while generating traction for their branded hashtag. This should inspire you to think of similarly imaginative ways to harness social media to heighten the impact of future pop-up campaigns you run.
The power of freebies was also evident here. By enabling the public to sample Birds Eye's new range for free, a connection was created between the brand and these individuals, a connection that could have easily been the basis for a long lasting relationship. The value of giving away free produce is another lesson that can inform your own pop-up campaigns.
Pantone's pop-up cafe highlighted the value of subverting your brand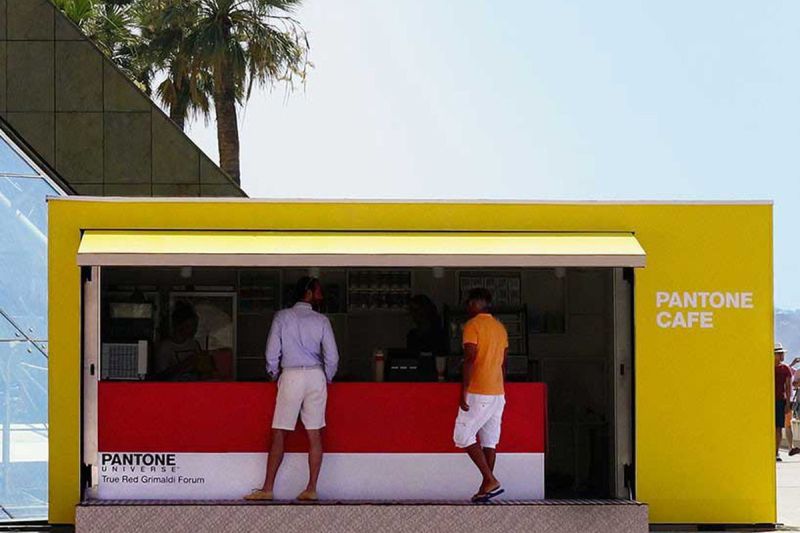 Image Source : cdn.vox-cdn.com
Pop-ups offer you the chance to break free from the confines of what your brand is usually about, to show a different side to you and create intrigue. This may ordinarily be difficult to achieve without the risk of alienating your followers, but with a pop-up this is not a problem. Pop-ups provide the perfect platform to have a bit of fun with your brand. After all, they're only going to be around for a short while.
Pantone's pop-up cafe perfectly encapsulates the free rein that pop-ups provide. The brand is renowned for its standardised colour reproduction system called the Pantone Matching System, which distinguishes between around 1,114 colours for the benefit of a number of industries. Pantone took their niche and ran with it in 2015. The brand launched a multicoloured pop-up cafe in Monaco to enable the public to 'taste the colour', with all of the food and drink sold branded in accordance with the company's colour system. Customers could gulp down a 18-6030 Jolly Green coloured smoothie and nibble on a 16-1731 Strawberry Pink coloured eclair, amongst an array of other coloured coded refreshments.
This imaginative pop-up garnered significant press coverage, raising awareness for Pantone and showing a different side to them that was sure to enamour many to the brand. The audacity to subvert their brand in such a way can inspire your brand to do the same in the future. Try and come up with ways you can think outside the box when promoting your products, yet all the while still remaining true to your brand.
From bringing your brand's story to life with striking visuals, to harnessing the power of social media and subverting your brand, these tactics can ensure a pop-up lives long in the memory. Consider taking inspiration from the above brands when launching your own future pop-up campaigns.
Article Submitted By Community Writer