Music has always been one of the most important parts of human life and one of the best creations of human beings. We feel connected through music and for many of us music is the greatest passion in their lives. It is correctly said that necessity is the mother of invention, passion is what adds life to that invention.

Digital music has become everyone's favorite and many of us are simply desirous to create and transform music into different forms. DJs have become immensely popular and so are the musical instruments. Samuel Verburg has displayed his love for music with intelligently designed music gear. His extreme love made him create this latest gadget called the "Tuna Knobs" which can convert the any touch screen into music making application.
Verburg, along with his friends has designed the Tuna Knobs which are actually plastic knobs that can be attached to the screen of your tablet or mobile through the suction cup at their base. Once in place, the knobs convert the screen of your touch sensitive smartphone or tablet into a music application. Verburg realized that the musical apps can be made more efficient when integrated with typical DJ hardware.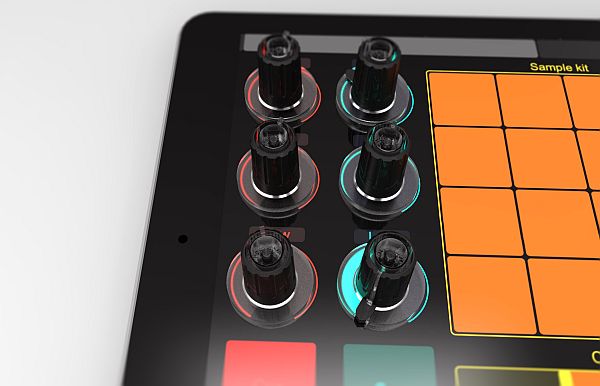 The project began with sketching, which was followed by prototyping, making the final models and various other processes. The prototype has finally been made and it could be hoped that this would be a real boon for the musicians as well as music lovers. The designing of the Tuna Knobs was aimed at providing the users with a better physical control of the musical applications.
These knobs can be attached with the surface of the touch screen of any iPad with the help of a micro suction cup, and movements are converted into commands. With these in place, you are all set to become a DJ without any specific training. The amazing Tuna Knobs are compatible with Windows, Android and iOS devices including Lemur, TouchAble, IL Remote, KorgiMS-20 and Idj2GO and the makers are now in the process of fund raising with Kickstarter to begin with the production.
Once they are being manufactured on a commercial scale these Tuna Knobs will open new doors to the world of music and will let you experience the feel of a professional music hardware converting your touch screen into a perfect DJ controller.
Summary
Tuna knobs make it easier to compose and play music on modern touchscreen devices. The knobs bring conventional and classic DJ tools to tablets and smartphones, making them easier to use for music.